Icons and Institutions: The Oldest Restaurants in Raleigh, N.C.
Tuesday, September 07, 2021, 9am by visitRaleigh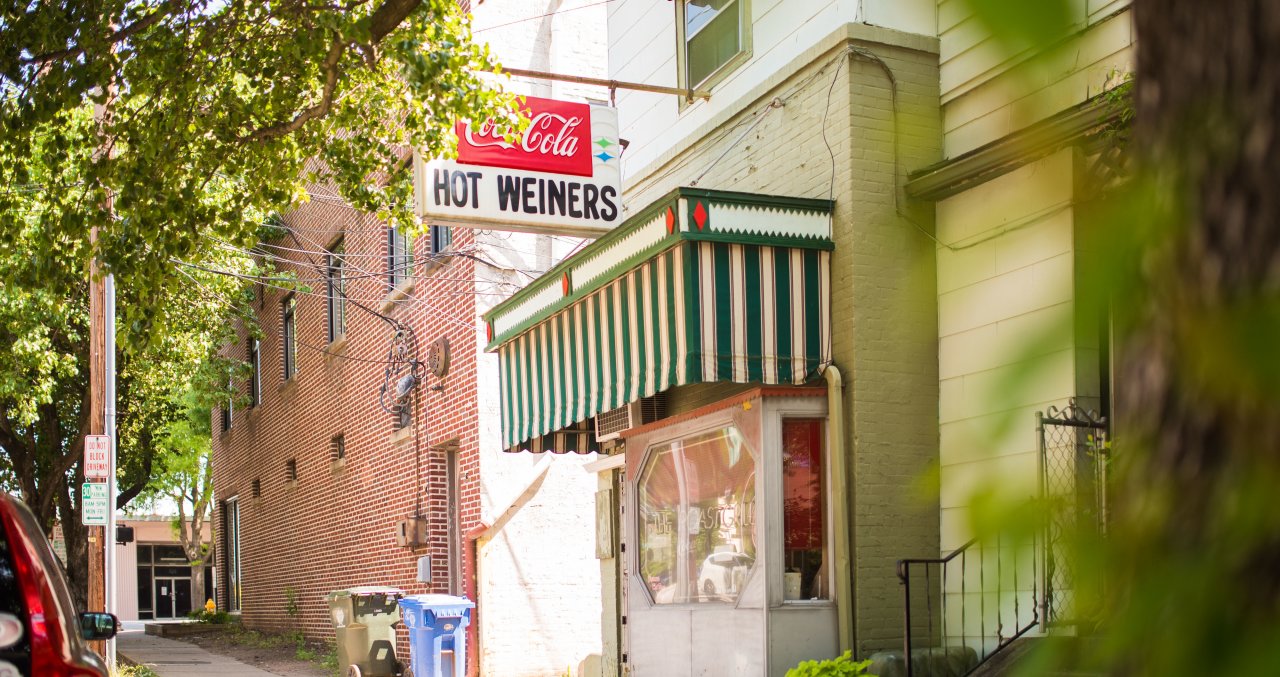 Legendary barbecue spots, old-school soda shops, a hot dog joint that's over 100 years old and more! The Raleigh, N.C., area is rooted in history (founded on Dec. 31, 1792, the City of Oaks is more than 225 years strong), and a host of the area's most celebrated restaurants—ranging from 40 years young to more than a century old—all help tell the story of both the past and the present-day culture of the capital city area. That's why we've pulled together this list of 15 of the longest-running restaurants in Raleigh, N.C.—choose a few to check out on your next visit!
A note: this article was put together with the help of some long-time Raleighites but isn't necessarily an exhaustive list. Have a favorite you want everyone to know about? Give us a shout on Facebook or Twitter!

 
Located in the heart of downtown Wake Forest, Shorty's Famous Hot Dogs has been a go-to hangout spot for locals for more than 100 years. Originally started as a movie theater, founder H.E. Joyner began selling snacks—before building an expansion with pool tables and a full lunch counter—to stave off nearby competition. Today, the pool tables remain in a back room and a centuries worth of memorabilia packs the walls, but the main attraction is the doggone good hot dogs—you're likely to find a line out the door at lunch time that's filled with customers who have been eating here for decades.
The hot dogs—bright-red colored, served on a steamed bun and best ordered "all the way" (chili, mustard and freshly-chopped onions)—go hand-in-hand with an order of crinkle-cut cheese fries and a large sweet tea. Still run by the same family that started it all (you'll find fourth-generation owner Chris Joyner behind the counter), the hot dog shop will turn 102 years old in June of 2018, making it the longest-running restaurant in the Raleigh area.

 
For more than 85 years now, Mecca Restaurant (pictured in header) has served patrons of downtown Raleigh with simple and hearty meals meant to comfort. Opened by Greek immigrant Nick Dombalis just a couple blocks from the North Carolina State Capitol on May 1, 1930, the restaurant remains true to its roots to this day, serving Southern staples to lawyers, legislators, judges and more on E. Martin St. (it's long been said that you haven't made it in politics in Raleigh until you're known on a first name basis at Mecca).
The family philosophy, printed on one of the original menus in 1930 (when a T-bone steak sold for 55 cents) still rings true: "He profits most who serves the best." Customers are treated like family at the two-story restaurant, designated as a Historic Landmark in Raleigh in 2014 in part thanks to the iconic green and pink neon sign bearing the restaurant's name that runs nearly 25 feet down the front of the building.
Open for breakfast, lunch and dinner six days a week, regulars pile into booths and cozy up at the downstairs bar to scarf down blue-plate specials or Glorified Jumbo Burgers (a classic menu item that includes quarter-inch thick tomato and onion slices) and discuss current events.

 
If barbecue is a tradition in The Tar Heel State (it is), then Clyde Cooper's BBQ is an institution. Opened on New Year's Day 1938, it's one of the longest-running barbecue restaurants in N.C. Inside, a stainless steel counter gives diners a view into the pit where finished shoulders come out like clockwork. On the walls, historic photos of Clyde Cooper's catering jobs from the 1950s and '60s, accolades and awards and a mural on one wall that reads "Clyde Cooper's Barbeque Est. 1938"—in case you've forgotten.
You can't go wrong with a plate of chopped barbecue and fried chicken with some collards on the side. Save room for banana pudding, of course, and wash it down with a little sweet tea. Look on the wall over the kitchen and you'll see the restaurant's namesake: Clyde Cooper himself. Clyde always cooked shoulders in the Lexington style, but his 'cue blends Lexington with Eastern as the sauce—still based on his original recipe—tastes more tangy than sweet.

 
One of the state's most beloved hole-in-the-wall restaurants, the no-frills Roast Grill does one thing and does it very well—hot dogs (served with glass bottled Coca-Cola). The downtown Raleigh cash-only hot weiner joint, with a bar that seats less than 10 people and has room for just a handful of extra patrons, doesn't serve the following: ketchup, fries, chips, cheese, mayo, kraut, relish, coffee or sweet tea (among other items that won't be found).
No matter, because the items that are available—a world famous chili, slaw made without mayo, mustard and hand-chopped onions—along with a generous amount of char from the restaurant's original grill, are what have made the Roast Grill a legendary lunch spot on the edge of Raleigh's Warehouse District for nearly 80 years. Stop in for some dogs and say hello to "Hot Dog George" Poniros, owner and master of the grill whose grandparents founded the restaurant in 1940.

 
The home-style cooking at Watkins Grill is exactly what you'd expect (and hope for) from an unmistakably Southern restaurant that many locals consider to be one of the best breakfast spots in town. Open since 1947, this family-owned eatery sits practically by itself off the road in an assuming building (originally constructed in 1928 and operated under the name Black Hawk Tavern) just outside of downtown Raleigh. It's a spot for grits and corned beef hash lovers and (very) early risers—the restaurant opens up at 5am Mon.-Sat. and serves diner-style dishes until calling it a day just a bit after lunchtime. All the greasy spoon favorites are here—omelettes, biscuits and gravy and massive pancakes, plus burgers, roast pork, BBQ chicken and more at lunch.

 
The Players' Retreat, affectionately known as the "PR" by locals, is the oldest standing bar in Raleigh. The tavern, located on the edge of the campus at North Carolina State University, has carved out its own niche to help stand the test of time. Open since 1951 (and in its current location since 1961), the PR is equal parts dive bar, neighborhood gathering spot and college sports bar (all the red decor and Wolfpack memorabilia hanging on the walls make it obvious who the home team is here).
A nationally-recognized wine and scotch list, paired with a simple menu of favorites like house-ground burgers and pasta salad, has kept an eclectic crowd of regulars happy for decades. A go-to spot to catch the game or for late night food and drinks, the PR is also much loved thanks to the generous amount of patio seating out front (a well-known hangout spot for adorable dogs—so much so they have an Instagram account dedicated to their four-legged visitors).

 
The early history of the State Farmer's Market Restaurant in Raleigh is a bit of an unknown, although it's generally believed that a restaurant serving farm-fresh Southern staples was on-site at the original farmers' market location in downtown Raleigh dating back to its inception in 1955. What we do know is that by 1982 Jackie Watkins (son of "Big Ed" Watkins, founder of another legendary breakfast spot, Big Ed's City Market Restaurant) had taken over the operation and made the restaurant into one of the city's most comforting breakfast and lunch spots—checkered vinyl table cloths, covered by plates piled high with hushpuppies and buttermilk biscuits, is how things were run both back then and still today.
Once the Farmer's Market outgrew its original location and moved just a couple miles outside of downtown for more space and easier highway access, Watkins helped open up the location that is still in use today in 1991, now run by the Gilliam family.
Open for breakfast and lunch seven days a week (pro tip: show up early or expect a wait on weekends), you'll find huge portions of hot cakes, grits, chicken and waffles, omelettes, country ham and way more—all served with sweet tea and classic Southern hospitality.

 
Ashworth Drugs, the iconic pharmacy/soda shop/hot dog joint, has been a constant at the corner of W. Chatham and S. Academy streets in the fast-growing community of Cary, for more than 60 years. The structure was originally built in 1931 (when Cary had a population of just 2,000 residents—today the town has a population of more than 150,000) and operated as Adams Rexall Drugs until the Ashworth family purchased the business in 1957. A pharmacy at heart (owner Ralph Ashworth and his son Paul work as pharmacists there today), the soda shop and lunch counter side of the business has grown over the years to serve generations of kids and families in downtown Cary with an old-school service that's rarely found these days.
A menu that's filled with simple Southern favorites like pimento cheese sandwiches, homemade chicken salad and Jesse Jones' famously neon red hot dogs compliments a beverage and dessert menu that includes fresh-squeezed orangeades, ice cream floats, milkshakes and sundaes. There aren't many places where you can grab a hot dog, chips, soda and a scoop of ice cream for less than $6 like you can with the Monday Special at Ashworth.

 
In 1960, restaurateur Bruce Garner built the original Char-Grill—a small, cinder block building on the edge of downtown Raleigh with takeout-only service for flame-grilled hamburger steaks and French fries. Nearly 60 years later, not much has changed at this Hillsborough St. icon. Hungry diners still scribble their order on sheets of paper before sliding it down a shoot where it lands near the grill. The menu is still a throwback to simpler times—perfectly charred burgers, golden French fries, chocolate milkshakes and a hard-to-pass-up deep-fried apple turnover are the main draws, although chicken sandwiches and a Carolina Packers' red hot dog are available as well.
The drive-in style restaurant, which now has 10 locations in and around the Raleigh area, is open late most nights (until 2am on Fri. and Sat.). That, combined with prices that could be considered a throwback as well, have kept Char-Grill a local favorite stop for all these years.

 
A family-owned institution for more than 50 years, the double doors of the now-fabled Angus Barn swung wide in June of 1960—a 275-seat steak-and-potatoes based restaurant dreamt up by owner Thad Eure, Jr. that aimed to provide families and travelers to the Raleigh area with impeccable service. Today, more than 20,000 nights, 13 million customers served, one complete rebuild (the restaurant burned to the ground just four years after opening and was promptly rebuilt twice as big) and a half-dozen expansions later, the 650-seat Angus Barn remains one of the most sought-after destination dining spots in the Southeast.
Known for an impressive wine list, gracious hospitality and a cozy, rustic ambiance, Angus Barn still serves more than 22,000 steaks per month, but the menu has evolved to include seafood, poultry and pasta (not to mention desserts—the chocolate chess pie has been written about by publications around the world).
Executive chef Walter Royal, running the area's largest kitchen for more than 20 years now, has earned his own awards and accolades, including a 2006 victory on Food Network's "Iron Chef America." Van Eure, daughter of the late Thad Eure Jr., now owns and operates the restaurant and has left her own mark—she's the mastermind behind the unforgettable Christmas decorations that dress the barn during the holiday season (when dining tables are highly coveted—regulars are known to make their Dec. reservations up to a year in advance). The 20-foot-tall tree in the main dining room is lit up with more than 30,000 lights each year.

 
Originally from Reading, Pa., Richard "Amedeo" DiAngelis first came to Raleigh in 1954 to attend school and play football for the North Carolina State University Wolfpack (he played both offensive and defensive tackle and was a member of the school's first ACC championship in 1957). Several years after graduation, having noticed a lack of sub and hoagie shops in Raleigh (a staple of both his Italian roots and hometown of Reading), Amedeo jumped at the opportunity to be his own boss and serve the City of Oaks—his namesake restaurant was opened in 1963 as a 600-square-foot cheesesteak and hoagie shop on Western Blvd. where the greatly-expanded restaurant remains today.
Expanded menu offerings have been welcomed, too, as Amedeo added a number of his family recipes to the offerings and transitioned into a full-fledged Italian restaurant (the most popular menu item is—what else?—Amedeo's Famous Lasagna). Today, Amedeo's is a gathering spot for friends and families, Wolfpack graduates and football fans and anyone looking for a warm, made-from-scratch meal.

 
Serving hot dogs and other home cooking since 1968 (like the sign above the door says), Jerry's Grill is owned and operated by husband and wife duo Rocco and Teresa Sammartino. This locally-loved breakfast and lunch spot is a straight shooter—eggs, pancakes, burgers, hot dogs and more that are made to order and never lacking in flavor (calorie counters beware!). The Sammartino's themselves suggest the "Blue Rock" sandwich—grilled deli ham, Swiss cheese and fried egg with lettuce, tomato and mayo on a grilled kaiser roll—an item they introduced to the menu after purchasing the restaurant in 2004. As always, hot dogs should be ordered "all the way"—mustard, onion, chili and slaw at Jerry's—and are available for 99 cents on Mondays.

 
Tucked away atop an easy-to-miss staircase, Mitch's Tavern has been a staple of Raleigh—and the community at North Carolina State University—for decades. As a student, Mitch Hazouri, owner of the tavern for more than 44 years now, used to frequent the Jolly Knave nightclub that previously occupied the second floor space on Hillsborough St. The cozy space, filled with dark wood finishes along the bar and in the booths, certainly has a unique look and feel—in fact, that's why the producers for the 1988 film "Bull Durham" chose Mitch's to shoot bar scenes for the movie.
The menu, full of dishes ready to warm you up, makes Mitch's a go-to spot during the cold weather months. Spring for the house-made soups, chili or slow-cooked gumbo. In the warmer months, a couple balconies with just a few tables overlooking bustling Hillsborough St. are prime spots for a dinner or a night out.

 
When chef Arthur Gordon opened up Irregardless Cafe on Feb. 4, 1975, it marked a first for Raleigh. Gordon boldly laid out a menu that was vegetarian only, previously unheard of in a city full of steakhouses and hot dog stands. As it turned out, a commitment to sustainable ideas—including buying all the produce from the State Farmer's Market not too far away—paired with hard work (and a little luck) was a recipe for big success. Another first? The restaurant implemented a "no smoking" policy in 1985, 25 years before legislation banned smoking in all food establishments across the state.
Serving an incredibly loyal customer base, Irregardless has gracefully evolved over the years (fish and seafood was added to the menu in the late 70s, poultry in the late 80s and even red meat made its way to plates in the late 90s). In 1994, the restaurant bounced back stronger than ever from a fire that kept them closed for nearly a year; in 2012, rooftop solar panels were installed and began providing renewable energy for the cafe; and in 2013 Irregardless opened up the Well-Fed Community Garden, a 1.5-acre garden just a few miles from the restaurant that supplies nearly all of the produce that goes into dishes at the restaurant (along with a generous amount donated to the community).
Today, the 120-seat dining room is regularly filled up for brunch, at lunchtime, for dinner and nightly live music and even on Thanksgiving Day (a Raleigh tradition for many, Irregardless serves 1,400 meals annually for the Nov. holiday).

 
This raved-about lunch spot in the heart of downtown Cary has played an important role long before soups, salads and sandwiches became local favorites—the cozy building on Academy St. once served as the town's second library (and two outdoor patios remain today as one of the best places to sit with a good book). Friendly staff, hot and cold sandwiches (a Reuben at Serendipity is nearly a rite of passage for Cary residents), daily soup specials and house-made pies and other desserts are more than enough to keep the entire family happy at lunch or dinner while exploring the many shops in the surrounding blocks.