Bachelor and Bachelorette Party Ideas in Raleigh, N.C.
Wednesday, July 06, 2022, 1pm by visitRaleigh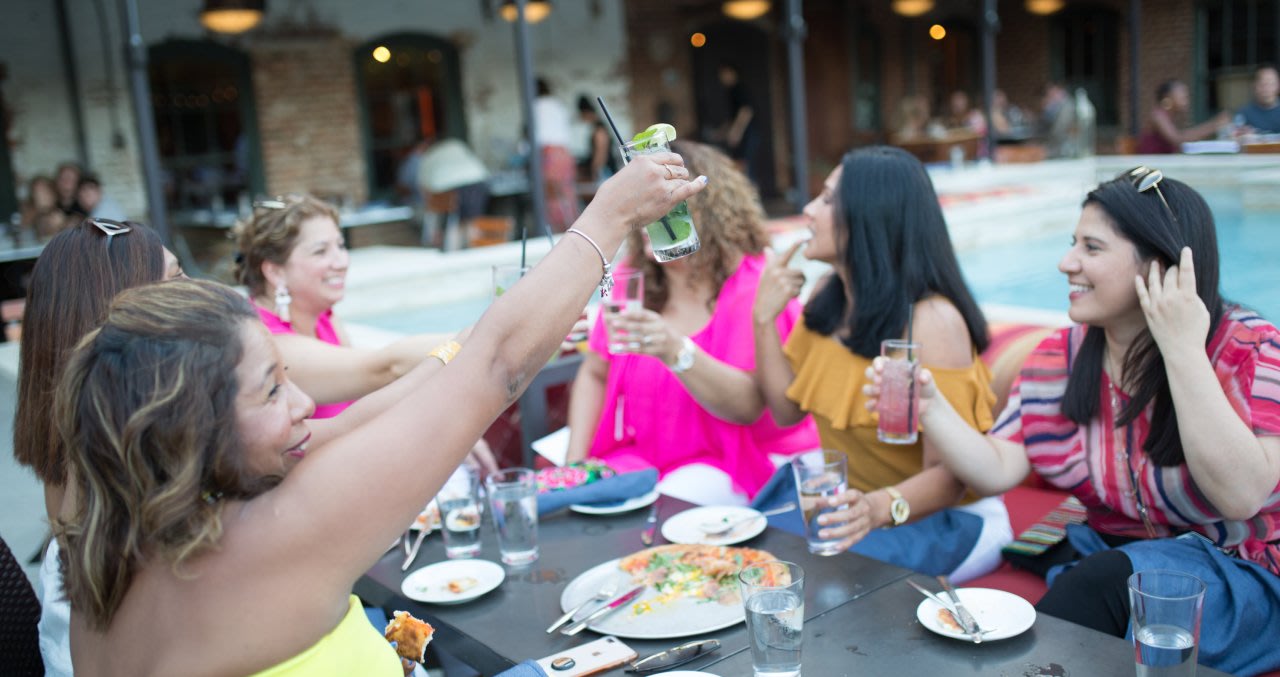 If you're heading to Raleigh, N.C., before you head down the aisle, we've got you covered with bachelor and bachelorette party ideas. The Raleigh area is the perfect spot for pre-wedding festivities! Whether you're looking for a chill night with your crew or you're ready to break it down on the dance floor, there are plenty of ways to celebrate.
 
For the laid-back crew
If you feel like being pampered, Blown Away in North Hills is the perfect place to go with your crew. Blown Away provides professional blowouts and style for a fraction of the time and cost of going to a salon. Plus, they've got champagne! Blown Away also offers tanning and makeup services.
With a location in Lafayette Village, Trellis offers customers a unique, clean beauty experience. Stop by the store to shop for beauty products, enjoy the Beauty Steam Bar™ or relax with one of Trellis' many services—including facials, waxing, makeup and organic spray tanning.
Vita Vite Midtown is a wine bar and art gallery in North Hills, with a second location in downtown Raleigh. Vita Vite features a menu of internationally curated wines along with craft beers on tap, small plates and locally sourced desserts. The 6,000-square-foot space is the perfect spot to kick up your feet and enjoy some drinks with friends. Pro tip: Head upstairs to check out the 360° bar and view of shows at Coastal Credit Union Midtown Park from the outside patio.
For the competitive group
Head to Drive Shack with your group for a tee-rific time! Drive Shack has three stories of climate-controlled bays with lounge seating, an on-site restaurant and multiple arcade games. The interactive golf spot offers visitors a chance to play classic courses or take a swing at unique games like Monster Hunt and Shack Jack.
Kings creates a memorable entertainment experience by combining great food, cocktails, bowling and more. The North Hills location offers 30,000 square feet of pure entertainment with 18 10-pin bowling lanes, full-size billiards tables, 30+ arcade games, award-winning food, private event space and over 50 giant HDTVs and HD projector screens.
Bring your crew to Epic Axe at Morgan Street Food Hall for an epic axe-throwing experience. Grab drinks and food from one of the many vendors and get ready to throw some hatchets. Don't worry if you've never thrown an axe before—staff is there to help teach you!
For the late-night dancers
Legends Nightclub is one of the best dance clubs in the Raleigh area, catering to the gay and lesbian communities. The private club (memberships are $1) features a dance floor, video bar, game room, patio and performance theater. Pro tip: Head to Legends on Fri. and Sat. to catch a performance by the one-and-only Spotlight Divas.
Throw it back with Zenith Raleigh, which recently opened on Fayetteville St. The nightclub takes visitors back in time with its retro ambiance and throwback tunes. Have fun with your group dancing the night away and checking out the unique décor.
For a unique experience
Explore some of Raleigh's best downtown destinations on a pedal-powered, eco-friendly, pub-crawling trolley. Bring your own beer and hop on board—tours last two hours.
Enjoy an interactive experience designed to test your wits. Groups are locked into a room and have 60 minutes to look for clues, solve puzzles and riddles, read ciphered messages and strategize with their team to escape the room. Try to beat the clock! Other escape rooms in the Raleigh area include The Tower Escapes, Whole Brain Escape, Amaze Room Escape and Conundrum Escapes.
For the music lovers

C. Grace
Head back in time with C. Grace—Raleigh's classic jazz bar where the lights are low, the jazz is hot and the drinks are strong. C. Grace gives off 1920s speakeasy vibes, and we're sure your group will love it. Stop by C. Grace on your night out to enjoy some live music and tasty cocktails. We recommend the French 75 for a classic, pretty drink. 
Catch a show at this 12,000-square-foot music venue, which has had a wide variety of artists perform on its stage before moving on to bigger venues, including Jay Z, Dave Matthews, Hootie & The Blowfish and more. The black, white and "Ritz Red" interiors are the perfect blend of rock 'n' roll and elegance—classic in design but still hip and unique.
Tin Roof is one of the best spots in Glenwood South to catch live music. Enjoy tasty food and drinks in a fun, eclectic environment. The first floor has a stage for bands and the second level features a rooftop patio and a DJ! Whether you're coming for the tunes, the food or the drinks, you're sure to have a good time.
For shows at more live music venues, including PNC Arena, Koka Booth Amphitheatre, Lincoln Theatre, The Pour House Music Hall & Record Shop, Red Hat Amphitheater and more, head to our concert calendar. You'll quickly find out why we say Raleigh, N.C., has the most live music in the state!
 
Header photo by Brian Strickland
Comments