Watch or Play! Youth Bluegrass Jams Ahead in Raleigh, N.C.
Monday, October 25, 2021, 5pm by David Menconi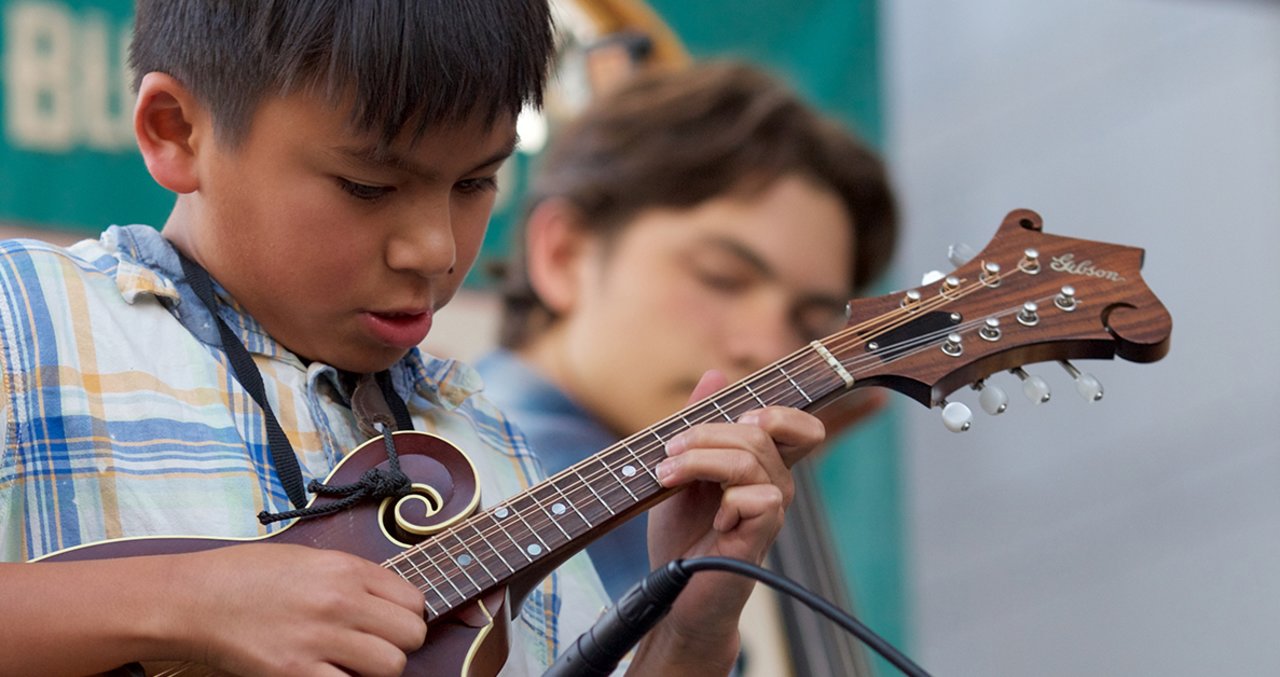 Note: Authored by David Menconi, this piece has been produced in partnership with Raleigh Arts. Menconi's latest book, "Step It Up and Go: The Story of North Carolina Popular Music, from Blind Boy Fuller and Doc Watson to Nina Simone and Superchunk," was published in Oct. 2020 by University of North Carolina Press.
---

Sertoma Arts Center at Raleigh, N.C.'s Shelley Lake Park has a youth-music double-header happening this Sat., Oct. 30, in and around the center. First up that day will be the N.C. Chamber Music Youth Ensemble with a pop-up concert on the Sertoma Center's front porch from 1-2:30pm. And immediately after that, you can saunter over to the park's nearby Pecan Grove to either listen to or play in the PineCone Youth Bluegrass Jam from 2:30-4pm, a hootenanny that is open to any kid who brings an instrument.
"We don't typically do more than one event like that a day, but the scheduling just worked out that way," says Julia Meder, director of the Sertoma Arts Center.
"It's an absolute joy to see young kids get interested in music, and also get so much better," says the aptly named Sam Stage, who runs youth jam sessions for PineCone (Piedmont Council of Traditional Music). "There's so much talent and life in every one of the jammers I see at these things. Not too long ago, these youth jams were not a reality. This is something people were waiting for whether they realized it or not. It's great to see young people come to these things and absolutely burn the strings off their instrument."

A 19-year-old graduate of Raleigh's Enloe High School, Stage's primary instrument is fiddle, with a bit of guitar and mandolin. He had planned to go to Berklee College of Music last year, which was upended by the pandemic. So he opted to put off music school and take a gap year. He is spending it running these youth jam sessions as part of the PineCone youth program while leading the organization's Youth Council.
"There's about eight or nine of us on the council, and the age range is 12-16, myself excepted," Stage says. "With the jams, we try to make them open to anyone who wants to join. It's not how old you are, it's how interested you are. The goal is to make a place for anyone interested in this music, foster a community and help it grow."
Around a dozen young players tend to show up for PineCone's youth jams. Playing ability ranges from expert to rank beginner, and all are welcome.
"It's a pretty broad, wide-ranging group," says Jamie Katz Court, PineCone's communications and programs manager. "There will be a couple of kids who are in second or third grade, have done camps and are very enthusiastic about it all. Then there are some like this one gal who comes fairly regularly and is also studying at School of the Arts. And some total beginners, too, of course."
PineCone's next Youth Bluegrass Jams at Sertoma Arts Center will be on Nov. 20 and Dec. 18 (possibly indoors with masks, depending on the weather).

Header photo and older youth playing: Todd Gunsher
 
Comments