Centennial Authority and Hurricanes Sign 20-Year Lease Extension
Tuesday, August 15, 2023, 11am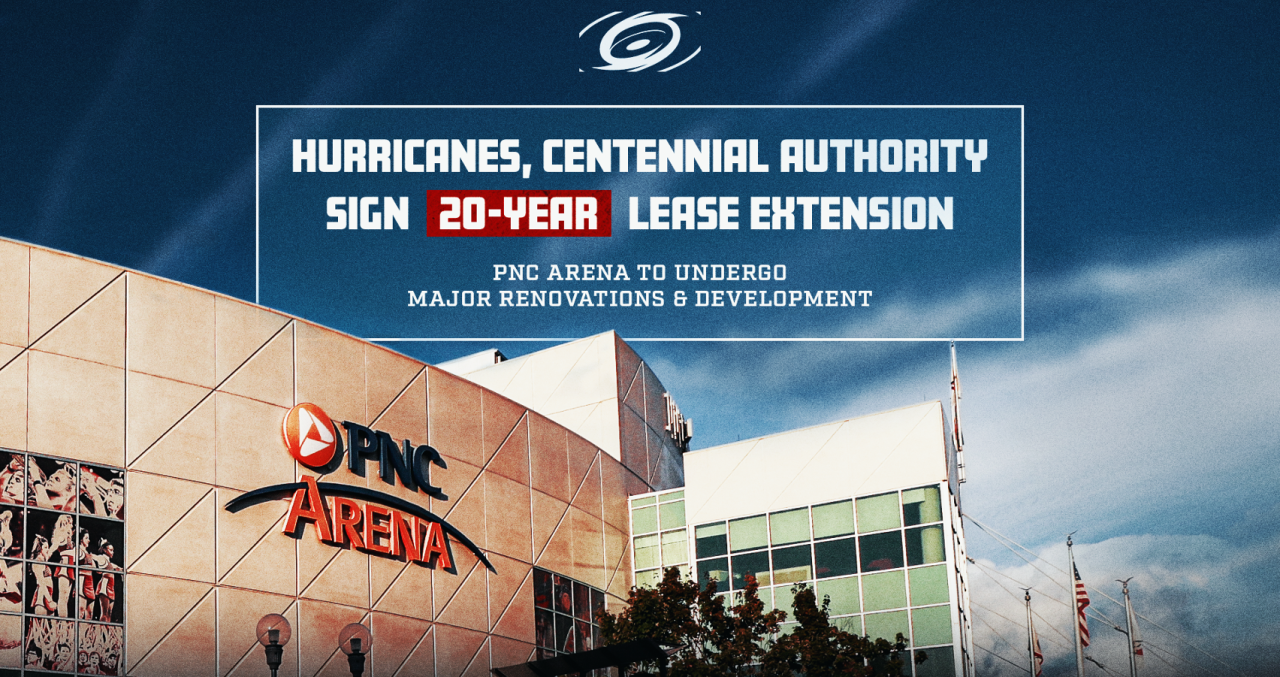 PNC Arena to undergo major renovations and development 
by Canes PR @CanesPR / News Release 
RALEIGH, NC - The Centennial Authority, owners of PNC Arena, and Gale Force Sports and Entertainment, L.L.C. announced today the signing of a 20-year lease extension with the Carolina Hurricanes. The newly signed lease states that the Hurricanes will occupy PNC Arena through the 2043-44 NHL season.
As part of the agreement, PNC Arena will undergo major renovations, including the development of a transformational, vibrant sports and entertainment district and public gathering space around the arena. The development will create a live, work, play destination for Triangle residents and visitors throughout the year.
"We are excited to extend this lease with the Carolina Hurricanes through the 2043-44 season," said Philip Isley, Centennial Authority Board Chair. "This renovation and development of a sports and entertainment district around PNC Arena will represent one of the biggest economic development projects in the history of the region."
"This is an exciting day for the Triangle," said Tom Dundon, Owner and Governor of the Hurricanes. "This development will transform PNC Arena into a year-round destination for residents, while also improving the event day experience for Hurricanes fans, NC State fans and concertgoers alike. North Carolina is the home of the Hurricanes, and I am proud to say that the Hurricanes will continue to call PNC Arena home."
"Our goal is to transform PNC Arena into one of the most comfortable, versatile and fan-friendly experiences in the country," said Don Waddell, President and General Manager of the Hurricanes. "This project will completely revitalize PNC Arena to make it a state-of-the-art facility at a fraction of the cost of a new arena."
"NC State is proud to call PNC Arena home to our Wolfpack men's basketball team, and we are excited to collaborate on a comprehensive renovation strategy that will enhance the overall experience for our fans and student-athletes," said Randy Woodson, NC State Chancellor. "We feel fortunate to have significant investments from city and county leaders, and we value our long-standing partnership with the Carolina Hurricanes - all working together to ensure PNC Arena remains a world-class facility."
The Carolina Hurricanes, the first major professional sports franchise located in the Raleigh-Durham region, have called PNC Arena home since the building's inception in 1999. The new lease extension includes a combined $300 million investment from the City of Raleigh and Wake County. As a part of the development, Gale Force will enter into a ground lease to develop the land surrounding PNC Arena in a phased approach. Gale Force will commit to a minimum $200 million in Phase 1 development within five years, $400 million within ten years, and $800 million within 20 years. Additionally, Gale Force will pay for 100% of all private renovations to PNC Arena.
The Phase 1 commitment by Gale Force includes developing at least 100,000 square feet of retail/dining space, 150,000 square feet of office space, 200 multi-family residential units, a 150-room hotel, and a 3,000-5,000 capacity indoor music venue. Additionally, Gale Force will provide 10% affordable, workforce and/or faculty housing on all phases at no more than 80% of area median income levels. Gale Force will also commit to replacing 95% of any public parking displaced by the development and will set aside five acres for a dedicated tailgate zone.
PNC Arena contributes approximately $262M annually to the Wake County economy. With events ranging from Carolina Hurricanes and NC State Men's Basketball games to major concert tours to family-friendly programming, there is no other venue in the state that supports the varied types of events hosted by PNC Arena. Focused on the future, the facility looks to remain a world-class economic engine, serving as a catalyst for continued growth in the region.
ABOUT PNC ARENA:
PNC Arena employs approximately 1,400 people in the Triangle area. Home to the Carolina Hurricanes of the National Hockey League (NHL) and NC State University men's basketball program, PNC Arena is a multi-purpose sports and entertainment arena that hosts a wide variety of events each year. PNC Arena opened in October of 1999 and accommodates up to 20,000 based on the event configuration. The arena is owned by the Centennial Authority and managed by Gale Force Sports & Entertainment. PNC Arena (PNCArena.com) is located in Raleigh, NC.
ABOUT THE CENTENNIAL AUTHORITY:
Created in 1995 by the General Assembly, The Centennial Authority owns and operates PNC Arena, located in Raleigh, N.C. Home to the North Carolina State Wolfpack men's basketball and the Carolina Hurricanes hockey franchise, the regional, multi-purpose facility contributes a first-class facility, employment opportunities, and revenue to the local economy. The Authority, as owners, provide facility oversight, finance monitoring, operations, and facility upgrades. For media inquiries, please contact Jeff Merritt at (919) 624 - 1254 or jmerritt@centauth.com.
ABOUT THE CAROLINA HURRICANES:
The Carolina Hurricanes were established in Raleigh in 1997 after relocating from Connecticut, where the National Hockey League franchise was originally founded in 1979. Since their arrival in North Carolina, the Hurricanes have captured six division championships, two Eastern Conference titles and the 2006 Stanley Cup championship. The team also hosted the 2004 NHL Draft and the 2011 NHL All-Star Weekend at PNC Arena, as well as the 2023 NHL Stadium Series at Carter-Finley Stadium. For information about Hurricanes ticket packages, please visit www.CarolinaHurricanes.com/tickets, or call 1-866-NHL-CANES (1-866-645-2263).
ABOUT NC STATE UNIVERSITY:
NC State is a pre-eminent teaching and research enterprise that excels across disciplines and contributes more than $6.5 billion to North Carolina's economy. More than 34,000 undergraduate and graduate students learn by doing - pursuing original research, starting new companies, forging connections with top employers, and serving local and global communities. NC State's 9,000 faculty and staff are world leaders in their fields, bridging the divide between academic disciplines and training high-caliber students to meet tomorrow's challenges. Together, they forge powerful partnerships with government, industry, nonprofits and academia to remake our world for the better.