Greater Raleigh Esports Local Organizing Committee Unveils Augmented Reality Public Art Mural
Tuesday, May 11, 2021, 10am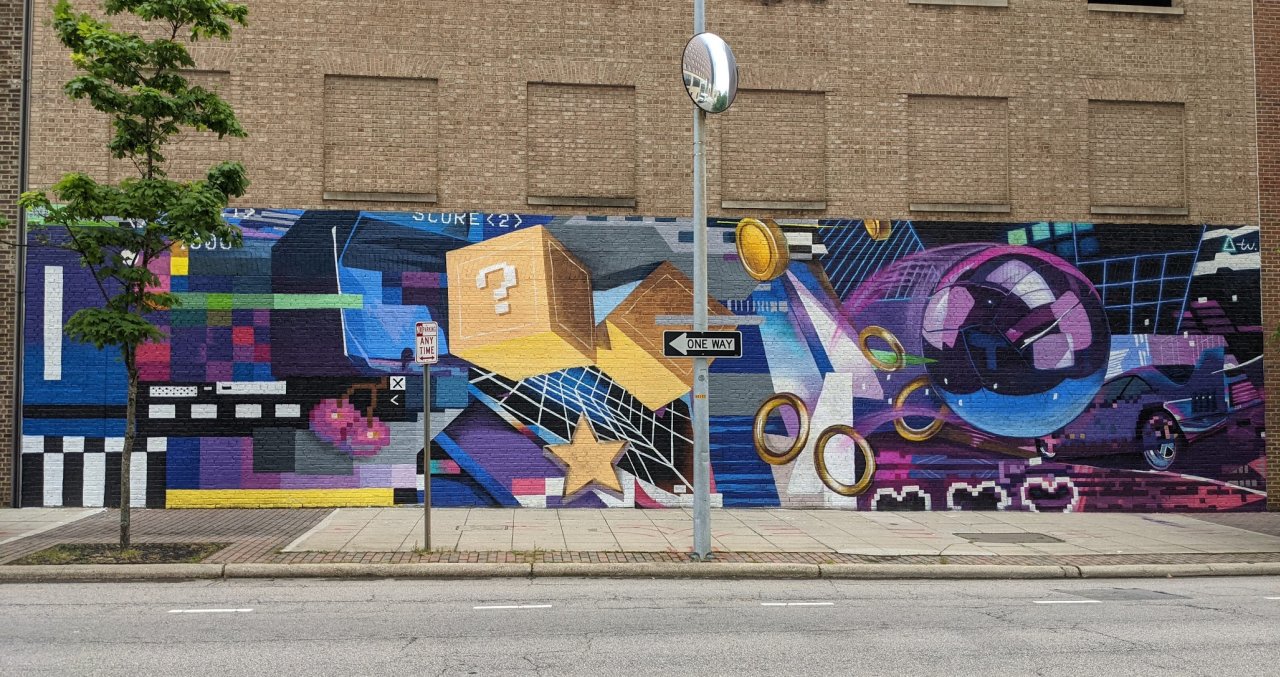 "8-bit to 5G" artwork celebrates the evolution of technology and gaming history
in collaboration with Red Hat and Subnation Media
Raleigh, NC (May 11, 2021) - The Greater Raleigh Esports Local Organizing Committee (GRELOC), a diverse group of civic, sports, and business leaders supporting the growth of esports and gaming activities, unveiled today an innovative, augmented reality (AR) public art mural. The creative design and installation of the artwork is spearheaded by esports entertainment company Subnation Media and funded through a gift from Red Hat and the Downtown Raleigh Alliance via a City of Raleigh Impact Partner Grant.
"The momentum that Raleigh has experienced since Red Hat opened our doors more than 27 years ago is exciting! The region has solidified itself as a great place to live, work, and visit, full of growing businesses, colleges and universities, an innovative culinary scene, and robust entertainment options, including esports," said Leigh Day, Vice President of Marketing + Brand Experiences at Red Hat. "We're proud to support the creation of this lively mural that will pull together many of the elements that make our community so unique."
"Public art projects and the partnerships that support them are an integral part of the Downtown Raleigh identity," said Bill King, CEO of Downtown Raleigh Alliance. "We can't wait to see the community interact with this one-of-a-kind piece that adds vibrancy to an underutilized area of downtown. We are grateful to the City's Office of Economic Development and Innovation for supporting this project through a grant."
The mural titled "8-bit to 5G" is located on the side of the City Center Deck owned/operated by the City of Raleigh at 429 S. Wilmington St. in downtown Raleigh. It features interactive, AR elements powered by Omniscape technology by Raleigh-based Transmira Inc., that will enable the community to engage with the artwork. The artist commissioned to create the installation is Taylor White, a Raleigh native and resident who has a deep history in painting captivating street art, including one of the largest public-facing AR murals in the world, also in Raleigh.
"As a Raleigh native, it's an honor to be a part of the city's beautification efforts," said Ms. White. "Especially with a gaming and esports theme, which is an integral part of Greater Raleigh's DNA, has created thousands of jobs for the community, and will play an essential role in the region's future growth."
The artwork includes a collage of characters, graphics, hardware, and other elements that represent a multitude of game genres and titles played, watched, and made here in Greater Raleigh, making this a must visit, social media and interactive experience for downtown visitors. This comes on the heels of live and virtual esports events driving millions of dollars in economic impact, thousands of jobs, and academic, corporate, and economic development collaboration with Red Hat, ESL, Ubisoft, Wake Tech Esports, NC State, Pepsi, Celito.net and more.
"This enhanced mural is the next step in GRELOC's effort to beautify the city by bringing public art into the forefront of daily life," said Loren Gold, Executive Vice President at Visit Raleigh and GRELOC Co-Chair. "We're excited to build off the momentum we've generated, bring on new collaborators such as Red Hat and showcase Greater Raleigh's collaborative arts, technology and gaming communities through these new initiatives. This mural was envisioned for local and global visitors to celebrate and experience."
This project is also part of an initiative by the Raleigh Arts Commission to encourage citizen-initiated public art projects on City of Raleigh-owned property. Additional partners that helped bring this initiative to life, include: City of Raleigh Parking Management and the Raleigh Convention Center.
 
For photos of the completed mural as well as the artist Taylor White in process creating it click here.
For corporations interested in supporting GRELOC's gaming and esports initiatives in Greater Raleigh, please contact Ed Tomasi (etomasi@raleighsports.gg).
 
About the GRELOC
The Greater Raleigh Esports Local Organizing Committee (GRELOC) is supported by a diverse group of local civic, sports and business leaders who are interested in growing esports and gaming activities. GRELOC helps stimulate the local economy and serves Greater Raleigh by helping it actively participate in the fastest-growing segment of the entertainment industry. GRELOC helps bring esports events, leagues, tournaments, teams, players and other related gaming activities to the Greater Raleigh area, and supports the local gaming community and scholastic programs. PLAY. WATCH. MAKE.
About Subnation Media
Subnation Media is a gaming and esports media holding company that develops, produces and manages lifestyle content, immersive experiences, and original properties that influence today's culture. With a diverse team of industry experts, marketing professionals and innovative creators, we build engaging programming that appeals to over 3 billion gamers worldwide while collaborating with clients to establish an authentic voice and purposeful presence within the gaming community.
Media Contact
Visit Raleigh
Scott Peacock, Director of Public Relations and International Tourism
speacock@visitRaleigh.com
614.551.7981
# # #