Greater Raleigh Sports Spotlight: GRSA Turns 20, Marks Memorable Milestone
Monday, October 22, 2018, 10am by Neil Amato
An interesting look at the sports event industry in Greater Raleigh, N.C.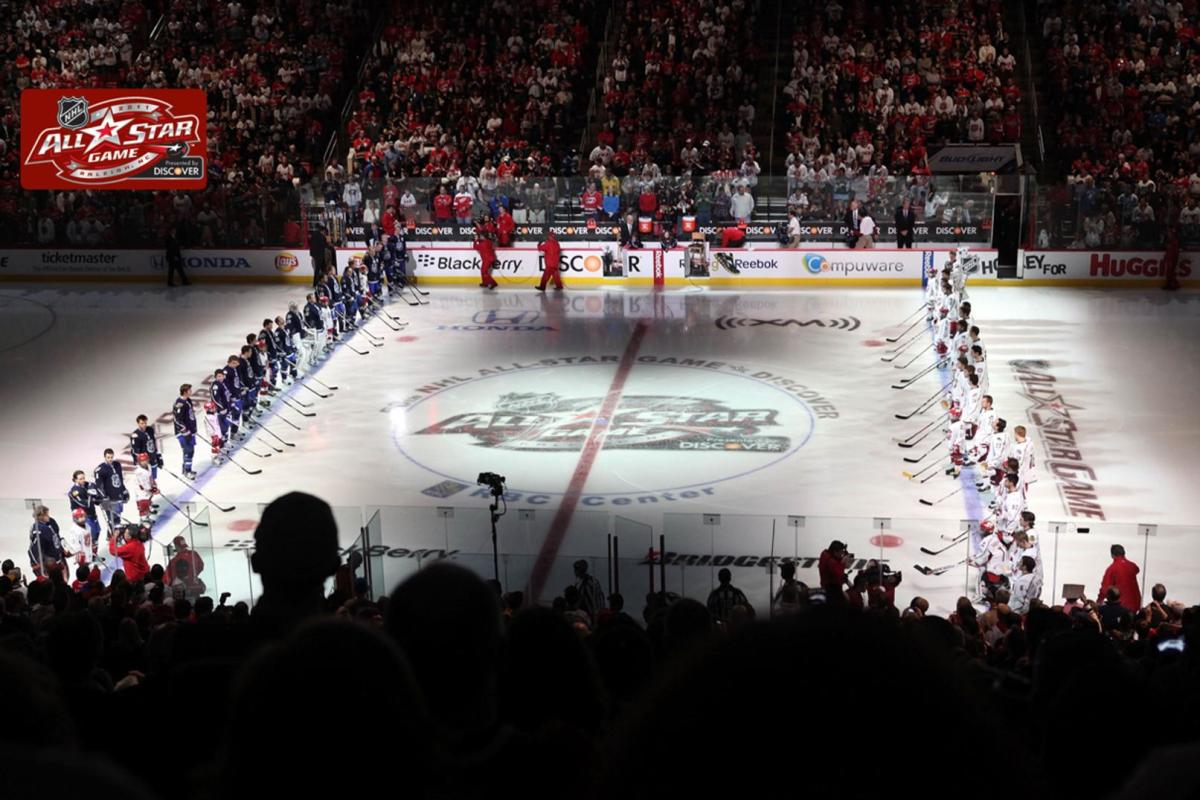 2011 NHL All-Star Game
Scott Dupree will not forget the first sporting event he tried to bring to Greater Raleigh. Nor will he forget the circumstances. He had just changed jobs at the Greater Raleigh Convention and Visitors Bureau (GRCVB), relocated his office, welcomed a second child with his wife Wendy and moved into a new house. All within the span of one month.
It was July 1998, and Dupree—dizzied by all the upheaval—was flying to Jacksonville, Fla., to make a pitch to land the Southeast Bowling Association's championship event.
The tournament did not come to Raleigh, choosing Staunton, Va., instead. Dupree likened his presentation to a gutter ball. "It wasn't pretty," he said. "I would hate to see a video of that performance."
Fast forward 10 years, with Dupree witnessing in person what most of American sports fans were watching on national TV—the emergence of Steph Curry in what is now PNC Arena, during the NCAA Tournament. The Madness of March, unfolding in Raleigh.
"I will never forget the electricity in the building on those two days," says Dupree, now executive director of the Greater Raleigh Sports Alliance (GRSA). "Those were Curry's breakout games on the national stage. Davidson upset Gonzaga and Georgetown. My memory is in the second half of those two games, with the buzz in the building, thinking, 'This is an incredible moment, and this is why we want to have this event in Raleigh as often as we can.'"
Those moments, with Curry scoring 30 in the second half against Gonzaga and 25 in the second half against the second-seeded Hoyas, are seared into the brains of college basketball fans, Dupree included. What happens between the lines obviously matters for the athletes competing in each event, and even a detail-oriented person like Dupree knows he can't control that part of it.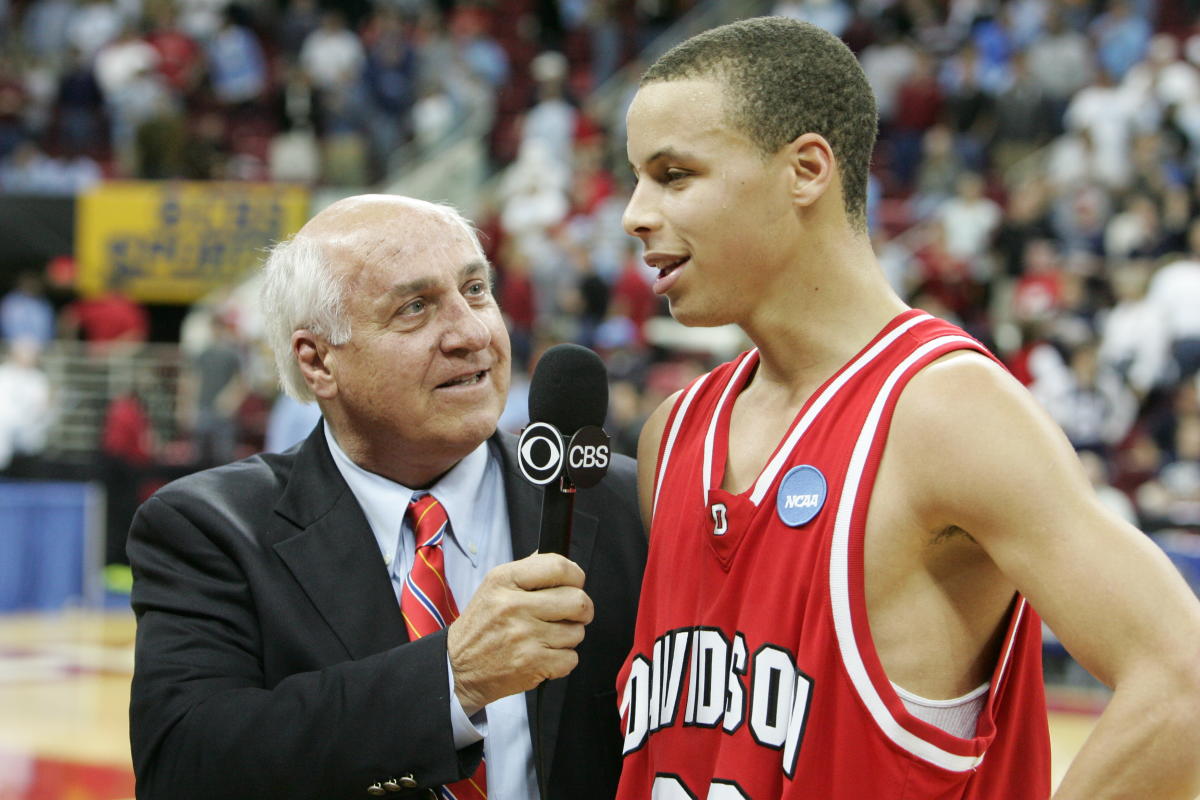 Steph Curry being interviewed by Billy Packer during the 2008 NCAA Tournament in Raleigh
GRSA File Photo
But he and his staff—experienced, friendly, attentive to any event director's needs—can have a positive impact on just about everything else. And that helps to explain why the entity known as the GRSA is going strong, and getting stronger, 20 years after it started, humbly, with that forgettable set of slides from Dupree, then a staff of one for the GRCVB's sports marketing arm. (The department was rebranded as the "GRSA" in 2012).
The original GRCVB sports marketing effort was the brainchild of Dave Heinl, the CVB's first president, and the bureau's board of directors. In 1998 the attention paid to recruiting sporting events to Wake County was minimal—with one sales employee devoting a small percentage of his time on.
But the arena that hosts North Carolina State University basketball and the NHL's Carolina Hurricanes hockey team was about to be built, one sure sign that the market was changing. WakeMed Soccer Park in Cary was also in the planning stage. Those two venues jump-started the new sports initiative.
Today the GRSA has a full-time staff of five, which Dupree credits for the alliance's continued success. "There's no staff in America that is more highly regarded and widely respected than our staff," he said. "It's a tremendous group that represents Greater Raleigh incredibly well."
And that's not just Dupree's opinion. In 2015, the GRSA was named the sports tourism organization of the year by the National Association of Sports Commissions.
Counting Dupree, the staff has experience that is likely unmatched in the sports tourism industry. Associate director Tori Collins is in her 19th year, assistant director Theresa Tyler, CGSP®, is in her 10th year with the GRSA (and 27th with GRCVB) and assistant director Jason Philbeck, CSEE, is in his 12th year. Combine that with Dupree's tenure and the two-plus years that coordinator Ashlee Kirk has served, and the staff has a combined 63 years of experience with the GRSA.
With that longevity comes the ability to anticipate needs before an event even comes to town. The staff is working hand-in-hand with numerous local partners—that's the "A" in GRSA, because the relationship is viewed as an alliance.

"We have lots of strengths—sports venues, hotels, history, a track record of success," Dupree said. "But our greatest strength is our partners, the individuals and organizations that make up our alliance. I don't think there's a better collection of local partners anywhere in the nation, and that's the difference-maker that sets Greater Raleigh apart."
Alliance members work together not only to land an event but also to ensure that event organizers want to come back. That might be troubleshooting a parking issue or hosting a welcome event for athletes. It is also engaging with the key stakeholders at each event so they get to know exactly who they're working with to make the event a success.
"That is vital, that feeling of being wanted," said Jeff Merritt, the executive director of the Centennial Authority, the governing body for PNC Arena.
That feeling is evident in not only bids for high-profile events but also ones that might be below the average sports fan's radar. Merritt likes to call these events "invisible Olympics." The GRSA staff is adept at not only finding potential events for Wake County but taking those events and making them a big deal through a number of strategies.
"They will take any event they're involved with and ratchet up the 'wow' factor," said William Davis, sports venues managers for the Town of Cary.
Welcome signage at the airport is one staple of a GRSA event, and so are banners and decorations at hotels and competition sites. And that's just the beginning. Competitors and their families take note of the rock-star treatment. "It was obvious they wanted us to be here. It was very inviting," an archery parent from Ohio said during an international tournament held in Raleigh in July.
The belief that the athletes matter most, and not just the ones here for March Madness or NHL All-Star Weekend, is part of the GRSA's appeal, say those who have worked with the alliance to bring events here year after year. One of those partners is Sherry Fadool, executive director of Triangle Volleyball Club.
The GRSA staff is "knowledgeable, hard-working, truly enthusiastic about sports and willing to go above and beyond to make area events especially successful," Fadool said. "We truly look at the GRSA family as our partners as we share a mutual desire to showcase sports and the extra special hospitality that Wake County has to offer our visitors. It's been a winning formula for our volleyball club."
Jim Spier, the executive director of the National Scholastic Athletics Foundation, has been working with the GRSA for nearly all of its existence. The foundation brings the Great American Cross Country Festival to Cary's WakeMed Soccer Park each Oct., and he says the meet, after a brief foray to an Alabama site, is back in Cary for the long haul.
"We have no plans on leaving," Spier said. "We look forward to holding the event there every year. It's been a pleasure to work with them. They want us, we want them, so it works out really well."
That feeling is shared by hundreds of other tournament directors who have chosen to call Greater Raleigh home. In total, the GRSA has helped bring more than 1,100 events to Wake County since 1998, generating nearly two million hotel room-nights and $660 million in direct visitor spending.
Those are some incredible results. And to think, for the GRSA, it all started 20 years ago with a failed bowling bid in a Jacksonville, Fla., hotel ballroom.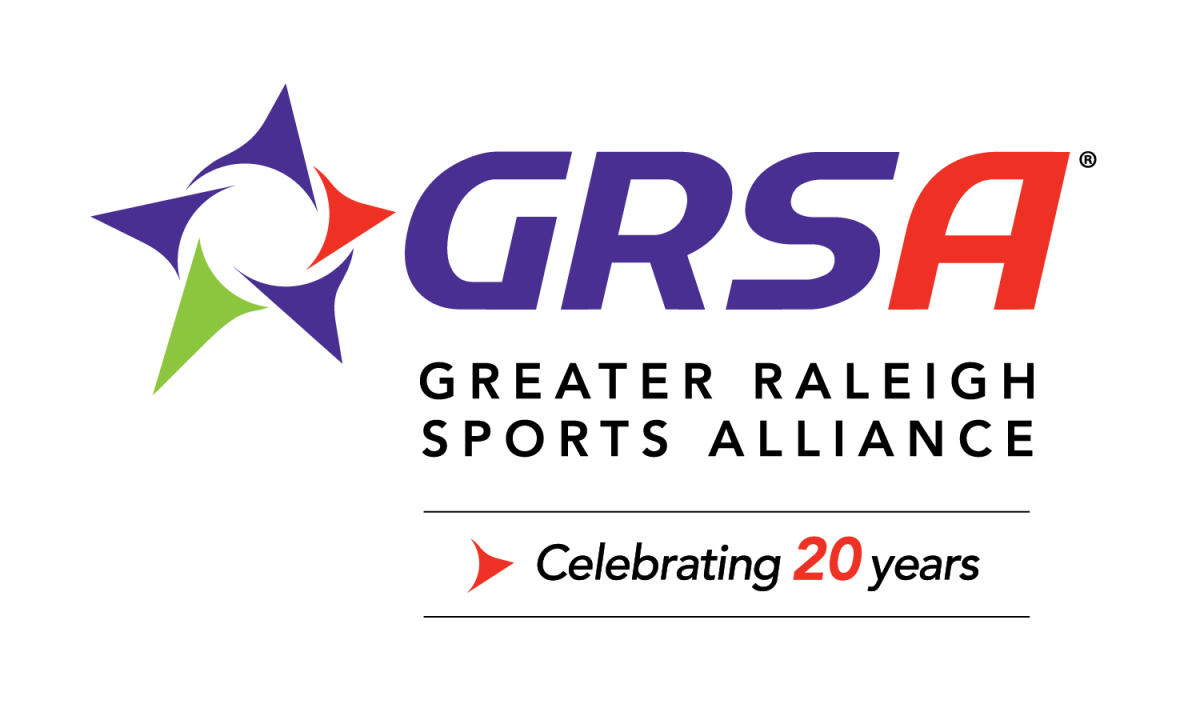 20 Years of GRSA Highlights:
NHL Draft (2004) and NHL All-Star Weekend (2011)
NCAA March Madness (2004, 2008, 2014, 2016 and 2021)
NCAA College Cup (soccer) – 11 times
NCAA Baseball Division II World Series – 9 times
53 NCAA championships across all sports and divisions
Dozens of ACC championships in soccer, tennis, softball, wrestling and cross country
More than 150 NCHSAA state championships
The CIAA and MEAC basketball tournaments
The State Games of North Carolina
Rock 'n' Roll Raleigh and Ironman 70.3 events
Countless youth and amateur tournament and championships of all types, including events like MAPL Volleyball (150 teams), the Deep South Classic (girls basketball, 400 teams) and the Great American Cross Country Festival (3,000 runners)
Partnered with NCFC Youth (previously CASL) to rebrand and grow the massive Soccer Showcase Series
Town of Cary named an "NCAA Championship City"
Author: Neil Amato