Greater Raleigh Sports Spotlight: SAS Championship—Legendary Golfers, Lasting Impact
Friday, October 18, 2019, 10am by Neil Amato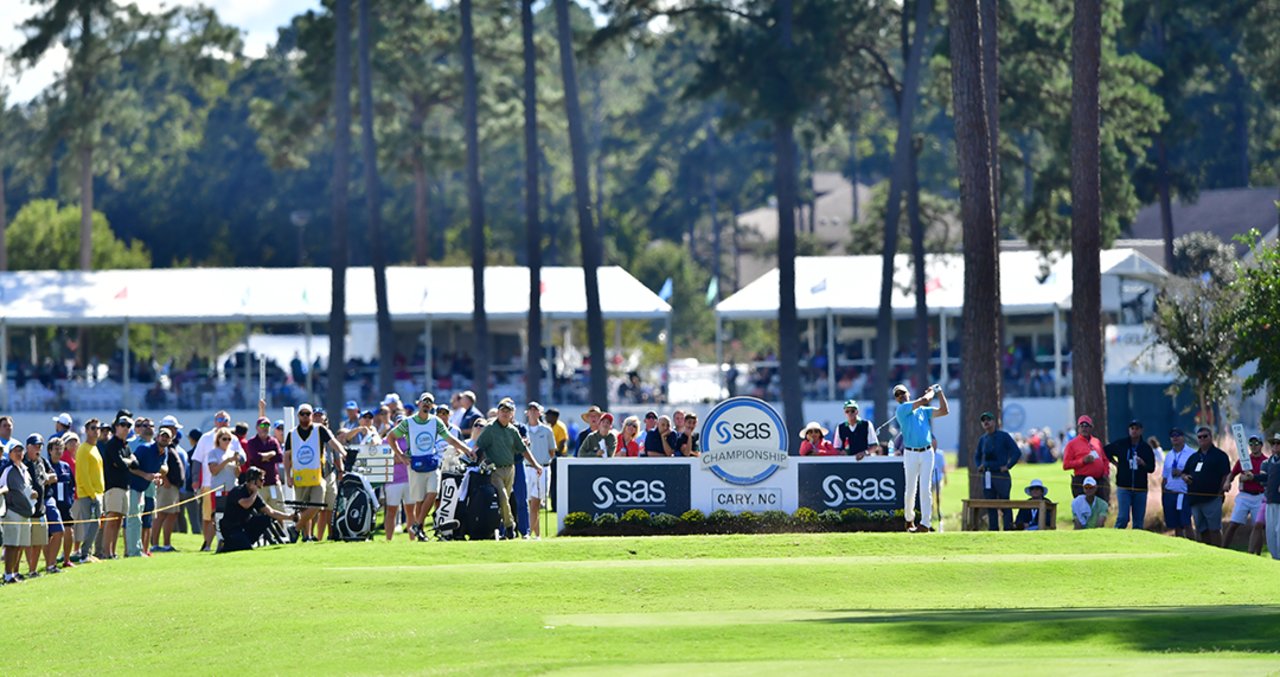 An interesting look at the sports event industry in Greater Raleigh, N.C. 
Closing in on 20 years, SAS Championship grows strong roots in Cary​
The SAS Championship, an annual fixture at Prestonwood Country Club in Cary, is far more than three rounds of golf played by men 50 and older the second weekend in Oct.
Those golfers, many of whom were stars on the PGA Tour, are a main draw, convening in Cary each fall to play for one of the PGA Tour Champions' top purses. 
What happens outside the ropes, though, is what has cemented the SAS Championship as a major community event. That's part of the natural evolution that tournament director Jeff Kleiber said is by design—the tournament doesn't want to rest on its laurels.
"You can't just keep hitting the repeat button on anything," said Kleiber, the tournament's director for 17 of its 19 editions. "We have to keep challenging ourselves."
The SAS Championship has flourished because it continues to find ways to grow around the golf weekend. Early in its history, the focus was on running a strong tournament, with a great course and fantastic player amenities that would keep golf's best from the senior set coming back.
That mission has been accomplished and more, according to the players.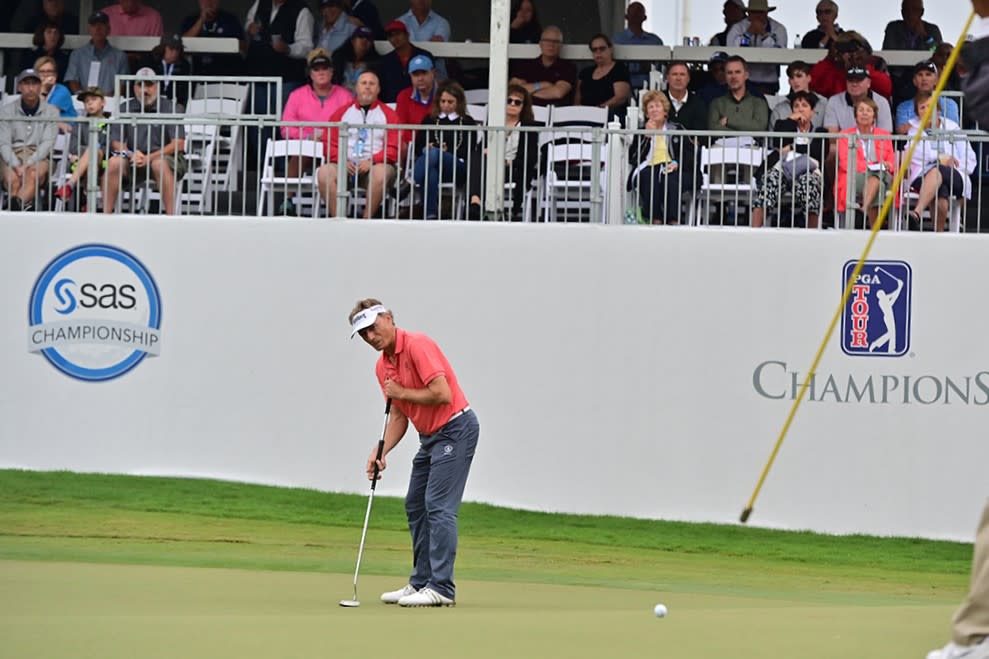 "For me, it's just a place where it almost feels like family," said Bernhard Langer, the tournament's winner in 2012 and 2018. His first victory in Cary might have felt that way—it came when his son Stefan was a student at UNC-Chapel Hill.
But Langer has engaged with many others over the years, getting to know SAS founder Jim Goodnight so well that the two have taken a ski trip together.
Fred Funk, a PGA and PGA Tour Champions veteran, has seen a lot of tournament venues and hotel rooms over the years, and he said overall excellence and convenience are big reasons the players keep coming back to Prestonwood. Travel is easy from the airport to top-notch hotels such as The Umstead Hotel and Spa, a wide variety of restaurants and to the course.
"The golf course, the way the tournament's run, the town,—everything's a bonus here," Funk said.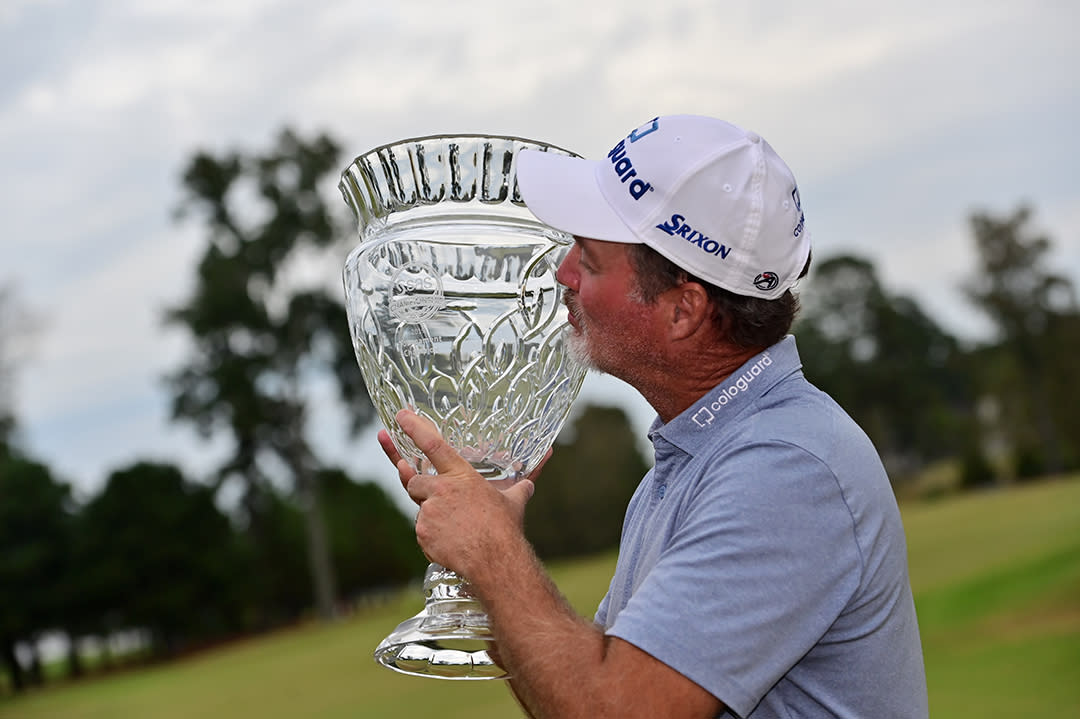 The player who took home the biggest bonus from the weekend was Jerry Kelly, whose final-round 65 earned him a one-shot win. In a post-victory video, Kelly mentioned he had played at Prestonwood in an event even before he qualified for the PGA Tour, so it was a happy return for him, beyond the $315,000 first-place prize. Casual fans were energized by the presence of Davis Love III, making his first SAS Championship appearance, and Fred Couples, making his first appearance since 2011. Couples recently turned 60, and he lives on the West Coast, so he doesn't play much in this time zone. The fans certainly come out to follow Freddie, even though he finished tied for 28th.
Love said of the Couples cool factor: "It's like watching (Wayne) Gretzky skate. It doesn't matter what Fred shoots, you just like watching him play. It looks so natural and easy."
The partnership between Kleiber's team and SAS, the global software company with headquarters in Cary, is focused on three elements to keep the tournament strong beyond what happens during the 54 holes Fri. through Sun.: business relationships, community engagement and charitable giving.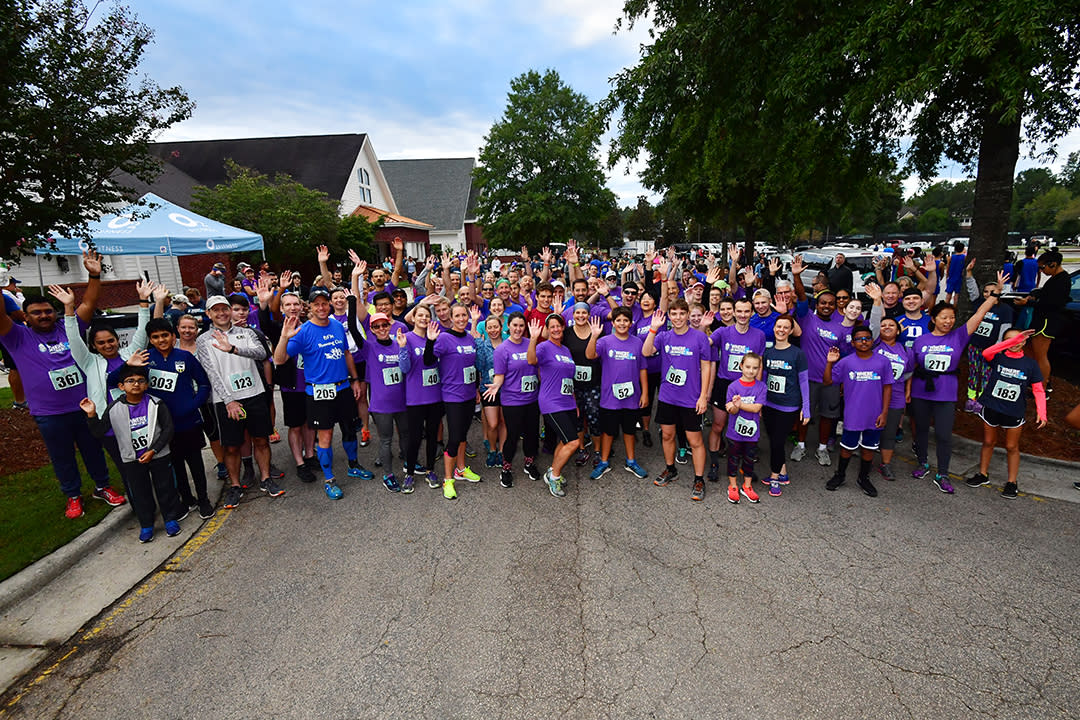 Tournament organizers have made non-golf events par for the course over the years. Kleiber said the tournament takes as much pride in initiatives such as Executive Women's Day as it does on the Wed. or Thurs. pro-am events. Executive Women's Day has grown in impact and interest, filling up the Prestonwood ballroom on Tues. of tournament week for each of the past two years. Kleiber said the program has also grown in terms of having a strong lineup of speakers and a concerted theme, this year's being "Create Your Legacy."
The 5K at the SAS Championship has been held for 10 years, and Food Truck Friday has been a Fri. night staple since 2013. These are the kinds of events that give the tournament a wider community reach—you don't have to know a putter from a pitching wedge to take part.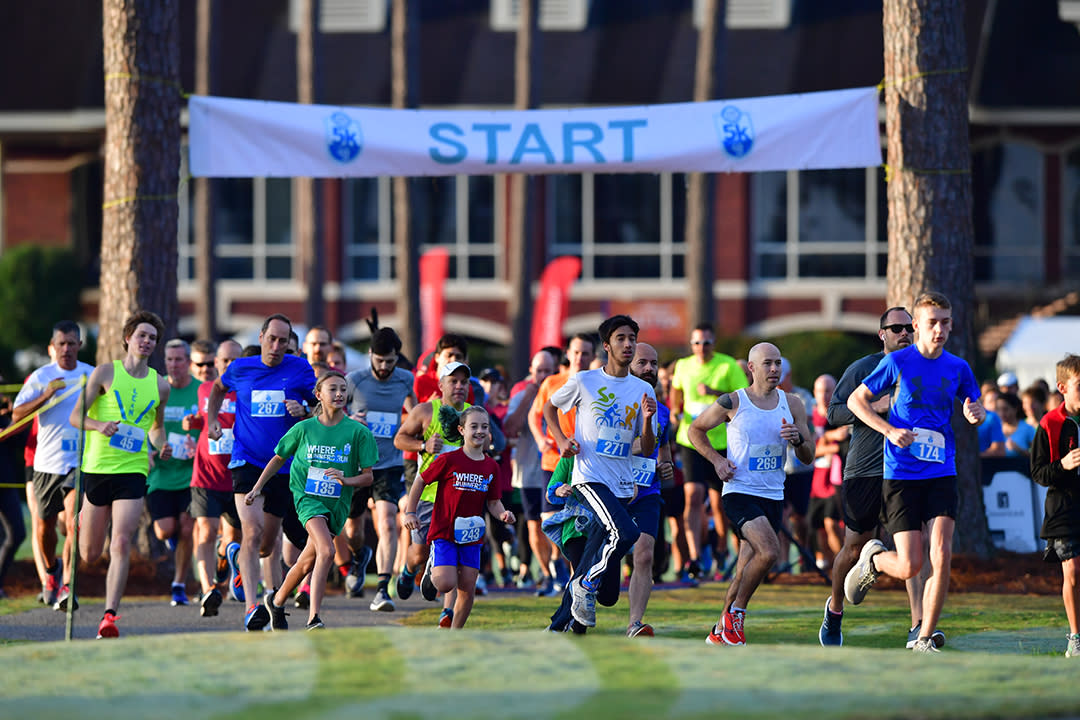 Then there's the tournament's main charity, the YMCA of the Triangle's Y Learning Program, for which nearly $5 million has been raised to support education of more than 8,000 schoolchildren.
Why do the players keep coming back? And why do new guys show up for the first time?
There are several reasons—including the challenging and beautiful par-72 course—but one that seems to pop up more than anything else: the food.
It's no lie—the Prestonwood buffet is legendary among the players. They want convenience and healthy options, and the Prestonwood spread more than fills that role.
"Best food of any tournament," Funk said. "It's ridiculous."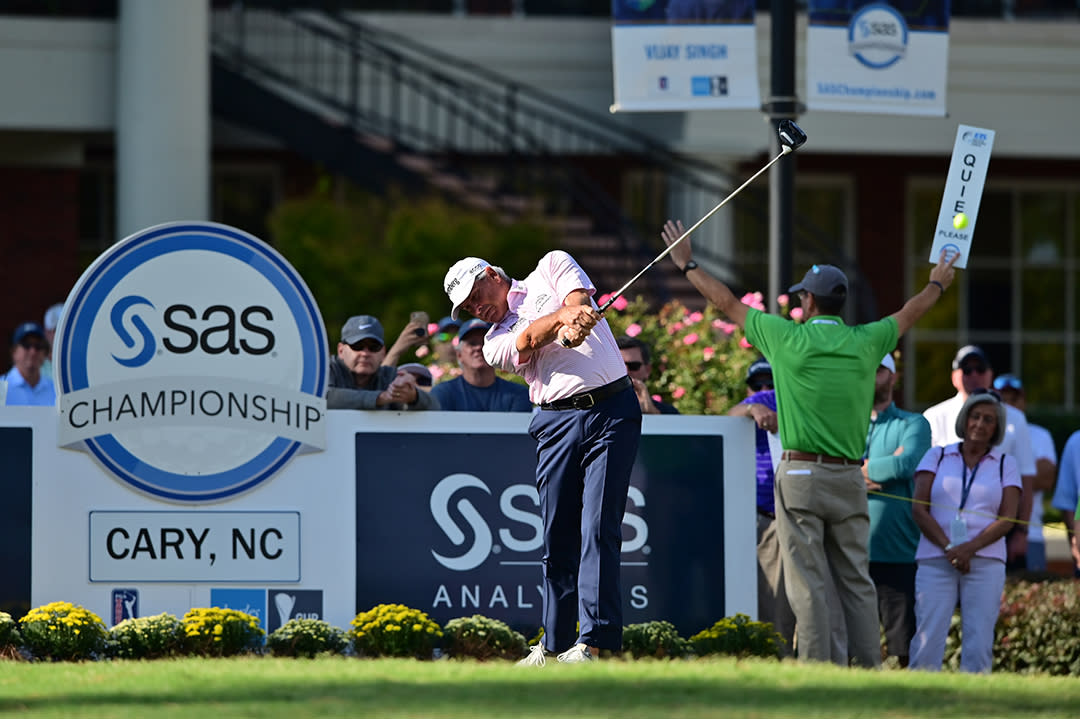 The SAS Championship also has a strategic spot in the PGA Tour Champions schedule, positioned one week before the Charles Schwab Cup playoffs begin. That's why Love and Couples played, to give themselves a chance at a few more weekends of golf.
Regardless of players aiming to move up on the money list or protect their position (the top 72 qualify for the playoffs), Funk said the golfers would show up for the SAS Championship no matter where it fell on the schedule: "It was popular anyway."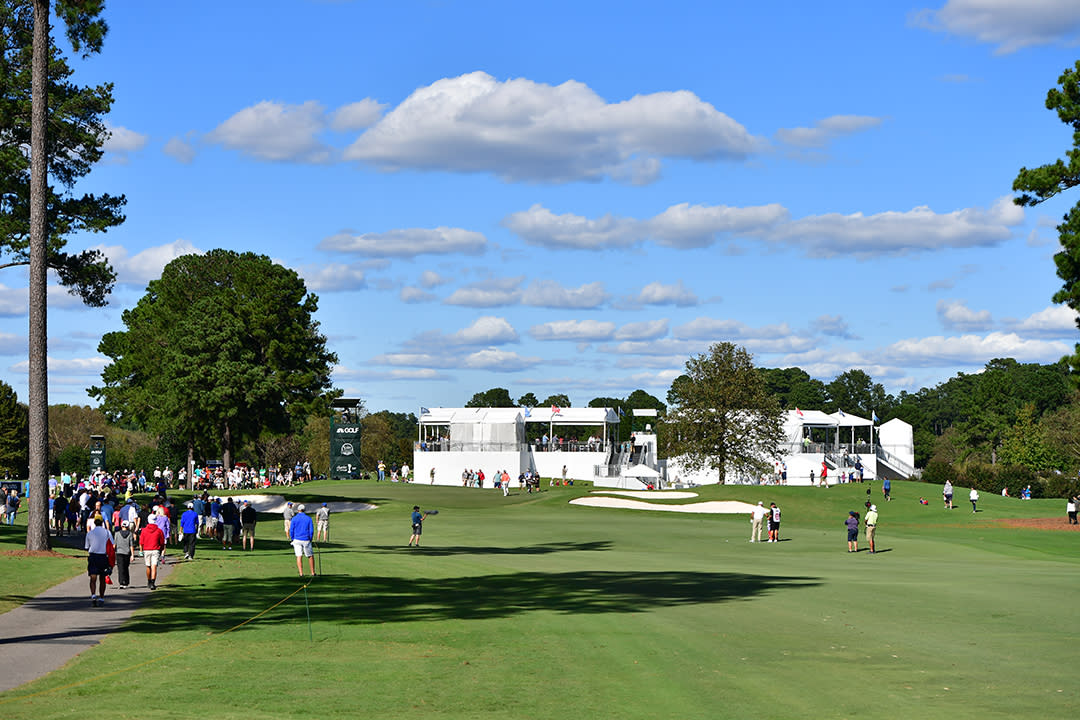 All photos courtesy of Gabe Roux, 2019 SAS Championship
Author: Neil Amato