Visit Raleigh Launches Tourism Recovery Initiatives
Tuesday, October 13, 2020, 6am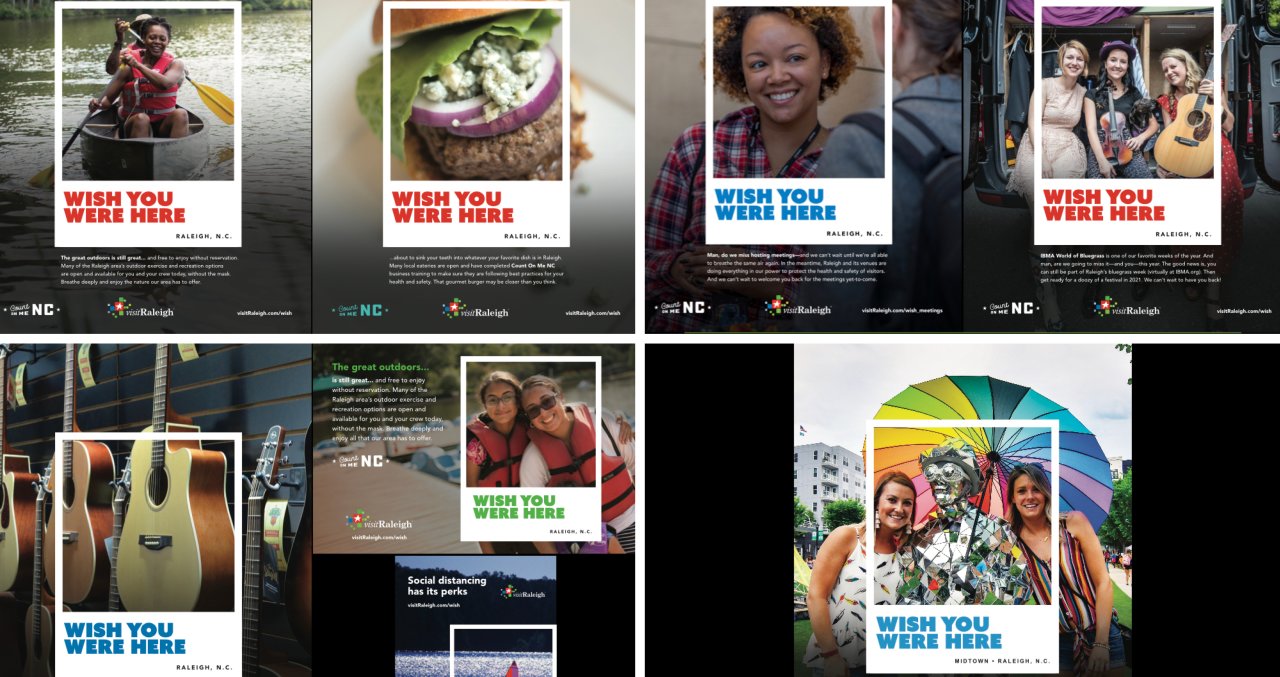 Efforts made possible through $1.25 million in CARES Act funds
Raleigh, N.C. (Oct. 13, 2020) – The Greater Raleigh Convention and Visitors Bureau (Visit Raleigh) was awarded $1.25 million in CARES Act funds by Wake County for the purpose of driving tourism recovery efforts. The funds, which must be utilized before December 30, 2020, will be used to support a comprehensive and robust tourism recovery campaign by Visit Raleigh which includes marketing, advertising, public relations, strategic meetings/convention and sporting event sales efforts and enhanced visitor information services alike.
As is the case across the country, tourism in Wake County has been slow to recover. Hotel occupancy is hovering just over 40% countywide, lost tax revenue topping $15 million and total economic impact from cancelled meetings, conventions and sporting events at more than $135 million.
Consumer confidence remains the biggest barrier to travel and thus messaging for all sales and marketing efforts utilizing these CARES Act Funds will aim to build consumer confidence and inspire travel to Wake County by showcasing all the area has to offer to visitors all while highlighting enhanced safety measures and protocol in place – including a heavy emphasis on Visit NC's Count On Me NC certification program.
"With hotels, attractions, restaurants and bars all open again in some capacity and consumer confidence growing, now is the perfect time for us to launch a tourism recovery campaign," said Dennis Edwards, President and CEO of the Greater Raleigh Convention and Visitors Bureau (Visit Raleigh). "Our message is that Raleigh, N.C. is not only re-open, but safely welcoming visitors once again."
Details on how Visit Raleigh plans to utilize the CARES Act funds for tourism recovery efforts can be found below:
Marketing, Advertising and Public Relations:
Visit Raleigh launched its "Wish You Were Here" tourism recovery campaign in August and is supporting it with an extensive paid advertising and promotional campaign through December 30, 2020.

This campaign includes:

Social media marketing
Search engine marketing
Digital display and email marketing
Streaming video or pre-roll
Print and out-of-home placements
Streaming audio

See below for an example of a promotional video as well as digital ads for the campaign.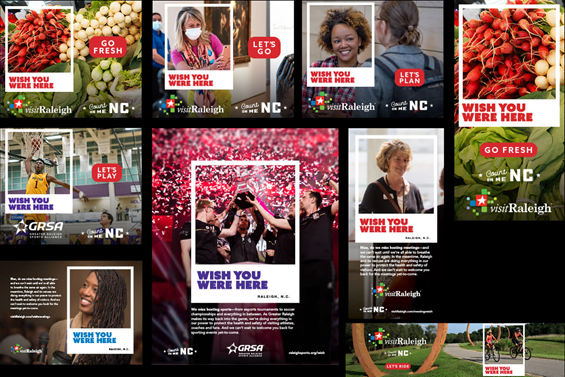 In partnership Travel South USA, Visit Raleigh is also participating in a travel trade marketing campaign aimed at increasing hotel room night bookings through the world's leading bedbank, Hotelbeds.

The campaign will target over 60,000 travel buyers such as tour operators, retail travel agents, airline websites, and loyalty, points redemption and employee benefits managers in the US, Canada, U.K. and France.
The "Authentic South" recovery campaign includes digital advertising, content marketing, social media, video and virtual trainings.

In an effort to promote international tourism and increase bookings in 2021, Visit Raleigh is also embarking on a strategic public relations campaign in key target markets of Canada, the U.K. and France. The campaign consists of media relations initiatives including:

Sales Efforts to Attract Meetings, Conventions, Sports and International Visitors: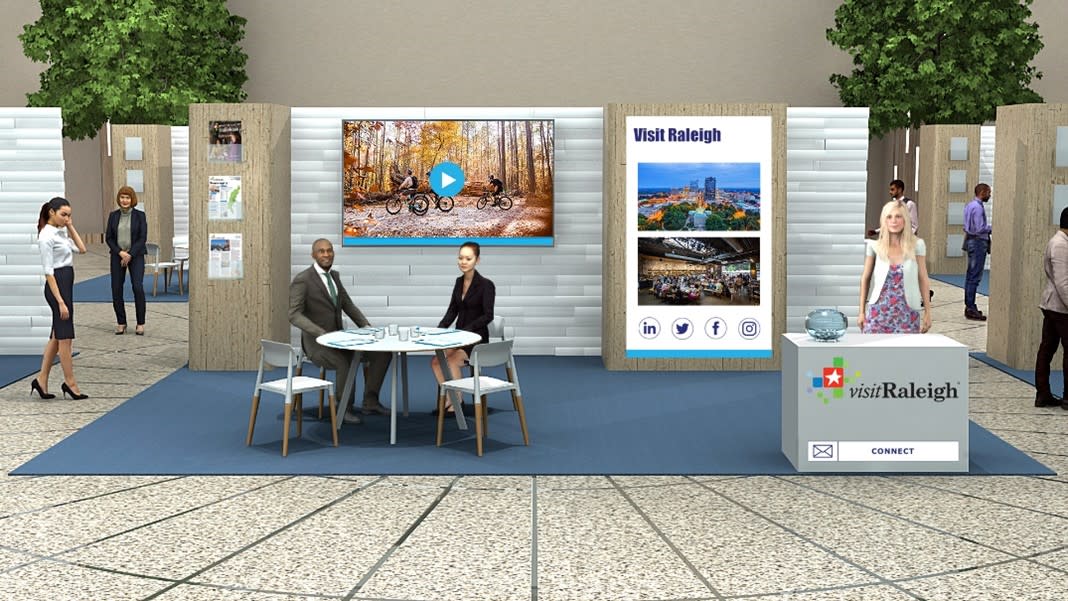 The Visit Raleigh and the Greater Raleigh Sports Alliance (GRSA) sales teams will be embarking on strategic partnerships with and participating in more than 20 virtual trade shows with event planners and sports right holders alike. The effort is aimed at increasing both short-term and future bookings for meetings, conventions, tradeshows as well as youth and amateur sporting events throughout the destination.
​Visit Raleigh's sales team will be participating in the Count on Me NC Digital Tradeshow Series being put on in partnership between Visit NC and Northstar Meetings Group with both regional and national meeting planners from various target sectors in attendance.
In addition, Visit Raleigh's sales team will also be holding their own Visit Raleigh Meeting Professionals Summit Virtual Series where over the course of three virtual events, they will share best practices with meeting planners on topics such as AV needs for virtual meetings, planning hybrid (in-person and virtual) meetings, virtual fundraising, GBAC certification and more.

Virtual Tours and Aerial Video/Photography:
Visit Raleigh is working with Threshold 360 and Destination Virtual Tours to create virtual tours and aerial drone footage of key tourism assets within Wake County to be used in future Visit Raleigh proposals for events and conventions, provide inspiration for future leisure visitors and also be viewable for experiential discovery by Wake County residents.

90+ aerial drone video and photo captures of attractions, municipalities and a long list of other county assets. See below for an example.
More than 100, 360-degree virtual tours will be created of major meeting hotels, venues and other businesses around the county. See below for an example.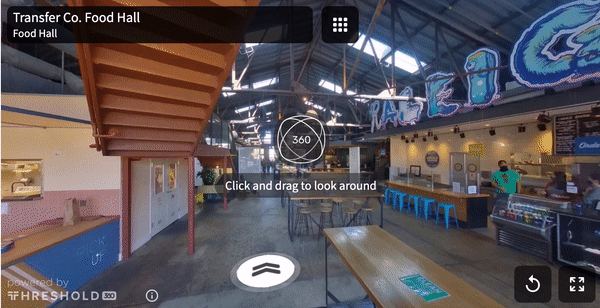 Enhanced visitor information services:
Visit Raleigh's Visitor Information Center, located in the corridor between the Raleigh Marriott City Center and Raleigh Convention Center is also being upgraded, including enhanced technology and safety features to assist visitors looking for tourism information and help planning trips within Wake County.
Additionally, two mobile kiosks will be placed in the Raleigh Convention Center to assist visitors attending meetings, conventions, tradeshows and sporting events within the building.

About the Greater Raleigh Convention and Visitors Bureau (Visit Raleigh):
As the official destination marketing organization for Wake County, the Greater Raleigh Convention and Visitors Bureau (Visit Raleigh), is responsible for promoting Wake County as an attractive travel destination and enhancing its public image as a dynamic place to live and work. Through the impact of travel, the organization strengthens the economic position of and provide opportunity for people throughout Wake County. Raleigh, N.C./Wake County welcomes nearly 18 million visitors annually whose spending tops $2.9 billion. The visitor economy supports more than 28,000 local jobs in Wake County and generates $284 million in state and local tax revenues, saving each Wake County household $727 in taxes annually. visitRaleigh.com
Media Contact:
Scott Peacock
919.645.2676
speacock@visitRaleigh.com
# # #