The Coziest Bars in Raleigh, N.C.
Friday, December 06, 2019, 9am by visitRaleigh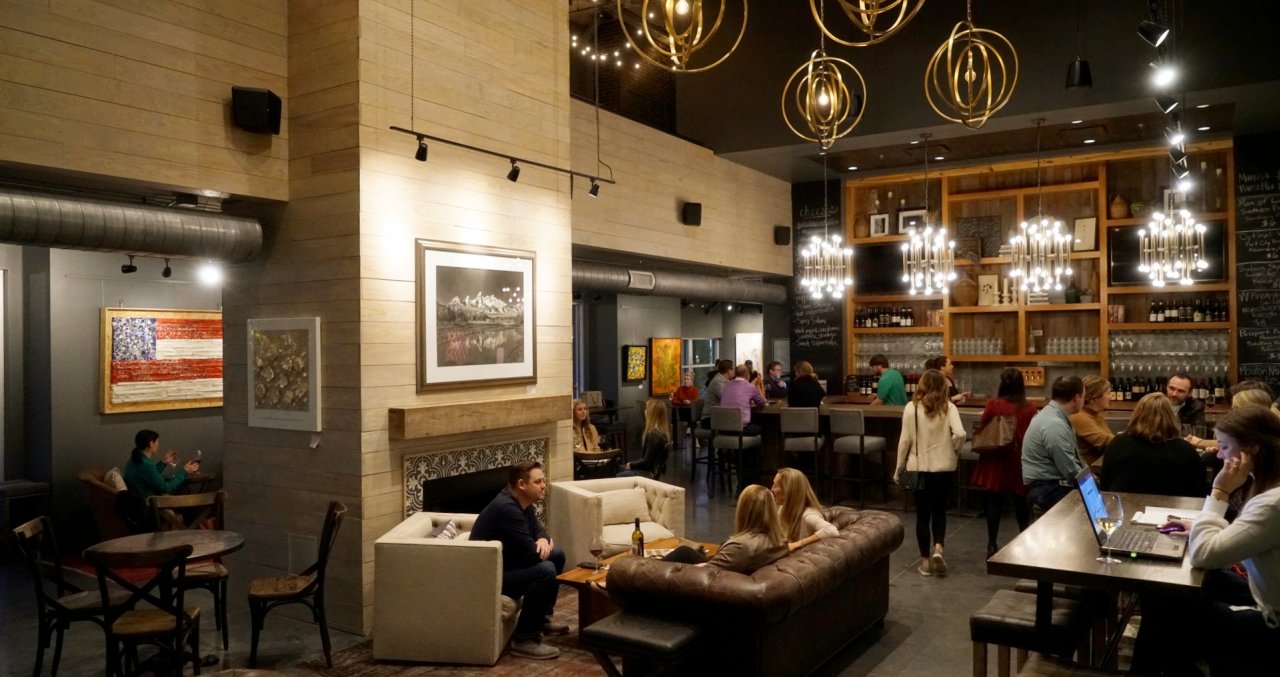 When the weather turns frightfully chilly, nothing warms you faster than a delicious adult beverage, enjoyed in the comfort of a cozy bar or tavern. Here are 11 places in Raleigh, N.C., offering up a regular dose of the warm and fuzzies.
 
This gorgeous cocktail bar in downtown Raleigh is inspired by legendary boxers and '90s rappers, a combination that meshes vintage decor with classic cocktails and a menu that features quotes from the likes of Biggie Smalls and Missy Elliott. The cocktails are taken seriously and done well here, but you couldn't be blamed for ordering the champagne on tap or a giant punch bowl to share with a group of friends (classy punch bowls, who knew!). During the holidays, the bar transforms into "Miracle at the Haymaker," an over-the-top festive pop-up bar with holiday decor and limited-time cocktails to indulge with (through Dec. 31!).
Half the fun of visiting The Green Light is getting inside at all. You'll find this well-kept secret right off a bustling downtown street, behind a hidden door, inside what was once an architect's office. Voted one of the "23 Best Secret Bars in the World" by Thrillist, The Green Light aims to intrigue both the cocktail connoisseur and the curious wanderer with a classy and cozy ambiance.
Inside the super small bar (there's room for 32 people max), the lights are low, and music takes a backseat to drinks and conversation. Comfy banquette seating and small tables bolster bright windows overlooking Hargett St. Cocktail lovers and novices will also delight in mixologists who will gladly whip up something special to make you feel all warm inside.
Insider tip: The Green Light is a bar within a bar. Look for the bookcase entrance inside The Architect Bar & Social House. A green, lit light bulb outside the Architect means there's room for more customers.
Nestled in North Hills is Vita Vite Midtown, a cozy spot with a classy-meets-rustic sensibility. Savor internationally-curated wines, craft beers and small bites at this two-story wine bar that moonlights as an art gallery. On the main floor, plush armchairs and comfy couches are nestled around a crackling fireplace and create the perfect setting to enjoy a night out.
For a gorgeous view of Coastal Credit Union Midtown Park, head up to the mezzanine level where the outdoor patio (plus a 360-degree bar with beautiful tile and wood accents) awaits. Perusing the curated collection of Southern art from local artisans and vendors throughout this welcoming space is also a must.
Journey to Ireland by way of North Carolina with a trip to downtown Raleigh's Hibernian Restaurant & Pub, one of the Raleigh area's most recognizable nightlife spots and the brainchild of passionate mind Niall Hanley (also the owner of Morgan Street Food Hall, Watts & Ward and others). Sporting dark wood interiors, a beautifully-sculpted bar and cozy nooks everywhere (including a second floor filled with bookshelves and a super awesome outdoor patio), this local spot nails that traditional Irish pub feel and boasts an extensive bar selection of beer, whiskey, cocktails and wine to boot. You can also enjoy a deliciously warm meal from their menu that explores the richness of Irish and American cuisine.
Hibernian caters to all walks of life from friends and family to locals and out-of-towners. Maximum hang time is encouraged with complimentary WiFi, regular theme nights and special events. The same comfort can also be found at the North Raleigh location. Take your pick.
C. Grace
Discover a world all its own at C. Grace, a bar experience that hearkens back to the heyday of jazz clubs, cabarets and speakeasies. Behind the red door, you'll find a dark and mysterious interior with wallpapered walls, old-fashioned lamps and chandeliers, paintings with ornate frames, loveseats and burlesque café tables. 
Claim a seat in front of a stage draped in tasseled curtains, then head up to the crescent-shaped bar. There, dapper-dressed bartenders will expertly craft cocktails with names like Odd Perfection and Lost & Found. With drinks in hand, settle in for lively music performances that can range from lounge singers to jazz quartets and even flamenco dancing! You can also check out the large back room with cozy couches and quiet corners ideal for conversation.
Insider tip: C. Grace can be easily missed. When you find the mural of the hippest cat in town, you've arrived.
Or WILCO, as the locals call it, carves out a nice niche in Raleigh's blossoming N. Person St. neighborhood, serving as a seriously-chill interpretation of your classic cocktail bar. With its stuffed couches, upholstered chairs and funky décor, this comfortably-hip spot impersonates a cozy living room to a tee.
Located next door to Crawford & Son, William & Company draws you in for an aperitif or an after-dinner nightcap. Choose from a menu of fresh and locally-sourced cocktails or consult the chalkboards for evening specials and seasonal drinks. People-watching is also a must through large windows looking out onto the street.
When winter comes on strong, go underground to one of the coziest spots in downtown Raleigh. Foundation, tucked away in the heart of Fayetteville St., is a secluded spot featuring plenty of ambient lighting, a gorgeous wood bar, exposed brick walls, great local art and a quirky, lodge-in-the-woods vibe. Foundation also specializes in locally-sourced bar ingredients from herbs to ginger ale and sodas. Come in for seasonal specialty drinks, cocktails made with local liquors and local craft beers on tap.
Insider tip: Look for the neon Foundation sign, located below street level against a staircase, at the bar entrance. For specials on all N.C. cocktails, visit on a Sunday.
This intimate and colorful gem opened behind a secret door inside of Morgan Street Food Hall in late 2019, bringing Irish and American traditional gin to an already bustling part of downtown Raleigh's Warehouse District. Behind the bar you'll find A-plus drinks made by Greg Ewan, a Raleigh native with nearly 20 years of hospitality experience at bars and restaurants around the country, and on the walls you'll find a gorgeous mural by artist Bryan Leaf Stacy. With room for 30 or so guests, visitors will find a mix of vintage-y decor—bar stools, lounge chairs and velvet couches—to cozy up with.
Unassuming from the outside, The Blind Barbour's signature set of whiskey-themed cocktails surely is not—due in part to its offering of almost 200 whiskey, scotch and bourbon options. The bar also makes its own syrups and mixers in house and holds monthly events for tasting and sampling.
With a throwback vibe that exudes old-school charm, The Blind Barbour goes heavy on the wood paneling and features an ornate, gold-embellished mirror hanging over a wood grain bar. The space draws inspiration from the speakeasies of old and even gets its name from the way patrons would gain entry—asking for "the blind pig."
This subterranean drinking den, featuring classic and contemporary cocktails, is the brainchild of James Beard Award-winning chef Ashley Christensen. Down a flight of stairs just around the corner from two of Christensen's eating spots (Chuck's and Beasley's Chicken + Honey), you'll find friendly service, a laid-back vibe, strong drinks and lots of comfortable, dark leather seating. A great date spot or place for small groups.
On a long winter's night, cozying up to a plain and simple tavern is the way to go. Landmark Tavern fits the bill with its low-lit interior, dark wood paneling, antique-style light fixtures and comfy booths. You'll find it inside a three-story building on Hargett St., which coincidentally is a historic landmark in its own right.
Stop in with friends, unwind with drinks and enjoy the awesomeness of Landmark's main attraction: the bar itself. Built in 1911 and restored to its former glory, it's one feature you won't find anywhere else.
Havana Deluxe may have started as the original Raleigh cigar bar, but its popularity endures as a real bar's bar. Experience what can only be affectionately called a comfy cave with low lights, deep leather chairs and inviting sofas. The drinking bar might resemble your dad's old liquor cabinet, but the selection there is anything but—Havana offers a wide assortment of whiskey, scotch and bourbon as well as draft and bottled beers. You can also BYOC (bring your own cigar), or have the staff set you up with their own selection.
This craft cocktail bar from Ireland native and Hibernian Hospitality owner Niall Hanley is 6,000 square feet of 1920s America underground spirit. Located beneath Caffé Luna and directly across from Moore Square, Watts & Ward is a seemingly-endless cavern, with room after room of leather seating, vintage artwork, rustic tables, dim lighting and bookshelves full of history. Tons of seating options, including big booths that are great for groups, an inventive cocktail menu and low-key jazz events all mean you'll need to carve out some time to swing by this speakeasy on a night out.
Header photo of Vita Vite Midtown courtesy of North Hills
Comments