The Best New Restaurants in Raleigh, N.C.
Thursday, November 07, 2019, 2pm by visitRaleigh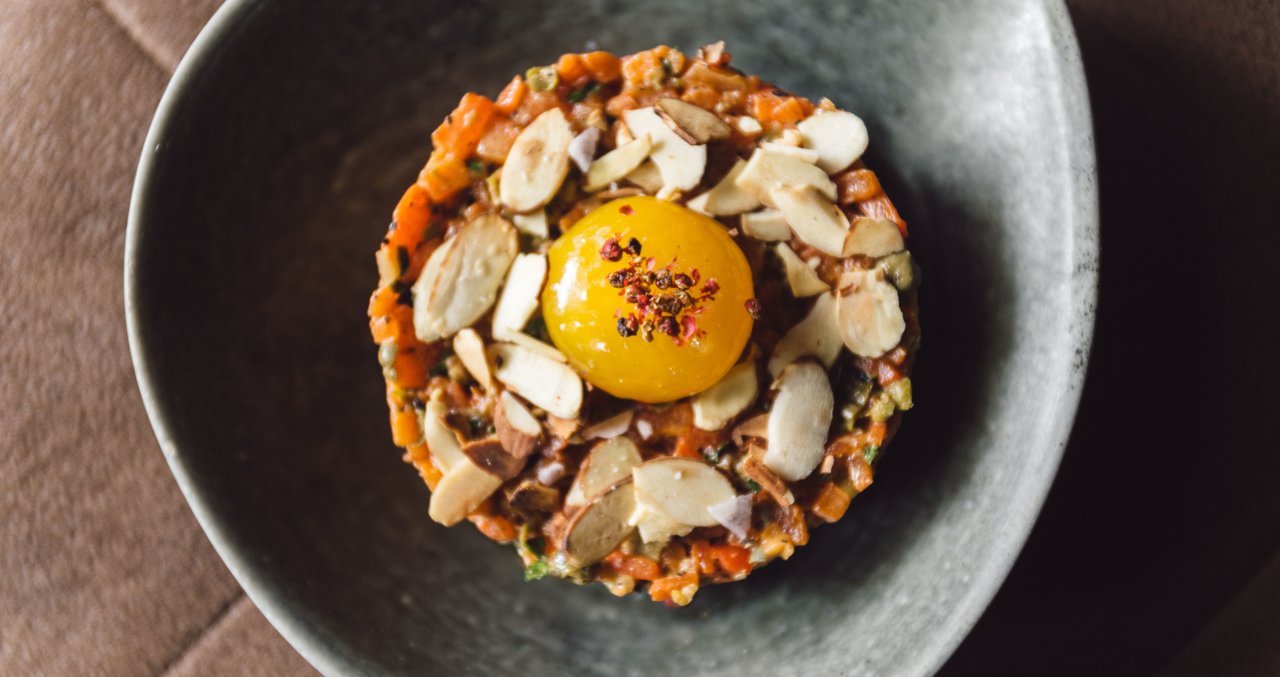 There's been a lot of buzz in the the Raleigh area's foodie scene around some exciting restaurants that have recently opened their doors. The list includes culinary concepts from some nationally recognized chefs and local passionate minds as well as a few under-the-radar spots that are making a big splash. To help you make your way through the ever-expanding options for fantastic dining around the area, we've compiled this list of the best new spots we think you'll want to try!
 
Conceived as a lush and romantic garden bistro, Rosewater Kitchen & Bar (pictured in the header) is a festive setting for gathering and feasting. According to owner and highly-regarded local restaurateur, Giorgias Bakatsias, Rosewater is designed to be "a transporting oasis in the heart of North Hills, set among vine-trained trellis's and flowering plants."
In a light-filled solarium, Rosewater Kitchen & Bar brings a European-style neighborhood bistro to life with a menu of sharable dishes complemented by American wines, craft cocktails and local beer. If an indulgent brunch is your thing, the restaurant is open on Sat. and Sun., 10am-3pm.
kō•än
The recently-opened kō•än brings a renewed energy and feel to Cary's dining scene. With a menu focused on sharing food that celebrates the unsung heroes of Southeast Asian cuisine, kō•än will inspire guests with its humble and tranquil fare composed of small plates, hot pots and inventive bowls.
The kitchen is led by executive chef Drew Smith, formerly of Raleigh's bu•ku and so•ca, and winner of 2019's Cooking for a Classic dining competition. A centerpiece to the new restaurant is its Zen-like ambiance that incorporates living walls, fountains and wood textured furniture throughout the restaurant. Local tip: For trusting, food-loving patrons, kō•än offers an omakase menu that features five- and seven-course tasting menus with wine pairings.
Chef Ashley Christensen—known to many as the face of Raleigh's booming food scene—has unveiled her newest dining concept in the City of Oaks. Located in the building directly next to Poole's Diner (Ashley's flagship restaurant), Poole'side Pies is impossible to miss with its iconic "All Are Welcome" mural plastered across the outside south-facing wall. 
Christensen's sixth project is dedicated to Neapolitan-style pies. In Poole'side terms, that means thin-crust pizza, cooked for 90 seconds at more than 800 degrees in a 6,000-pound, Marra Forni wood-fired oven, using organic Bianco DiNapoli tomatoes, a dough made from local flour and house-made mozzarella. In addition to the pies, you'll also find delicious treats, starters and salads as well as a carefully chosen beverage program and amazing desserts. Local tip: Try the Margherita pie—the go-to for die-hard pizza fans and Ashley's personal favorite.
Chef Scott Crawford—a five-time James Beard Foundation semifinalist for Best Chef: Southeast—has already more than made his mark in Raleigh. Now he's added a second restaurant to his Crawford Hospitality restaurant group's portfolio—Jolie, a French bistro named for his daughter. 
This latest eatery in downtown Raleigh's N. Person St. neighborhood sits directly next to flagship restaurant, Crawford and Son. It includes a rooftop dining space and a menu featuring French classics and modern interpretations from Crawford and chef de cuisine Madison Tessener. Local tip: Similar to the dining experience at Crawford and Son, guests would be wise to taste as many of the small plate offerings as possible (and reservations are recommended as far in advance as possible!).
Farmhouse Café, the brainchild of Daniel Whittaker and Patrick Cowden (co-owners of downtown Raleigh's The Pharmacy Café), offers breakfast, lunch and small plates for dinner. Located in Wendell, the menu features seasonal dishes from local vendors and a community-focused atmosphere built on their love for sustainable practices.
When you go, be sure to savor a Danish delicacy known as Smorrebrods. The dish derives from the Netherlands and is an open face sandwich, usually on dense bread such as Rye, topped with a schmear of butter, seasonal ingredients and a fresh protein.
Located inside Transfer Co. Food Hall, Alimentari at Left Bank is a creative collaboration between Josh DeCarolis, acclaimed chef of Durham's Mother & Sons and nationally renowned Left Bank Butchery out of Saxapahaw, N.C. 
In addition to serving a farm-fresh menu of Italian specialties and fresh pasta by the pound, Alimentari at Left Bank offers the only local whole-animal butchery and charcuterie shop in downtown Raleigh. The menu will focus on tigelle's—Northern Italian style small flatbreads stuffed with a variety of meats and charcuterie from Left Bank Butchery, fresh local cheeses and vegetables.
Rueben's NY Deli
If you're craving a massive, 12-ounce meat sandwich on traditional rye or sourdough with meats made in-house, then Rueben's NY Deli is the place to enter into your favorite map app. Reuben's brings an authentic New York-style Deli to downtown Raleigh, serving a wide selection of soups, salads, bagels, sandwiches and desserts for you to nosh on. Stop in for breakfast, brunch, lunch or dinner and satisfy your craving for an authentic NYC deli sandwich in the City of Oaks.
HieuBowl Vietnamese
Ready for some fresh, flavorful Vietnamese food in a friendly atmosphere? HieuBowl Vietnamese, located on Hillsborough St. in Raleigh, serves simple and accessible entrees that appeal to casual diners of all ages. Roasted meat over a bed of hot rice, crisp salads, homemade banh mi sandwiches and hearty pho noodle soups will get your tummy rumbling. It's quick, filling and healthy—and all at an affordable price.
Uninhibited is definitely the right way to describe this exciting new concept eatery from chef Gregory Goldberg. By crossing culinary boundaries, Uninhibited Tapas offers an adventurous variety of small plates and tapas with cocktails, wine and beer. The menu covers both land and sea—Filet Mignon Sliders with butter toasted brioche buns, hot pepper jelly, aged fontina and local greens on one hand, Seafood Mac n Cheese with cold water lobster tail and shrimp, shallots, sherry, local cheeses and a butter and herb coconut crumble on the other. Local tip: If you're in the mood for charcuterie and cheese, they offer an enormous assortment with tantalizing accouterments to choose from.
Header photo courtesy of Rosewater Kitchen & Bar
Comments