15 of the Best Places to Eat and Drink in Raleigh, N.C.'s North Hills
Friday, December 16, 2022, 9am by visitRaleigh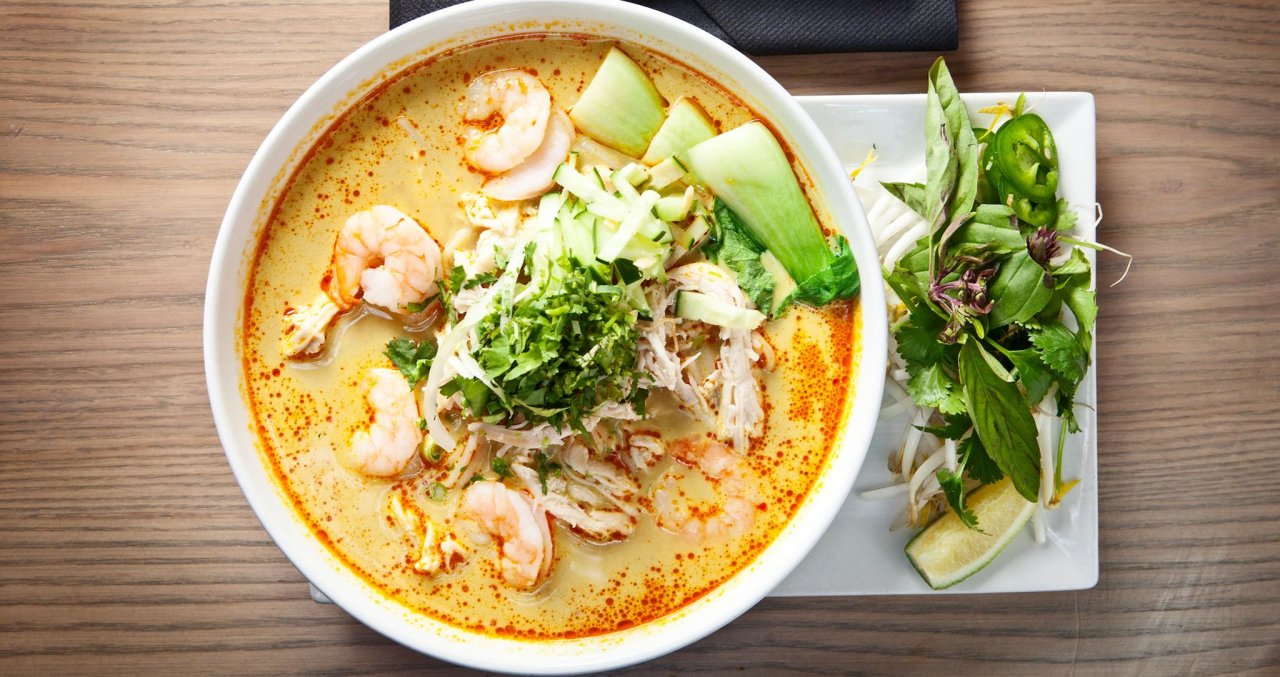 Raleigh's North Hills area is teeming with fantastic restaurants and bars. After a day of shopping, visiting the Midtown Farmers Market or dancing to live tunes at the Midtown Beach Music Series or another concert at Coastal Credit Union Midtown Park, you're bound to have worked up an appetite! Check out a few of our favorite spots to eat and drink in North Hills.
 
41Hundred, located inside the elegant Renaissance Raleigh North Hills Hotel, serves simple-yet-sophisticated food and drink. Executive chef Kevin Smith is dedicated to using fresh, local and high-quality ingredients. Grab one of their delicious craft cocktails at the bar before diving into a variety of shareable plates. Some of the most popular dishes on the menu include the Korean BBQ wings with sriracha aioli and the pork bao buns garnished with cucumber, watermelon radish and sesame.
Pay a visit to North Hills and dine at bartaco! bartaco serves upscale street food inspired by the cultures of Brazil, Uruguay and Southern California. With specialty cocktails, beers and fresh juices, bartaco serves more than just tacos and tapas. You can't miss their crispy masa-crusted rock shrimp taco topped with rémoulade sauce and lemon parsley slaw. Pair that with a classic bartaco margarita for ultimate satisfaction! Pro tip: Make sure to ask your server to try their secret taco of the month!
CO's menu is full of bright, bold flavors from Southeast Asia. Designed to be a place for gathering, CO is perfect for a date night, an outing with friends or even a fast lunch. Taste fresh, robust flavors of crowd favorites like the Hanoi noodles drenched in a delicious yellow curry or the caramel pork banh mi served with a green papaya salad. Gluten-free and vegan options guarantee there's something for all types of diets.
Get a taste of Paris by eating at Coquette, a contemporary French restaurant. Order a glass of wine at their expansive bar before sitting down to try dishes like escargot or oysters du jour with mignonette sauce. The rack of lamb is a must-have, with artichoke barigoule, spring onion soubise, fingerling potatoes and herb Dijon vinaigrette. Coquette is also perfect for brunch if you're looking for a spot to fuel up at before an afternoon of shopping!
Located at the AC Hotel Raleigh North Hills, Level7 is Raleigh's distinctive, energized space for tapas-style bites and samplings from small batch distillers, brewers and single vineyard labels. With a flavor all its own, Level7 is a European-inspired experience with N.C. spirit and Raleigh soul overlooking the North Hills area. Enjoy a refreshing Grapefruit Spritz on the rooftop followed by an array of tapas. You can't go wrong with a cheese and charcuterie board, potato gnocchi with blue cheese béchamel or the prosciutto fig flatbread adorned with generous helpings of mission figs, sage goat cheese and ancho balsamic. We're also in love with the molten chocolate cake topped with Tahitian vanilla bean gelato, when it comes to sweet treats!
At Happy + Hale, healthy fuel is at the core. By providing freshly made juice, hearty protein bowls and smoothies, Happy + Hale is dedicated to healthy nourishment. The offerings are fresh and fast, and some of the fan favorites include Thai chicken crunch bowl and the Almond Brothers smoothie with chocolate almond milk, banana, almond butter and ground coffee. Pro tip: Don't miss out on Happy + Hale's all-day breakfast! Order the avocado toast topped with a sunny-side egg.
STIR (pictured in header) offers up unique craft cocktails, premium oysters at a dedicated raw bar and a creative menu including impressive dishes such as authentic Peruvian ceviche, chicken picatta and scallop and shrimp white cheddar mac and cheese. And they take their craft cocktail game to the next level with the use of artisanal ice crafted in eight unique shapes. Frozen from the inside out with purified water and using a special process to avoid air pockets, the crystal-clear craft ice ensures that drinks don't get diluted and retain their chill and flavor profiles.
Enjoy dry-aged steaks and an extensive wine list at the Capital Grille. Located across from the AC Hotel Raleigh North Hills, this restaurant is a great option for visitors staying at the hotel. Order one of The Capital Grille's signature steaks or the seared citrus glazed salmon as an entrée. For shareable sides, go for the creamed spinach and Parmesan truffle fries. Pro tip: Make reservations, especially on weekends, as the restaurant can get quite busy!
Are you into sushi but your date is more of a burger person? Well, we have just the spot! Not only can you get burgers and sushi, but the Cowfish also serves up a fusion of the two. For starters, enjoy the creamy crab Rangoon and then order a few sushi (or burgushi!) rolls. We're big fans of the All-American Bacon Double Cheeseburgooshi roll. All-natural beef, cheese, applewood bacon and red onions are wrapped in soy paper and potato strings then flash fried. This delicious burgushi roll is then topped with ketchup, mustard, dill pickle and Roma tomatoes. Finish things off with one of their tasty spiked shakes. Pro tip: Seating on the patio is plentiful if you're looking to dine outside.
At Vivace, the high-energy interior with patio dining meets progressive Northern Italian cuisine. Enjoy an abundant wine list served in an upscale-rustic setting. The ricotta gnocchi served with apples, arugula and a roasted sunchoke purée is perfect for pasta lovers. Feeling something a little heartier? The veal saltimbocca with prosciutto, fresh mozzarella ravioli, wild mushrooms and brown butter is quite filling and delicious. Pro tip: Don't miss out on dessert! With options ranging from panna cotta to tiramisu, the executive pastry chef's creations are the perfect way to end your meal at Vivace.
Vita Vite Midtown is a wine bar and art gallery right in the action of North Hills' Coastal Credit Union Midtown Park that features a menu of internationally curated wines along with craft beers on tap. Sip on a glass of wine as you also enjoy small plates like the burrata with fresh baked bread from locally owned Boulted Bread, and locally sourced desserts like Videri chocolate bites. Plus, you might even go home with a treasure! The wine bar doubles as an art gallery with creations sourced from Southern artists. Marked by a 360° bar, the second-story mezzanine affords vistas of Midtown Park through a retractable glass wall. Vita Vite truly is the most perfect place to relax with a glass of wine and kick up your feet after a busy day of shopping at North Hills.
Conceived as a lush and romantic garden bistro, Rosewater Kitchen & Bar is a festive setting for gathering and feasting. According to owner and highly regarded local restaurateur Giorgias Bakatsias, Rosewater is designed to be "a transporting oasis in the heart of North Hills, set among vine-trained trellis's and flowering plants." In a light-filled solarium, Rosewater Kitchen & Bar brings a European-style neighborhood bistro to life with a menu of sharable dishes complemented by American wines, craft cocktails and local beer. If an indulgent brunch is your thing, the restaurant is open on Sat. and Sun., 10am-3pm.
Although, the Bul Box in North Hills only opened in 2021, the Bul Box team has been serving amazing Asian food in Raleigh for more than two decades. Try a signature bul box like the bulgogi (beef), bul-dak (chicken) or tofu. The Bul-Dak ramen boasts bold and spicy flavors and is a fan favorite. To balance the spice, order a bubble tea slushie with tea flavors such as matcha, mango and pomegranate. 
Cucciolo Terrazza is putting a twist on modern Italian cuisine. Jimmy Kim, chef and owner, opened Cucciolo Osteria (Cucciolo Terrazza's sister restaurant!) in Durham in 2018, earning a love letter from Raleigh's The News and Observer food critic Greg Cox, and diners can expect much of the same at the North Hills location. Drop in for dinner to sample signature dishes like the Spicy Tomato Vodka Cream Sauce Rigatoni and Butter Chicken 'Sostanza' Style. You'll also find a delightful array of new dishes featuring fresh pasta and seafood to try as well.
The North Hills barbecue joint is the first spinoff from the team behind The Redneck BBQ Lab in Benson, N.C. (where 'cue scientists Jerry Stephenson and Roxanne Marley have brought home more than 40 Kansas City Barbecue Society Championship awards). Despite Stephenson's upbringing on whole-hog barbecue in Eastern N.C., the menu at The BBQ Lab was created with a different idea in mind—you'll find competition-style, slow-smoked cuts of beef brisket, pork, chicken, turkey and sausages. That means an early start to every morning and often a sellout by early afternoon (and once the day's food is gone, it's gone—so plan to be there early!).
More great places to try:
Comments