Brewery Restaurants in Raleigh, N.C.
Thursday, February 22, 2018, 7am by Leigh Powell Hines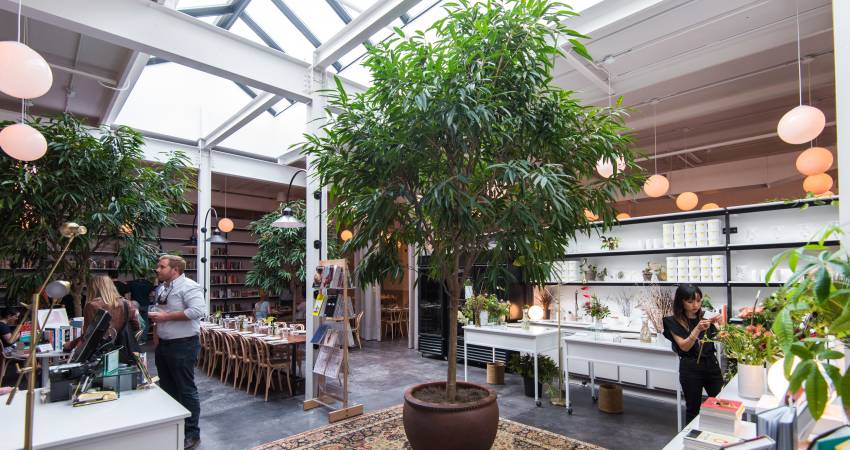 While lots of the Raleigh, N.C., area breweries feature food trucks or are located near excellent restaurants, there's a good handful of breweries that operate full-service restaurants. Combine dinner and tastings and give these brewery restaurants a try!
 
Aviator SmokeHouse
Wings and slow-smoked meats are the stars at Aviator Brewing Company's restaurant in Fuquay-Varina, but burger lovers will be happy, too. Wed. is Taco Night, with smoked pork or chicken tacos, one beer or a side for $6.99. The brewery's Tap House and Beer Shop are both across the street, and the brewery itself is only two miles down the road. (Tip: If you want to hang out at the Tap House or Beer Shop, you can order from the SmokeHouse!)
 
Brewery Bhavana
From the creators of Bida Manda, Brewery Bhavana is a brewery, taproom, dim sum restaurant, library and flower shop all in one in downtown Raleigh. Ultimately, it's a gathering space welcoming people from all walks of life, backgrounds and futures. A marble wall with more than 20 taps pours their delicious beers, all of which pair perfectly with dim sum options like shrimp and fresh corn dumplings, steamed pork buns and fried rice topped with a soft egg.
 
Clouds Brewing
Located in downtown Raleigh, Clouds Brewing features beers from all over the world, including the Raleigh area. Grab a burger, wrap, sandwich or salad from the contemporary American menu. Order up the Clouds Burger, a half pound of 50/50 bratwurst and ground chuck topped with stone ground mustard, sauerkraut and white cheddar cheese, served on a toasted pretzel bun!
 
Lynnwood Grill and Brewing Concern
Lynnwood Grill curbs your appetite with pizza, calzones, burgers, house-made desserts and more. It even has a special kids menu. In this particular case, the restaurant, which is also a great nightlife spot, was established long before the brewery. 
 
Oak & Dagger Public House
At Oak & Dagger Public House, there's no separating the food from the beer. The food menu, dubbed Southern fusion, often turns to beer as an ingredient. The massive restaurant, a converted warehouse on the north end of downtown Raleigh, won't let you forget you're inside a brewery. Beer bottles hang from the ceiling, and a large glass wall is all that separates you from the fermentation tanks. At any time you'll find more than a dozen of their mainstay and rotating specialty beers on tap (plus more at their bottleshop next door). 
 
Trophy Brewing Company
Trophy Brewing Company does beer and pizza as well as anyone (and secretly has some of the best desserts in Raleigh when you can find them on the menu). The dozen or so mainstay pizzas on the menu come with a wide variety of bases—fire-roasted tomato sauce, garlic extra virgin olive oil, vegan mashed potato puree, basil pesto etc. You can't go wrong with anything from the constantly-rotating seasonal draft list.
 
Trophy Tap & Table
Located in the heart of downtown Raleigh, Trophy Brewing Company's Trophy Tap & Table is one-part craft beer bar, one-part Southern-inspired kitchen. A diverse menu coupled with a rooftop patio and event space offer up an awesome dining experience. 
 
The Mason Jar Tavern
Sample some tasty N.C. beers and grab a meal at The Mason Jar Tavern, with locations in both Fuquay-Varina and Holly Springs. This restaurant serves up lagers from its own Mason Jar Lager Company brewery, which is located just a few miles down the road from the Fuquay-Varina location on Broad St. We're big fans of the fried mac-n-cheese bites and pimento cheese dip as starters, followed by the pulled pork tacos and Hangover Burger or TMJT Burger for entrees.
 
Boylan Bridge Brewpub
Take in a fantastic view of the downtown Raleigh skyline with great outdoor seating at Boylan Bridge Brewpub. Serving house-made craft beers, with the brewing operation visible from inside the restaurant. 
 
Honest Abe's Kitchen & Bar
Lincoln Brewing & Distilling Co.'s newest concept, Honest Abe's Kitchen & Bar, is close to PNC Arena and Carter-Finley stadium, making it a perfect go-to spot before an upcoming game, concert or special event. Kick off your meal with an appetizer for sharing, including fried Brussels sprouts, stuffed garlic knots and nachos. The menu features a selection sure to please everyone, with build-your-own pizzas, burgers, sandwiches and salads. The boozy milkshakes are a must for dessert!
 
Tobacco Road Sports Cafe
Brothers Brian, Alex and Rommie Amra always shared a passion for sports and great food. Unfortunately, their favorite places to watch the big games were never their favorite places to eat. Tobacco Road Sports Cafe offers delicious, fresh, local food, beer brewed onsite and all the sports you could ask for! The space also has amazing private event space and, of course, a great atmosphere for dinner or drinks. 
 
Don't forget to print and take your Raleigh Beer Trail Passport when you visit! Get stamps at each brewery to earn prizes!
Comments