10 Great Brewery Restaurants in Raleigh, N.C.
Wednesday, June 26, 2019, 1pm by Tabletop Media Group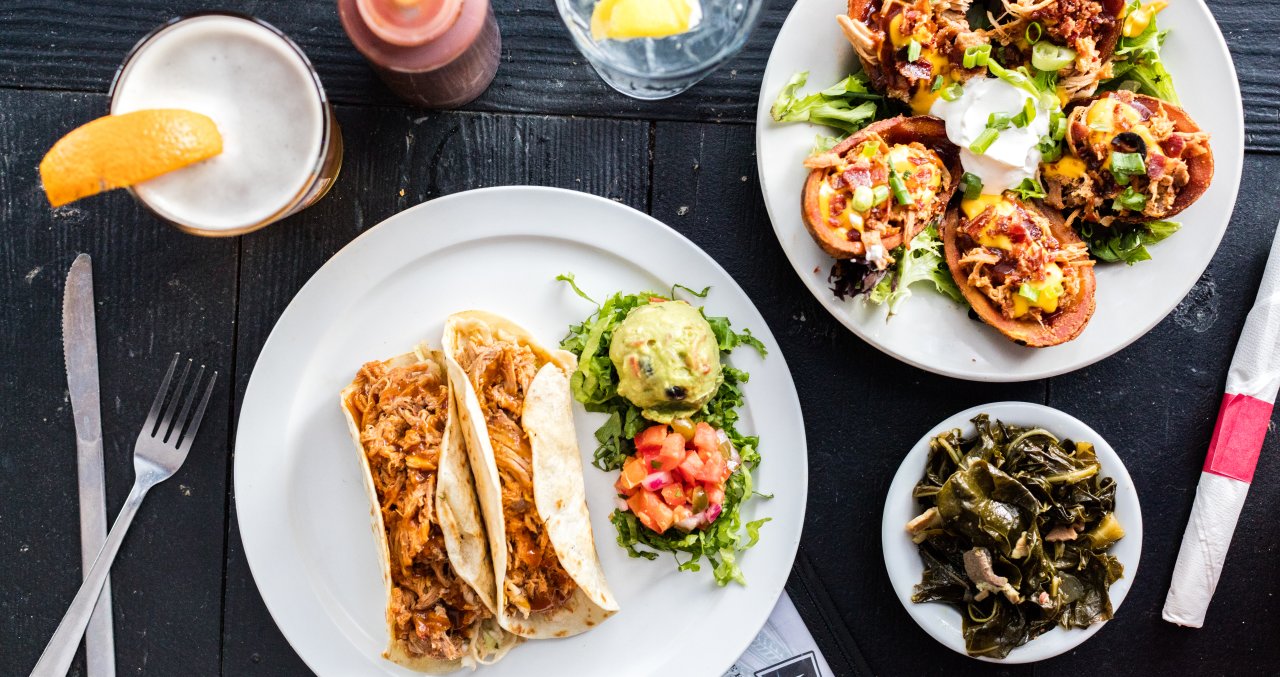 In the Raleigh area, craft breweries abound with unique taps and generous pours, and while these cherished spots are most celebrated for their brews, a handful have kitchens with excellent food offerings to pair with as well. So grab your favorite brew, then order anything from dim sum to shrimp and grits to ensure an outstanding food and drink experience at these brewery restaurants that are not to be missed.
 
While many come to Fuquay-Varina's Aviator Brewing Tap House for a casual beer, we highly recommend that you stay for the food. Aviator Brewing Company's Aviator SmokeHouse (pictured in header) opened in March 2011 to complement the tap house across the street, using Aviator brews in a variety of their menu offerings. And the Tap House recently opened its own kitchen with new menu items and a gorgeous new seating section. The SmokeHouse is well known for the jumbo wings, which are served in house-made sauces that range from a sweet and tangy hickory sauce to a boiled-down ghost pepper sauce—the menu blatantly advises, "Don't do it." For the fainter of heart, try Aviator's slow-smoked meats, in the form of ribs, pulled pork, brisket and more, which pair great with the HogWild IPA or the Mad Beach wheat beer. You can get these at both the SmokeHouse and Tap House.
Having been named one of America's Best New Restaurants in 2017 by Bon Appétit, it's beyond questionable that every beer at Brewery Bhavana should be accompanied by something off of their superb food menu. The elegant gathering space is perfect for when you want to enjoy a classy night out, and with 40 taps and a plethora of Southeast Asian dishes, it's easy to spend a whole evening there. Pair core beers like the Grove (a citrusy double IPA) and Sprout (sneaky fig dubbel) with popular dishes like the pork bao, jiaozi chicken dumplings and duck egg rolls. Pro tip: There's a bookstore and flower shop that's part of the space! Make sure you take something home as a keepsake.
Clouds Brewing began in Raleigh as a restaurant featuring a German-inspired menu and 40 guest taps, including a 10-tap, self-pour beer wall! The menu features elevated pub food like Bavarian pretzels (we recommend pairing with the One Eye Pale Ale), fried lasagna (goes great with the Accumulation Amber Lager) and chicken schnitzel (best paired with the El Hefe Hefeweizen) in a laid-back environment that's great for a casual outing with friends or a date night.
Trophy consistently offers creative beers with a rotating tap list that changes often, ensuring that there's always something new to try. The lively brewery also offers a unique pizza menu utilizing local ingredients in specialty pies, and what goes better with beer than pizza? Try the Most Outgoing, topped with brie, local mushrooms, caramelized onions and fresh arugula with a Trophy Wife, a session IPA and local favorite. Or, make your own pie and pair with noteworthy brews like the Cloud Surfer, a modern IPA, or the Most Punctual Saison with lemon drop and lemon thyme.
Trophy Tap & Table
If you're not in the mood for pizza, we recommend going to Trophy Brewing Company's Tap + Table for just-as-great Trophy beer offerings and a diverse, Southern-inspired menu in a trendy space on downtown Raleigh's Wilmington St. Come with the crew and split the cheesy, loaded nachos with a Farmhouse Vernacular Ale, or make it a date night with a grilled bone-in pork chop and decadent shrimp and grits, great to pair with the Fear the Paper Tiger IPA and Trophy Husband Witbier. Don't miss out on their rooftop patio, a popular spot in the city for hangs with friends.
Lynnwood Brewing Concern's taproom is an awesome spot to chill out with a brew, with a spacious interior offering pool tables and other games, plus a beer garden shared with its restaurant, Wilson's Eatery. Wilson's features locally-sourced, scratch-made sandwiches like the Southern Fried Sandwich with a crispy chicken thigh, pimento cheese, lettuce and pickles on a brioche bun, as well as salads and flatbreads. We recommend pairing with the Blonde Moment, a Belgian blonde, or their Hop On Top American IPA, though in reality you can't go wrong with any beer and food combination here.
Another Lynnwood Brewing Concern spot—that was actually established long before the tap house, production facility and restaurant mentioned above—Lynnwood Grill curbs your appetite with pizza, calzones, burgers, house-made desserts and more. It even has a special kids menu. If you're looking for great brews paired with a lively social atmosphere (and a place to watch sports), this is a prime pick. Grab a table or barstool on the rooftop on a nice night.
Tobacco Road feels like your casual neighborhood sports cafe but boasts an upscale space complete with sophisticated wooden floors and modern, industrial finishes. Pair beers brewed on-site with reliable food offerings and all the sports you could ask for. The Brightleaf IPA pairs perfectly with their Big Boss Burger, a black pepper-crusted burger with lettuce, tomato, pickles, tobacco onions and Big Boss Brewing Company Bad Penny beer mustard, while the unique Chai Tea Amber is a great complement to elevated entrees like shrimp and grits or chicken pesto gemelli pasta.
Wye Hill recently opened in downtown Raleigh, breathing new life into what was once Boylan Bridge Brewpub. The revived spot has already become a local favorite with a renovated interior and exterior, innovative drink program and a chef-driven food menu that's both vegetarian and vegan-friendly. New brews like the Wye IPA pair well with sautéed snap peas topped with tahini, hazelnuts and mint, while meat eaters will love the "Cool Name" Burger with pub cheese, fried pickled okra and bacon paired with the Kingpin Ale. To top it all off, the view of the city is to die for.
Mason Jar Tavern's two locations in Holly Springs and Fuquay-Varina are both welcoming spaces for friends and family alike. The restaurants boast warm Southern hospitality, their Mason Jar Lager Company brews and a delectable Southern-inspired menu, which includes comforting bar snacks as well as some sophisticated entrees you wouldn't find at your average bar. The Southern pimento cheese pairs perfectly with their Happy Place Golden Lager, while a cold Luchador Mexican Lager is sure to complement the chimichurri steak tacos.

Header photo: Keith Isaacs
Comments