The N.C. State Fair's Homegrown Music Fest Returns With More Than 100 Free Performances
Wednesday, October 12, 2022, 9am by David Menconi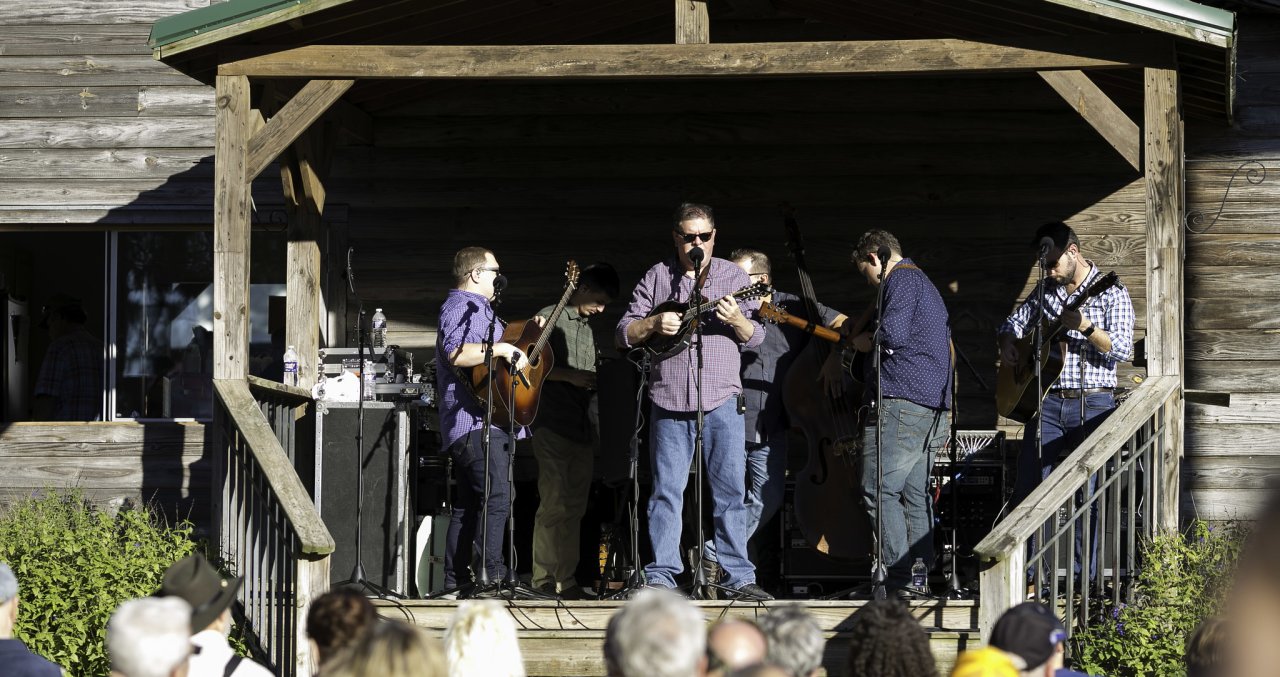 Note: Authored by David Menconi, this piece has been produced in partnership with Raleigh Arts. Menconi's latest book, "Step It Up and Go: The Story of North Carolina Popular Music, from Blind Boy Fuller and Doc Watson to Nina Simone and Superchunk," was published in Oct. 2020 by University of North Carolina Press, and his new podcast, Carolina Calling, explores the history of the Tar Heel State through music.
---

It's state fair season, which also means it's Homegrown Music Fest season. As it has every year since 2015 (except for 2020's COVID cancellation), the festival returns to the N.C. State Fair, Oct. 13-23, 2022, with a lineup made of exclusively N.C. acts. 
This year's model features 51 acts—and a total of nearly 130 performances—on two stages, the Heritage Circle Stage and the Live and Local Waterfall Music Stage powered by Curtis Media Group (music performances are free with admission to the fair—tickets are $10 for adults).
Located by the pond alongside Youth Center Rd., the Heritage Stage features folk, bluegrass and Americana acts including Chapel Hill country-blues act the Holland Brothers on Oct. 19, progressive-folk duo Violet Bell on Oct. 21 and Greensboro singer-songwriter Abigail Dowd on Oct. 22.
The Waterfall stage by the water fountain adjacent to Dorton Arena is wider-ranging, from indie-rock (Carrboro's Slow Teeth on Oct. 13) to metal (Raleigh's Mega Colossus on Oct. 14), zydeco-blues (Yanceyville's Mel Melton & the Wicked Mojos on Oct. 18), pop-rock (Greensboro's long-running Weekend Excursion on Oct. 22), Latin fusion (Raleigh's Tumbao on Oct. 22), hip-hop (Chapel Hill's Rowdy on Oct. 23) and more. There will also be the same act closing out the Waterfall Stage every night, the Brad Matchett Comedy Hypnosis Show, featuring lots of audience participation.
Note: See a map of the N.C. State Fair here.
"I'm really proud of the way some of our showcases are way outside the lines of what you usually see at a state fair," says Amy Cox, project manager and senior vice president at Homegrown Music Fest producer Deep South Entertainment. "We've got a real range of music this year from all over North Carolina."
Meanwhile, Dorton Arena remains off the live-music venue rotation this year. Previously it was the stage for everyone from Durham saxophonist Branford Marsalis to Raleigh hardcore legends Corrosion of Conformity. But it hasn't had music during the state fair since 2019, serving instead as site of the Got To Be NC exhibit. Eventually getting the Dorton stage back into the Homegrown Music Fest's rotation is a goal.
"I look forward to a day when we might see Dorton come back," says Cox. "But not quite yet. I do hope we can do bigger shows again featuring North Carolina acts. That's my personal hope."
Live and Local Waterfall Music Stage powered by Curtis Media Group
Thurs., Oct. 13: Slow Teeth (indie-rock, 12:30 and 2:30pm.); Niito (r&b, 4:30 and 6:30pm); Brad Matchett Comedy Hypnosis Show (8pm)
Fri., Oct. 14: Whoop (jam-band, 11am and 12:30); Mega Colossus (metal, 2 and 3:30pm); U.S. Air Force Full Spectrum Band (rock, 5:30pm); Brad Matchett Comedy Hypnosis Show (8pm)
Sat., Oct. 15: Red Umber (funk-jazz, 11am and 12:30pm); Luxe Posh (DJ, 2 and 3:30pm); September: A Tribute to Earth, Wind and Fire (5:30pm; Brad Matchett Comedy Hypnosis Show (8pm)
Sun., Oct. 16: Travis "Big T" Russell (acoustic singer-songwriter, 11am and 12:30pm); Welcome to Holland (contemporary Christian, 2 and 3:30pm); Dreamroot (jazz, 5:30pm); Brad Matchett Comedy Hypnosis Show (8pm)
Mon., Oct. 17: Shay Martin Lovette (Americana/country, 11am and 12:30pm); Tambem (Brazilian jazz, 2 and 3:30pm); McKenzie Van Oss (power-pop, 5:30pm); Brad Matchett Comedy Hypnosis Show (8pm)
Tues., Oct. 18:vMelton & the Wicked Mojos (blues/zydeco, 9:30 and 11am); Senior Citizens FunFest (10am); Sonny Miles (soul, 12:30pm); C. Albert Blomquist (country, 2 and 3:30pm); School of Rock Chapel Hill (rock, 5:30pm); Brad Matchett Comedy Hypnosis Show (8pm)
Wed., Oct. 19: N.C. State Fair Military Appreciation Day Program (10:45am); 440th Army Band (11:15am, 1:15pm, 4pm, 6pm); Military Uniform Revue (12:15pm; Brad Matchett Comedy Hypnosis Show (8pm)
Thurs., Oct. 20: Jam Biscuit (blues/soul/rock/country, 11am and 12:30pm); Tumbao (Latin fusion, 2 and 3:30pm); Paige King Johnson (country, 5:30pm); Brad Matchett Comedy Hypnosis Show (8pm)
Fri., Oct. 21: Jadah Pearl (r&b, 11am and 12:30pm); Galloway (indie rock, 2 and 3:30pm); John Norris (country, 5:30pm); Brad Matchett Comedy Hypnosis Show (8pm)
Sat., Oct. 22: Sensory Expressions (reggae, 11am and 12:30pm); XTALS (DJ, 2 and 3:30pm); Weekend Excursion (pop/rock, 5:30pm); Brad Matchett Comedy Hypnosis Show (8pm)
Sun., Oct. 23: Notasium Band Showcase (youth ensembles, 11am and 12:30pm); Rowdy (hip-hop, 2 and 3:30pm); The Wusses (yacht-rock, 5:30pm); Brad Matchett Comedy Hypnosis Show (8pm)
Heritage Circle Stage
Thurs., Oct. 13: Sweet Potato (bluegrass, 1, 3, 5 and 6:30pm)
Fri., Oct. 14: Russ Thompson (folk/Americana, 10am and noon); Big Daddy Love (jamgrass, 4, 6 and 8pm)
Sat., Oct. 15: Jarrett Raymond (folk, 10am and noon); Ages Past (bluegrass, 2, 4, 6 and 8pm)
Sun., Oct. 16: Chris McGinnis (folk, 10am and noon); Jon Shain & F.J. Ventre (acoustic blues, 2, 4, 6 and 8pm)
Mon., Oct. 17: Sideline (bluegrass, 11am, 1, 3, 5 and 7pm);
Tues., Oct. 18: Into The Fog (newgrass, 11am, 1, 3, 5 and 7pm)
Wed., Oct. 19: Holland Brothers (country-rock, 11am, 1, 3, 5 and 7pm)
Thurs., Oct. 20: Barefoot Movement (Americana/bluegrass, 11am, 1, 3, 5 and 7pm)
Fri., Oct. 21: David & Kolby (bluegrass/gospel/country, 10am and noon); Violet Bell (progressive folk, 2, 4, 6 and 8pm)
Sat., Oct. 22 : Abigail Dowd (folk, 10am and noon); Grassomatics (bluegrass, 2, 4, 6 and 8pm)
Sun., Oct. 23: Dawn Landes (folk/Americana, 10am and noon); Carolina Line Bluegrass Band (2, 4, 6 and 8pm)
Header photo by Justin Kase Conder
Comments