Things to Do in Raleigh, N.C.: November 2023
Tuesday, October 24, 2023, 1pm by visitRaleigh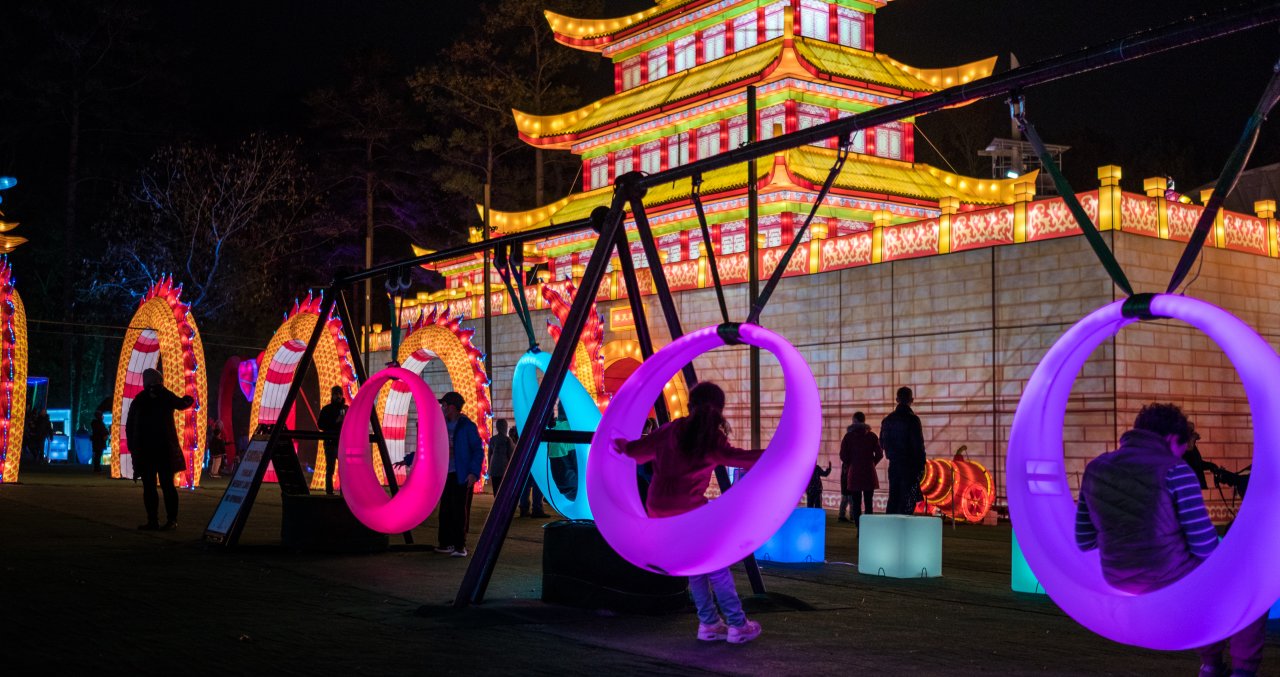 Festivals, parades and light displays—the Raleigh area is gearing up for the holidays this month! Shopping sprees, ballets, hockey games and more make for perfect weekend adventures, date nights and family gatherings. Have your jackets, scarves and boots ready? Let's dive in!
Women's: Semifinals, Nov. 2; Final, Nov. 5
Men's: Championship game only, Nov. 12
Two champions will be crowned at WakeMed Soccer Park in Cary this month. The Atlantic Coast Conference, perennially one of America's top conferences in the women's soccer world,  will hold semifinal games Thurs., Nov. 2, with the two winners battling for the trophy on Sun., Nov. 5. On the men's side, the championship game will also be played at WakeMed Soccer Park on Sun., Nov. 12. Tickets are $10 per game for adults, with kids 18 and under receiving free admission.
Nov. 3
Pack your blankets and lawn chairs for this monthly affair at downtown Raleigh's Moore Square, where food trucks, live music, a local market, free games and an outdoor movie ("Coco" at 7:30pm) will take place.
Nov. 3
Calling all wizards and witches—play like a kid to support all kids! Join Marbles Kids Museum—one of the state's most visited attractions—for a 21-plus evening event. Play in the museum, enjoy themed activities and dance the night away with a DJ. Quidditch, fantastic foosball, magical games, trivia and much more will also take place! Delight in Butter Beer, Witches Brew and other refreshments throughout the night. 
Nov. 3-5
Celebrate holidays around the world at the N.C. International Festival (formerly Raleigh's International Festival), at this three-day, comprehensive platform for local ethnic communities and artists to present their culture at the North Carolina State Fairgrounds. More than 30 ethnic groups participate to present a variety of arts, cuisine, dance, textile design and cultural expression from across the globe. Art exhibits, dance competitions, sidewalk cafés, main stages for music, vendor booths and more make for fun finds and discoveries.
Nov. 3-5
Paw Patrol Live! is back in action and ready to roll at the Martin Marietta Center for the Performing Arts! Don't miss this PAWsome opportunity to see Ryder and the whole pack as they set sail in a pirate-themed live touring stage performance, an adventure-filled high-seas mission aboard the Sea Patroller as they save their mateys, Carlos and Tracker, and find some pirate treasure, too!
Nov. 4
Get an early start on your holiday shopping and purchase gifts for yourself and others from wonderful local artists at the Fall Arts Fair at Fred Fletcher Park, showcasing the work of bookmakers, fiber and glass artists, jewelers, painters, photographers, potters, printmakers and more. Music, art demonstrations and other activities will take place throughout the day as well. 
Nov. 4-5
It's all gourds, all the time at the N.C. Gourd Arts & Crafts Festival at the North Carolina State Fairgrounds. This festival features displays of gourds from around the world, special gourd workshops and vendors of dried gourds, gourd seeds, gourd crafts, gourd art, books, T-shirts and crafting supplies. Great holiday gifts!
Nov. 5 through Feb. 5, 2024
At Fenton—the mixed-use, 440,000-square-foot live-work-play district in Cary—an outdoor skating rink is set to be put to good use this holiday season. Surrounded by spectacular food, trendy shops and wintry holiday cheer, the skating rink will be open every day—including Thanksgiving and Christmas—through Feb. 5.
More events at Fenton: Makers Market, Nov. 11; Light the Square Christmas tree lighting, Nov. 18.
Join the best fans in hockey at PNC Arena to cheer on the NHL's Carolina Hurricanes. Projected as one of the favorites for the Stanley Cup this season, they'll play seven important home games in Raleigh this month:
Nov. 9-11 and 16-18
A magical lighting exhibition that's suited for the entire family, Moonlight in the Garden at JC Raulston Arboretum at North Carolina State University is a once-per-year opportunity to see the nationally acclaimed gardens artfully illuminated by colorful lights. Each evening of the ticketed event is paired with live music, food trucks, hot apple cider, fire pits and marshmallows to roast!
Through Jan. 7, 2024
The biggest fall exhibit at the North Carolina Museum of Art,  Dutch Art in a Global Age presents highlights from the Museum of Fine Arts, Boston, with an innovative focus. Arranged thematically, the exhibition explores how international travel and trade transformed Dutch art and society, featuring renowned works by Rembrandt, Frans Hals, Gerrit Dou, Jacob van Ruisdael, Rachel Ruysch and other celebrated artists.
Tickets to this exhibit are $20 for non-members. Other galleries at the museum remain open with free admission as always.
Nov. 11
The event name says it all! Spend a day discovering Fuquay-Varina while tasting delicious 'cue from local competitors, enjoying live blues music and tasting a selection of locally brewed craft beverages.
It's a great time of year to rediscover some of Raleigh's legendary indoor music venues—and you won't be low on options! Some dates we've marked our calendars for this month:
*Dawn Landes, performing Nov. 4 at the North Carolina Museum of History, is part of the museum's Tar Heel Troubadours series in celebration of the state's musical heritage. 
Nov. 16-19
Created in 2014, Vivaldi's Four Seasons is among the most celebrated ballets in Carolina Ballet's repertoire. The program will also feature Death and the Maiden, a world-premiere ballet by guest choreographer Julien Guérin.
Nov. 17-Dec. 23
This pop-up, holiday-themed dessert café inside downtown Raleigh's Martin Marietta Center for the Performing Arts features elaborate decor, all-you-can eat sweet treats (including hot cocoa) and live entertainment on select nights—the perfect stop before or after a show for the whole family!
Nov. 17
A memorable evening in Cary to include live music by The Embers, death-defying feats by aerial artists, children's activities, special appearances by Santa and Mrs. Claus and so much more! 
Nov. 17-Jan. 14, 2024
This annual favorite is back for an eighth year! A super trip-worthy event for the whole family, the North Carolina Chinese Lantern Festival brings 50 larger-than-life lantern displays to Koka Booth Amphitheatre in Cary. Made up of thousands of LED lights, displays light up the skies and mesmerize visitors on this one-hour walking tour. Beyond beautiful lanterns, the ticketed festival also welcomes a showcase of Chinese culture—nightly performances featuring martial arts, traditional dance, acrobatics, drum performances and more. 
More than 200,000 visitors are expected to come from across the state to see these glowing works of art!
Nov. 17-19
At Park West Village in Morrisville, kids of all ages can enjoy a variety of activities including train rides around the district, story time with Santa, food trucks and hot beverages, Snowzilla toboggan slide, face painting, holiday crafts and more!
Nov. 17 
Save the date for the Downtown Raleigh Tree Lighting Celebration! Arrive early for dinner and socializing in downtown with family and friends, then make your way to Lichtin Plaza at the Martin Marietta Center for the Performing Arts to enjoy tasty snacks and beverages from local vendors, holiday music and festive activities before the grand finale of the tree lighting (detailed schedule to come!).
Nov. 18 
The annual lighting of a 41-foot-tall Christmas tree, a visit from Santa Claus, trackless train rides for kids, live music and plenty of vendors on hand make this celebration an equally great event for families and a fun date idea in North Hills. Arrive a tad early to join in on the Holiday Shop & Stroll to knock out some shopping at local retailers while enjoying complimentary hot chocolate and cider.
Nov. 18
The largest Christmas parade between Atlanta and Washington, D.C., will march through downtown Raleigh for more than two hours, drawing nearly 60,000 visitors to the streets to see marching bands, dancers, superheroes, Santa Claus and more. Bring the whole family (including pets!) plus some chairs—there's great street-side viewing everywhere along the 1.4-mile route.
Nov. 18 through Jan. 15, 2024
Enjoy the thrill of ice skating in a wintry village created in the heart of downtown Raleigh! THE RINK features a natural ice skating rink with stunning views of the downtown Raleigh skyline, cozy lounging stations with heat warmers and fire pits, a snack bar, games, photo opportunities and more! This is a ticketed event, with recommendation that your purchase in advance ($6 for non-skaters, $15 includes skate rental).
Nov. 18
A spectacular night celebrating the breadth of art and artists in the Tar Heel State, Artspace's inaugural Art Bash will feature private and live collecting opportunities, culinary delights and unique arts experiences.
Nov. 18
Musicians, dancers, artists, storytellers and authors from N.C.'s eight state-recognized tribes will gather at the North Carolina Museum of History for this popular family event. For all ages, the celebration is a firsthand opportunity to learn about the state's American Indian culture, past and present. Activities include craft demonstrations, hands-on activities, games, foods and much more.
Nov. 19
A vision more than 20 years in the making, the time is finally here for Downtown Cary Park. The seven-acre park project in the heat of Cary will hold it's ribbon cutting ceremony on Nov. 19, unveiling a state-of-the-art play space for all ages (elevated walking paths, interactive water features, larger-than-life art pieces, an off-leash dog area, a performance lawn, fire pits and so much more). 
The grand opening event is expected to be an all-day affair, with live music, roving performers, hands-on art activities, giveaways, a synchronized light show and plenty more activities. More details will be released soon!
Nov. 22
Be dazzled, enchanted and filled with holiday cheer as you witness the incredible talents of world-class entertainers in this variety show full of nostalgia and charm at the Martin Marietta Center for the Performing Arts.
Expected to open approximately Nov. 22 and run through the end of the year
This spectacular, drive-in style light show, featuring more than 400,000 total lights synced to holiday music, was created by the Williams family of Wendell, who painstakingly design and assemble the glowing (and growing) event each year. Visitors park (or stand) and watch the show—which typically runs between 30 and 45 minutes depending on the year—from the viewing area in front of the display, plus use walkways that lead to some of the biggest displays. Dogs are welcome (on a leash!). 
Details for 2023 holiday season, including the exact dates, will be released very soon. Admission is typically free, and donations are accepted.
The first state-supported symphony in the country, the North Carolina Symphony is a full-time, professional orchestra that puts on 175 performances annually (and has dazzled audiences across the Tar Heel State dating all the way back to 1932). November has three good wonderful performances on tap!
A star-studded lineup of performers will take to the stage in Raleigh this month!
At Raleigh Improv: 
A Thanksgiving tradition for so many, a number of family-friendly races are held in the Raleigh area late in the month, including: 
​
Comments