Greater Raleigh Sports Spotlight: Cary Provides a Perfect Pitch for NCAA College Cup
Wednesday, December 11, 2019, 2pm by Neil Amato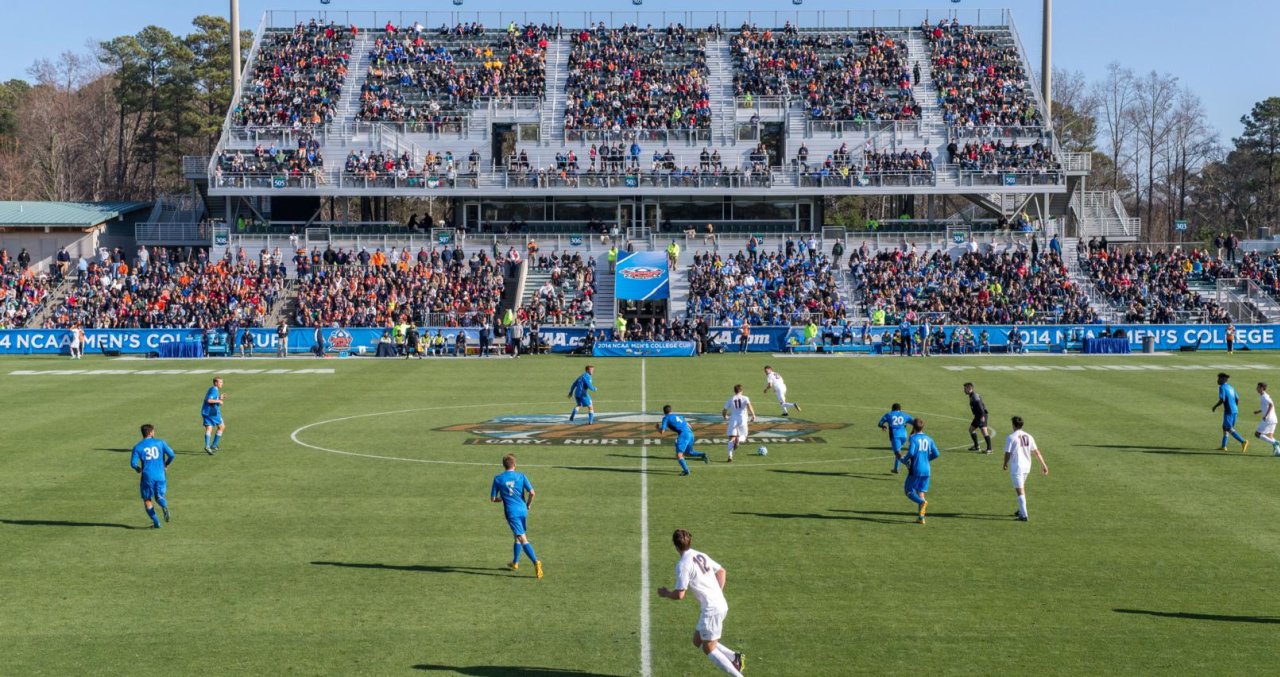 An interesting look at the sports event industry in Greater Raleigh, N.C. 
Soccer's Omaha? Cary's record as a host is certainly championship caliber
Just as the finely-manicured turf at Sahlen's Stadium at WakeMed Soccer Park has several unseen levels, so, too, does the production of one of the marquee events at that site—the NCAA College Cup for men's soccer.
What the TV audience sees is the final, finished product of years of planning, and really a tiny portion of all the events that supplement the College Cup's three games, two Dec. 13 semifinals and the Dec. 15 championship.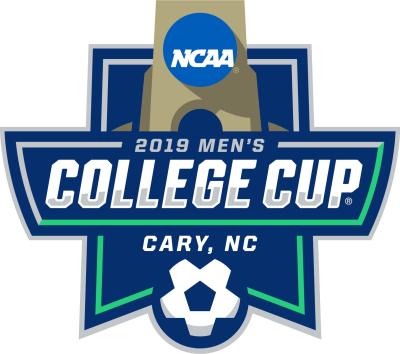 The planning for such events occurs many years in advance—for instance, the bid process for NCAA soccer events for 2022 and beyond is about to get underway. The playing surface also is on a long-range calendar.
Bringing high-level soccer to Cary is common these days, as Cary has hosted a men's or women's College Cup nearly every year since 2003. That run is thanks in large part to the work and vision of local soccer icon Charlie Slagle, who passed away last summer. Slagle was instrumental in establishing this area as a soccer destination.
Today, that effort is carried on by a dedicated group of local organizing committee entities. The Town of Cary, North Carolina FC (NCFC) Youth, Campbell University and the Greater Raleigh Sports Alliance (GRSA) come together to make it all work. In addition to the NCAA championship events, there are concurrent high school showcase tournament games over the weekend. NCFC Youth, with assistance from the GRSA, hosts the tournament's hundreds of teams, coaches, referees and parents, who travel from 35 different states to Greater Raleigh.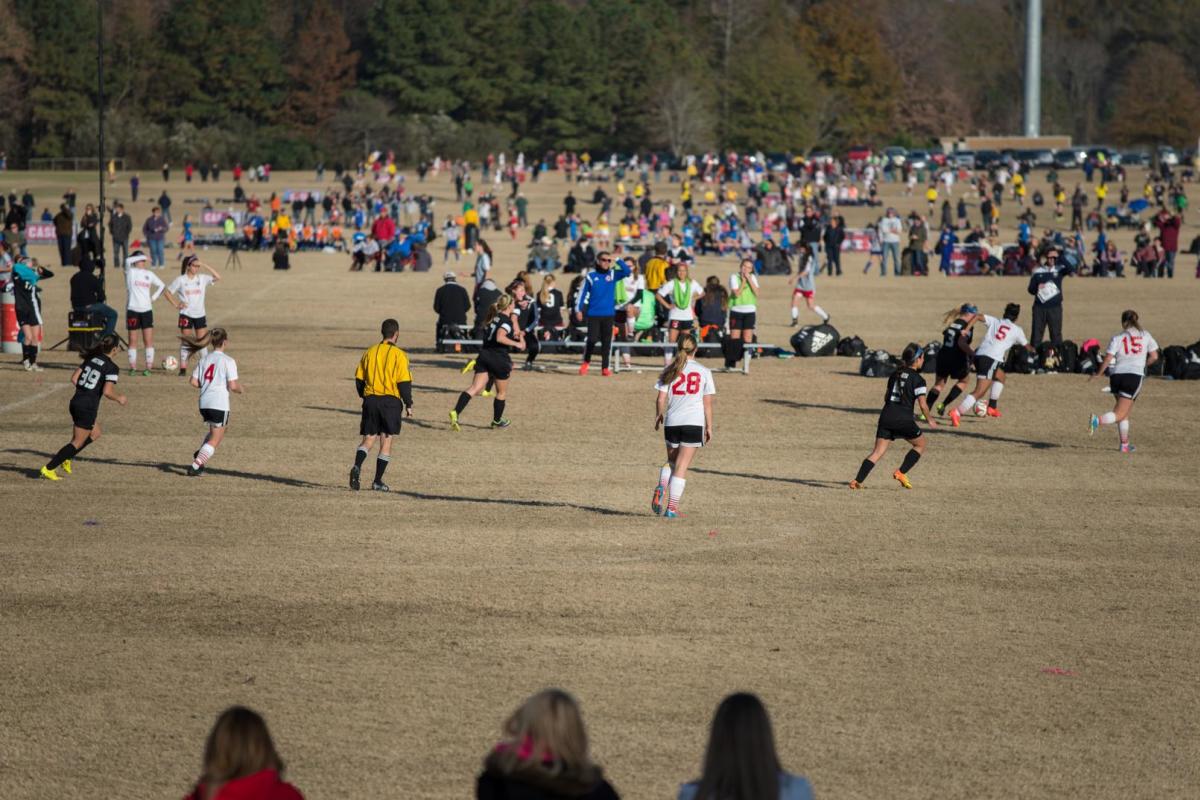 visitRaleigh.com Showcase Series
A field of dreams 
The turf at WakeMed Soccer Park hosts its 13th College Cup—eight women's champions have been crowned in Cary, and the 2019 College Cup marks the fifth men's championship. Cary is also the site for the 2020 women's and 2021 men's championship.
William Davis, sports venues manager for the Town of Cary, said that keeping the main field—commonly referred to as "the pitch" within the soccer community—in championship form is a year-round operation. Considering the top-level soccer that Cary spectators have seen just since July, including the Women's International Champions Cup, that's really no surprise, especially when considering changes in average temperature since then. In the summer, Bermuda grass thrives in humidity and makes the field green, but Bermuda is a warm-season grass that turns light brown in the fall and winter.
As daylight fades in the fall, the maintenance staff begins to use a cool-season rye grass to keep the field top-notch, sometimes in between games or practices, such as in late Oct., when WakeMed hosted the National Women's Soccer League (NWSL) Championship and then less than two weeks later, the ACC women's tournament.
The day after the Men's College Cup, contractors work getting the field ready for play in 2020, Davis said. The plan then is to dig out years' worth of organic buildup, going down beneath the turf and sand layers to rocks and pipes, allowing for a fresh start when North Carolina FC and North Carolina Courage seasons resume in March.
Recently, when the transition was made from Bermuda to rye, Davis said, the field required extra, after-hours attention between all its games.
"That really chewed up the boxes, so we had to put up a grow light to get the rye to grow between that [NWSL] game and the first women's ACC game," Davis said. "There's a lot of work that goes into maintaining that field so it's at the quality it needs to be for every event that comes in.
"And that's the neat thing. There's always something going on."
 
The 'Omaha of soccer' 
When it comes to soccer in Greater Raleigh, Davis speaks the truth: there's always something going on. It's one reason the NCAA keeps coming back for its marquee event in the sport, because the area can be a top-notch host to student-athletes, coaches, NCAA committee members and more—while simultaneously managing massive youth showcase events that draw in thousands of players and hundreds of college coaches.
"There's definitely a wow factor," said Katharine Eberhardt, business development director for NCFC Youth. "It's fun to see how an event comes together. With the NCAA, we're fortunate that we've been hosting for so many years and there's a good momentum and a good path of success to follow. We have a group of partners who are very knowledgeable and experienced and able to make sure that everything is checked off and that we are providing a stellar environment. We want to make sure that it's perfect to them."
NCFC Youth hosts multiple events each year, and few are bigger than their fall showcases, which, in the years that Cary hosts a College Cup, are coordinated with the championships. The week before Thanksgiving, the visitRaleigh.com Girls College Showcase featured 550 teams. The visitRaleigh.com Boys College Showcase, concurrent with the Men's College Cup, Dec. 13-15, draws an estimated 440 teams from around the country. Tickets to the Men's College Cup are included in registration for the boys' showcase teams, which helps to ensure big crowds on game day.
And the NCAA has made note of the stellar attendance in Cary, including in 2015, when an overall attendance record of more than 25,000 fans filled the stadium for the women's championship event (semifinal and final matches).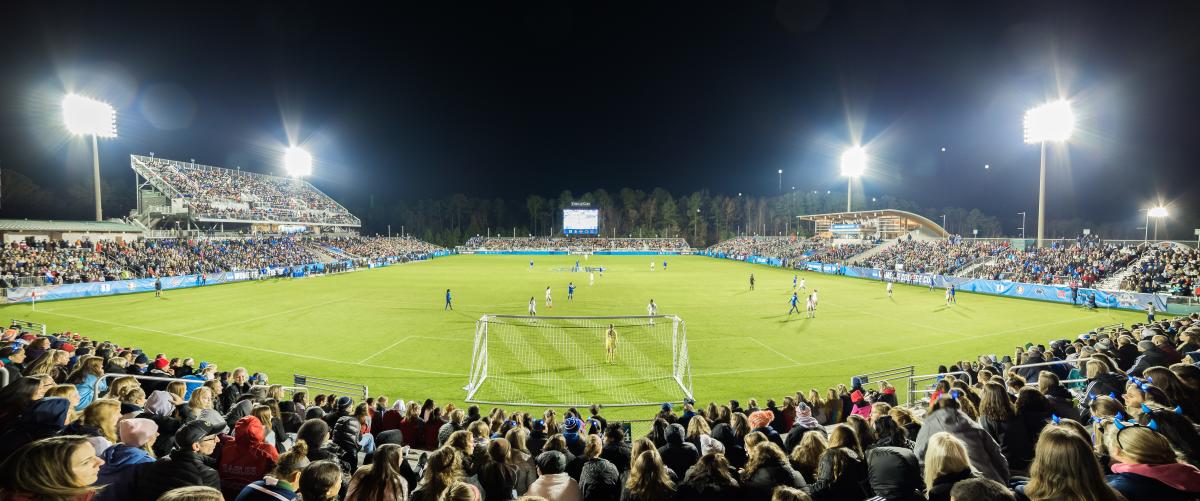 2015 Women's College Cup Championship
While three-fourths of the showcase games are played in Greater Raleigh, the event is too big for one county, so fields are in use from Mebane to Wilson on showcase weekends. The logistics of such events—from scheduling, to arranging referees to managing hotel room blocks—can be dizzying. But Eberhardt says NCFC Youth is up to the task, along with the other host partners.
It's part of a concerted effort that clearly works, because the planners for these big events keep coming back. The city of Omaha, Neb., has hosted each College World Series, the NCAA baseball championship, since 1950. While the NCAA seems to be adopting an East-West model for its soccer championships (Cary and San Jose are alternating as hosts from 2018 to 2021 for the Women's College Cup), this area's leaders want it to be synonymous with championships.
"We want it to be the Omaha of soccer," Eberhardt said. "We have a wonderful stadium at WakeMed Soccer Park, we have great partners in place, and the GRSA is nationally recognized for all their efforts to bring sporting events to the area."
Cary's record as a host is unparalleled. And with the local organizing committee operating like "a well-oiled machine," in the words of Davis, it seems there are plenty more College Cups in Cary's future.
 
 
 
 
 
 
 

    Women's College Cup in Cary, years and champions

​​2003: North Carolina

 

2004: Notre Dame
2006: North Carolina
2008: North Carolina
2010: Notre Dame
2013: UCLA
2015: Penn State
2018: Florida State
Future: 2020

Men's College Cup in Cary, years and champions

​2005: Maryland

 

 

 

 

 

2007: Wake Forest
2009: Virginia
2014: Virginia
Future: 2019 and 2021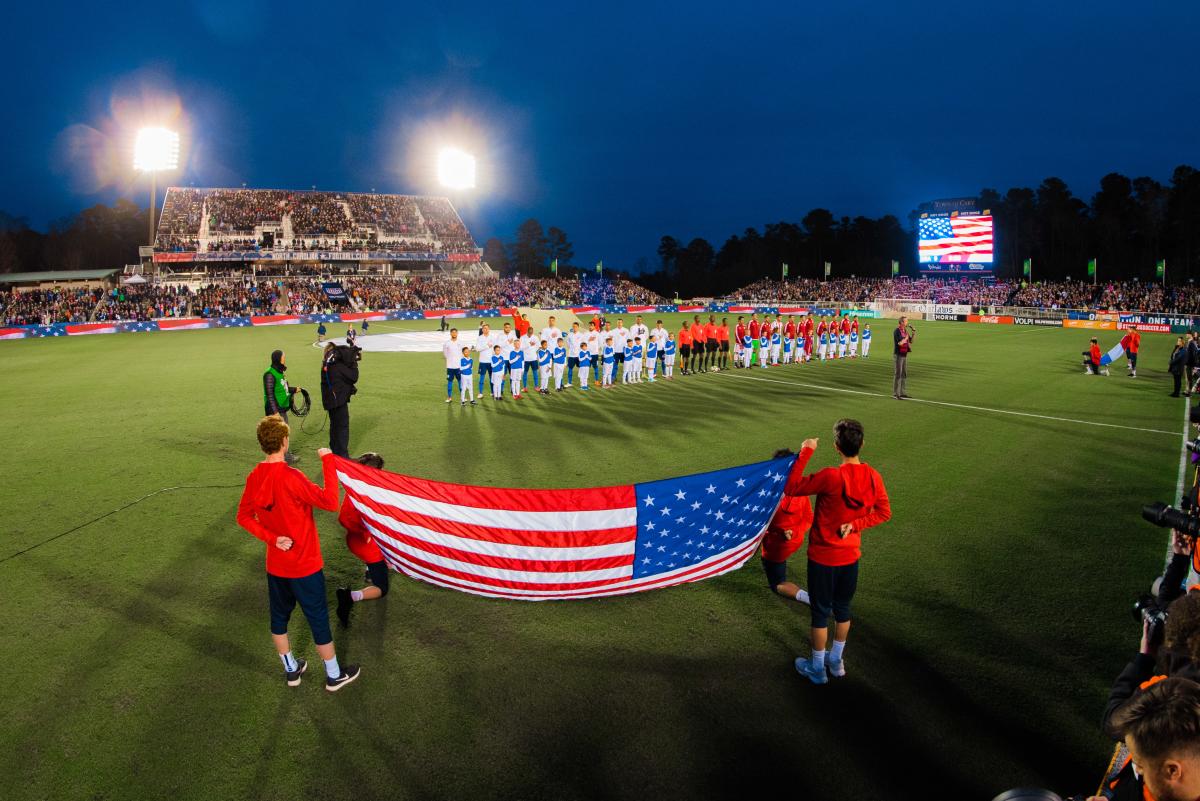 Author: Neil Amato