Unique Meeting Site Spotlight: John Chavis Memorial Park and Community Center
Wednesday, February 23, 2022, 8am by Visit Raleigh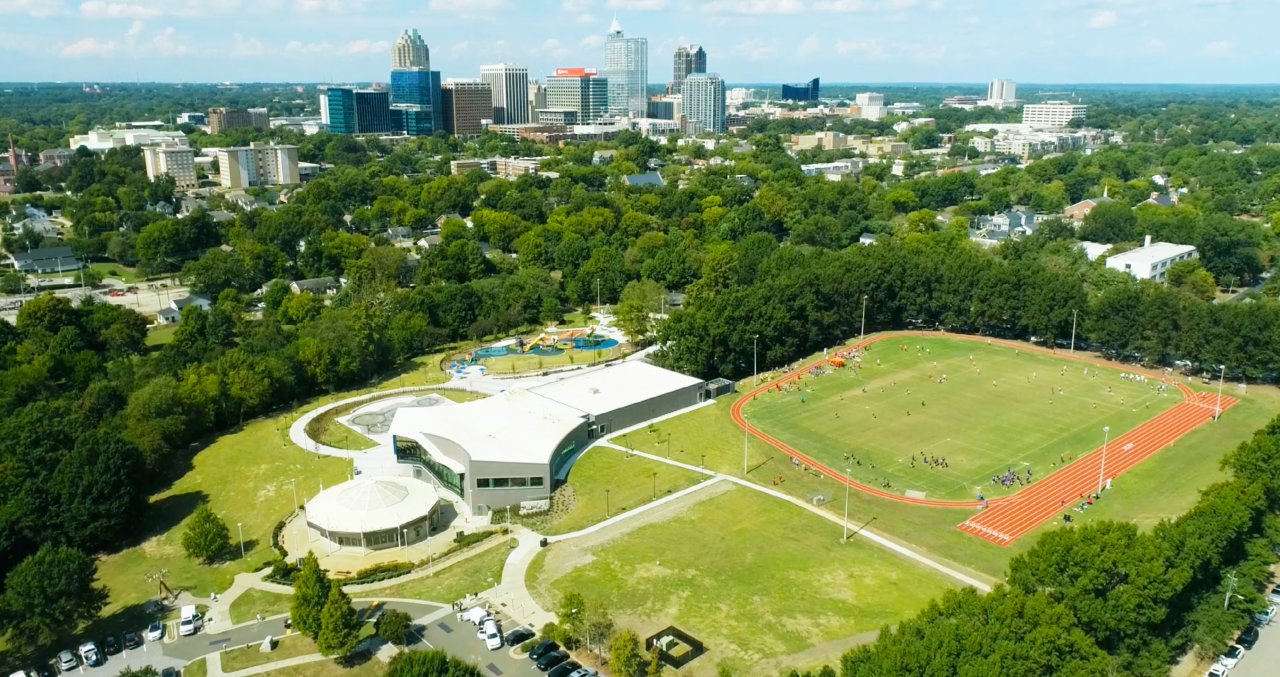 John Chavis Memorial Park and Community Center (located at 505 Martin Luther King Jr. Blvd.) has been a part of the Raleigh, N.C., community for decades. The 37-acre park opened in 1938 near downtown Raleigh and was named after early 19th-century free Black preacher and teacher of all races John Chavis.
A revised master plan was adopted in 2014, including a new two-story community center with meeting spaces, a renovated carousel house (which houses one of the oldest-operating vintage carousels in the U.S., the historic Allan Herschell Carousel) and a new central plaza with an integrated water feature. Nearly seven years later, the project was completed in 2021. Get an inside look at the park here.
The renovated, public venue can accommodate a variety of events. There are several options for indoor and outdoor spaces that groups can rent, including:
A gymnasium featuring eight low-rise bleachers, lines for basketball, volleyball and pickleball and an indoor track;
a spacious reception hall with 2,558 square feet of luxury vinyl wood-grain flooring, an expansive serving counter, a balcony with views of downtown Raleigh and capacity for 171 guests;
an 857-square-foot studio featuring cushioned vinyl flooring, counter space and a 25-guest capacity;
and three multipurpose rooms with a combined capacity for more than 200 guests with tables and chairs.
After your event, attendees can check out the on-site John Chavis Memorial Park: Past to Present exhibit to learn more about the development of the park and community stories from the park's early days to present. If kids are present for events, they'll love the outdoor playground and interactive water feature!
There are also four outdoor picnic shelters for rent (based upon your group size and availability), as well as the historic carousel house! Amenities at the carousel house include a kitchenette, a small, retro-style refrigerator, a microwave and interior bathrooms. The unique space has capacity for 122 guests. 
Bonus: The historic Allan Herschell Carousel is still operating, open Tues.-Wed., 1am-6pm, and Sun., 1-5:30pm. However, carousel hours vary depending on the season and may close early due to inclement weather. Tickets are $1.50 for riders older than 12 months.
Header photo: Destination Virtual Tours

Author: Visit Raleigh
Visit Raleigh is the official and accredited destination marketing organization (DMO) for all of Wake County.
Comments