12 of the Best Mexican, Tex-Mex and Latin American Restaurants in Raleigh, N.C.
Tuesday, April 30, 2019, 10am by Tabletop Media Group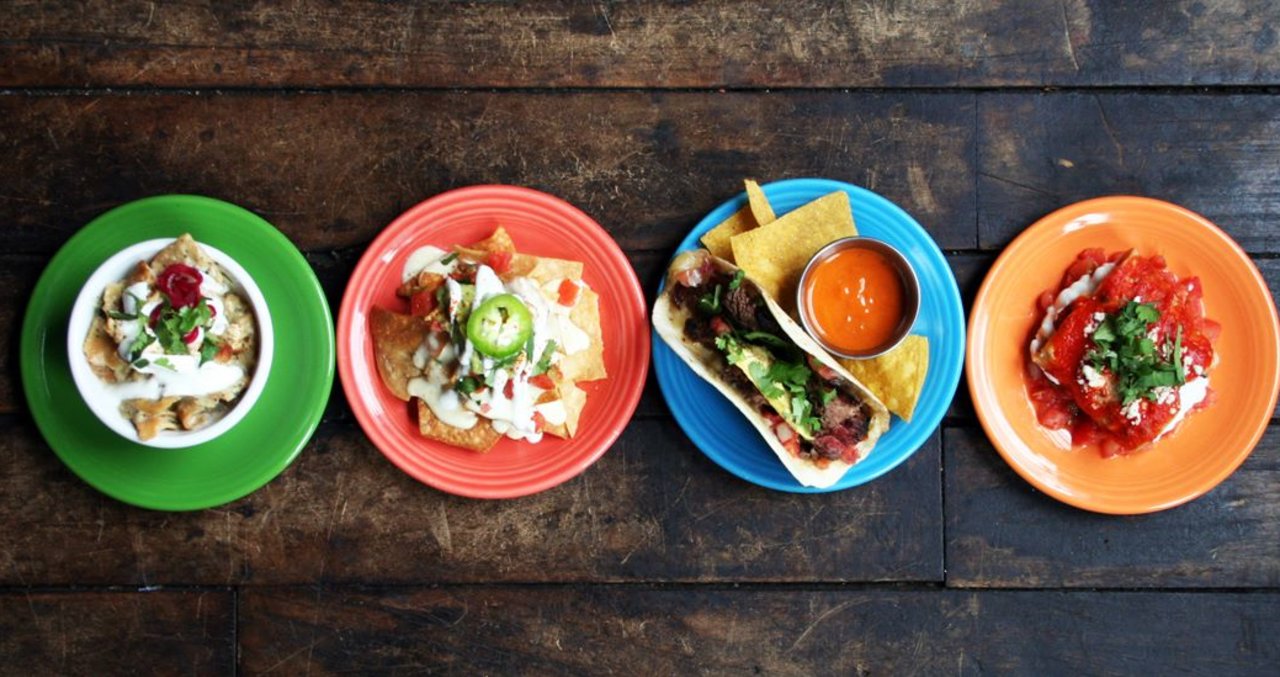 If you're looking for a place with delicious guacamole, festive drinks and a little bit of heat, try one of these Mexican/Tex-Mex/Latin American restaurants in the Raleigh area that are sure to satisfy any of your cravings!
 
Centro (pictured in header), a decade-old Mexican restaurant in the heart of downtown Raleigh, is the brainchild of Angela Salamanca (originally from Colombia, she's called Raleigh home for more than 20 years now). Supporting the community (and using fresh, local ingredients) is a huge part of the culture at Centro, where the vibe is casual but sophisticated and the menu is full of elevated Mexican and Latin American staples—the Mole Pablano, for example, is a dish that uses a legendary 20-plus ingredient mole that is then served with grilled organic chicken, fried sweet plantains and white rice. Upstairs at Centro's sister restaurant, Gallo Pelón Mezcaleria, you'll find hand-crafted cocktails from what is considered by many to be one of the best bars in the Raleigh area.
For perhaps the best bang for your buck, check out Taqueria El Toro, a hidden gem (or not-so-hidden for those in the know) just outside downtown Raleigh with some of the best—and most authentic—Mexican food around. Most people are here for the quick and inexpensive tacos—the lengua (cow tongue), cabeza (beef head) and chicarrón prensado (pork skin and carnitas) are among the options you won't find too often elsewhere. Top your tacos with spicy carrots and onions, cilantro and any of the many hot sauces, which are all located on the self-serve condiment bar. Pro tip: head next door to the grocery store to pick up some fresh-made tortillas to take home with you.
Jose and Sons—a Mexican restaurant opened in 2013 by a set of brothers with a family history of owning popular Mexican eateries in the Raleigh area—has truly made a name of its own in recent years. Located in downtown Raleigh's Warehouse District, the heavily Southern-influenced restaurant (roosters and milk jugs adorn walls and shelves) is known for its warm, rustic atmosphere and its feast-worthy food. Seen below, the Chef's Picnic is a family-style meal of grilled meats, seasonal vegetables, market greens, salsas and corn tortillas. They're also dishing up one of Raleigh's best brunches, where micheladas and sangria pair well with huevos rancheros and enfrijoladas.
Cantina 18, with locations at Village District in Raleigh and Park West Village in Morrisville, is part of the 18 Restaurant Group led by executive chef and owner Jason Smith. If you're looking for a giant plate of nachos topped with inventive, primarily local N.C. ingredients, look no further. The short rib nachos, topped with corn, peppers, beans, goat cheese, lettuce and sour cream, are a crave-worthy dish that combine the best of Southwestern fare and Southern drawl (plus the dish is big enough to satisfy a group). You'll also want to cool off with a delicious seasonal sangria like the pear ginger or strawberry-vanilla bean—a glass for yourself, or a pitcher shared with friends, is a go-to move in the summertime.
If you're craving a different type of Latin fusion, check out Gonza Tacos y Tequila, where their award-winning Colombian-Mexican Cuisine will leave your taste buds dancing! One popular dish, the Mexican Flag, is built with three corn tortillas, each stuffed with steak, chicken and beans and topped with three different sauces to resemble—you guessed it—the Mexican flag. Gonza's colorful, eclectic decor and delicious food are truly fun for the whole family.
Just a few blocks from the North Carolina State Capitol, Gringo a Go Go—a Mexican restaurant with equal parts patio and indoor dining space—sources many of their ingredients from local farms and kitchens that they know and trust. Locals love the fish tacos, featuring farm-raised catfish, as well as their chilaquiles, made with fresh tortillas that are sautéed in a tomato cream sauce with your choice of chicken or vegan chicken. Make sure you try the fresh chips and seven different flavors of salsa, ranging from orange to habanero.
A great place for all occasions, Salt & Lime Cabo Grill—located in North Raleigh—focuses on Baja Peninsula cuisine (a peninsula in Northwestern Mexico that borders California). If you're coming to eat, try their authentic Santa Fe Corn, smothered in chipotle aioli, cotija cheese, lime and cilantro before doubling down with an order of skirt steak fajitas. Coming to drink with friends? Get there early for happy hour—4-6pm, Mon.-Fri.—and try one (or several) of their 18 different margaritas (the Grilled Grapefruit, with silver tequila and caramelized grapefruit, would be tough to go wrong with!).
San Jose Mex and Tequila Bar not only has a great bar but also great food! Their fully-stocked bar is a favorite hangout spot among locals, thanks in part to the house-made margaritas and relaxing vibe that's inviting for dates or groups of all sizes. For good eats, start with their popular table-side guacamole before diving into one of the many appetizing entrees (the shrimp tacos, topped with goat cheese, tomato and Chile de árbol sauce, is as good as it sounds!).
Xoco Raleigh
Get your Tex-Mex fix at Xoco, where their colorfully-lit and cozy atmosphere is the perfect place to enjoy a night out. Try some of Xoco's Tradicionales Favoritos like their Mis Chilangas—three soft plantain sopapillas topped with refried beans, chorizo, avocado, papaya salsa, queso fresco and Mexican cream (yes, please!). Follow that up with a Buñuelo, a flaky wafer dessert served with ice cream and topped with chocolate and caramel sauce, and don't miss out on the true Xoco experience—ask your server for your chips and salsa are delivered to your table by the miniature train (yes, a train!) that moves throughout the restaurant.
Undeniably a modern take on the old-school taqueria, Virgil's is the perfect place to get delicious and inventive tacos in downtown Raleigh. With vegetarian, gluten-free and vegan options, there's certainly something for everyone—try the vegan butternut squash taco, or jump feet first into a plate of fried avocado tacos (refried beans, cabbage, chili lime crema, onion, cilantro and, yes, fried avocado slices). Major bonus points go to Virgil's for being open until 2am Fri. and Sat. (and midnight every other day of the week).
The Original Flying Burrito
The Original Flying Burrito is where the Southwest meets the Southeast. With roots in both regions, Flying Burrito's dishes are innovative and always made from scratch. Try their specialty burritos like the Carne West, a burrito stuffed with sauteed steak, caramelized onions, black beans and rice then smothered in chipotle barbecue sauce. Afterwards, grab a drink, like their rosé sangria, while you enjoy live music featured every Thurs.-Sat.
Dos Taquitos is a long-standing and family-owned establishment that has been serving up some of the best home-style Mexican food in Raleigh since 1991. This colorful cantina offers great outdoor seating and is perfect for a group of friends or a date night. We suggest starting off with their delicious nachos to share, which are topped with either steak, chicken or blackened fish. Afterwards, try the Tamales Del Mercado, traditional tamales stuffed with pork and chicken and wrapped in a banana leaf.
Comments