20 of the Best Brunch Spots in Raleigh, N.C.
Friday, May 12, 2023, 9am by visitRaleigh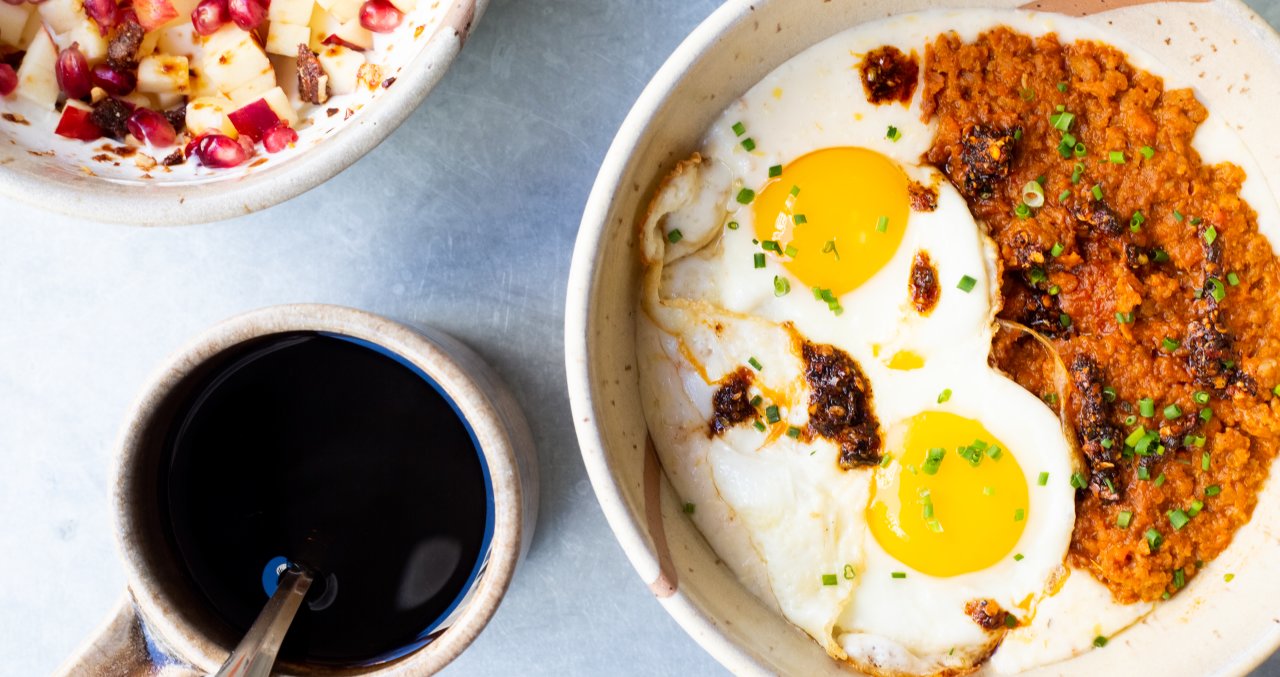 Weekends are meant to be brunched on! Time spent with family and friends over stacks of blueberry pancakes or the perfect eggs Benedict should be cherished—in the Raleigh area, it is. We get asked about brunch spots all the time, so we've put together this list of some of the area's favorite places to convene for muffins and mimosas. Cheers!
 
The oysters are fresh and the po'boys are loaded—don't even get us started on the hushpuppies. At chef Sunny Gerhart's St. Roch, you'll get as close as you can to a New Orleans dining experience without leaving town, complete with Big Easy-inspired cocktails, wine and beer (mimosas and bloody mary's included, of course). An indulgent brunch at St. Roch—grits, biscuits, hotcakes, fried oysters and so much more—is among the top dining experiences in the City of Oaks.
Hours: Saturday and Sunday, 11am-4pm
Undoubtedly one of Raleigh's prettiest restaurants, this French bistro has the food to match (satisfying both your taste buds and your Instagram feed). Crepes, French toast, quiche du jour, panier a pattissirie (assorted pastries) and more dot the menu, and plenty of shopping and other activities await just steps away within Raleigh's North Hills shopping district.
Hours: Sunday, 9:30am-3pm
Opened in 1930, Mecca is Raleigh's oldest restaurant, serving up comforting diner-style meals for more than 90 years now just a couple blocks from the North Carolina State Capitol. Open for breakfast and lunch seven days a week, regulars pile into booths and cozy up at the downstairs bar to scarf down plates of pancakes, grits, biscuits and gravy and other Southern favorites. 
Hours: Breakfast items served every day until mid-afternoon; open 8am-3pm on Saturday and Sunday
Raleigh-native chef Sean Fowler serves traditional Southern foods with influences drawn from all over the world. The menu changes daily due to the commitment to using only the freshest ingredients, including brunch! Try items like the  Mandolin Omelet Du Jour, Smoked Sunburst Trout Florentine and more. Consider making a reservation, because this hotspot was just named among the 50 best Southern restaurants in America!
Hours: Sunday, 10:30am-2:30pm
Passionate mind Niall Hanley's Hibernian Restaurant & Pub celebrates both the old world flavor and the new vibrancy of Ireland. The corned beef hash—with red onion, cheddar cheese and a fried egg on top—plus an Irish coffee and a mimosa bucket for the whole group wouldn't be passed up at our table!
Hours: Saturday and Sunday, 10am-2pm
It's not unusual to see a line form before the doors open on weekends at this popular eatery by James Beard Award-winning chef Ashley Christensen. And it's impossible to go wrong here, but we can't not recommend getting a taste of the fried chicken that Beasley's is named for. At brunch time, spring for the chicken and waffles (drizzled in honey with real maple syrup on the side; pictured in header) or the hot chicken eggs Benedict—two poached eggs with Béarnaise sauce, creamed collard greens and buttermilk biscuits.
Hours: Saturday and Sunday, 11am-3pm
Open since 1999 in Cary, La Farm Bakery has consistently wowed visitors and earned media recognition from all over the world. Under the guidance of master baker Lionel Vatinet, La Farm produces some of America's high-quality bread, pastries and other baked products on a daily basis. Open for brunch on Sundays, dig into the smoked salmon Benedict, creme brulee French toast and more.
Hours: La Farm Bakery on N.W. Cary Pkwy. is open for breakfast Monday-Saturday beginning at 7am, and Sunday beginning at 8am.
Across from downtown Raleigh's Nash Square, Parkside's brunch menu has lots of Southern staples, including a chicken and waffle sandwich that tastes as good as it sounds. Elsewhere, they've got you covered with everything from their braised boneless short rib Benedict to a massive pancake plate and a bananas foster French toast that's sure to hit the spot (especially when paired with mimosa or bloody mary). With a spacious dining room and casual ambiance, Parkside works especially well for bigger group outings.
Hours: Saturday, 10am-3pm; Sunday, 9am-3pm
Downtown Raleigh's first distillery and restaurant became a reality in 2021 thanks to the owners of Raleigh's beloved Trophy Brewing. Young Hearts offers a variety of liquors, tasty bites, a rooftop patio, event space and more. With a focus on ethically and locally sourced ingredients, Young Hearts provides guests with a mix of small plates, salads and larger entrees as well as several vegan and gluten-free options. The drink menu focuses on local producers and botanical-forward spirits to provide a sense of place and season in the Tar Heel State. 
Hours: Saturday and Sunday at 11am
Located in the historic Capital Club Building in downtown Raleigh, Capital Club 16 offers scratch-made meals inspired by classic dishes and family recipes that make it a true locals' favorite. The menu—American combined with European/German influences—features seasonal and local ingredients, including specialty artisanal items like Schaller and Weber Gold Medal sausages and meats, and a variety of plates, sandwiches and bowls full of eggs, steak, bacon, home fries and more at brunch time (vegetarian options included, too). 
Hours: Sunday, 11am
One of downtown Raleigh's biggest restaurant openings of the last decade, Poole'side Pies is a Neopolitan-inspired pizza shop from the previously mentioned local legend chef Ashley Christensen. In spring of 2023, the whimsical, swimming pool-themed restaurant announced a new brunch offering, offering twists on brunch favorites like like the focaccia French toast with whipped lemon mascarpone and strawberries seen below. 
Hours: Sunday, 11am-2pm
They don't call it "Big" Ed's for nothing! This City Market gem is beloved for its ginormous pancakes, loaded country breakfasts and some of the best biscuits you'll ever have. On the weekends, you'll find the joint just as crowded with guests as it is with its plethora of antique decorations covering the walls, floor and ceiling. But no matter how long the wait, it's worth it.
Hours: Tuesday through Sunday, 8am-2pm
A true farm-to-table restaurant that has been on the restaurant scene for more than 40 years, Irregardless Cafe is a great spot for brunch, especially if you have foodie friends visiting who follow the vegetarian or vegan lifestyle. From a tofu Reuben to banana walnut pancakes, the brunch menu has something for everyone.
Hours: Saturday and Sunday 10am-2:30pm
Plates' menu is rooted in Southern cuisine, with a hint of international flavors and techniques taken from the owners' travels to France, Tuscany, Hong Kong, Thailand, Germany and beyond. Dinner dishes include crispy Brussels sprouts, three-cheese and truffle tortellini and oven-roasted grouper, while weekend brunch feature rotating favorites from chef David Mitchell that include huevos rancheros, sweet potato hash bowls and the signature N.C. crab cake Benedict.
Hours: Saturday and Sunday, 10am-3pm; also open Wednesday through Friday, 8am-2:30pm
At Relish—an undeniable favorite among City of Oaks locals—a menu of modernized and refreshed Southern classic dishes feels right at home in Raleigh. Rich comfort foods—fried chicken and gravy on a classic English muffin, tater tot beef nachos served with fried green tomatoes—are the name of the game, and the breakfast doughnut holes are a true treat meant for sharing and/or taking home to savor later. 
Hours: Saturday and Sunday, 9am-3pm
You'll find Southern-inspired, refined comfort food at Peck & Plume, the restaurant at The Mayton in Cary, one of the area's most unique hotels. The atmosphere is relaxed with a touch of elegance—both the hotel and restaurant space are truly gorgeous. The menu offers plenty of gluten-free options like eggs with local Andouille red-eye sausage gravy. The shrimp and grits with an egg or the caramelized apple and toasted pecan pancakes—paired with a cocktail—all make for a great, leisurely brunch. Don't forget to order a pitcher of peach Bellini or pineapple mule for the table!
Hours: Saturday and Sunday, 10:30am-2:30pm (open for breakfast daily until 10am)
Chef Andrew Ullom's Union Special is a full-service bakeshop and café offering sweet and savory pastry, bread, cookies and vegan fare. With industrial décor, the café dials up the nostalgia, history and work ethic of traditional American manufacturing. The name "Union Special" is even inspired by America's oldest and last industrial sewing machine. When it comes to food, however, you can expect a modern menu that revolves and evolves with the times, featuring selections of grain and vegetable-forward sandwiches and salads. For breakfast, egg sandwiches, potato hash, biscuits and sausage gravy and hot ham sandwiches are the name of the game (and never disappoint!). 
Hours: 8am-3pm at the original Gateway Plaza location (note that the downtown Raleigh location is not open on weekends)
NOFO @ the Pig is a combination café, food market and gift shop that is visually vibrant, quirky and unique. Perfect for an afternoon date, take a seat and enjoy brunch followed by some shopping. Take a seat and enjoy an award-winning meal like a sausage, apple and cheddar omelette or a fried green tomato Benedict.
Hours: Saturday and Sunday, 10am-2pm
Located in beautiful Lafayette Village, Driftwood features an open kitchen and an ever-changing menu of fresh Mexican ingredients paired with warm homemade tortillas—all served inside a newly renovated, beachy atmosphere with bright colors, unique artwork and fun decor. On weekends, tres leches French toast are the ultimate showstopper, and a chorizo burrito remains a house favorite. Paired with summer fruit and a glass of sangria? Yes, please!
Hours: Sunday, 11am-3pm
Header photo of St. Roch Fine Oysters + Bar by FOOD SEEN, courtesy of JNK Public Relations
Comments