Exhibition Puts Works from Frida Kahlo and Diego Rivera on Display at North Carolina Museum of Art
Thursday, October 24, 2019, 1pm by visitRaleigh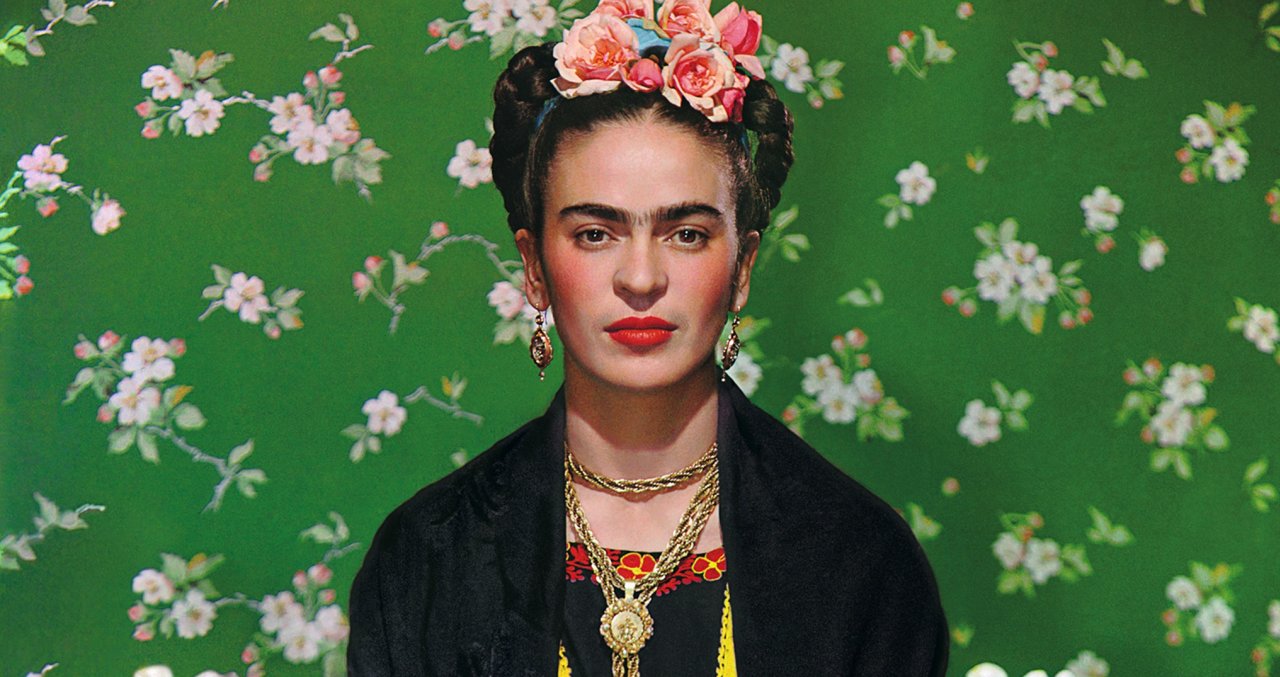 Update (Jan. 2, 2020): Exhibition now extended through Sun., Jan. 26, with special evening hours on Fri., Jan. 24, and Sat., Jan. 25, until 10pm
Big news, art fans! Two major new exhibits will fill the galleries at the North Carolina Museum of Art in Raleigh this fall.
Make your plans now to explore the work of two of the world's most revered artists—Frida Kahlo and Diego Rivera—in a remarkable exhibition of their masterpieces (and surely one of the museum's most popular exhibits for years to come), plus see oil paintings from Avett Brothers band member Scott Avett in his first solo museum exhibition.
Frida Kahlo, Diego Rivera and Masterpieces of Modern Mexico from the Jacques and Natasha Gelman Collection will open on Sat., Oct. 26, 2019, and run through Sun., Jan. 19, 2020. This exhibit will be ticketed in conjunction with Scott Avett: INVISIBLE, which will run through Sun., Feb. 2, 2020.
 
Frida Kahlo, Diego Rivera and Mexican Modernism
Experience the lives, loves and influence of two art icons of the 20th century. Few artists have captured the public's imagination with the force of Mexican painter Frida Kahlo (1907–54) and her husband, the Mexican painter and muralist Diego Rivera (1886–1957). The myths that surrounded them in their lifetime arose not only from their significant bodies of work, but also from their friendships (and conflicts) with leading political figures and their passionate, tempestuous personal relationships.
Left: Frida Kahlo, Self-Portrait with Monkeys, 1943, oil on canvas, 32 x 24 7/8 in; Right: Nickolas Muray, Frida with Red "Rebozo," 1939, Carbro print, 9 7/8 x 8 in.
Kahlo and Rivera's works vary in scope and inspiration. She is best-known for her intense self-portraits, whereas he worked as a large-scale muralist in Mexico and the United States. Kahlo's work is deeply personal, often depicting her own dreams, painful personal experiences and affinity with Mexican culture, while Rivera's more public art portrays everyday people swept up in industrial and cultural revolution. Both artists forged the way for Mexican art as a significant element of the 20th century and beyond.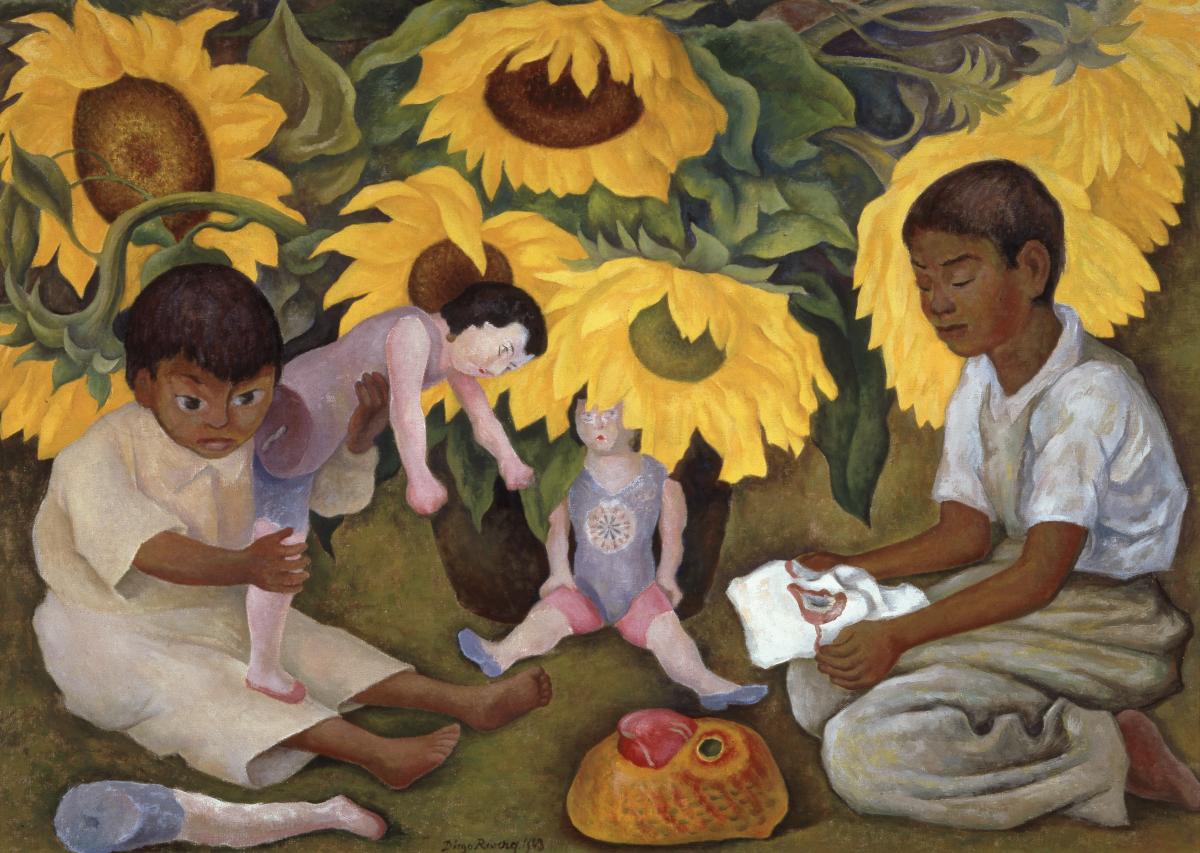 Diego Rivera, Sunflowers, 1943, oil on canvas, 35 1/2 x 51 1/8 in.
Scott Avett: INVISIBLE
Scott Avett has been a working artist, focusing on painting and printmaking, since he earned a BFA in studio art from East Carolina University in 2000. But until now, this art-making part of his life has been a secret and a more solitary creative pursuit in comparison to his life as a musician, singer and songwriter. This solo exhibition features Avett's large-scale oil paintings—these are psychologically-charged and emotionally-intense portraits focused on his family and himself. Like his songs, Avett's paintings speak to universal issues of spirituality and struggle, love and loss, heartache and joy, as well as more personal stories of career, family and living in the South. The exhibition also includes large-scale oil paintings and prints related to Avett's musical career.
Left: Scott Avett, Jump the Boy, 2017, silkscreen and acrylic on canvas, 48 x 36 in.; Right: Scott Avett, Motherhood, 2012, oil on canvas, 106 x 65 in.
Tickets to see both exhibits are $18 for adults; $15 for seniors, military, college students with ID, groups of 10 or more; $12 for youth ages 7-18; and free for children age six and under. The North Carolina Museum of Art is open Tues.-Sun., 10am-5pm (the museum's East Building is open until 9pm on Fridays during these special exhibits).  
 
Other upcoming events to check out
Pick an event, plan a trip (while saving time for a half-day at the North Carolina Museum of Art)!
Exhibit: ¡Viva Viclas! The Art of the Lowrider Motorcycle, through Feb. 9, 2020
Exhibit: Toy Boom! at North Carolina Museum of History, through Jan. 3, 2021
Moonlight in the Garden, Nov. 7-16
The Black Keys - Let's Rock Tour, Nov. 8
Vintage Market Days of the NC Triangle Presents: "Home for the Holidays", Nov. 15-17
North Carolina Chinese Lantern Festival, opens

Nov. 22

Ariana Grande,

Nov. 22

75th Annual Raleigh Christmas Parade, Nov. 23
24th Annual American Indian Heritage Celebration, Nov. 23
Cirque de Noel with the North Carolina Symphony, Nov. 27-30
Carolina Ballet presents The Nutcracker, Dec. 18-29
WRAL First Night Raleigh 2020, Dec. 31
 
Header photo: Nickolas Muray, Frida Kahlo on Bench #5, 1939, carbon print, 17 7/8 x 14 1/8 in.
Comments