100 Outdoor Summer Concerts in Raleigh, N.C.
Thursday, June 08, 2017, 7am by visitRaleigh
Tried-and-true recipe for a great time: a dash of warm weather, a heap of live music and plenty of good friends. With the most live music in North Carolina, Raleigh knows how to rock the summer! The area's outdoor concert venues hit all the right notes when putting together the summer schedule, bringing in plenty of big-name acts and a bevy of artists with loyal followings ready to hit the stage in the Raleigh area. With a jam-packed schedule of open-air tunes, we've put together your guide to the venues and concert series that make up more than 100 outdoor concerts in Raleigh, N.C., this summer. Let's jam!


This 5,500-seat venue that sits in the shadow of downtown Raleigh's skyline (and just steps from bars, restaurants and other nightlife spots) has a major lineup planned for 2017 with more than 20 shows on the calendar through the end of Aug. You can catch My Morning Jacket (7/9), Idina Menzel (7/19), Logic (7/27), Mary J. Blige (8/10), Goo Goo Dolls with Phillip Phillips (8/23) and a lot more. Red Hat Amphitheater will also once again host some of the headline shows at Hopscotch Music Festival (9/7-10; schedule TBA), plus showcase the Main Stage at PNC Presents Wide Open Bluegrass (9/29-30), where The Infamous Stringdusters, Sierra Hull, Béla Fleck with Abigail Washburn and more will perform for huge crowds. You can bring a small blanket with you, and food and beverages (including beer, wine and liquor) are sold at the venue.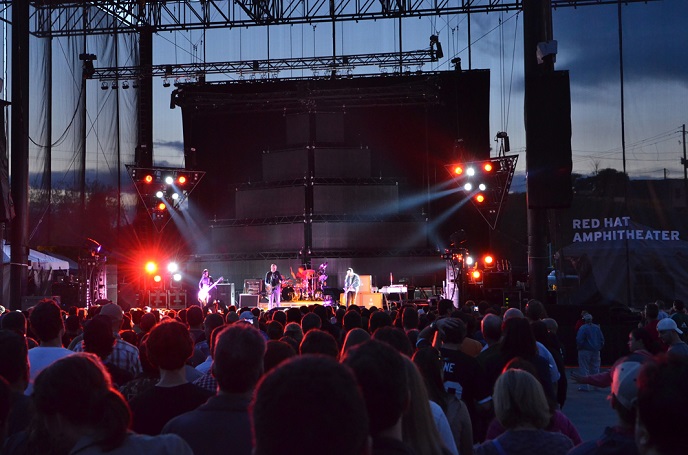 The first ever (and totally free) Y'All at Dix Park concert series kicks is set with three Sat. dates this summer. Live music, field games, food trucks and plenty of beer will be on hand at the 300-acre Dorothea Dix Park that overlooks downtown Raleigh. Save the date for performances by The Veldt (6/24), Hammer No More The Fingers (7/22) and Birds of Avalon (8/26)! 


Nestled in a landscape of tall pine trees and next to the beautiful Symphony Lake in Cary, Koka Booth Amphitheatre has nearly 15 jazz, bluegrass, symphony and indie music shows lined up for the summer season, including a free show with fireworks on July 4 that you won't want to miss. Other highlights for the season include John Mellencamp (6/28), Steep Canyon Rangers performing with the North Carolina Symphony (6/30), Sturgill Simpson (7/8), Willie Nelson and Family (7/14) and more.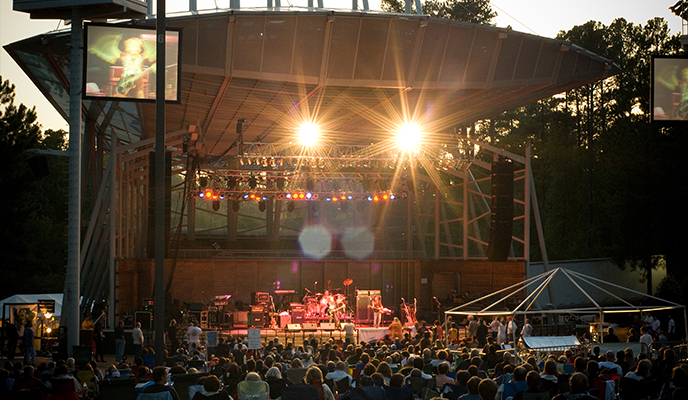 Big crowd, big acts and big tailgating. That's how things work at this 20,000-seat venue in the City of Oaks. Coastal Credit Union Music Park at Walnut Creek has long been known as a can't-miss stop for music stars as they tour the Southeast, and this summer brings in Lady Antebellum (6/15), Dierks Bentley (7/14), Florida Georgia Line (7/21), John Mayer (8/16), Luke Bryan (8/19), Green Day (9/1) and a number of other big name acts! 


A Raleigh summer tradition, this weekly Thurs. night beach music series in North Hills is celebrating it's tenth season in 2017. In full swing for the spring and summer through Aug. 17, the series attracts diverse and lively crowds (including some of the best shag dancers around), with more than 125,000 people expected to attend the 17-week season. This year's lineup includes Spare Change (7/6), Fantastic Shakers (7/13), Liquid Pleasure (8/10) and other local favorite beach music acts. Bring your dancing shoes!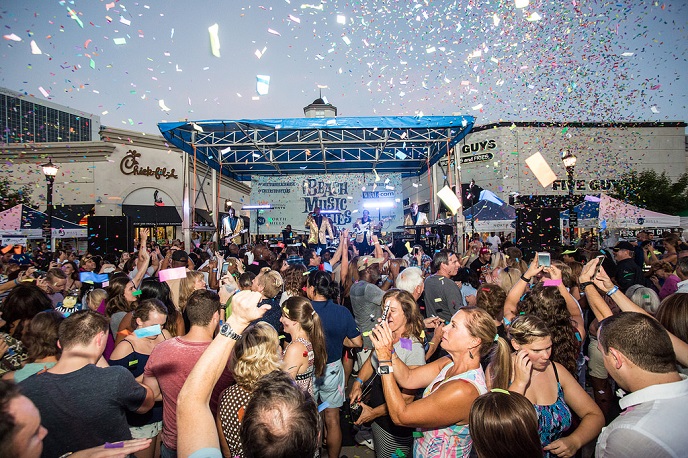 This free, family-friendly concert series in downtown Wake Forest takes place on the second Fri. of each month throughout spring and summer. Food trucks will be on hand as will beer from White Street Brewing Company (brewed literally just steps away from the main stage). Save the date for Bull City Syndicate (6/9), Big Love (7/14), Love Tribe (8/11) and Crush (9/8). 


This unique performing arts and film venue—a work of art itself—hosts an outdoor summer series featuring a range of musical performances, family entertainment, blockbuster movies and classic films. Celebrating 20 years of summer concerts in 2017, the Joseph M. Bryan Jr. Theater will host Tegan and Sara (6/9), Sheryl Crow (6/24), Mandolin Orange (7/22), Belle & Sebastian with Andrew Bird (7/31), Rhiannon Giddens (8/9) plus others. Blankets and picnics are encouraged!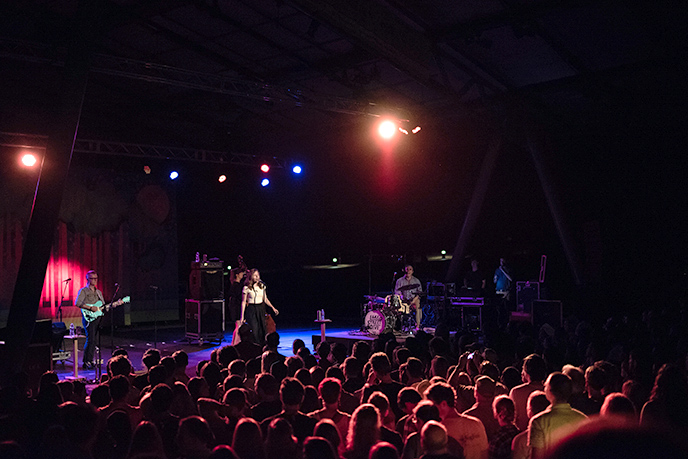 The Town of Cary puts on two free, family-friendly concert series with varying musical styles. The Sertoma Series, held at the Sertoma Amphitheatre located inside of Fred G. Bond Metro Park, is home to free concerts presented by PineCone, Piedmont Council of Traditional Music. This summer you can catch Tyler Hughes and Sam Gleaves (6/10), Al Strong (7/8) and Jonathan Byrd & The Pickup Cowboy (8/12). The Starlight Concert Series, held in the beautiful gardens of the Page-Walker Arts & History Center, has a Celebration of Bluegrass (6/23), Greg Gelb and the Second Line Stompers (7/14) and Jamrock (8/4) on the schedule. 


Two major music events are lined up for Stephenson Amphitheatre at the Raleigh Municipal Rose Garden, one of the area's most unique venues. Live and Local Roots Fest (9/23), a ticketed event, will feature a lineup of N.C.-based bands (lineup TBA) following an all-day, free street festival just steps away on Hillsborough St. Groove in the Garden (10/21), headlined in 2017 by American Aquarium, Rebekah Todd & The Odyssey, Dark Water Rising and others, is a local-favorite event that draws big crowds (tickets range from $20-$75).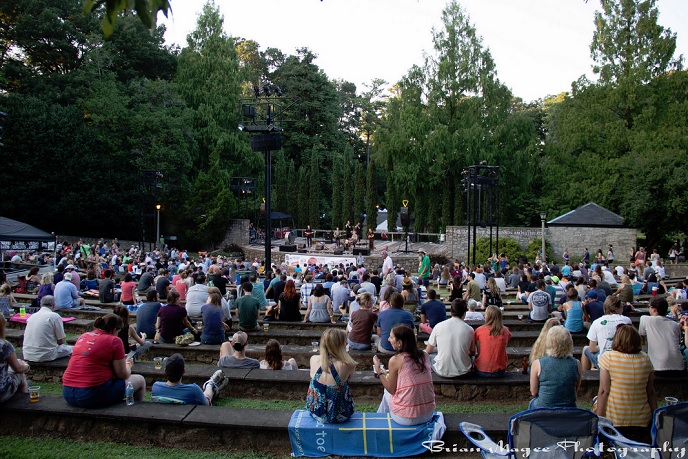 The Apex Music and Movies in the Park series, split between the spacious Apex Historic Depot and Nature Park Amphitheatre, combined have nearly 20 free concerts and movies lined up for the spring and summer seasons. Grab your lawn chairs, blankets and picnic baskets and head for Apex Nature Park to see the Triangle Brass Band (6/18), Mary Johnson Rockers & The Spark (7/15), Forlorn Strangers (8/12) and Urban Soil (9/9), or into downtown Apex to see Darryl Murrill & Jazzpell (6/30), Christiane & The Strays (8/25) and Jack the Radio (9/29). For more information on outdoor movies, check our list of 54 chances to catch a movie under the stars this summer. 


See a full calendar of live music head, both outdoors and indoors at themostnc.com!


Photo credits: Midtown Beach Music Series, North Hills; Raleigh Municipal Rose Garden, Brian Magee Photography

Comments