First Night Raleigh: A Guide to Downtown Raleigh's Massive New Year's Eve Celebration
Wednesday, December 18, 2019, 3pm by visitRaleigh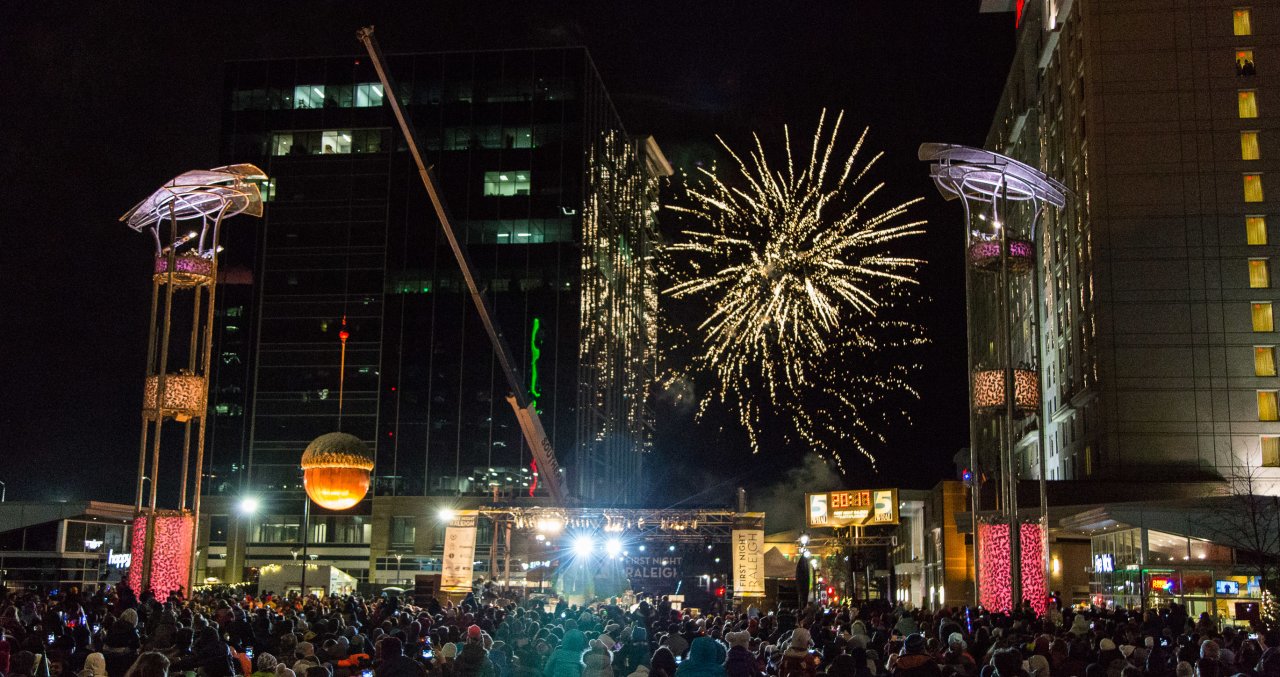 Who's ready to close out 2019 in style and ring in the new year with a bang? We are!
WRAL First Night Raleigh 2020, a downtown Raleigh New Year's Eve celebration for nearly 30 years, is an all-day event with nearly 100 performances (music, dance, theater, comedy and more) across 25 venues.
Ride the 90-foot-tall First Night Ferris Wheel and the Gold Leaf Sleigh Rides. Launch yourself into the night sky on the thrilling Alien Abduction amusement ride. Adventure through the illuminated, larger-than-life Astro Botanicals Garden of Light. Take part in poetry, ballroom dancing, live music and catch fireworks at midnight! With 20-plus blocks of programming across more than two dozen venues, there's plenty of fun for the whole family to enjoy at this all-day event.
Here's a look at the important details to prepare you for a fun day and night!
 
Admission
First Night Raleigh is a ticketed, all-day event ($11 if you purchase in advance of Dec. 31, $15 for adults and $12 for children ages 6-12 on the day of). Your pass gives you access to every venue, performance and interactive exhibit—beginning at 2pm all the way through midnight! You can find full event details, tickets, a map, parking info and more on the First Night Raleigh website.
An illuminated outdoor garden
Experience an outdoor art exhibit like no other at the Astro Botanicals Garden of Light!
Created by artist Stan Clark, the Astro Botanicals Garden of Light is a series of larger-than-life, inflatable sculptures shaped to replicate classic ornamental flowers. When fully inflated and illuminated, these color-changing flowers are highly visible day or night and aim to promote creative play and symbiotic awareness. Located in Raleigh's Moore Square, this installation will be open on Sat., Dec. 28, from 4-9pm and on Tues., Dec. 31, from 4-10pm. A First Night Raleigh pass is required for entry on both nights. 
New year, new hobbies
Entertain yourself and your youngsters at the Children's Celebration from 2-6pm. Get hands-on with festive craft workshops happening at the North Carolina Museum of History and North Carolina Museum of Natural Sciences. Create everything from firework wands and celebration bells to origami, brightly-colored lanterns and craft party crowns. You can also get decked out in beautiful henna art and face paint, enjoy musical story time on Bicentennial Plaza and much more at this daytime extravaganza! Local tip: Children five years old and under are permitted free when accompanied by a pass-carrying adult.
 
Non-stop performances
With 20-plus blocks of programming and nearly 25 venues, downtown Raleigh puts the pedal to the metal with performances galore! The festival's massive entertainment offering includes jazz, comedy, gospel music, steel drums, enormous puppets, bluegrass, ballroom dancing, art and more. Be sure to grab a First Night Raleigh map to help you plan and get the most out of your performance viewing!
Countdown with the kids (at 7pm!)
Don't worry about keeping the kids out too late to ring in the new year—they can enjoy all the excitement of a new year's countdown following the Children's Celebration! Dance along to the bluegrass sounds of Barefoot Movement as First Night Raleigh drops the famous Acorn and sets off the night's first fireworks at a family-friendly 7pm.
 
A ride on the wild side
Impossible to miss—and impossible to resist—is the Fantastical First Night Ferris Wheel! A ride on this gondola-style Ferris wheel towering 90 feet above the festivities offers fantastic views. Thrill seekers can also take a quick and dizzying spin on the Alien Abduction Gravitron! Rides are free with your First Night Raleigh pass.
Looking for a thrill that's a bit more chill? Then, hop aboard a Gold Leaf Sleigh for a leisurely ride around downtown Raleigh—no snow required!
Get creative with your celebration
Embrace the creativity on display at First Night Raleigh 2020 with various art installations and workshops. For those interested in making resolutions, there's the Resolution Oak—a metal tree to which visitors can tie resolution ribbons, or the "Next Year, I Will" Walls—huge chalkboards where you can display new year promises for the world to see. From there, take in the neon glow of the WRAL First Night Globe, or enjoy the Poetry Generation and Zine workshop hosted by the North Carolina Book Festival.
Finally, there's the People's Procession—a community parade of giant puppets, drums and other instrument that everyone can take part in.
Countdown to 2020 with thousands of your newest friends
Join revelers on Fayetteville St. at midnight for the WRAL Countdown to Midnight. Beginning at 6pm, you can jam out to special guest musicians and bands like Caleb Johnson and the Ramblin' Saints, the Boom Unit Brass Band and Illiterate Light as everyone prepares to usher in the new year.
Party hard until the big acorn drops
Raleigh's "go big or go home" attitude means there's no cliché crystal ball drop at midnight. Instead, a giant copper acorn—10 feet tall, eight feet in diameter and weighing more than 1,250 pounds—falls from the sky to celebrate in a way that only the City of Oaks can pull off. The Raleigh Acorn, built by artist David Benson in 1992 to celebrate Raleigh's bicentennial anniversary, is one of the most recognizable landmarks in the area and currently sits on the lawn outside of the Duke Energy Center for the Performing Arts. Local tip: The area where the Acorn drops—at the corner of Davie St. and Fayetteville St.—is free and open to the public. No passes required (but you'll want to get there early!).
Header photo by Sandra Davidson, courtesy of First Night Raleigh
Comments