A Guide to the Raleigh Christmas Parade
Wednesday, November 02, 2022, 8am by Michael Robson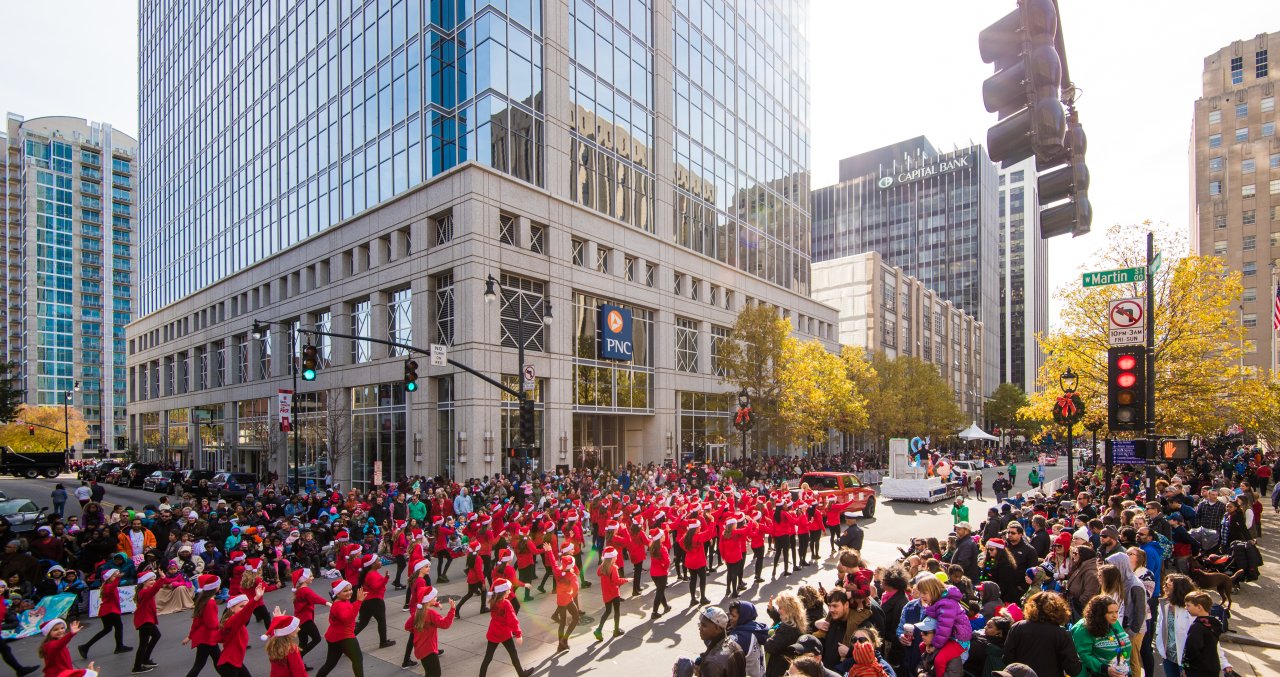 The 78th annual Raleigh Christmas Parade will take place Sat., Nov. 19 in downtown Raleigh, with a 9:40am start time. Read on for all the details!
---

There's no surer sign of the holiday season quickly approaching than the return of one of Raleigh, N.C.'s best (and biggest) annual traditions—the ABC11 Raleigh Christmas Parade! An event truly made for the whole family, the parade provides endless entertainment in downtown Raleigh for one Saturday morning each year. Here's everything you need to know—when, where and how—about the 2022 parade. 
 
What is it?
The Raleigh Christmas Parade, the largest such parade between Atlanta and Washington, D.C., marches through downtown Raleigh for more than two hours, drawing nearly 80,000 visitors to the streets to see marching bands, dancers, classic cars, superheroes and Santa Claus (more than 115 entries are expected to peruse the route).
The 2022 version of one of Raleigh's favorite holiday traditions will be the 78th annual edition of the parade!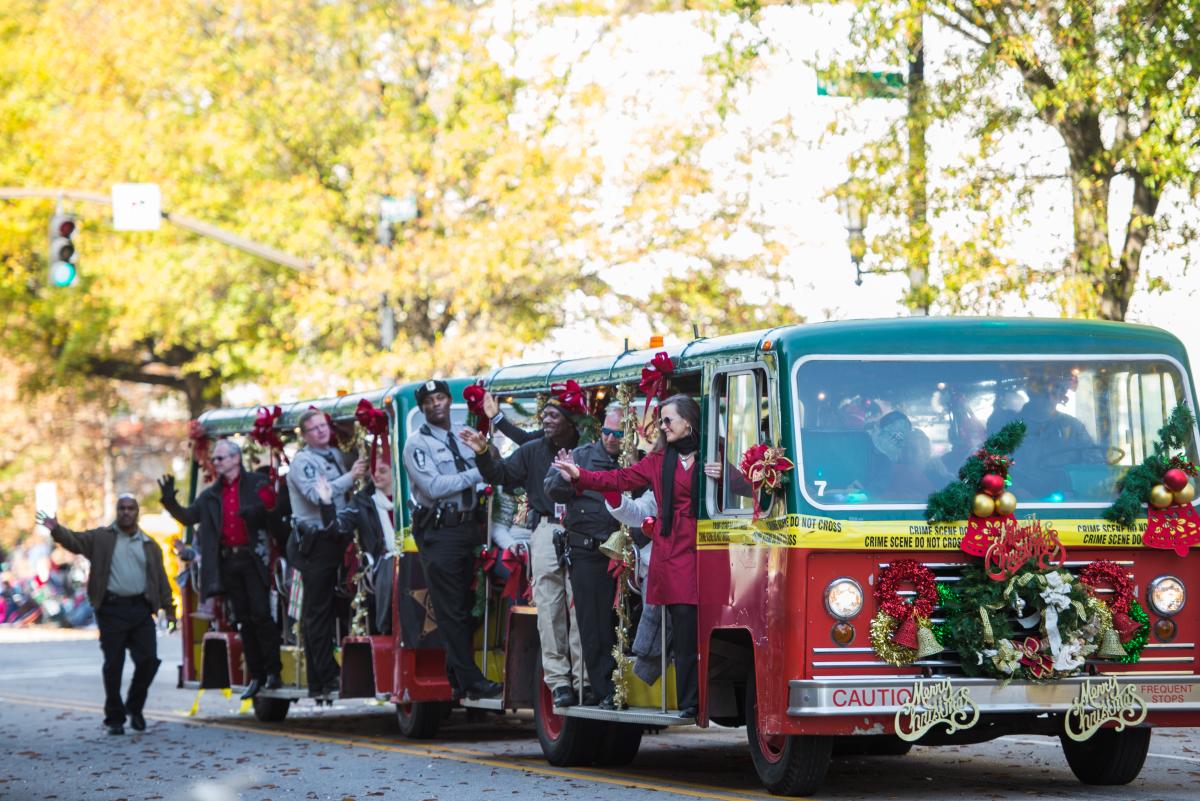 What day is it? What times does it start and end?
The Raleigh Christmas Parade will take place on Sat., Nov. 19. It will start at 9:40am and end around noon.
To get front-row seating/viewing, you likely want to arrive at 8:30am (or earlier!).
Who puts it on?
The Raleigh Christmas Parade is presented by Shop Local Raleigh, an organization committed to promoting and supporting locally owned, independent businesses in Raleigh.
ABC11 is the media sponsor of the event and will broadcast the parade live beginning at 9:30am.

Why does it take place before Thanksgiving?
A bit of history and tradition. The Raleigh Christmas Parade has generally been held before Thanksgiving dating back 60 years or so. Since 1939, the parade has always been organized by local shops and merchants and provided exposure for local businesses right as holiday shopping season kicks into high gear.
An early parade date has its benefits—chances are good for sunny weather and gorgeous fall foliage at this time of year!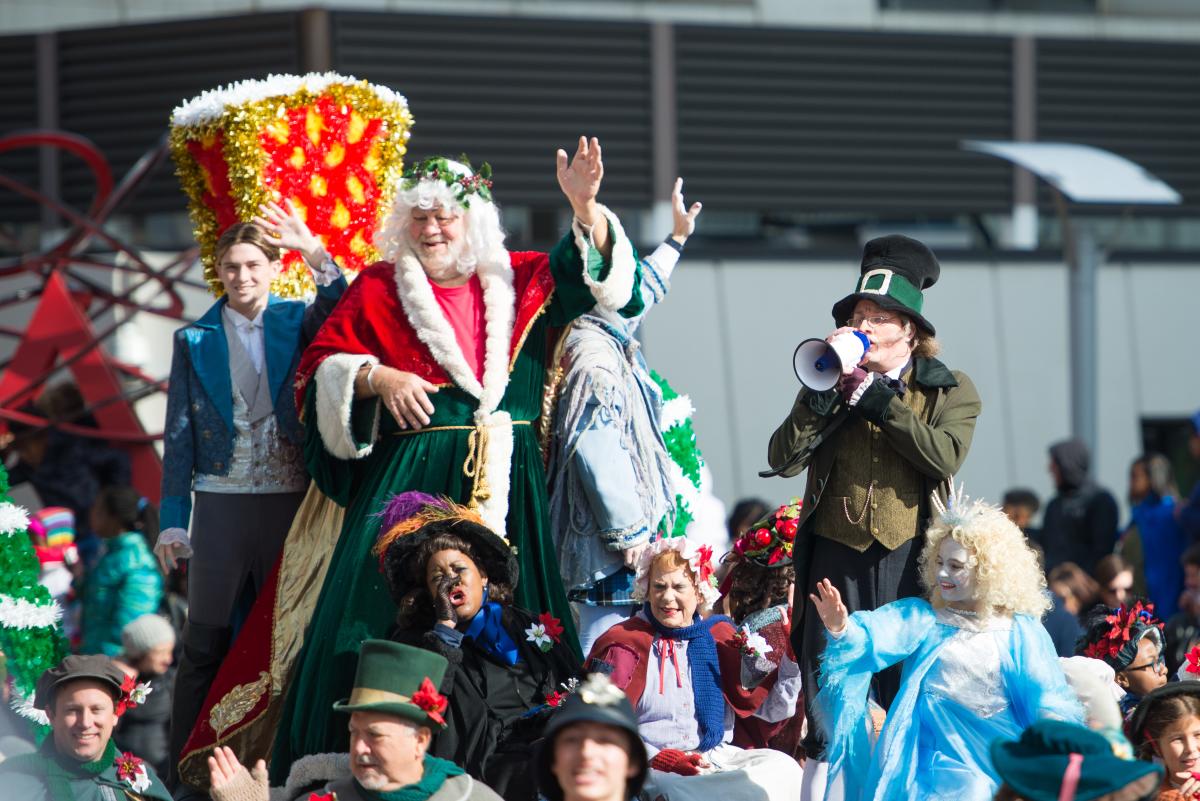 What other history tidbits can you give us? 
The first Raleigh Christmas Parade took place at 11am on Sat., Nov. 25, 1939 (so, actually, two days after Thanksgiving). It drew an estimated 30,000 people, and reportedly caused the worst traffic jam the city had ever seen. 
That first parade was arranged by the Silver Star Merchant's Committee of the Chamber of Commerce in an effort to kick off a grand opening to holiday shopping season. It was a major success. Plans called for 1,000 balloons to be released into the air, with a quarter of them containing coupons to local retailers (safe to say this would be frowned upon in current times).
The second Raleigh Christmas Parade was actually two parades—one on the evening of Fri., Nov. 22, 1940 (7:30pm), and the other Saturday morning (10:30am). The Friday evening parade drew a reported 35,000 people and was thought to be one of the biggest crowds downtown Raleigh had ever held during the nighttime. The Saturday parade was just a repeat, intended mostly for visitors. The parade was sometimes referred to as the Raleigh Christmas Carnival Parade. The open house for merchants following the parade was once again considered a big hit.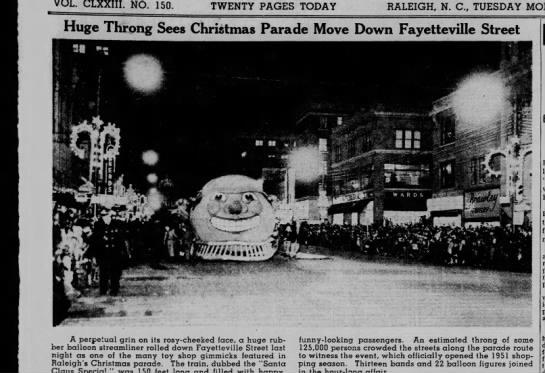 The third Raleigh Christmas Parade was held at 11am on Sat., Nov. 29, 1941 and brought some competition for Santa Claus. King Tarz—the lion that appeared in Tarzan movies—was paraded through the one-mile route, and later performed in front of the courthouse on Fayetteville St. 
Beginning in 1942 it appears there was no parade for a number of years due to World War II. That year the Raleigh Merchants Bureau instead declared Nov. 19 (one week before Thanksgiving) as the official opening of Christmas shopping season and provided encouragement of purchasing items during a wartime Christmas. 
The fourth Raleigh Christmas Parade was actually held on Wed., Dec. 3, 1947 at 4:30pm. Santa Claus arrived in style—via helicopter. The 1947 spectacle drew an estimated 50,000 onlookers.
The parade was held in the afternoon of Fri., Nov. 24, 1950; and then Monday evening at 7pm on Nov. 26, 1951 (with an estimated 100,000-plus people in attendance—seen here in a newspaper clipping).
The event was mostly on a Monday schedule through the 1960s—when crowds grew as big as 150,000—but even took place on Tuesday in 1963 after being postponed one day due to the funeral of president John F. Kennedy. 
A permanent shift to the Saturday before Thanksgiving took place in 1971.
What is the route like? Where should you watch from?
The 1.4-mile parade route starts near the corner of Hillsborough St. and Glenwood Ave., cruises down Hillsborough St. for several blocks where it runs into the North Carolina State Capitol, then snakes its way onto Fayetteville St. From there it's a six-block, straight shot to the Duke Energy Center for the Performing Arts, before one last turn onto Lenoir St. where the parade ends at the Raleigh Convention Center and Red Hat Amphitheater.
All the viewing for the parade is street-side, meaning it's first-come, first-served for those who want to set up chairs in the front row for unimpeded views. If you do that, there are certainly no bad spots to watch from. Crowds are likely heaviest on Fayetteville St. just outside of the ABC11 studios (where some bleacher seating is typically available); crowds are likely thinnest near the start and end of the route.
The Alexander Square Parking Deck, located at 230 S. Wilmington St., offers elevated views as the parade swings by the Capitol but will likely fill up very, very early in the morning.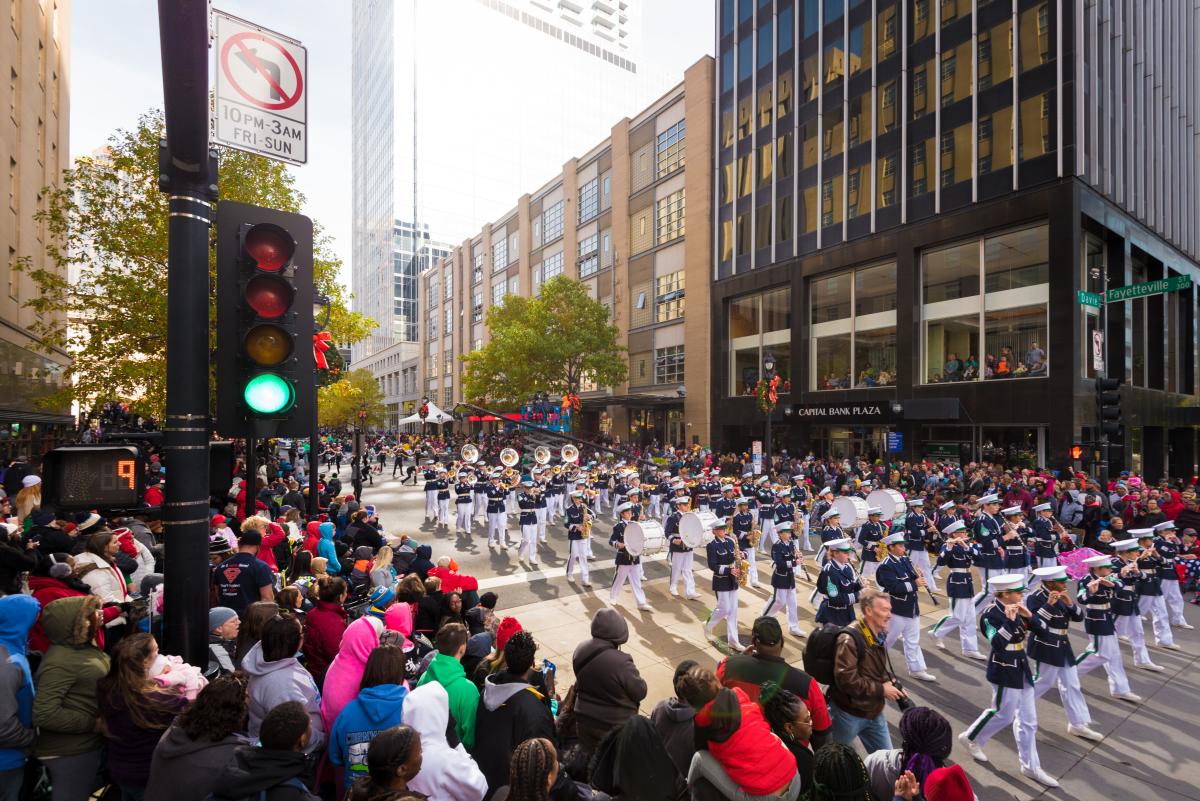 Where should you park?
Street parking is available for free in downtown Raleigh.
The parade map shows available parking decks, some of which may charge a fee.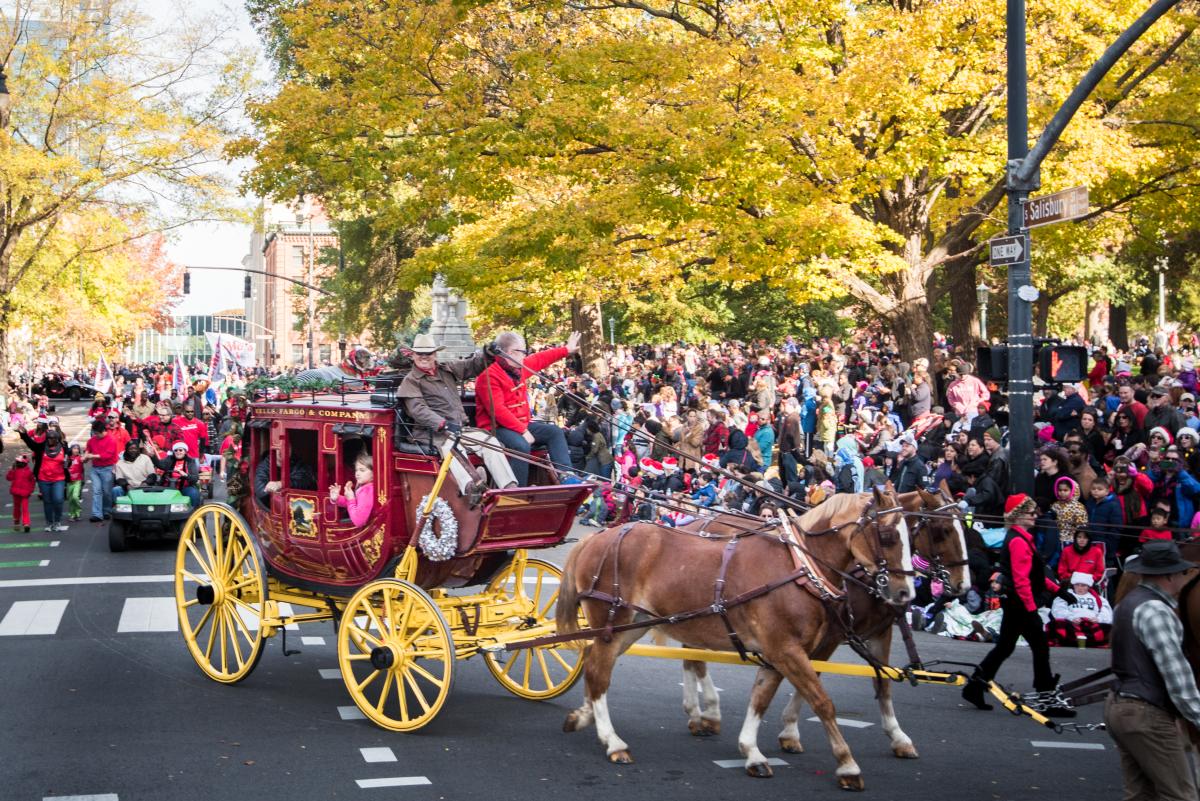 What should you bring with you?
Chairs, blankets, warm clothes and some cash (you may be able to scoop some cotton candy, pastries or hot chocolate from a vendor or local shop).
What is there to do after the parade? 
THE RINK at Red Hat Amphitheater will open to the public as the parade ends—purchase a ticket in advance to secure your ice skating spot!
The 27th Annual American Indian Heritage Celebration will take place the same day at the North Carolina Museum of History—musicians, dancers, artists, storytellers and authors from N.C.'s eight state-recognized tribes will gather to celebrate the state's American Indian culture, past and present.
And in Cary, the North Carolina Chinese Lantern Festival is back for a seventh year and expected to draw more than 100,000 visitors over the holiday season.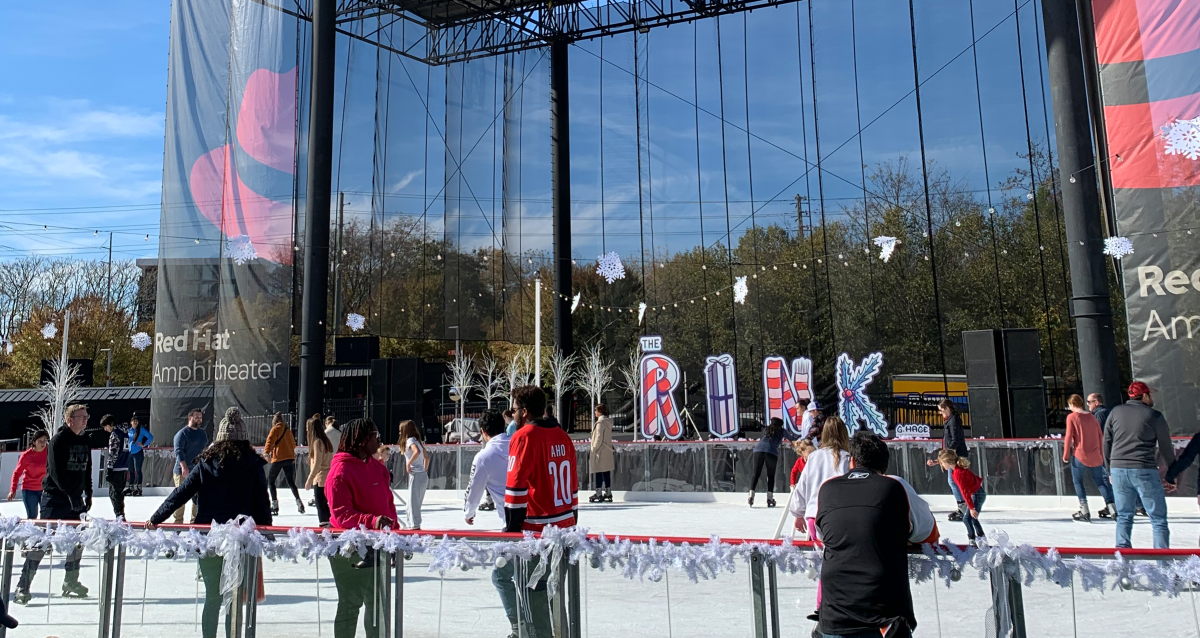 More questions about the parade or visiting Raleigh, N.C., in general? Shoot us a note on Twitter or Facebook—we're here to help!
Comments