Event Guide: North Carolina Chinese Lantern Festival in Cary, N.C.
Wednesday, November 16, 2022, 10am by visitRaleigh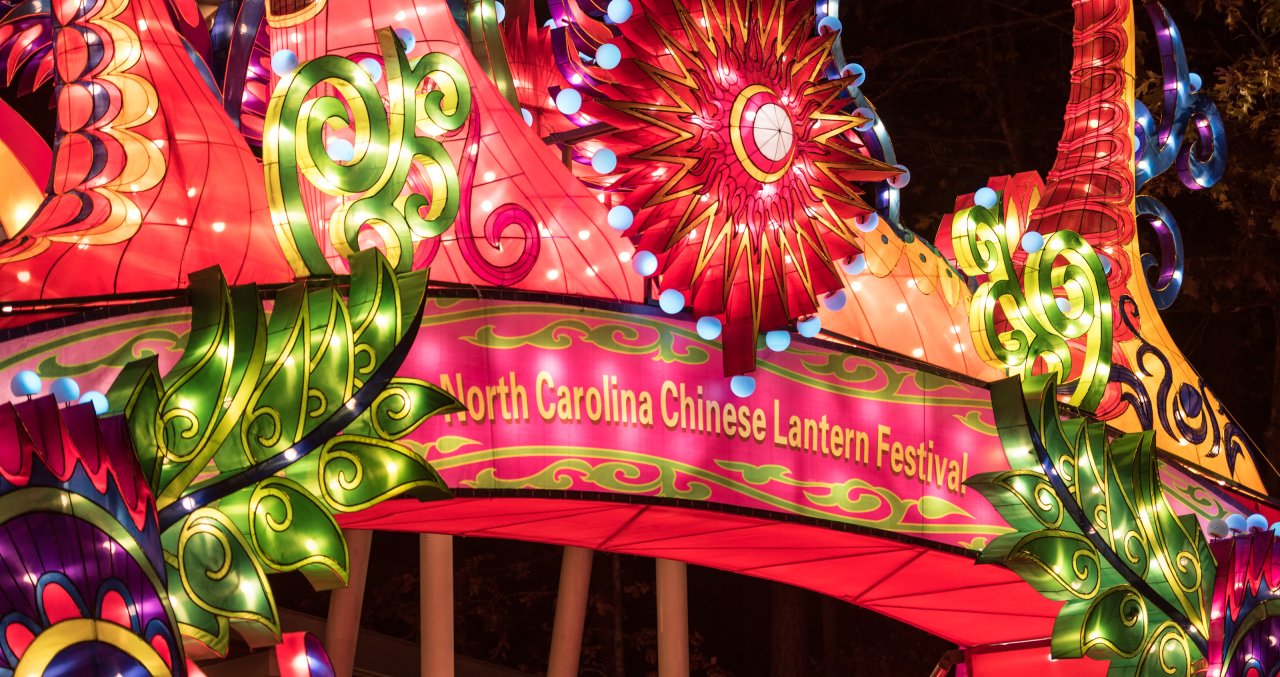 A 200-foot-long, 21-foot-tall dragon has invaded Koka Booth Amphitheatre in Cary, N.C. Yes, the North Carolina Chinese Lantern Festival has returned to the Raleigh area for a seventh time!
The festival—which only visits a handful of spots around the country each year is presented in Cary in partnership with Tianyu Arts & Culture, Inc.—opens Nov. 18, 2022, and runs through Jan. 8, 2023. Hundreds of larger-than-life lanterns will be on display, making for an incredible, colorful adventure you can walk through this holiday season.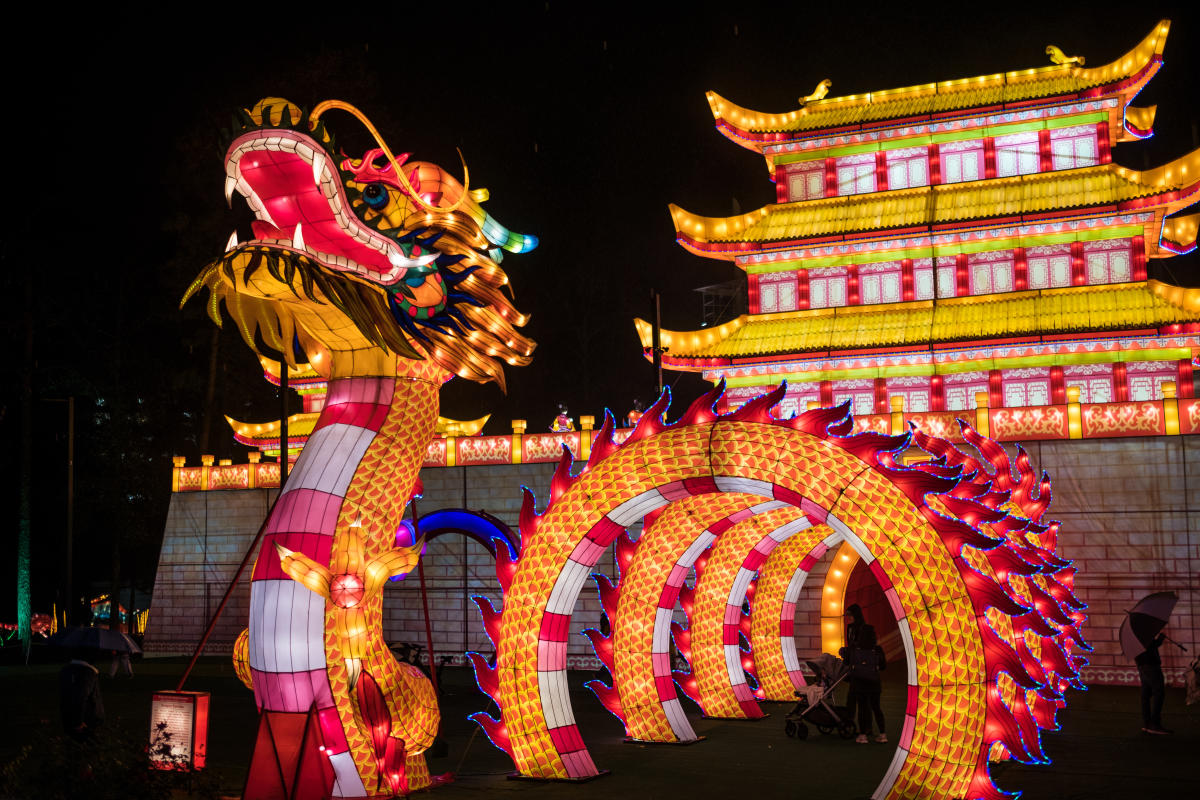 More than 200,000 visitors are expected to come from across the state to see the glowing pieces of art.
Accessibility note: This event is a self-guided walking tour. Booth Amphitheatre has paved walkways and is wheelchair accessible, including the parking area and entrance. A sensory-friendly night will take place on Dec. 6.
The lanterns are on hand to showcase the beauty and artistry of the Chinese culture—the art of Chinese lantern making dates back more than 2,000 years, with lantern-crafting skills being passed down from one generation to the next. Today, they're popularly used to celebrate the Chinese New Year. Each lantern at this year's festival was handcrafted and assembled by more than 25 visiting Chinese artisans and performers to our area.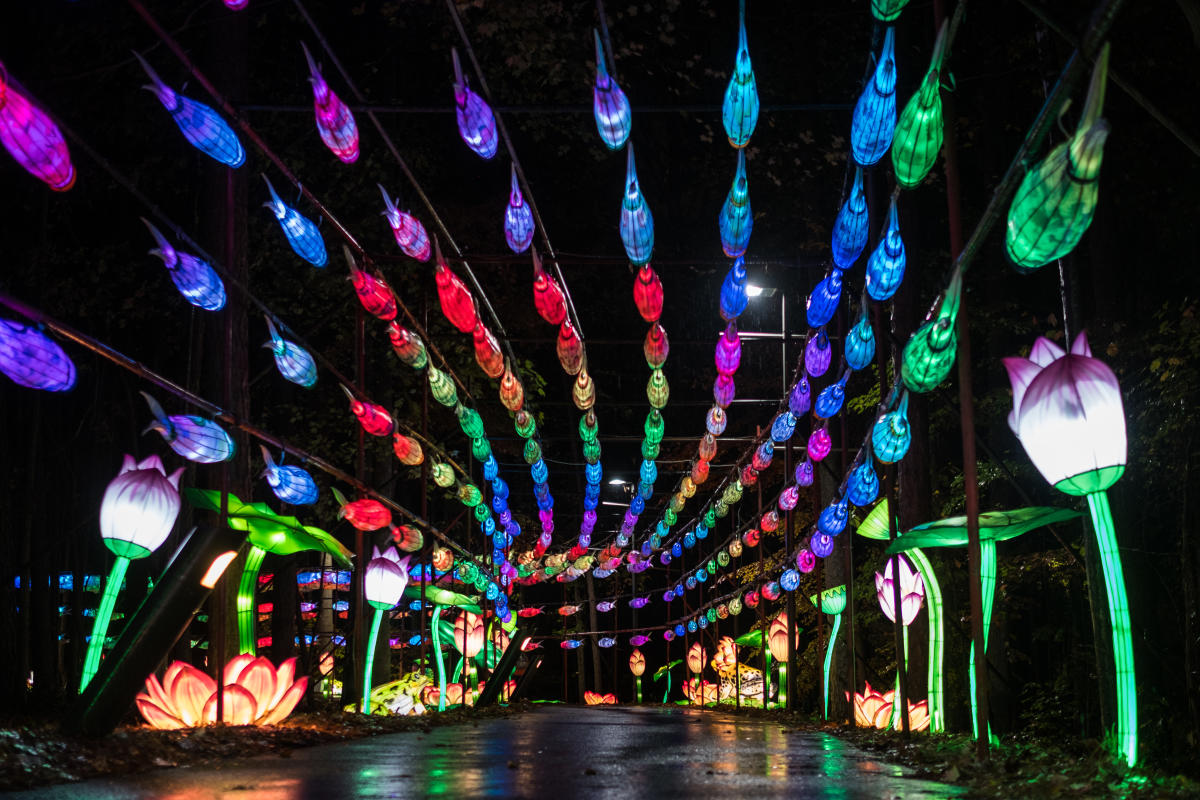 In all, 2,500 lanterns and more than 15,000 LED lights make up 50 distinct displays, including the return of the spectacular Chinese Dragon. The Dragon—the star of the show and an important cultural symbol in China—weighs more than 18,000 pounds, is longer than three school buses and requires a crane with a 15-person crew to install the head. The jaw-dropping piece floats on Symphony Lake, just a stones throw from the amphitheater stage. 
Another Dragon--seen in photos above and also below--stands guard in front of the Imperial Palace of the Ming Empire, among the largest displays the festival has ever unveiled.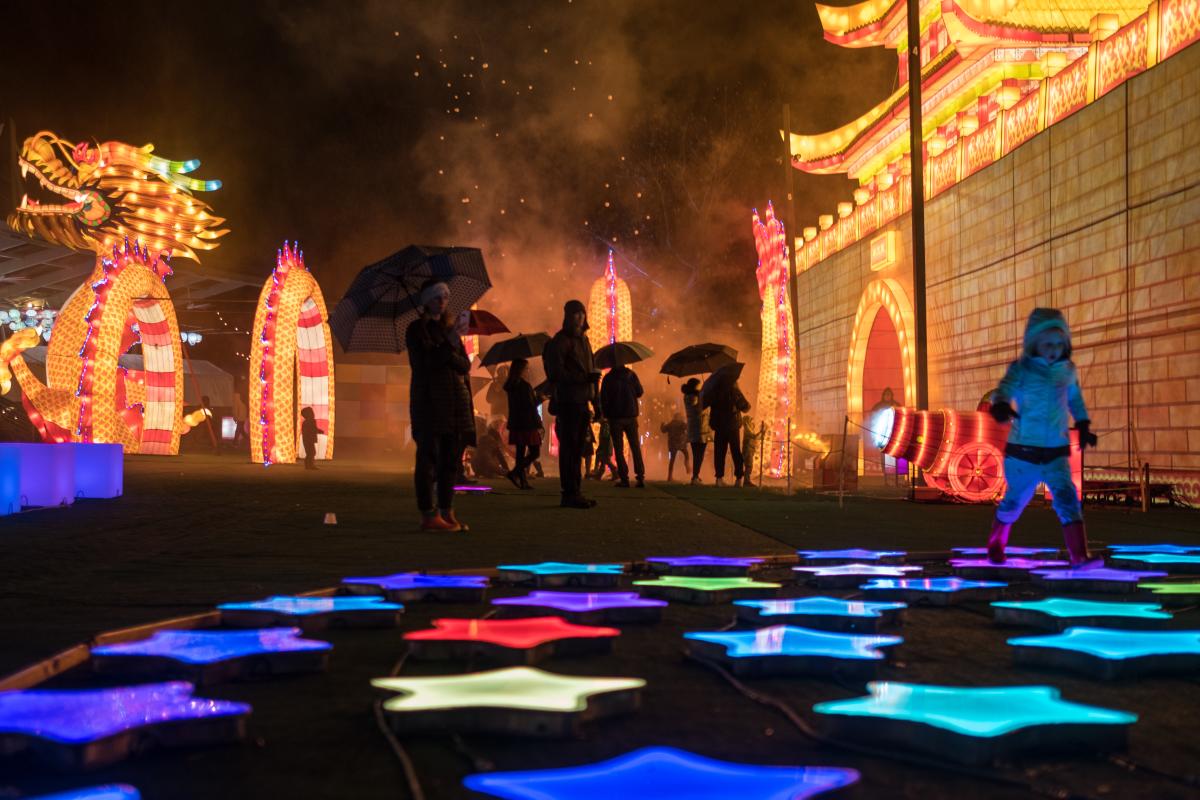 Other displays include a dazzling kaleidoscope you can step inside, a misty rain garden, a group of playful pandas, a couple of truly magnificent parrots and many more (we won't spoil them all!). Most of the displays have movement or interactive features, some will make you laugh and all of them are visually impressive.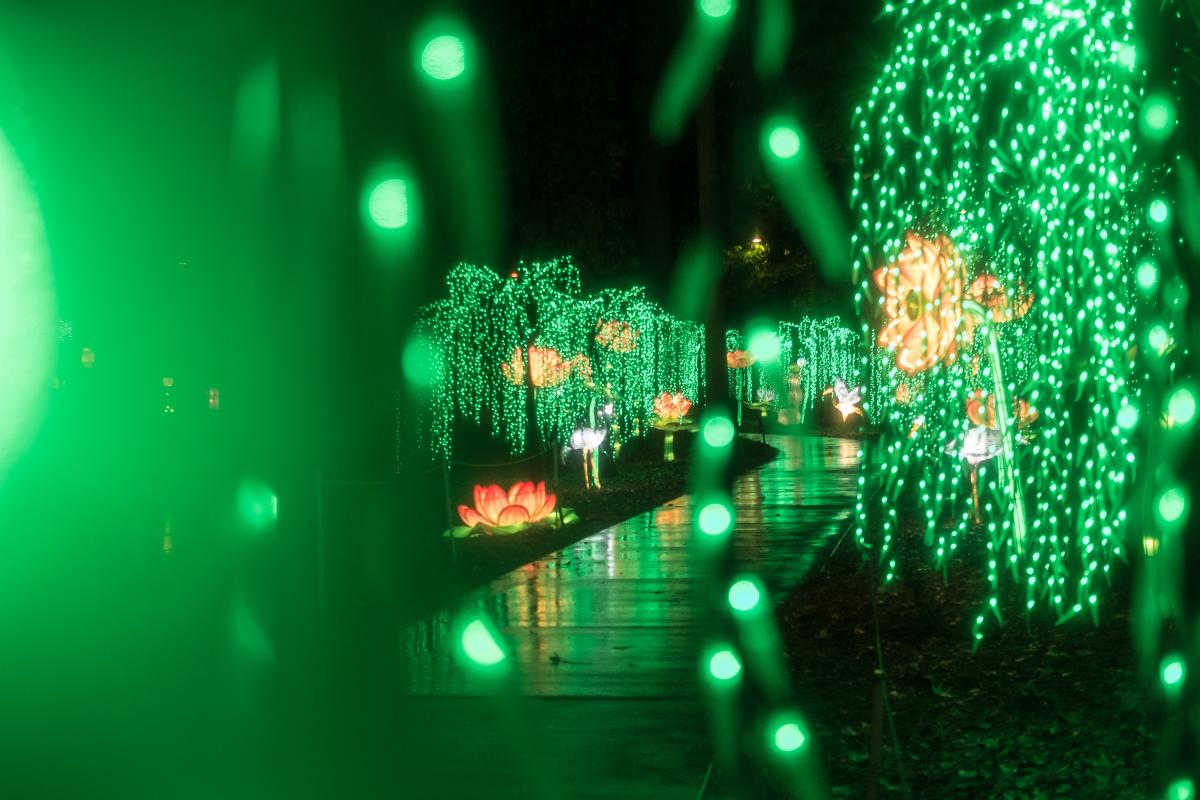 Beyond beautiful lanterns, the festival also welcomes a showcase of Chinese culture—nightly stage performances (6:30, 7:30 and 8:30pm) featuring martial arts, traditional dance, acrobatics, drum performances and more.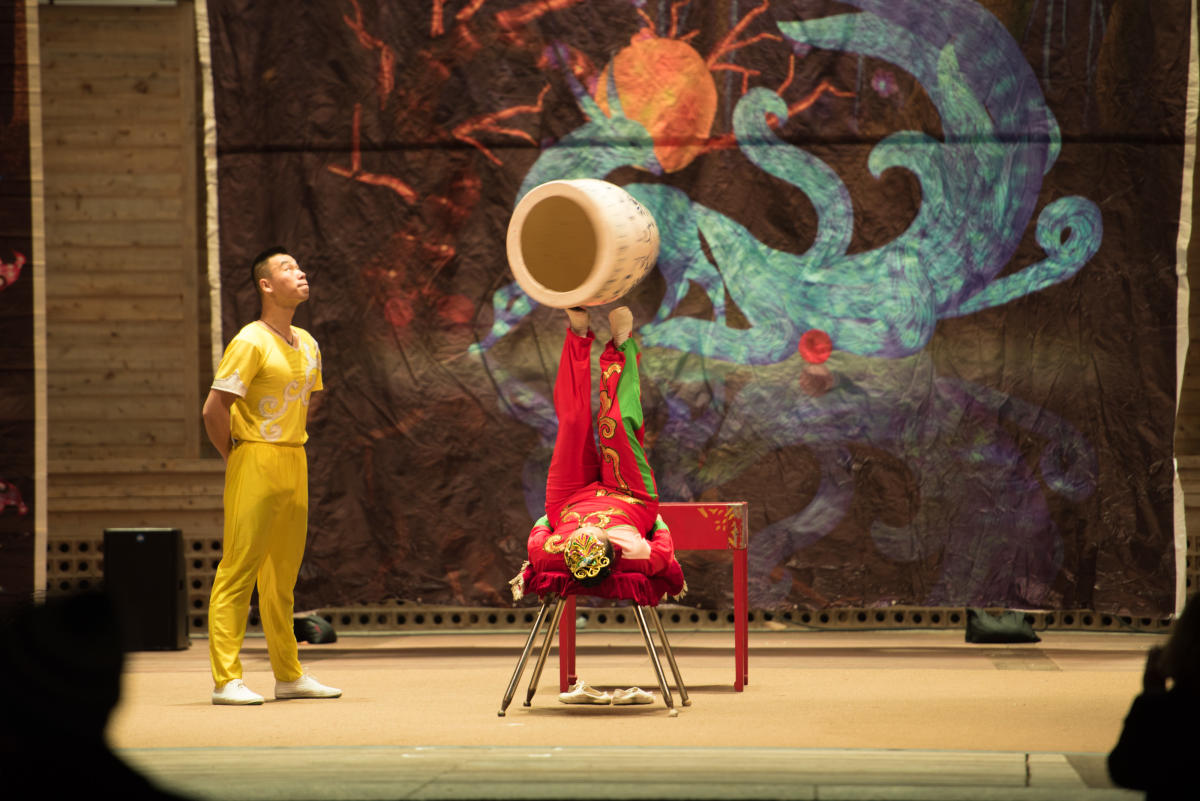 A typical guest may take approximately one hour to walk through the entire festival. Food and beverages will be sold, including popcorn, pretzels, coffee and hot chocolate (adults can get those spiked with Bailey's), plus beer and wine.
Bring your cameras! Photography is encouraged—tag your photos on social media with #visitRaleigh and #NCChineseLanternFestival so we can check them out!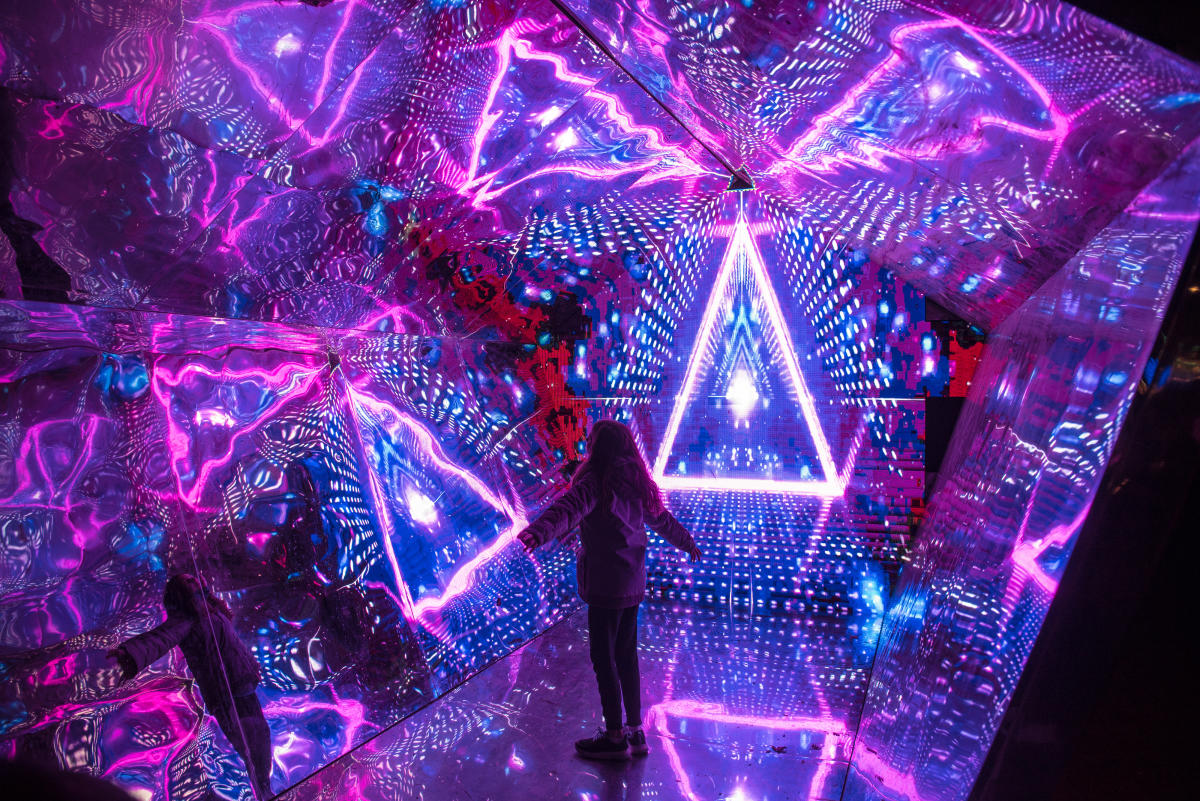 The North Carolina Chinese Lantern Festival is open seven days a week, including holidays, through the new year. Tickets are required (except for those ages two and under). Tickets, starting at $15, can purchased for specific nights or as an "any night" ticket (comes with small price increase). Tickets are available online or at the box office at Koka Booth Amphitheatre. Parking is free at venue-owned parking lots. The festival opens at 6pm nightly, with a special Twilight Ticket available for 4:30pm entry Tues.-Sun. VIP tickets are available for special Monday tours that begin at 4:30pm.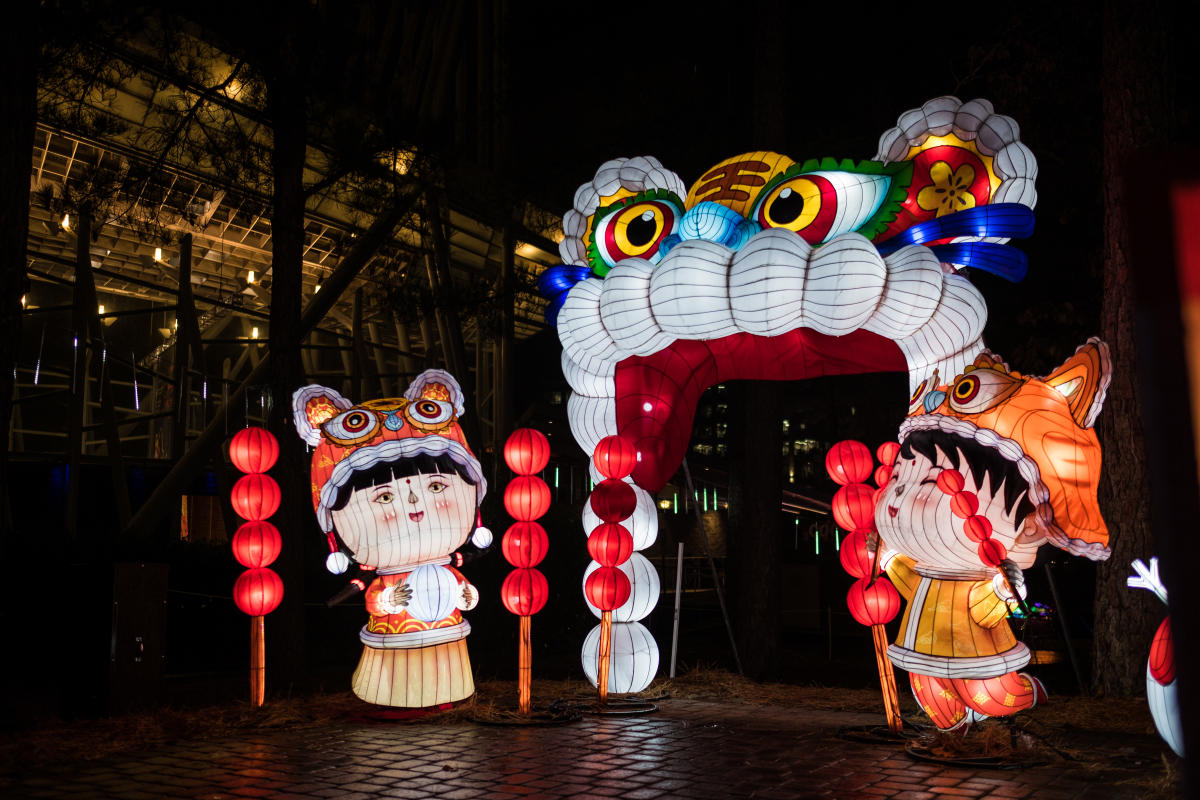 More upcoming holiday events in Raleigh, N.C.
Downtown Raleigh Tree Lighting, Nov. 18
Magic of Lights, Nov. 18-Dec. 30
78th Annual ABC11 Raleigh Christmas Parade, Nov. 19
THE RINK presented by UNC Health at Red Hat Amphitheater, Nov. 19-Jan. 16, 2023
WRAL Nights of Lights at Dorothea Dix Park, Nov. 25-Dec. 24
Raleigh Little Theatre presents Cinderella, Dec. 2-18
Wendell Wonderland, Dec. 2
Holiday Pops with the North Carolina Symphony, Dec. 9-10
Theatre In The Park presents A Christmas Carol, Dec. 9-11
The Justice Theater Projects presents Black Nativity in Concert, Dec. 10
Happy Holly Days Christmas Parade, Dec. 10
51st Annual Historic Oakwood Candlelight Tour, Dec. 10-11
North Carolina Master Chorale presents Joy of the Season, Dec. 13
Raleigh Ringers Holiday Concerts, Dec. 17-18
Carolina Ballet presents The Nutcracker, Dec. 17-24