Five Places You Can Launch a Canoe or Kayak Right Now in Raleigh, N.C.
Monday, September 21, 2020, 8am by visitRaleigh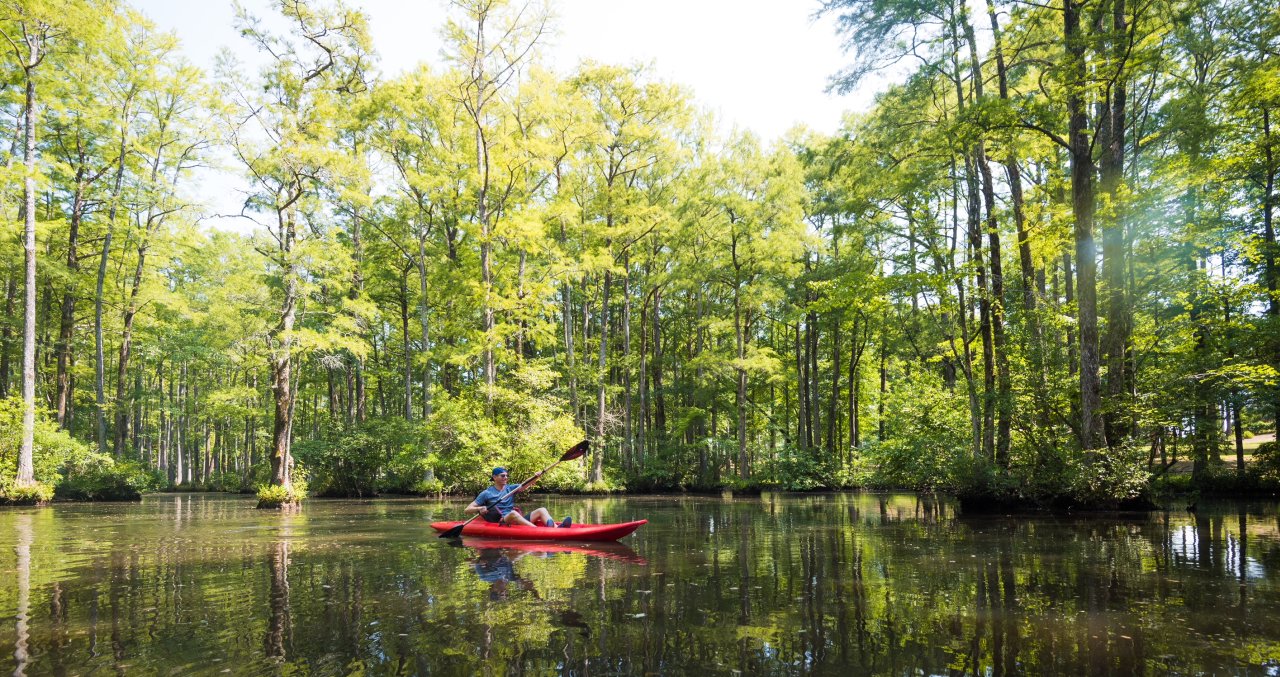 There are a whole bunch of ways to celebrate warm weather in the Raleigh area—one of our favorites is to combine relaxing views with a bit of exercise by heading to the nearest body of water.
Up for a paddling adventure? The parks, rivers and lakes below allow the public to launch their own kayaks, canoes and stand-up paddleboards for a fun day in the sun.
---

Raleigh, N.C.'s welcome mat is always out for you.
See more safe dining and things to do, plus local travel safety info, here.
---

Note: Other bodies of water in the area—including parks that rent kayaks and canoes during the summer months—are currently not offering those services right now due to COVID-19. If you're traveling to Raleigh, N.C., you may want to check out this list of Count On Me NC-certified hotels and restaurants. Count On Me NC is a public health initiative that specifically trains hospitality businesses to help keep both guests and staff safe from COVID-19. The program also asks guests to pledge that they'll do their part to follow safety guidelines as well. 
Cut into the southern side of beautiful North Carolina State University Centennial Campus and surrounded by a protected forest, Lake Raleigh offers a picturesque retreat from the hustle and bustle of everyday life for students, teachers, tech workers and others. Open to the public, this 75-acre lake features a fishing pier and boat ramp for non-motorized watercraft, including canoes, kayaks and stand-up paddleboards. Nearby, a fun, nine-hole disc golf course begins at the small parking lot near the boat ramp, and one of the most striking pieces of architecture in Raleigh—James B. Hunt Jr. Library—is just a stones throw away.
Opened in 1988 as Wake County's first established county park, Lake Crabtree County Park provides tons of recreational opportunities. Nine miles of hiking and cycling trails (especially popular with mountain bikers), a connection to the Town of Cary greenway system and open play areas and fishing opportunities make for a big draw. But the 520-acre lake is ideal for watersports, too, with visitors able to launch their own canoe or kayak from a designated area (view the park's paddling guide). Keep your eyes peeled for bald eagles as you make your way counter-clockwise around the lake—they've nested in at least two verified locations in years past.
Rental note: Typically, from early May until mid-Sept. the park rents out sailboats, canoes, kayaks and stand-up paddleboards at no cost on a first-come, first-served basis. Those operations are currently suspended due to COVID-19.
Located just east of Raleigh in the town of Wendell, Robertson Millpond Preserve is a hidden 85-acre refuge for nature lovers, canoeists and kayakers. Opened to the public in 2015, the blackwater swamp property is the only bald cypress habitat in the Raleigh area, creating the unique experience of paddling through a forest-like setting. Now open seven days per week during the busy season (mid-May through early Aug.), the preserve's 1.15-mile loop paddling trail—marked by more than 70 buoys—is the main draw for canoeists and kayakers. A parking and launch area allows you to bring your own canoe or kayak for no fee.
Rental note: The preserve is currently operating with off-season hours, open on Sat. and Sun. from 8am-sunset.
Need to know: Come prepared—there are no restroom facilities or drinking water on site; the swamp is eight-12 feet deep so a life jacket is required; kayaking is the preferred method of recreation at this site, but stand-up paddleboarding is fine as well
The longest river contained entirely in N.C., the Neuse River flows east more than 250 miles from North Raleigh all the way to the Pamlico Sound. A haven for kayakers, canoeists and stand-up paddleboarders, the City of Raleigh provides five access launch points along 17 miles of the river, creating the Neuse River Canoe Trail and allowing for you to choose your own put-in and take-out spot for a day of fun. Best for users who have at least some water experience, the river flows more freely ever since a dam at the Milburnie Access point (mile 14) was removed in 2017.
Secluded in the southeast corner of the county near Holly Springs, Harris Lake County Park is a 680-acre park on a peninsula of Harris Lake. The park has all types of amenities, including a fishing pier (plus a fishing pond that gets stocked with channel catfish once per month), nearly eight miles of mountain bike trails, lots of picnic opportunities, five miles of dedicated jogging trails and a popular 18-hole disc golf course. There are no boat rentals available in the park, but cartop boats (canoes, kayaks etc.) can be launched from the boat launch area with no fees.
---
Planning a trip? Whether driving or flying, exploring the outdoors or tasting the area's best food and drinks, we look forward to soon welcoming you to Raleigh, N.C. From transportation to lodging, dining and attractions, your health and safety are top priority for the hospitality industry. No matter how you travel, or what you do, you can travel confidently. Click here for the latest updates on COVID-19 and openings in the Raleigh area.

Comments