Guide to Pumpkin Patches and Corn Mazes in Raleigh, N.C.
Thursday, September 23, 2021, 10am by visitRaleigh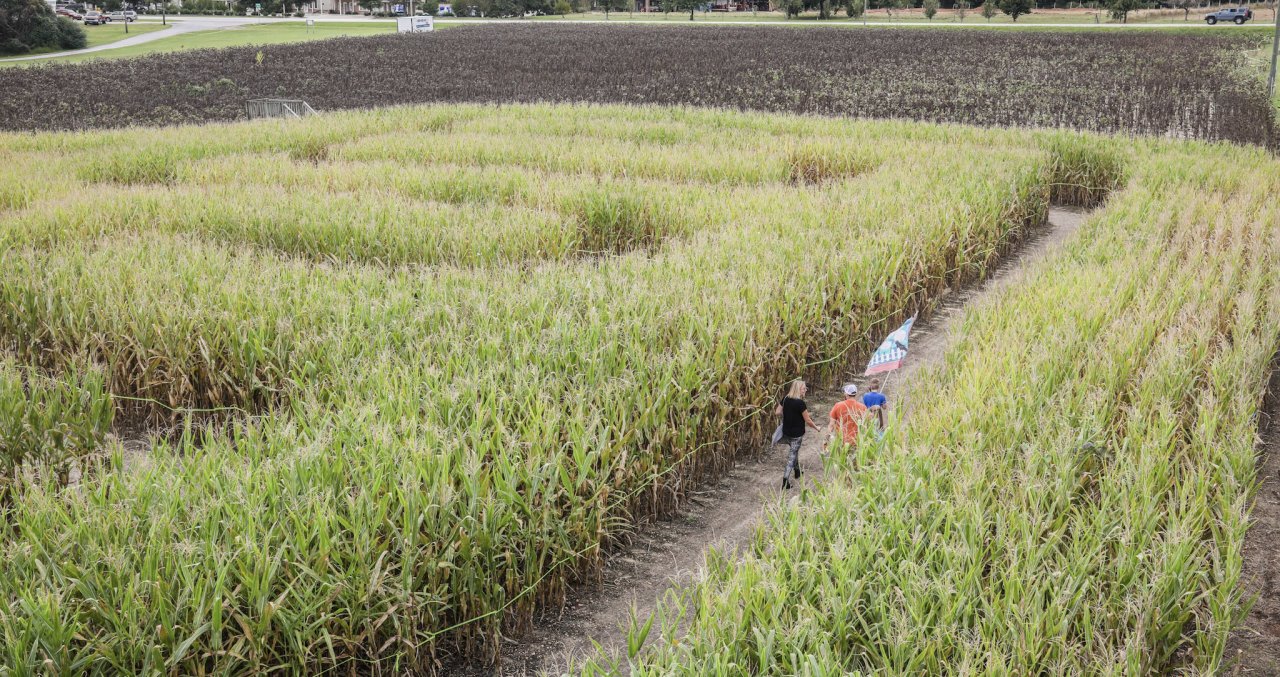 Fall is officially here! What better way to celebrate than with the best autumn activities the Raleigh area has to offer. Whether it's picking through a pumpkin patch, getting lost in a corn maze or taking a relaxing hayride, these events and experiences will have you safely enjoying fall fun all season long.
Get lost in a sea of corn as you take on Ken's Korny Corn Maze, a lasting fall tradition in the town of Garner celebrating its 23rd anniversary. Put your brain to the test, navigating the nearly 2.5-miles of twists and turns through the 6-foot-tall corn stalks. One trip through typically takes between 60 and 75 minutes to complete. Other activities—mini-golf, rubber duck races, a wooden pirate ship, concessions and more—are also on-site, as well as a produce center for all your seasonal fresh food needs.
Season opens Sat., Sept. 25, then open weekly Fri.-Sun. Tickets are $6 for children, $12 for adults.
Phillips Farm in Cary has been serving the area for more than 100 years! Plan your trip out for a family-friendly afternoon navigating the farm's corn maze. Or, if you need a little scare to get you into the Halloween spirit, experience a ghoulish night at Haunted Farm where you can visit the Field of Lost Souls, Rebellion Trail, Big Top Terror and The Gore House (not recommended for ages 12 and under). Local tip: While credit cards are accepted for admission, bring cash to avoid long lines and to make other purchases like concessions, pumpkins and other ticketed activities.
Admission ($15) includes corn maze, wagon ride, cow train and family fun park. Haunted Farm admission is $25.
Corn maze open Fri.-Sun., Sept. 18-Oct. 31. Haunted Farm open every Fri. and Sat. evening Sept. 24-Oct. 30.
Celebrating a tenth season open to the public in 2021, the Naylor Family Farm in Fuquay-Varina has all of your fall fun needs covered! With an emphasis on providing a safe, clean and entertaining place for all, the farm is pure entertainment for the whole family. Start out enjoying a hayride on a tractor-pulled wagon before moving on to pick out your own pumpkin in the pumpkin patch. From there, swing by the petting zoo for a supersized dose of cuteness, take a spin on the pedal karts, mine for gems or enjoy various themed playground areas. Finally, it's off to the races as you wander through the 10-acre corn maze. Families can even conquer the maze at night by flashlight and cap off an autumn evening with a group campfire (for an additional fee).
Open Sat. and Sun. in Sept.; Oct. hours are Mon.-Thurs., 10am-4pm; Fri., 1-6pm; Sat., 9am-6pm; Sun., 1-6pm; Nov. hours are Sat., 9am-6pm and Sun., 1-6pm. Last day of season is Nov. 7.
Bring the whole family to pick your own pumpkin at DJ's Berry Patch in Apex! This small N.C. farm is committed to providing the freshest and finest produce for every season. Not only do they have pumpkins to pick, but also beautiful fall mums. If you're running short on time and can't pick your own pumpkin, stop by the stand at DJ's to shop a variety of pre-picked decorative pumpkins and gourds as well as Indian corn, sweet potatoes, apples and much more.
Open Mon.-Sat., 9am-6pm; Sun., 11am-6pm.
The Family Farm on Avent Ferry in Holly Springs has been in the same family for six generations! In 2012, the farm opened to the public for the fall and Christmas seasons to share farm traditions with you and your family. This includes finding the perfect carving pumpkin. A variety of specialty pumpkins and gourds, corn stalks and hay bales are also available to help you decorate your home for the season. Best of all, the farm's beautiful backdrop makes it a great place for family pictures. Getting a classic shot on their vintage John Deere is a memory that will last a lifetime.
Season opens Sat., Sept. 25. Open Sat., 10am-6pm, and Sun., 1-6pm.
Venture out to Page Farms, a fourth-generation family farm bringing you fresh fruits and vegetables all year long. With the 2021 pumpkin season in full swing, visitors can come pick pumpkins fresh off the vine, conquer the corn maze, spend time with farm animals and even go on a hayride around the farm!
Admission ($15) includes all of the above and more.
Fall season opens Sat., Sept. 25. Hours are Wed. and Thurs, 9am-1pm; Fri.-Sun., 9am-6pm.
Celebrate all the fall produce that come with cooler temps at Ragan & Holly's Pumpkin Patch in Apex. Choose from a great selection of pumpkins picked fresh every morning while also shopping for tomatoes, grapes, peaches and more while they're in season. You can also pick up hay bales, mums and cornstalks to add to your fall décor. Be sure to get a scoop (or two) of their famous homemade ice cream as well!
Open 10am-5pm, Mon.-Wed.; 10am-6pm, Thurs.-Sat.; 1-6pm on Sun. Season ends Oct. 31.
This friendly, family-run farm in Wake Forest ensures everyone has a good time, no matter how old you are. Take on the Corn Quest while twisting and turning through 8 acres of corn maze, both in the daylight and after dark. From there, it's pumpkin picking time. Browse two patches for regular orange varieties as well as blue and pink dolls, ghost white and warty goblins!
$10 admission includes take-home pumpkin, corn maze and hayride.
Season runs Sept. 18-Oct. 31. Open Sat. and Sun., 10am-5pm.
Getting hopelessly lost in Crossroads' 5-acre corn maze is part of what makes visiting so much fun! Race through the hay maze as well or take a relaxing hayride around the farm. There's also pumpkin picking, giant Jenga, volleyball, S'mores making and more. Bold thrill seekers can even find out what happens when the stalks go dark (remember to bring a flashlight and tons of excitement to the Wendell farm if visiting on a Fri. or Sat. evening!).
Admission is $12 children, $15 adults  includes take-home pumpkin, corn maze and hayride).
Season runs Oct. 1-31, open Fri.-Sun.
More major events upcoming in Raleigh, N.C.
IBMA Bluegrass Live! powered by PNC, Oct. 1-2
Triangle Oktoberfest, Oct. 1-2
Cary Diwali Celebration, Oct. 9
Artsplosure, Oct. 9-10
N.C. State Fair, Oct. 14-24
Exhibition: Alphonse Mucha: Art Nouveau Visionary, opens Oct. 23
Exhibition: Dressing the Abbey, opens Oct. 23
North Carolina Chinese Lantern Festival, opens Nov. 19
26th Annual American Indian Heritage Celebration, Nov. 20
77th Annual Raleigh Christmas Parade, Nov. 20
Header photo by Keenan Hairston
---
Planning a trip? Whether driving or flying, exploring the outdoors or tasting the area's best food and drinks, we look forward to soon welcoming you to Raleigh, N.C. From transportation to lodging, dining and attractions, your health and safety are top priority for the hospitality industry. No matter how you travel, or what you do, you can travel confidently. Click here for the latest updates on COVID-19 and openings in the Raleigh area.

Comments