Major Events and Festivals Still Scheduled for 2020 in Raleigh, N.C.
Friday, April 03, 2020, 12pm by visitRaleigh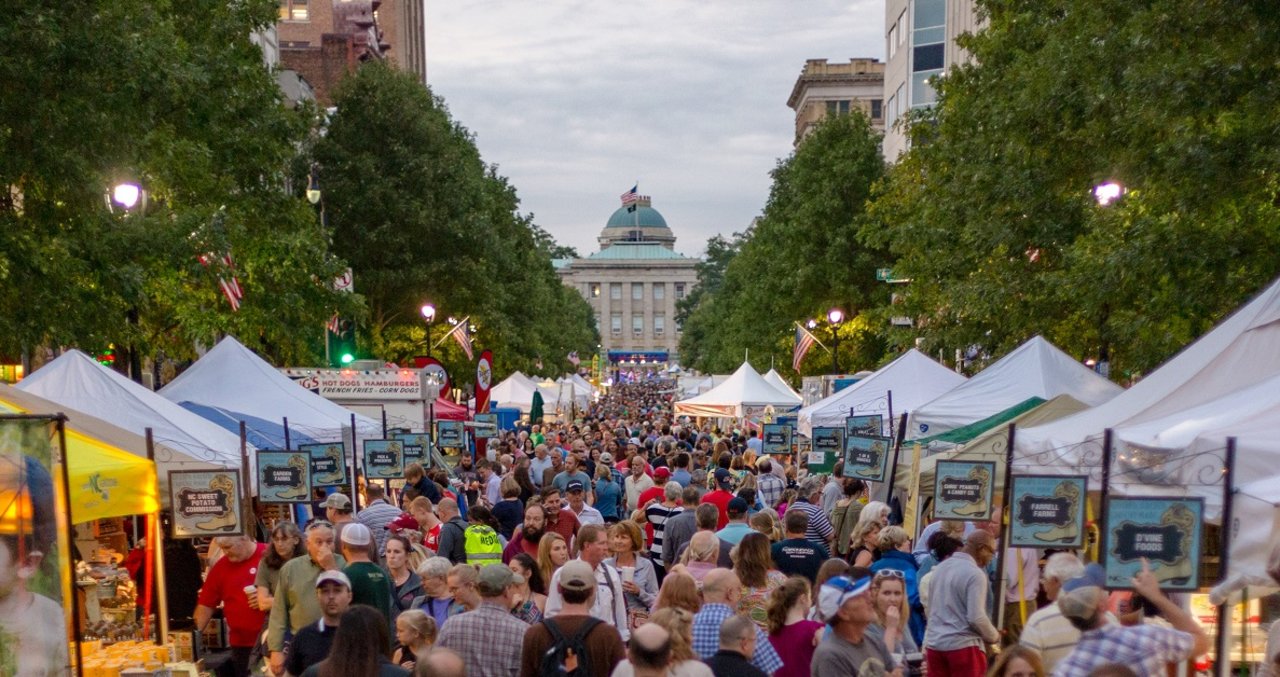 Major events, festivals and celebrations serve an important purpose—they mark history and build a sense of pride, plus they showcase talent, creativity and culture, delicious foods and beverages (and some surprises, too!).
The spring calendar of festivals in the Raleigh area have been largely canceled or postponed due to the COVID-19 crisis. Some events—Dreamville Festival, Brewgaloo and others—have already secured new dates for summer. Other events—including Hopscotch Music Festival and International Bluegrass Music Assocation's World of Bluegrass—currently plan to hold their events as originally scheduled for late summer and early fall.
It's important to note that all of this information is subject to change in the coming weeks and months, but we'll keep this page updated and we hope you find something that inspires you to save the date for your next visit. 
 
North Carolina Theatre presents Memphis
July 28-Aug. 2, 2020 (rescheduled from March)
From the underground dance clubs of 1950s comes the award-winning musical that bursts off the stage with explosive dancing, irresistible songs and a thrilling tale of fame and forbidden love. Inspired by actual events, Memphis follows the story of a white radio DJ who wants to change the world and a black club singer waiting for her big break.
Beer, Bourbon & BBQ Festival
Aug. 7-8, 2020
Beer sipping, bourbon tasting, music listening and barbecue eating-what's not to love? Don't miss the two-day Beer, Bourbon and BBQ Festival at Cary's Koka Booth Amphitheatre. Admission buys you a souvenir sampling glass so you can enjoy an all-you-care-to-taste sampling of beer and bourbon, plus chow down on some pulled pork, ribs, biscuit and more, all while enjoying all-day live music.
Out! Raleigh Pride
Aug. 9, 2020 (rescheduled from May)
Out! Raleigh Pride is the area's annual, family-friendly street festival that celebrates the LGBT community and its allies, and the festival celebrates 10 years in 2020! Organized each year by the LGBT Center of Raleigh, the festival's speakers, performers and vendors (and a Kids Zone) bring eight hours of fun and family to downtown Raleigh's Fayetteville Street district.
Brewgaloo
Aug. 14-15, 2020 (rescheduled from April)
Voted America's best beer festival two years in a row now by USA TODAY readers, N.C.'s largest craft beer event features 100 breweries, 50 food trucks and draws 30,000 people to downtown Raleigh each year. Brewgaloo, which has free admission on Sat. (so bring plenty of friends!), allows you to purchase either beer samples or full pints from breweries located across the state. 
Packapalooza
Aug. 22, 2020
This annual, all-day block party and street festival, drawing more than 80,000 attendees, caps off North Carolina State University's Wolfpack Welcome Week at the start of another academic year. The free and open-to-the-public event features more than 300 vendor booths lining Hillsborough St., along with food, games, arts and crafts, a water slide (bring your bathing suit!), visual and performing arts and more. Music will take center stage to close out the evening.
CaribMask Carnival
Aug. 22, 2020
A festival to promote diversity, equality and create a deeper appreciation for Afro-Caribbean culture in the Raleigh area, CaribMask returns for its ninth annual event in downtown Raleigh in 2020. A parade of bands, flag ceremony, live music and tons of food and drinks keep a joyful crowd of more than 15,000 people plenty happy.
Lazy Daze Arts and Crafts Festival
Aug. 22-23, 2020
For more than 40 years, the Lazy Daze Arts and Crafts Festival has put local artists and craftsmakers in the spotlight. Today, the Cary festival has grown to two days, features more than 300 artists from 16 states, has multiple stages of live music, a beer garden and plenty of food trucks.
Dreamville Festival
Aug. 29, 2020 (rescheduled from April)
Back for a second year and curated by platinum-selling rapper and N.C. native, J. Cole, Dreamville is a one-day, multi-stage festival at downtown Raleigh's Dorothea Dix Park with a one-of-a-kind celebration of local culture, food and art that also features a curated selection of music performers blending together some of today's biggest national acts with exciting up-and-comers (full lineup coming soon!).
Sept. 5-6, 2020
An annual celebration of African American culture expressed through art, music, food and community, this two-day downtown Raleigh festival showcases local, national and international artists, performers, food vendors and area business owners.
Hopscotch Music Festival
Sept. 10-12, 2020
Three days, nearly 150 bands, 12 venues in downtown Raleigh, 50 totally-free day parties and 25,000 fans—it's no wonder why Hopscotch Music Festival is time and time again named one of America's can't-miss music events. The acts-and genres-are as wide ranging as the venues they play in (the 5,000-seat Red Hat Amphitheater and a tiny dive bar, Slim's Downtown, for example). Headlining acts in recent years have included Angel Olsen, Big Boi, Solange, Run The Jewels, Margo Price, The Flaming Lips and more.
BugFest
Sept. 19, 2020
Experience more than 100 exhibits, crafts, games and activities at BugFest, North Carolina Museum of Natural Sciences' annual event that lets you interact with entomologists and other scientists while learning about the fascinating world of bugs. Featuring the ever-popular Café Insecta, where the brave can sample buggy dishes prepared by local chefs. The best part? The event is totally free for the expected 35,000 attendees.
40th Annual Apex PeakFest
Sept. 19, 2020 (rescheduled from May)
Salem St. in historic downtown Apex comes alive with more than 20,000 visitors during PeakFest. For 40 years now, the arts and crafts festival has brought families together for a day of fun, food and fellowship. The town of Apex's largest annual event, PeakFest has all-day live music, all the arts and crafts you can imagine, entertainment for kids and food vendors that bring their best State Fair-style goodies.
Sept. 20, 2020
Back for a 27th year, La Fiesta del Pueblo, a Hispanic cultural event held in the Fayetteville Street district in downtown Raleigh, draws nearly 20,000 attendees each year and showcases music, art, dance performances, educational booths, children's activities and food from different regions of Latin America, all in celebration of the diversity of Latin-American culture.
Late Sept. 2020
Thirty years ago, Raleigh's first Gay Pride celebration was held on Sat., June 25, 1988. Participants, numbering more than 2,000, gathered at North Carolina State University's Memorial Belltower on Hillsborough St. and marched to Capitol Square. In 2020, participants will again honor the past and celebrate the future with a free street festival outside of Legends Nightclub, a leader in LGBT nightlife in the Raleigh area for more than 25 years.
Sept. 29-Oct. 3, 2020
The arrival of a toe-tappin', banjo-strummin' week of non-stop week of bluegrass in downtown Raleigh is one of the most anticipated times of the year. The International Bluegrass Music Association brings their business conference, along with the world's most talented bluegrass musicians, to Raleigh during this week. Those musicians then perform in clubs, on street corners and in hotel lobbies—anywhere they can find a jam session—during the week and during the IBMA Bluegrass Ramble. Then the week is capped off with IBMA Bluegrass Live! powered by PNC, a two-day festival that sets up five stages of free music, a dance tent, a barbecue championship, tons of art vendors and more. The free Main Stage at Red Hat Amphitheater has featured the Steep Canyon Rangers with Steve Martin, Sierra Hull, The Infamous Stringdusters and more in recent years.
Oct. 2-3, 2020
The sixth annual Triangle Oktoberfest at Koka Booth Amphitheatre in Cary is set to provide plenty of family-friendly activities including live music, storytelling, dancing and traditional Bavarian food and fare (plus local and authentic German beers on hand).
Oct. 9-11, 2020
See some of golf's best at the SAS Championship, a PGA Tour Championships event. Held annually at Prestonwood Country Club in Cary, the event is widely recognized as one of the most important events of the year. The tournament is expected to once again play host to 'Wildcard Weekend'—the last full-field event before the Charles Schwab Cup Playoffs.
Beericana Craft Beer and Music Festival
Oct. 10, 2020
This fast-growing beer and music festival held at beautiful Sugg Farm Park brings together more than 70 breweries (including most of the nearly 30 craft beverage brewers in Raleigh, N.C.) and more than 20 food trucks, along with a full lineup of Americana jams, to celebrate good friends, good beer and good times in Holly Springs.
2020 N.C. State Fair
Oct. 15-25, 2020
The largest annual event in the state, the N.C. State Fair draws one million visitors through the gates each Oct., marking what many consider to be the unofficial beginning of the fall season. Eleven days of high-flying rides, deep-fried foods, live music, stunt shows and other entertainment (including nightly fireworks) has been a can't-miss event for generations of families—the 2020 version of the N.C. State Fair marks the 153rd year of the event!
76th Annual Raleigh Christmas Parade
Nov. 21, 2020
A Raleigh tradition for more than 75 years, the Raleigh Christmas Parade is the largest parade of its kind between Atlanta and Washington, D.C. The parade—filled with marching bands, dancers, classic cars, super heroes and more—marches through downtown Raleigh for two hours along a 1.4-mile route that draws a crowd of 60,000 spectators.
Late Nov. 2020 through mid-Jan. 2021
The North Carolina Chinese Lantern Festival puts hundreds of larger-than-life lanterns on display at Cary's Koka Booth Amphitheatre, creating an incredible, colorful adventure for you to walk through during the holiday season. In all, the lanterns and more than 15,000 LED lights make up 20 distinct displays, including a 200-foot-long, 21-foot-tall mythical phoenix that sits on Symphony Lake.
Dec. 4-20, 2020
Celebrating its 37th year at Raleigh Little Theatre in 2020, the musical comedy Cinderella is a holiday surgarplum for the whole family. Just the right mixture of comedy and romance, plus a visually-stunning set and costumes, make this fairy tale a favorite holiday tradition in Raleigh.
Early Dec. 2020
This theater production from local passionate mind Ira David Wood III, celebrating its 46th year during the 2020 holiday season, has wowed more than a million guests throughout the years. The beloved musical comedy, in which Wood himself puts on an incredible performance as Scrooge, has been a longstanding tradition for families in the area—tickets tend to go quickly so plan ahead!
Dec. 9-24, 2020
Grace, grandeur and mysterious illusions. Carolina Ballet's holiday classic is a can't-miss tradition for locals, visitors, families and friends. The only production in the country using illusions created by renowned magician Rick Thomas, The Nutcracker will make characters levitate, disappear and reappear before your eyes in 14 performances at the Duke Energy Center for the Performing Arts.
Mid-Dec. 2020
The North Carolina Executive Mansion, designed by prominent architect Samuel Sloan, is one of the state's architectural gems and serves as a repository for a fine collection of 18th- and 19th-century N.C. furnishings and paintings. For four days, visitors are invited to tour the home, take in the decorations and enjoy seasonal musical entertainment by local performing groups. The first floor of the mansion will be decorated with N.C.-grown Christmas trees, floral and mixed evergreen arrangements and ornate mantle displays. The Holiday Open House is one of the only times each year for visitors to enter the house without a prior reservation or group tour scheduled.
Dec. 31, 2020
First Night Raleigh, a downtown Raleigh New Year's Eve celebration for more than 25 years, is an all-day event with more than 100 performances (music, dance, theater, comedy and more) across 35 venues. Tons of kids' activities, a 90-foot-tall Ferris wheel and a countdown to midnight (where, yes, a giant acorn drops from the sky as the clock strikes 12) and celebratory fireworks highlight a full day of festivities.
Comments