The Biggest Live Music Events of Fall in Raleigh, N.C.
Tuesday, August 31, 2021, 9am by visitRaleigh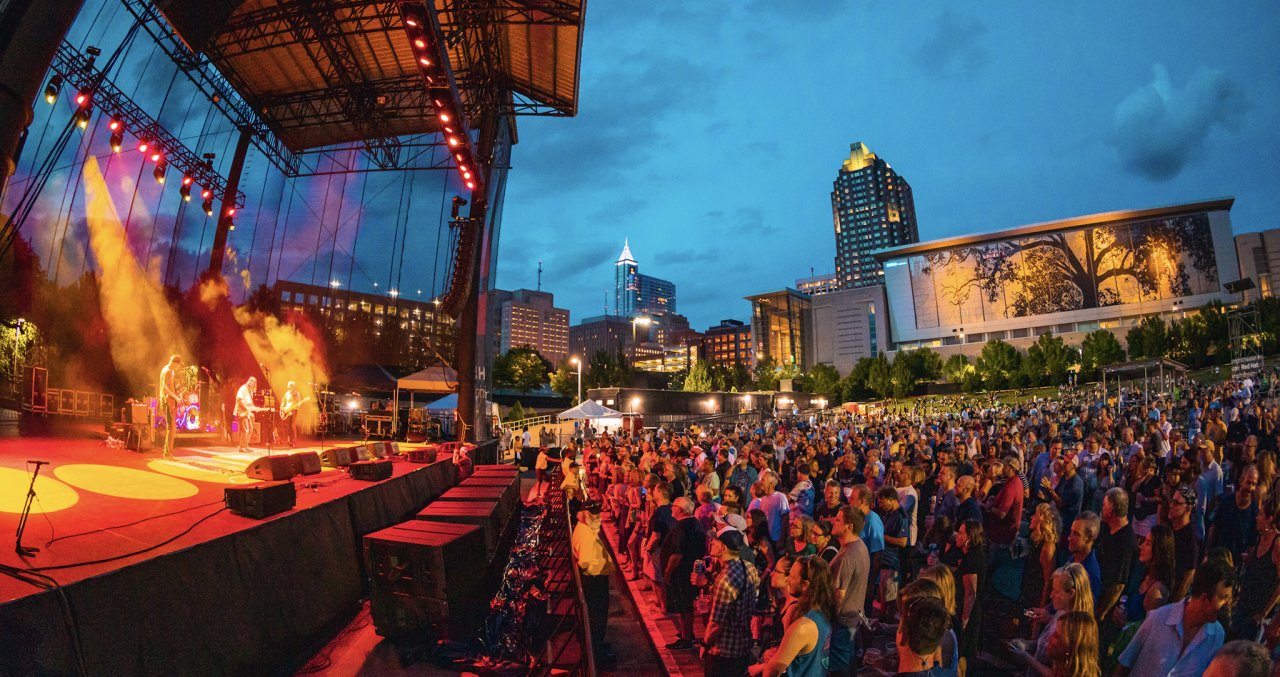 Who's ready to rock? Live music is back in a big way this fall in the Raleigh area! Browse the biggest and best picks of the new few months below (and send this to a friend to start picking out your shows!).
 
September
Incubus, Sept. 2 at The Ritz
Best of North Hills: Fall Concert Series, every Fri. through Oct. 8 at Coastal Credit Union Midtown Park
Nightrain with LA Maybe, Sept. 4 at Lincoln Theatre
Primus, Sept. 4 at Red Hat Amphitheater
Park After Dark (with NiiTo), Sept. 8 in downtown Cary
Hopscotch Music Festival, Sept. 9-11 in downtown Raleigh
Lil Baby, Sept. 10 at Coastal Credit Union Music Park at Walnut Creek
Friday Night on White, Sept. 10 in downtown Wake Forest
Luke Combs, Sept. 10 and 11 at PNC Arena
The Legacy Motown Revue, Sept. 10 at Fuquay-Varina Arts Center
The Black Crowes, Sept. 11 at Coastal Credit Union Music Park at Walnut Creek
Boney James, Sept. 12 at Duke Energy Center for the Performing Arts
Lord Huron, Sept. 12 at Red Hat Amphitheater
Jack Harlow, Sept. 14 at The Ritz
Judas Priest, Sept. 14 at Red Hat Amphitheater
Maroon 5, Sept. 15 at Coastal Credit Union Music Park at Walnut Creek
Futurebirds, Sept. 16 at Lincoln Theatre
Dierks Bentley, Sept. 17 at Coastal Credit Union Music Park at Walnut Creek
Outlaw Music Festival, Sept. 18 at Coastal Credit Union Music Park at Walnut Creek
Phoebe Bridgers, Sept. 21 at Red Hat Amphitheater
Coheed and Cambria, Sept. 22 at Red Hat Amphitheater
Big Thief, Sept. 22 at North Carolina Museum of Art
TLC with Bone Thugs-N-Harmony, Sept. 24 at Red Hat Amphitheater
Band of Horses, Sept. 25 at The Ritz
Guns N' Roses, Sept. 29 at PNC Arena
The Beach Boys, Sept. 29 at Koka Booth Amphitheatre
October
Brooks & Dunn Reboot 2021 Tour, Oct. 1 at Coastal Credit Union Music Park at Walnut Creek
IBMA Bluegrass Live! powered by PNC, Oct. 1-2 in downtown Raleigh
NF - Clouds Tour, Oct. 3 at Coastal Credit Union Music Park at Walnut Creek
Ziggy Marley, Oct. 3 at Koka Booth Amphitheatre
Sleigh Bells, Oct. 5 at Lincoln Theatre
Alice Cooper with Ace Frehley, Oct. 6 at Red Hat Amphitheater
3 Doors Down, Oct. 7 at Red Hat Amphitheater
Alabama 50th Anniversary Tour, Oct. 7 at PNC Arena
Violet Bell with The Barefoot Movement, Oct. 8 at Ting Park
Artsplosure - The Raleigh Arts Festival, Oct. 9-10 in downtown Raleigh
Thomas Rhett, Oct. 9 at Coastal Credit Union Music Park at Walnut Creek
Tony Howard's Motown Revue, Oct. 9 at Garner Performing Arts Center
Johnnyswim, Oct. 11 at The Ritz
Harry Styles: Love on Tour, Oct. 12 at PNC Arena
Future Islands, Oct. 13 at The Ritz
Jonas Brothers: The Remember This Tour, Oct. 13 at Coastal Credit Union Music Park at Walnut Creek
N.C. State Fair Homegrown Music Fest, Oct. 14-24 at the North Carolina State Fairgrounds
Jonathan Byrd & The Pickup Cowboys, Oct. 15-16 at Magnolia Roots Music Lounge
Mon Laferte, Oct. 15 at The Ritz
NEEDTOBREATHE with Switchfoot and The New Respects, Oct. 15 at Red Hat Amphitheater
Perpetual Groove, Oct. 15 at Lincoln Theatre
Zac Brown Band: The Comeback Tour, Oct. 15 at Coastal Credit Union Music Park at Walnut Creek
All Time Low, Oct. 16 at The Ritz
Brett Eldredge: Good Day Tour, Oct. 16 at Red Hat Amphitheater
Lake Street Dive, Oct. 17 at Koka Booth Amphitheatre
Modest Mouse, Oct. 21 at Red Hat Amphitheater
For King & Country with Company, Oct. 22 at Red Hat Amphitheater
Gilberto Santa Rosa, Oct. 22 at Duke Energy Center for the Performing Arts
An Evening with Casey Noel, Oct. 23 at Magnolia Roots Music Lounge
Band Together and United Way Present: Khruangbin, Oct. 23 at Red Hat Amphitheater
Danny Duncan, Oct. 23 at The Ritz
An Evening with Michael Bublé, Oct. 26 at PNC Arena
Porter Robinson, Oct. 28 at Red Hat Amphitheater
Hayes Carll, Oct. 29 at Lincoln Theatre
Isaiah Rashad: Lil Sunny's Awesome Vacation, Oct. 30 at The Ritz
NCMA and Cat's Cradle Present: Pink Martini featuring China Forbes, Oct. 31 at North Carolina Museum of Art
November
An Evening with John Howie, Jr., Nov. 6 at Magnolia Roots Music Lounge
Ben Folds, Nov. 6 at Duke Energy Center for the Performing Arts
Saturday in the Park with Crush, Nov. 6 at Knightdale Station Park
Café Tacvba - USA Tour 2021, Nov. 7 at The Ritz
Chevelle, Nov. 9 at The Ritz
Mat Kearney, Nov. 10 at The Ritz
Marvelous Music Mainstage: Emile Pandolfi presents "Music of the Night" with Dana Russell, Nov. 12 at Cary Arts Center
Genesis, Nov. 19 at PNC Arena
Comments