Sports Watch: Fall 2023
Tuesday, November 07, 2023, 12pm
Upcoming events, recent travel, and more news from the Greater Raleigh Sports Alliance (GRSA)!
 
#SPORTSWATCH
Upcoming events in Greater Raleigh, N.C.:
View our full 2023 calendar, here!
 
Recent travel
S.P.O.R.T.S. The Relationship Conference 

GRSA sports sales manager Jocelyn O'Sullivan met with 14 rights holders at S.P.O.R.T.S. in South Bend, Ind., Sept. 11-14. 

TEAMS Conference and Expo   

The fall travel season wrapped up at TEAMS Conference and Expo in West Palm Beach, Fla., Oct. 2-5. GRSA director Tori Collins, associate director Jason Philbeck, STS, and sports sales manager Jocelyn O'Sullivan took 37 appointments with event owners along with Ashley Auman from the Raleigh Convention Center.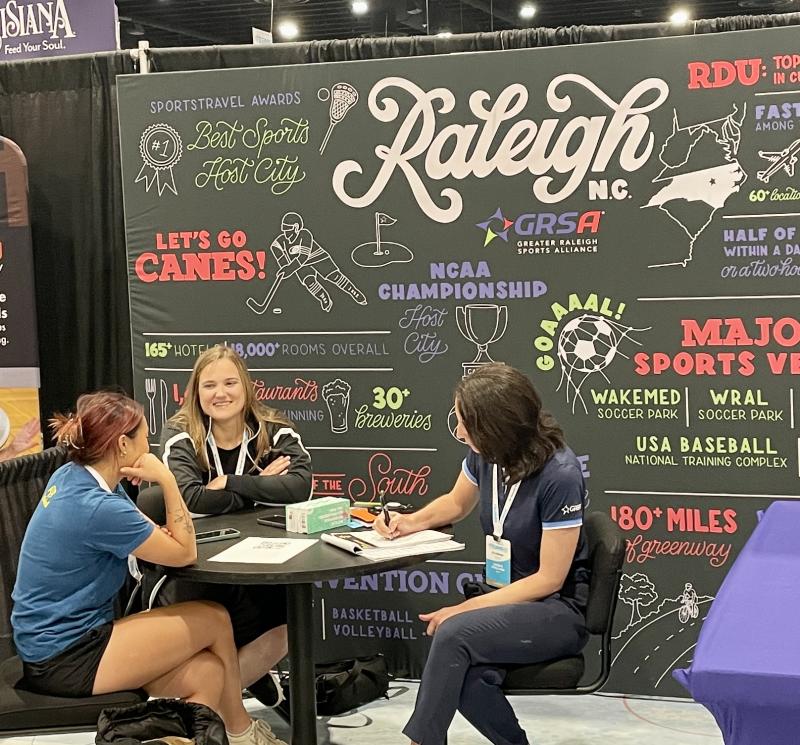 Upcoming travel
American Baseball Coaches Association Convention, Dallas, Texas, Jan. 4-7, 2024
United Soccer Coaches Convention, Anaheim, Calif., Jan. 10-14, 2024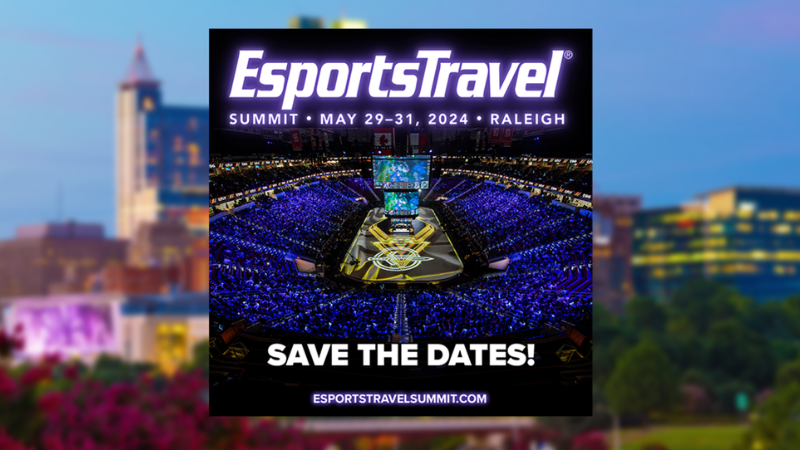 EsportsTravel Summit announces Raleigh as future host
Northstar Meetings Group has announced Raleigh as the upcoming host for the 2024 EsportsTravel Summit—the only event of its kind for esports tournament and event organizers. Hosted by the Greater Raleigh Convention and Visitors Bureau (Visit Raleigh), the Greater Raleigh Sports Alliance and the Raleigh Convention Center, the event will be held May 29-31, 2024. The announcement was made on the final day of the 2023 EsportsTravel Summit, which was held in Toronto last July. Learn more here.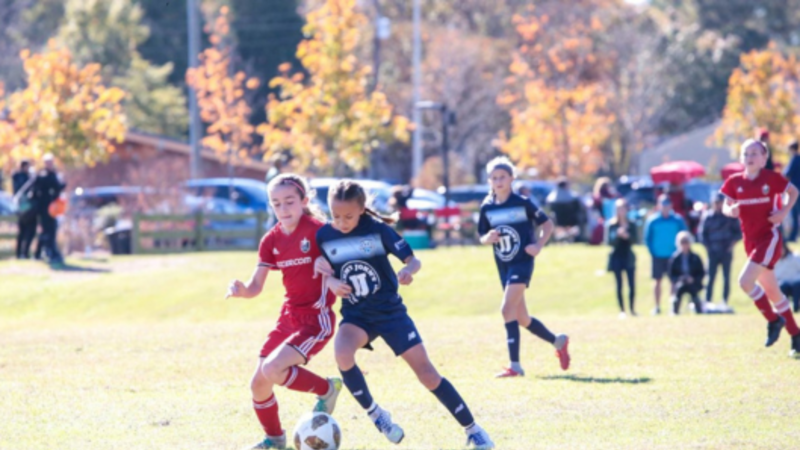 The largest annual sporting event in Wake County is underway
The visitRaleigh.com Showcase Series is the largest annual youth and amateur sporting event in Wake County. The monthlong event is underway (began Nov. 4) and runs through Dec. 3, 2023, with WRAL Soccer Park serving as the headquarters venue and utilizing multiple surrounding area fields. North Carolina FC (NCFC) Youth's annual visitRaleigh.com Showcase Series commenced with the Girls Junior Showcase on Sat., Nov. 4. Several prominent youth and collegiate soccer events are taking place simultaneously in the area, including the ACC Women's Soccer Championship, ACC Men's Soccer Championship and the NCAA Division I Women's Soccer Championship (College Cup). Combined, these events exemplify why Wake County is the center of the soccer universe in the fall. Read more here.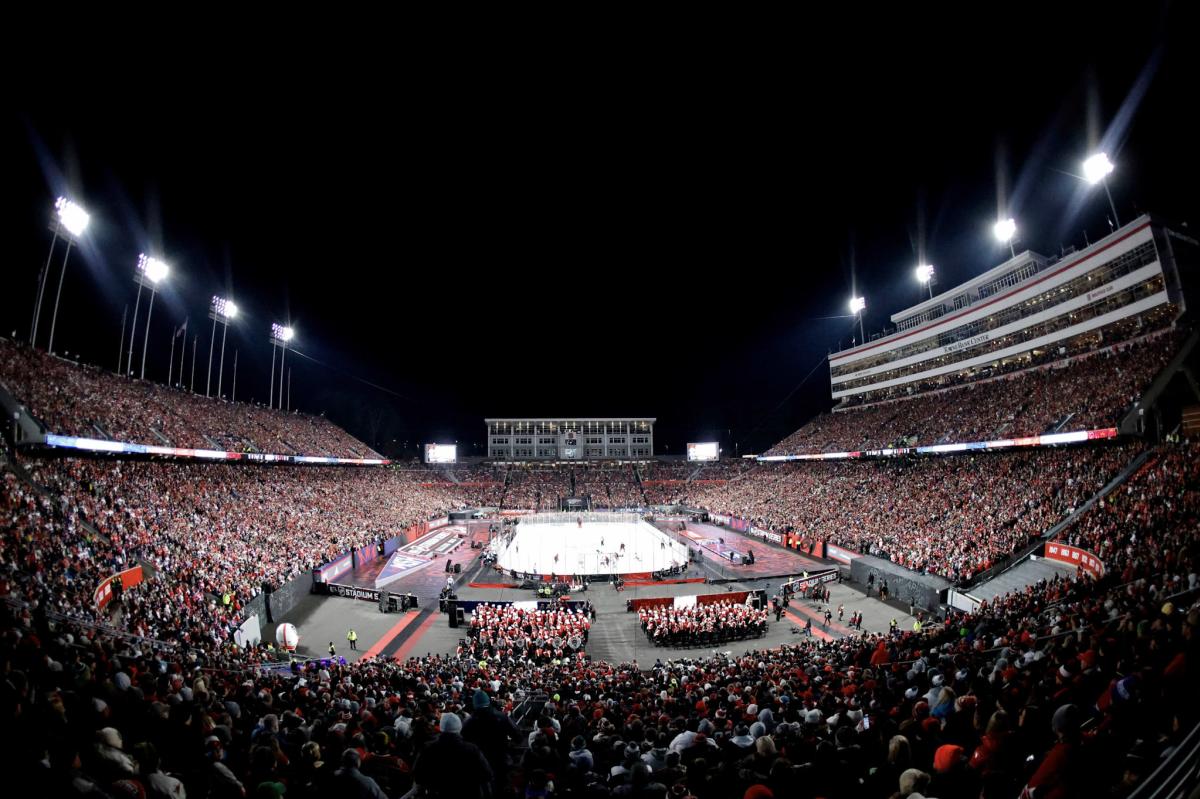 2023 Navy Federal Credit Union NHL Stadium Series™ honored as a 2023 Champion of Economic Impact
Sports Destination Management, the leading publication with the largest circulation of sports event planners and tournament directors in the sports tourism market, has announced the 2023 Champions of Economic Impact in Sports Tourism. This year's winners are responsible for contributing a more-than-welcome, combined boost of over $932 million to the national economy over the past year.
Among the winners was the 2023 Navy Federal Credit Union NHL Stadium Series™ produced in partnership with the Carolina Hurricanes, North Carolina State University (NC State), the NHL and multiple community partners, including GRSA. 
Triangle Aquatic Center to host 2024 U.S. Olympic Team's Domestic Training Camp
The U.S. Olympic swimming team has chosen Cary's Triangle Aquatic Center (TAC) as its domestic training site ahead of the Paris 2024 Olympics. TAC, home to the no. 2-ranked TAC Titans, boasts a 102,000 square-foot facility on a 21.5-acre campus. It features a new 50-meter outdoor pool, a 50-meter indoor competition pool, a fitness center, extensive dry-land areas, a kitchen and more. The center is undergoing a $2.4 million HVAC renovation to improve air circulation.
TAC's selection is a testament to its support for USA Swimming and elite athletes. The facility has an impressive track record, sending 14 swimmers to the 2021 U.S. Olympic Trials and producing two Olympians. The domestic training camp will help the team prepare for the Paris Olympics, where there is a six-hour time difference from North Carolina.
The tentative dates for the domestic training camp at TAC are from June 30-July 10, following the U.S. Olympic Trials, June 15-23. This extended preparation period marks a strategic move to ensure the team's peak performance at the upcoming Olympic Games. Learn more here.
Centennial Authority and Hurricanes sign 20-year lease extension
The Centennial Authority, owners of PNC Arena, and Gale Force Sports and Entertainment, L.L.C., announced the signing of a 20-year lease extension with the Carolina Hurricanes. The newly signed lease states that the Hurricanes will occupy PNC Arena through the 2043-44 NHL season.
As part of the agreement, PNC Arena will undergo major renovations, including the development of a transformational, vibrant sports and entertainment district and public gathering space around the arena. The development will create an even more attractive destination for NHL hockey for visitors and residents throughout the year. Read more here.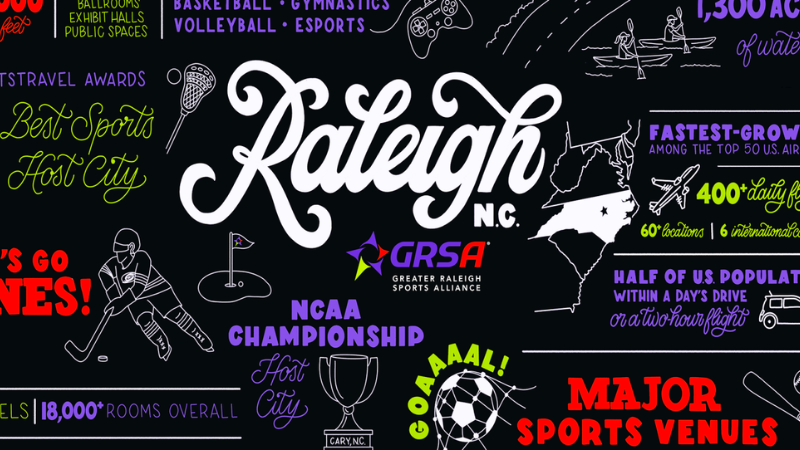 Celebrating 25 years of the Greater Raleigh Sports Alliance
GRSA celebrates its 25th anniversary, marking a quarter-century of exceptional sporting events in Raleigh/Wake County. From the grand opening of PNC Arena in 1999 to hosting the NHL Stanley Cup Finals, NCAA Championships and esports competitions, GRSA has been instrumental in putting the Raleigh area on the global sports map.
In 2022, Raleigh earned the title of "Best Sports Host City" by SportsTravel, underscoring its reputation as a premier sports destination. Cary also hosted The Soccer Tournament at WakeMed Soccer Park in Cary in 2023, while Raleigh made history by hosting the Navy Federal Credit Union NHL Stadium Series™ at Carter-Finley Stadium.
As we commemorate the past and look ahead, GRSA's commitment to sports excellence shines brightly. Join us in celebrating #GRSA25 and anticipate another 25 years of sports greatness in Raleigh. Learn more here.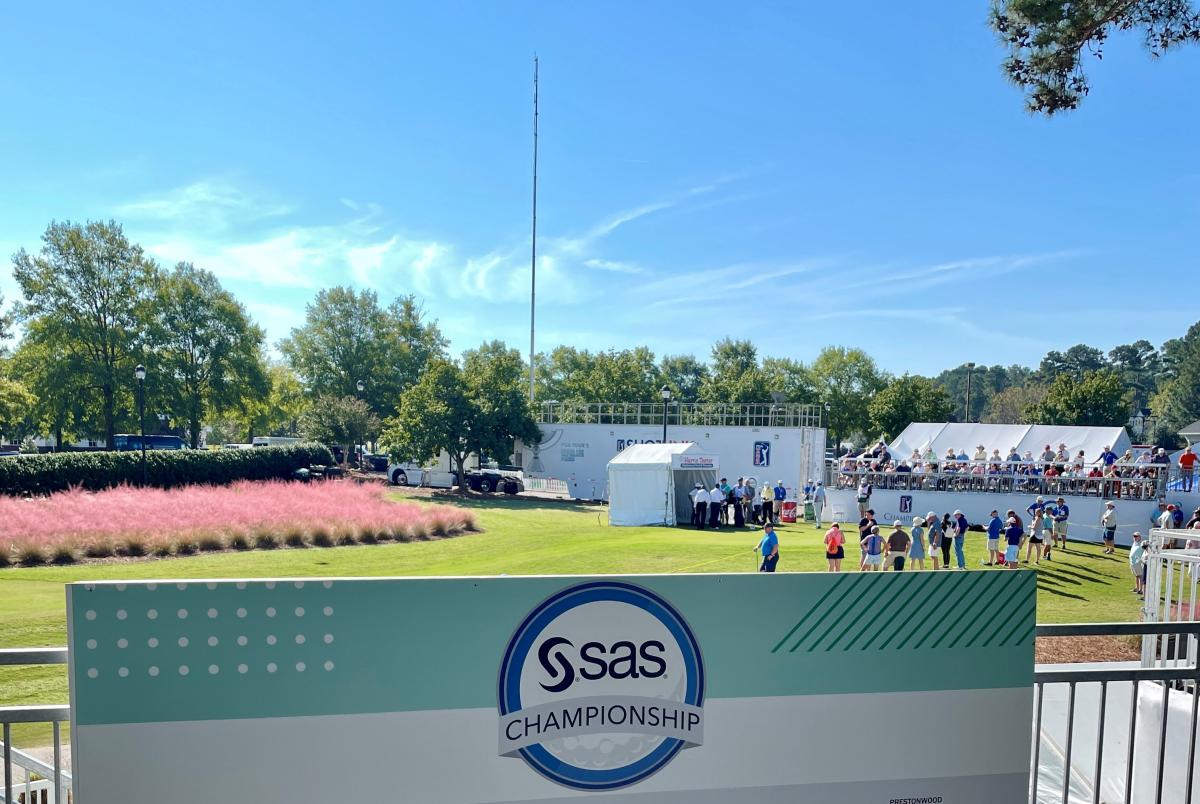 Another successful SAS Championship HBCU Invitational
The SAS Championship HBCU Invitational took place Oct. 14-16, 2023, at Prestonwood Country Club in Cary. This exceptional event featured 17 teams from 14 distinguished historically black colleges and universities (HBCUs), underscoring a commitment to excellence and diversity in the sports world.
The 2023 event boasted seven women's teams and  10 men's teams, competing in a three-round tournament. The women's division featured returning teams like Howard, North Carolina Central and Prairie View A&M, joined by Alabama State, Bethune-Cookman, Delaware State and North Carolina A&T.
The men's Division I category was headlined by defending champions Florida A&M, alongside North Carolina Central. Schools such as Alabama State and Prairie View A&M fielded both men's and women's teams, while Arkansas Pine Bluff made its Division I debut. The Division II group included Miles College, the reigning champions, competing against returners Livingstone and Winston-Salem State, plus newcomers Johnson C. Smith and Fayetteville State.
Beyond the golf course, SAS hosted a Career Day on their campus, giving student-athletes the opportunity to explore career paths, engage in panel discussions and connect with SAS HBCU Alumni employees. This event represents a beacon of inclusivity, excellence and diversity in the world of sports, ensuring that its legacy continues to shine in the years ahead.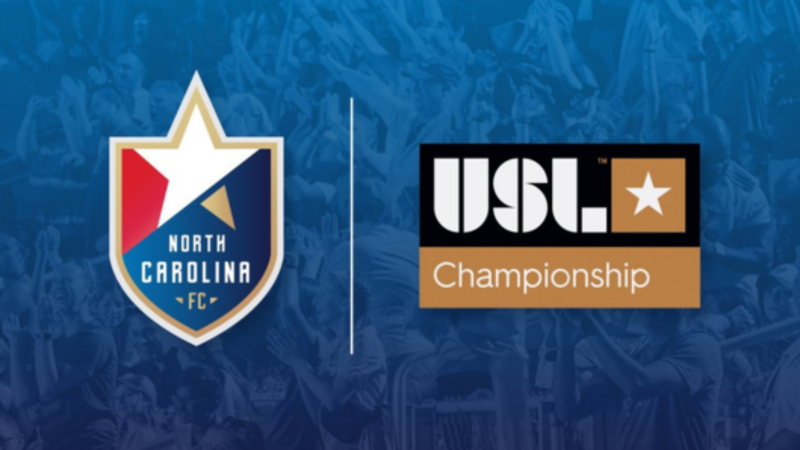 North Carolina Football Club to rejoin USL Championship in 2024
North Carolina Football Club has exercised its option to elevate its men's professional soccer team to the United Soccer League (USL) Championship, beginning in the 2024 season.  
USL Championship is the top level of the USL's men's soccer pathway, featuring 24 teams in 2023, and is sanctioned as a Division II league by U.S. Soccer. North Carolina FC previously competed in the Championship from 2018 through 2020 before moving to USL League One in 2021. The team is currently playing its third season in the Division III-sanctioned league in 2023. The move to rejoin Championship exemplifies the club's mission of bringing high-quality, professional soccer to the region. Learn more here.
Now open: Pleasant Park in Apex
The grand opening of Pleasant Park brings a new era of recreation and community engagement in Apex. Spread across 92 acres, this expansive facility offers a myriad of options for residents and visitors alike. With six versatile multipurpose fields, tennis, pickleball and basketball courts, it's a sports enthusiast's dream come true. More information coming soon!
2023 Navy Federal Credit Union NHL Stadium Series™ Honored as a 2023 Champion of Economic Impact photo, Jaylynn Nash, Jaylynn Nash