Celebrating 25 Years of the Greater Raleigh Sports Alliance
Thursday, September 28, 2023, 5pm by Carly Delengowski, CGSP®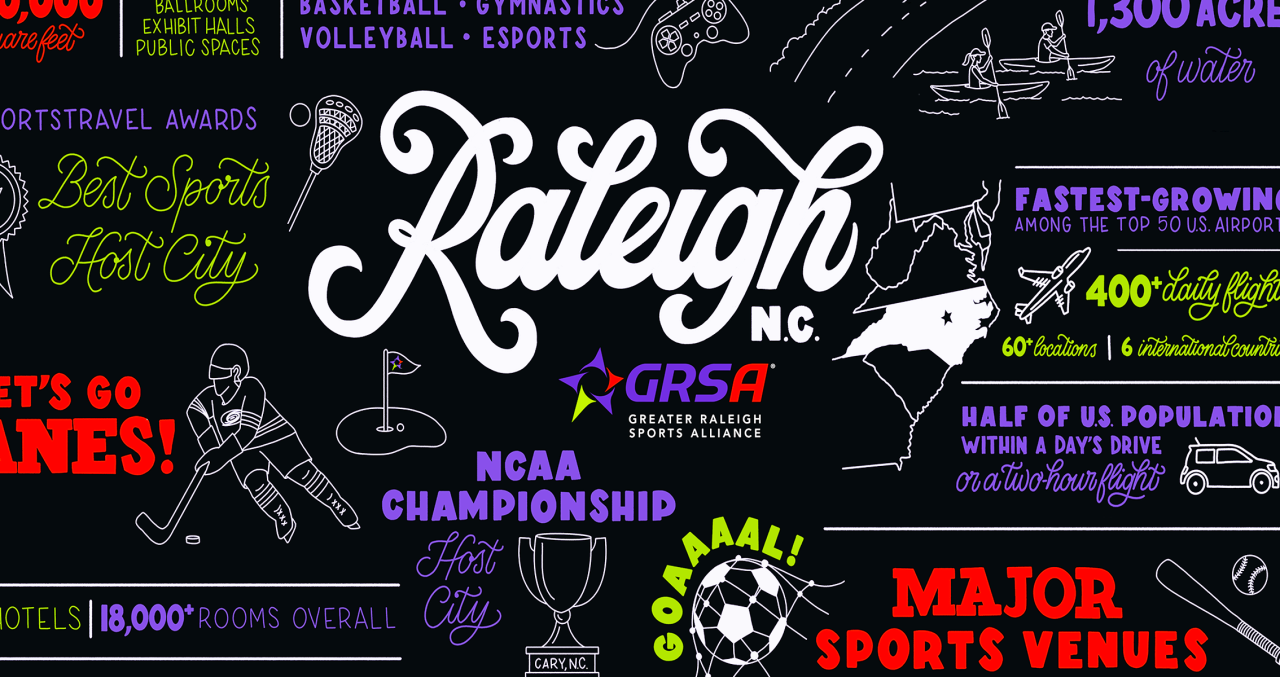 As the Greater Raleigh Sports Alliance (GRSA) embarks on its 25th anniversary, it's not just a milestone to commemorate but also a remarkable journey through a quarter-century of unforgettable sporting events here, thanks to the efforts of many local partner organizations and the teamwork exhibited throughout Wake County. Since its inception as GRCVB's sports marketing division, GRSA has been a driving force in transforming Raleigh/Wake County into a premier destination for sporting events—drawing athletes, fans and enthusiasts from all corners of the globe. 
In this special anniversary tribute, we embark on a journey through time, revisiting some of the pivotal moments, remarkable achievements and the indomitable team behind the GRSA legacy. Join us as we reflect on the past, celebrate the present and eagerly anticipate the future of GRSA, a beacon of excellence in the world of sports event-hosting for the last 25 years.
1998–Greater Raleigh CVB launches its very own Sports Marketing department. 
1999–PNC Arena opens: The grand opening of PNC Arena provided Raleigh with a state-of-the-art, indoor venue for hosting major sports events and entertainment spectacles.
2000–Inaugural Deep South Classic: The Deep South Classic has been a premier basketball event since 2000, attracting top-tier talent and scouts.
2002–WakeMed Soccer Park opens: WakeMed Soccer Park's inauguration solidified Cary's reputation as a soccer hub, hosting numerous regional and national soccer tournaments since.
2002–Raleigh hosts the Stanley Cup Finals, creating a buzz in the hockey world.
2003–NCAA Women'​s College Cup comes to Cary, N.C.
2004–Krispy Kreme Challenge debuts: The annual Krispy Kreme Challenge began, combining athleticism and overindulgence; participants must run a 5-mile course while consuming a dozen Krispy Kreme doughnuts.
---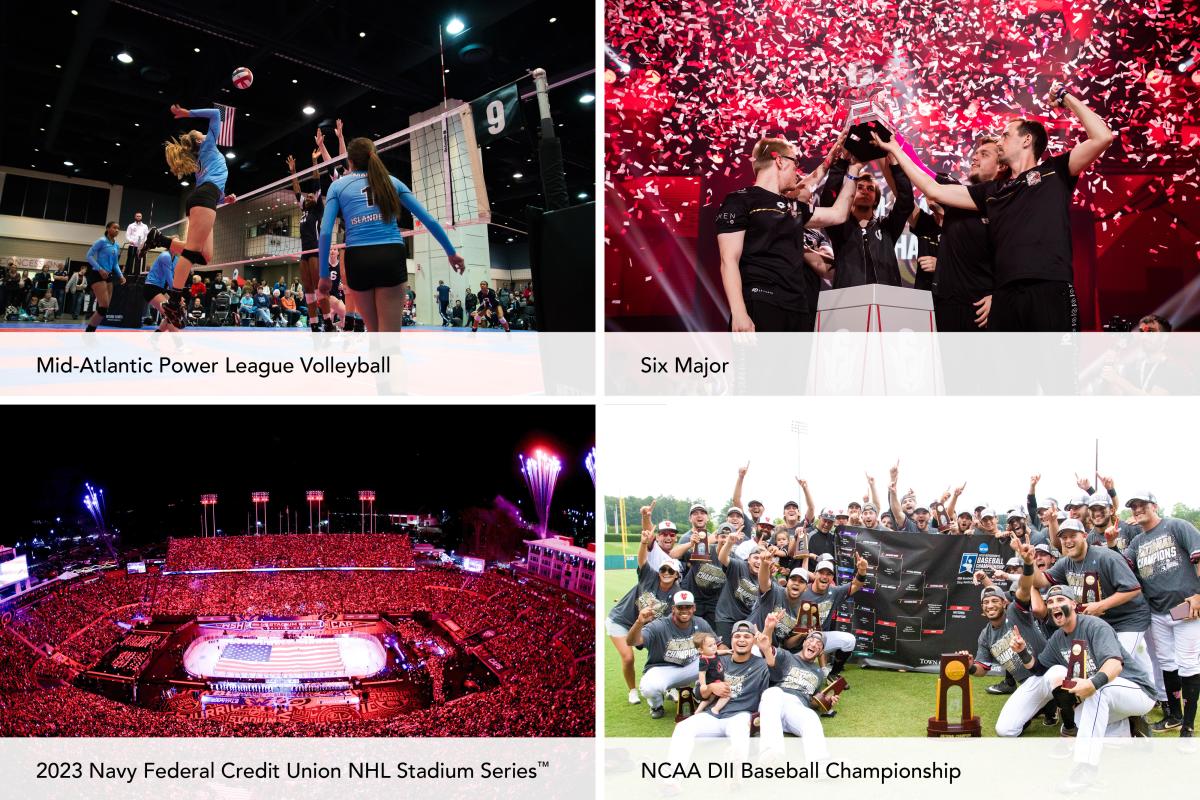 ---
2005–Raleigh hosts the NCAA DIII Softball Championship.
2006–Carolina Hurricanes win the Stanley Cup.

2006–Triangle Aquatic Center opens: This state-of-the-art facility quickly became a hub for swimming competitions, training and community engagement, hosting a wide range of events.
2007–The USA Baseball National Training Complex opens its doors in Cary.
2008–Inaugural visitRaleigh.com National Soccer Series: The visitRaleigh.com National Soccer Series consists of four weekends of jam-packed soccer, headquartered at the 22-field WRAL Soccer Park complex. It is now the Research Triangle Region's largest youth sporting event and a key economic driver for the community.
2008–NCAA Men's Basketball 1st and 2nd Rounds at PNC Arena: Stephen Curry's breakout performance in front of a national audience.
2009–NCAA DII Baseball Championship first year: Another NCAA Championship comes to Wake County perennially.
2009–Inaugural MAPL Raleigh: The Mid-Atlantic Power League (MAPL) attracts thousands of visitors from across the nation.
2010–Inaugural Tobacco Road Marathon
2012–Greater Raleigh Sports Alliance debuts a new logo, reflecting its commitment to sports excellence and emphasis on the "​alliance"​ that makes it all possible.
2011: 2011 NHL All-Star Weekend is hosted for the first time in Raleigh.
2015–NASC Sports Tourism Organization of Year: GRSA received recognition as the Sports Tourism Organization of the Year from the National Association of Sports Commissions (NASC, now Sports ETA).
2019–Six Major Raleigh comes to Raleigh: The area's first major esports competition took place at the Raleigh Convention Center. Since 2019, Raleigh has hosted numerous esports competitions, including the 2022 Fortnite Championship Series Invitational, 2022 Apex Legends Global Series Championship, 2023 League Championship Series Spring Finals and more.
2020–COVID-19 Pandemic: Despite challenges, Raleigh continued to host a range of sports events, including baseball, softball, soccer and swimming. These events demonstrated the area's resilience and commitment to sports even in the face of adversity. 
---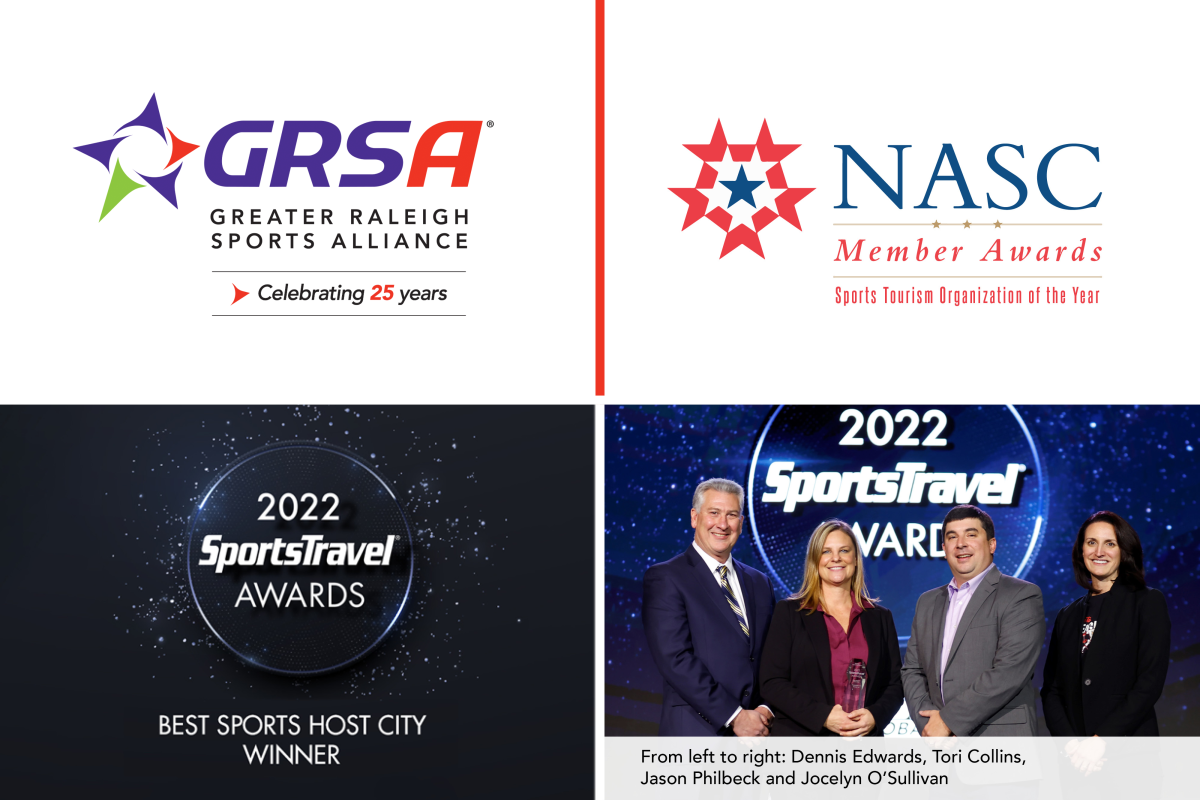 ---
2022–Best Sports Host City: In 2022, Raleigh was recognized as the "Best Sports Host City" by SportsTravel, underscoring its reputation as a premier destination for sports events. This accolade celebrated the area's outstanding facilities, hospitality and ability to execute successful sporting competitions.
2023–Cary hosts The Soccer Tournament at WakeMed Soccer Park.
2023–Raleigh hosts the 2023 Navy Federal Credit Union NHL Stadium Series™: The Carolina Hurricanes took on division rivals the Washington Capitals at Carter-Finley Stadium, a 56,000-seat, premier collegiate football field in the Southeast and home of the North Carolina State University Wolfpack. 
Here are some other noteworthy highlights:
Raleigh hosted NCAA's Men Basketball March Madness four times in 12 years (2004, 2008, 2014 and 2016) The 2021 event was scheduled here but was cancelled because of the pandemic.
Raleigh is one of only two cities in the U.S. to do the following since 2000 (the other city is Los Angeles):

Win (and host) a Stanley Cup Final (2006);
Host NHL Entry Draft (2004);
Host NHL All-Star Weekend (2011);
Host an NHL Outdoor Game (Stadium Series) – (2023).
As we celebrate the past and eagerly anticipate the future, one thing remains certain: GRSA's commitment to excellence in sports will continue to shine brightly for years to come. Watch for the hashtag #GRSA25 on X and Instagram for more information.
Here's to the next 25 years of sports greatness in Raleigh! 
.......
Mural by Amber Share; photos by Michael Robson, Subnation, Jared Silber via Getty Images, Alyson Boyer Rode.

Author: Carly Delengowski, CGSP®
Carly Delengowski, CGSP®, is content marketing manager at the Greater Raleigh CVB and helps promote Raleigh, N.C., as a unique destination with signature experiences for events and meetings.
Comments