Where To Shop, Eat and Relax at RDU International Airport
Monday, March 27, 2023, 2pm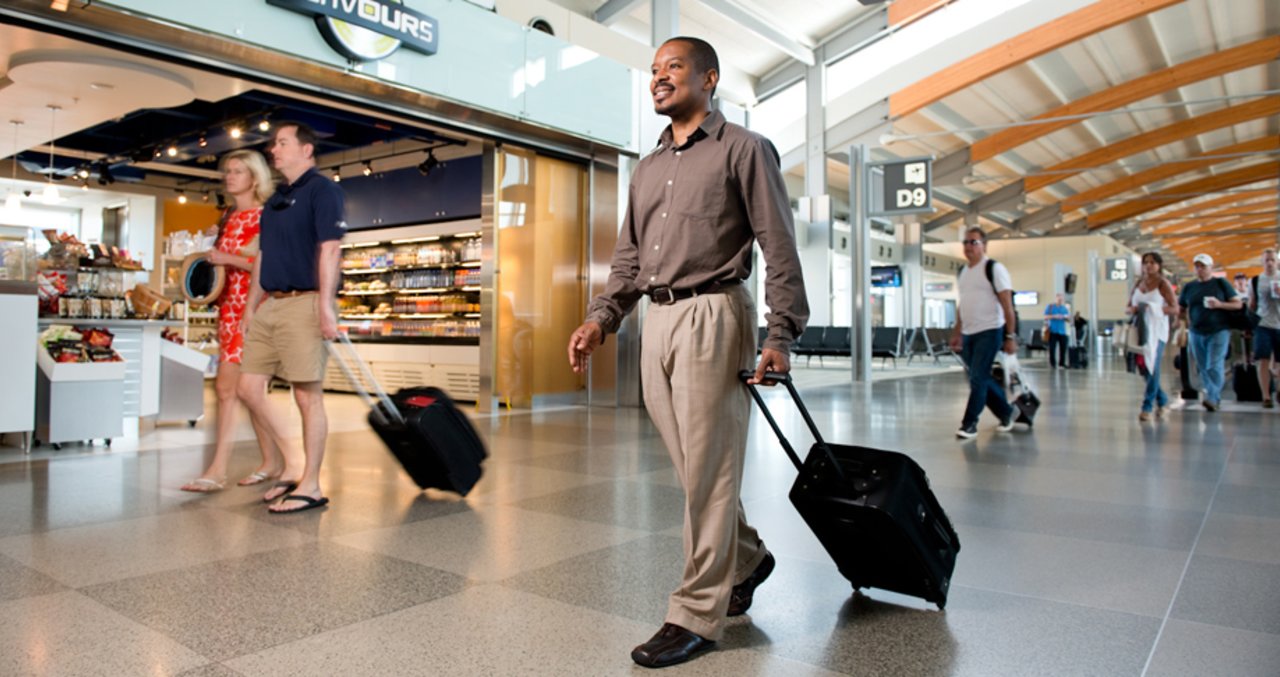 Your group's Raleigh, N.C., experience begins the moment they step off the plane at RDU International Airport, thus it's important their experience at the airport is a good one! RDU's amenities, services and more help ensure it is.
The airport—with nearly 400 daily arrivals and departures, reaching 62 nonstop flights including seven international destinations—was recently ranked one of the top five large airports for customer satisfaction in the latest J.D. Power North America Airport Satisfaction Study.
As you're arriving in Raleigh, N.C., or before your departure at RDU, explore these spots for shopping, dining and more! In addition, check out these five ways RDU makes visiting the Raleigh area easy.
Shop
Terminal 1 shopping
Flight Stop
Flight Stop has two locations along the Terminal 1 concourse. Find snacks, newspapers, magazines, books and more. Flight Stop also offers local confectionary items and souvenirs.
Triangle Market
Triangle Market offers a curated selection of local and national goods, gifts and luggage. Several talented local artisans and businesses are prominently featured in the market.
Terminal 2 shopping
Root & Branch
From Jessie Williams of Edge of Urge and Pam Blondin of DECO Raleigh—two highly acclaimed local shops—Root & Branch features a wide range of goods that are rooted in the region and state. Visitors will find flavor and flair from over 20 talented Raleigh area artisans and businesses.
City Market News
City Market News is an airport convenience store that offers a large variety of items—including snacks medicine, newspaper and magazines, as well as Raleigh, N.C., keepsakes.
WRAL Travel Store
WRAL Travel Store offers newspapers, magazines, souvenirs, snacks, beverages and more. A fan of the Raleigh sports scene? Visitors can grab Carolina Panthers, Carolina Hurricanes and area college athletic apparel at WRAL Travel Store.
For more great shopping options, click here.
Dine
Terminal 2 dining
42nd St. Oyster Bar
Serving Raleigh for more than nine decades, 42nd St. Oyster Bar has a rich history. Seafood is the star, and leading the menu is a full selection of fresh oysters. Early morning travelers can also enjoy a full breakfast menu featuring traditional Southern favorites—the "Big Country" meal includes three eggs over easy, cheese grits, bacon or sausage and toast.
getREEF Virtual Food Hall
The getREEF Virtual Food Hall offers an easy and fast way to order a wide array of foods. Order through the kiosks (located at Gate C9) or online, get a text with an access code and open the designated food locker to get your meal. Note: Gate delivery is now available in Terminal 2 (concourses C and D only).
La Farm Bakery + Café
Based in Cary, N.C., and recognized among the "Best Artisanal Bakeries in North America," La Farm Bakery + Café is the perfect spot whether you're craving a buttery croissant, tender scone or crusty sourdough. The extensive menu features all-day breakfast dishes like Croque Madame, as well as pastries, soups, salads, sandwiches and burgers.
Raleigh Taproom
Raleigh Taproom brings Raleigh Brewing Company's award-winning craft beer to Terminal 2. Raleigh Taproom offers guests a taste of the Raleigh brewery along with a full bar and a robust menu offering breakfast through dinner. The full menu includes appetizers, salads, flatbreads, burgers and more, with entrées including a delicious meal of beer-battered fish and chips.
For more great dining options, click here.
Relax and go on a self-guided art tour
Have free time before your flight and need something to do? Create your own art tour throughout RDU International Airport's terminals and grounds. You can find over 10 pieces of art from both national and Raleigh area artists.
Cloudscape: Terminal 2, Gates D12-D13
Earlier Flight: Parking Garage Atrium
Friendly Folks: Terminal 2, Bag Claim 1
Gate of Air: Terminal 2, Ticket Counter A-B; Bag Claims 4 and 5
Gate of Earth: Terminal 2, Ticket Counter C-D; Bag Claim 2-3
Highwire Travelers: Terminal 1 Bag Claim
Ripples: Terminal 1 Concourse
Metamorphosis: Terminal 1 Ticketing Lobby and Security Checkpoint
Terminal 1 Tile Art: Pedestrian Tunnel between Terminal 1 and Parking Garage
Terminal 2 Signature Art: Heritage Room, Terminal 2 Ticketing Lobby
Triangle Icon: Daily/Hourly Parking Entrance
Triplet: Terminal 2 Ticketing
Welcome: Terminal 2, Domestic Arrivals Corridor
Wingspun: Terminal 2, International Arrivals Corridor
Find more details about the artwork, here.
Additionally, RDU International Airport offers multiple airline clubs (with daily rates), a USO of RDU Center for active and retired military service members and their families and a meditation room.
There's an array of things to do at RDU International Airport. Have questions or want to know more about Raleigh, N.C.? Contact our sales team today!
Comments