GRCVB Staff Updates
Friday, September 22, 2023, 2pm by visitRaleigh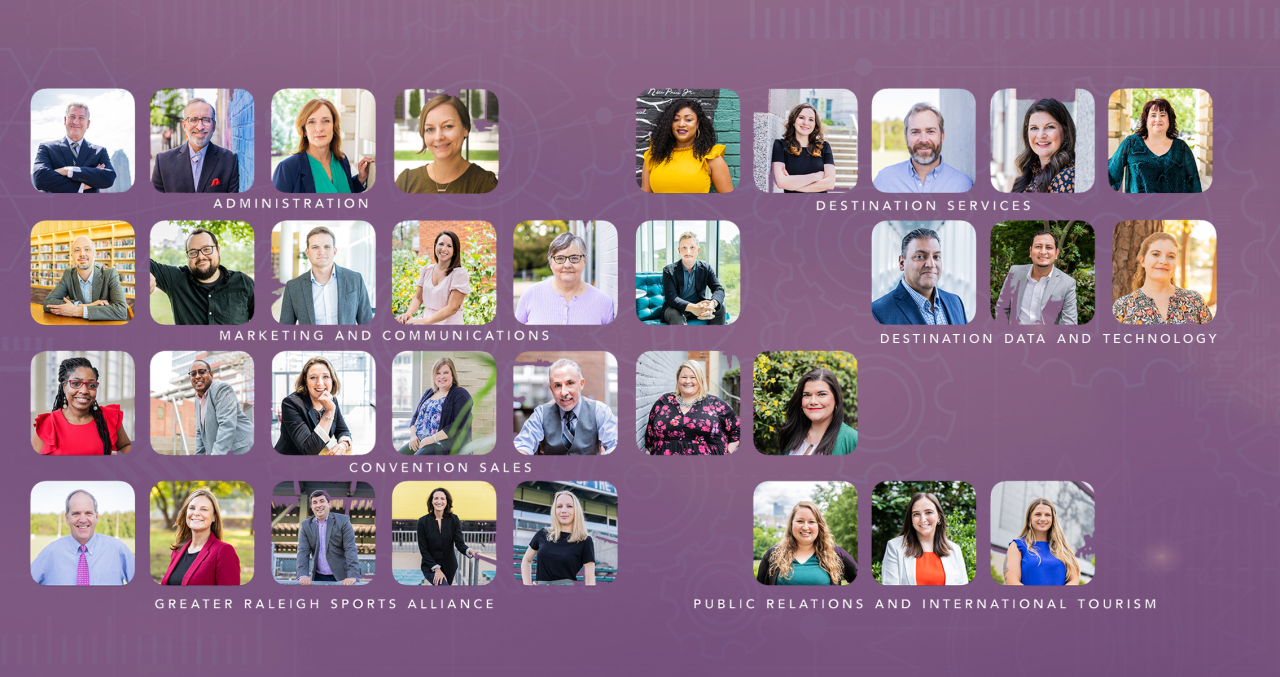 In a Tourism Talk blog post a few months ago called "What Do the Little Letters Mean?," we explained the credentials that GRCVB staff members have earned as part of their professional development. And because it's noteworthy, we called out this detail:
---
Editor'​s note: By the way, as you are reading through this summary, please note the longevity of employment of these staffers. The Bureau has a way of attracting and keeping its talent, and the consistency and long-term commitment by these professionals is of great value, we believe, to the destination.
---
The culture of GRCVB has a history of attracting professionals who are not only dedicated to the tourism and hospitality sector but also are committed long-term specifically to Wake County. Collectively, the current staff has invested over 340 years in tourism development for our area. 

There aren't many DMOs that can say that.

There have been several new developments, promotions, title and responsibility changes at the Bureau recently. Here are a few we would like for you to know about...

New credentials:
The "little letters" we referred to above are professional credentials, and in July 2023, Vimal Vyas, vice president of data, security and digital innovation, was awarded the Certified Destination Management Executive credential from Destinations International. The CDME is the CVB industry's highest individual educational achievement. Vimal joins fellow CDME recipient Jonathan Freeze, vice president of marketing and communications, as the only two staff members at GRCVB who hold this designation.


Title changes:
There have been several significant title changes within the Bureau staff:
Effective Oct. 1, 2023, two additional promotions will take effect in the GRCVB Marketing and Communications Department:
Derek Allman will become associate director of marketing and communications, better reflecting added responsibilities in the department's administration.
Michael Robson's title will change to assistant director of marketing and communications, better reflecting his oversight of Bureau content/social media marketing.

Moves within the Bureau:
Two employees recently have shifted their responsibilities/departments within the Bureau:
Dana Canby had been a destination services manager here since 2020; she has moved into the role of public relations and international tourism manager.
Hailey Post was administration manager and now is in a new role of destination data manager within the Destination Data and Technology Department.
New hires:
In July, the Bureau welcomed Acacia Blair as administration manager, filling the position being vacated by Hailey Post.





Congratulations to all! If you are interested in working at the Bureau in the future, keep your eyes on the Hospitality Jobs page in the Partners section of our website (or share it with any others seeking tourism employment in our area).

Author: visitRaleigh
The Greater Raleigh Convention and Visitors Bureau (GRCVB) is the official and accredited destination marketing organization (DMO) for all of Wake County.
Comments