A Guide to Visiting Farmers' Markets This Fall in Raleigh, N.C.
Thursday, October 08, 2020, 4pm by visitRaleigh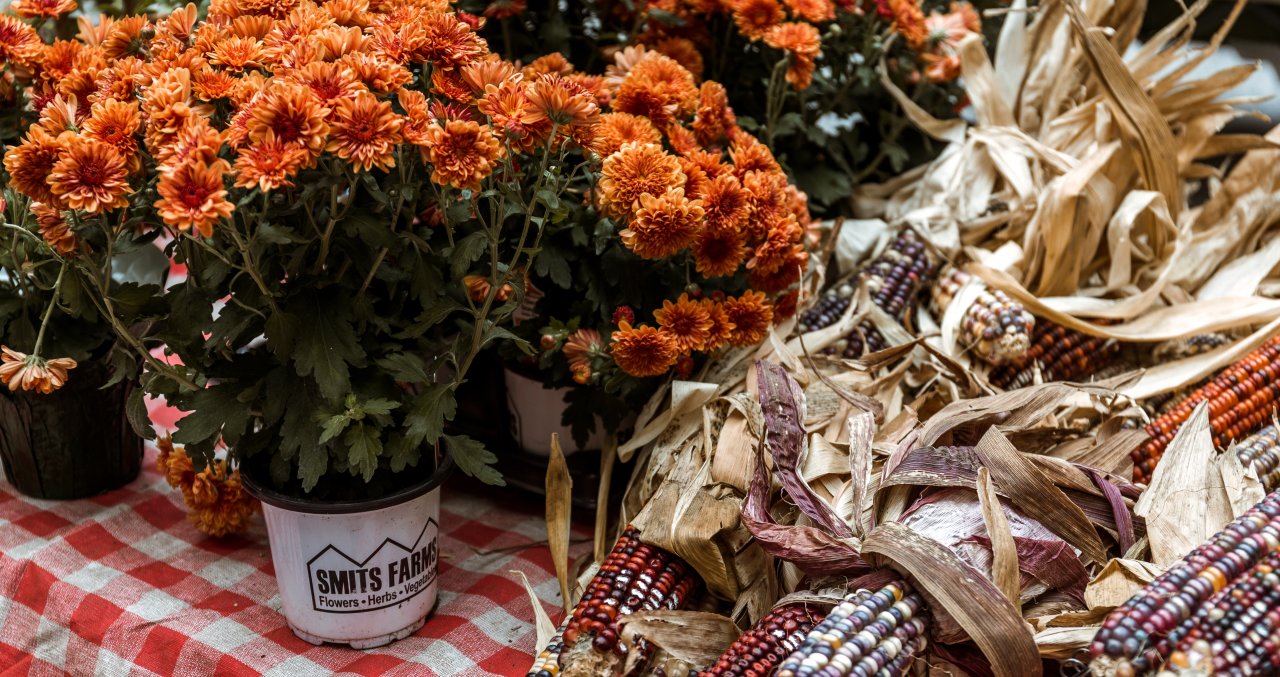 The Raleigh area is certifiably farm fresh, with a collection of year-round and seasonal farmers markets showcasing fresh fruits, vegetables, flowers and specialty goods. Grab your reusable bags and check out these six favorite shopping spots!
---

Raleigh, N.C.'s welcome mat is always out for you.
See more safe dining and things to do, plus local travel safety info, here.
---
Note: We ask that you please explore responsibly—wear a mask, wash your hands and wait six feet apart from others. If you're traveling to Raleigh, N.C., you may want to check out this list of Count On Me NC-certified hotels. Count On Me NC is a public health initiative that specifically trains hospitality businesses to help keep both guests and staff safe from COVID-19. The program also asks guests to pledge that they'll do their part to follow safety guidelines as well.
Considered one of the nation's best and most modern markets, the 30,000-square-foot State Farmers Market positively dazzles with specialty shops, restaurants and produce stands. Shoppers can browse and take home everything from fresh fruits and vegetables to meat and dairy products and even beautiful plants and gifts. With so much here, you could spend an entire day wandering from one friendly vendor to the next. Stop for a pick-me-up at 321 Coffee, a non-profit that employs individuals with developmental disabilities, then grab a treat at Annelore's German Bakery (where the only thing sweeter than the pastries are the married couple behind the stand).
You'll find plenty of seasonal goods to enjoy on site, savor at home or pack a picnic with (Raleigh's gorgeous Dorothea Dix Park is about a 90-second drive away).
If you've got a big appetite and have interest in a legendary local breakfast, the State Farmer's Market Restaurant serves up a Southern, country cooking by the plateful—biscuits and hotcakes and grits and country ham and plenty more!
Open Mon.-Sat., 5am-6pm; Sun., 8am-6pm.
With a mission to inspire self-sufficient communities and support Black farmers and entrepreneurs, the Black Farmers Market launched in summer of 2020, holding monthly events in the City of Oaks at the YMCA of Southeast Raleigh. You'll find farmers, gardeners, florists, bakers, seafood sellers and more offering their farm-fresh produce or hand-crafted goods. According to the creators of the event, there are more than 3 million farmers in America today, but less than 2% of those are Black. A visit to the market is an easy way to support these entrepreneurs—and of course people of all backgrounds are welcome to attend!
Bonus: Krystal DaMuse is offering a virtual behind-the-scenes tour of the Black Farmers Market on this date. In this tour, Krystal invites you to meet the charismatic artists, makers and entrepreneurs that energize Raleigh's African American and broader local community. Krystal will be connecting with event participants via Zoom from the Raleigh Black Flea Market location
Located in the heart of downtown Raleigh, Moore Square Market highlights local vendors and their farm-fresh food and artisanal goods on a weekly basis. Residents and visitors flock to recently-revamped Moore Square to sample freshly baked cookies and brownies from Carroll's Kitchen, enjoy Jones Lemonade Slushys and browse quilted and stitched gifts from Sew You. And that's just a few of the vendors on display. With any luck, you might even catch live music on a bordering sidewalk or an outdoor yoga class taking place on the big lawn.
Open Wednesdays, 3-6pm, through Oct. 28.
Head over to Midtown Raleigh to discover yet another amazingly fresh market smack dab in the middle of the popular retail and entertainment district of North Hills. With a mission to create a vibrant and thriving market in the area, the Midtown Farmers Market offers visitors and the local community a place to buy family-farmed foods. Here, you'll find organic sustainable fruits and vegetables, locally produced breads, cheese, herbs and more from vendors like La Farm Bakery, Fount Coffee + Kitchen and Sterling Berry Herbs and Teas.
Just outside the market, a bevy of shops and restaurants await to enhance your visit. Be sure to also take advantage of free rides on the G.E.M. shuttle to any destination at North Hills.
Open every Sat., 8am-noon, through Nov. 7.
Sometimes, you just want to go where farmers and other vendors gather to sell a variety of local goods from pasture-raised meats and seasonal produce to baked goods, local honey and fresh-cut flowers. That place is the Wake Forest Farmers Market, where everything sold is produced within 75 miles of town. Can't get much more local than that!
Drop by and grab beans from Black & White Coffee Roasters or a bottle of honey from Heaven Sent Honey. For breads and baked goods, Strong Arm Baking Company has you covered while a variety of farms offer a bounty of fresh veggies and meats.
Open year-round on Saturdays. Current off-season hours are 9am-noon.
Voted North Carolina's most celebrated farmers market eight years in a row, the Holly Springs Farmers Market delights visitors and residents with a range of fresh local food from seasonal produce and fresh meats to sauces, preserves and condiments. Come down on a Sat. morning to fill your shopping bags with goodies from vendors including Milke Way Farms, Andrea's Homestead, Tsuru Sweets and Vintage Paris Market.
You can also plan a visit around these upcoming events:
Pumpkin Palooza!, Oct. 10, 8am-noon
Beets & Jams Music Series, Oct. 10, 10am-noon
"Moonlight" Market + Food Trucks, Oct. 13, 4:30pm-7pm
Open Saturdays, 8am-noon, through Oct. 17.
With a mission to be a cozy place for people to shop for goods they can feel great about, the Cary Downtown Farmers Market aims to build bonds between shoppers and local farmers and vendors (all who have traveled from within a 100-mile radius of downtown Cary). The market is a growers-only market, with only handcrafted goods for sale. A variety of farmers are always on hand with seasonal favorites, and be on the lookout for Papa Shogun, a downtown Raleigh restaurant that heads to the market each week to sell their handmade pasta and noodles (including fall favorites like butternut squash ravioli!).
Open year-round on Saturdays, 9am-noon, during current off-season hours.
---
Planning a trip? Whether driving or flying, exploring the outdoors or tasting the area's best food and drinks, we look forward to soon welcoming you to Raleigh, N.C. From transportation to lodging, dining and attractions, your health and safety are top priority for the hospitality industry. No matter how you travel, or what you do, you can travel confidently. Click here for the latest updates on COVID-19 and openings in the Raleigh area.

Comments