41st Annual Artsplosure Festival Returns to Downtown Raleigh, Oct. 9-10
Wednesday, August 18, 2021, 4pm by David Menconi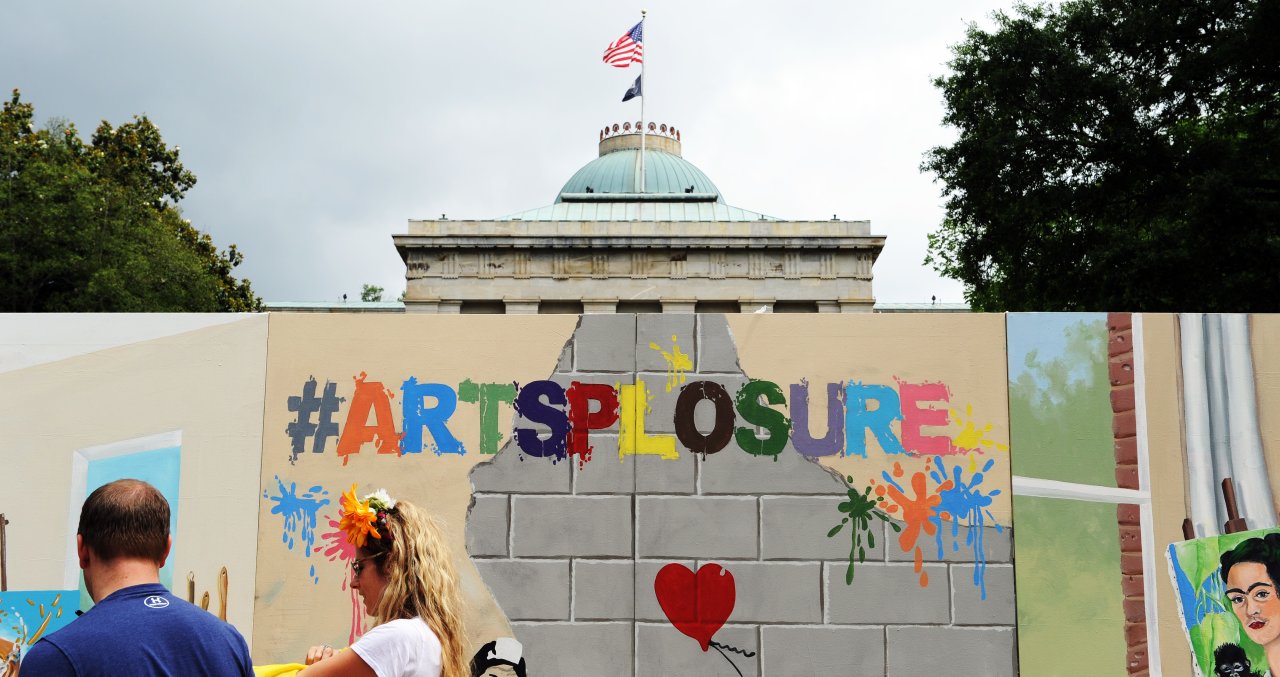 Note: Authored by David Menconi, this piece has been produced in partnership with Raleigh Arts. Menconi's latest book, "Step It Up and Go: The Story of North Carolina Popular Music, from Blind Boy Fuller and Doc Watson to Nina Simone and Superchunk," was published in Oct. by University of North Carolina Press.
---

When the virus pandemic kicked in during the spring of 2020, the ensuing shutdown put almost every arts event in the country on hold. But few events have endured as bumpy a period of limbo as Artsplosure, downtown Raleigh's long-running, free street art and music festival that has attracted 80,000 visitors to downtown Raleigh for the annual event since 1980. Initially the festival was postponed from May of 2020 to June; then to Oct.; then to May 2021—and every date came and went with no festival.
Four cancellations later, Artsplosure is once again penciled in for another date: the weekend of Oct. 9-10, which festival operators have taken to jokingly calling "Octsplosure." Everyone has their fingers crossed that the fifth time will be the charm. And if Artsplosure does happen as scheduled, it will make for a 2021 fall festival season that's even more crowded than usual.
"We're going to have a pretty crazy stretch," says Artsplosure program director Cameron Laws. "There's Hopscotch Music Festival (Sept. 9-11) at the beginning of Sept., then the bluegrass festival (IBMA Bluegrass Live! powered by PNC, Oct. 1-2) and then Artsplosure. And after that, First Night Raleigh on New Year's Eve and the Hillsborough St. festival next spring. It's a year's worth of events in a couple of months. But after a year and a half, we're ready to hit the ground running."
While Artsplosure has long been a tentpole springtime event for downtown Raleigh, this won't be the first time it has happened in the fall. Executive director Michael Lowder recalls a time some decades back when Artsplosure also had a fall festival every year, with performers including the flatpicking-guitar legend Norman Blake and even a pre-fame Alison Krauss.
"That's what Artsplosure does, present people 'before,'" says Lowder. "We had Trombone Shorty a year before he headlined Spoleto in Charleston. So there used to be a fall festival in the old days, and we're doing that one more time. We know there will be pent-up demand, we just need to figure out how to make it more accessible."
Artsplosure music highlights this year including rising Americana stars Brittney Spencer and Aaron Lee Tasjan; Thunderstorm Artis, of "The Voice" fame; transplanted U.K. folk-rock duo Ida Mae; and the Walker Lukens Song Confessional, an interactive piece in which you can have your anonymous confession set to music and turned into a song.
Plans call for Artsplosure's usual array of crafts vendors and street art up and down the Fayetteville St. main drag. But it is, of course, worth nothing that everything is largely dependent on larger events. Depending on how the next few months go with the virus, and whether it declines or surges here and elsewhere, there might be some requirements about mask-wearing, social-distancing and such (Artsplosure is an entirely outdoor event).
"We've been talking internally about the wisdom of signs and banners encouraging people to mask up, wash hands, whatever," says Lowder.
Even beyond the pandemic, Artsplosure will happen in a very different setting. In the more than two years since the last Artsplosure happened way back in the spring of 2019, downtown Raleigh has undergone vast changes.
"Everything about downtown has changed the last year and a half," says Laws. "New buildings, old buildings gone or changed. The social, political and literal landscape is different. We're focused on finding a balance between staying true to what we've done and adapting to the changing times. With all the planning that goes into this ahead of time, to actually see it happen will be very rewarding. And boy, have we been waiting for that through four cancellations."
Accessibility - Art for All
Artsplosure is committed to making its festivals welcoming, accessible and enriching to all people, including people with disabilities. See this page for more information on the festival's commitment to accessibility.
Other major upcoming events in Raleigh, N.C., to plan around
45th Annual Lazy Daze Arts and Crafts Festival, Aug. 28-29
Raleigh's International Food Festival, Aug. 28
African American Cultural Festival, Sept. 4-5
Hopscotch Music Festival, Sept. 9-11
Friday Night on White, Sept. 10
Beer, Bourbon & BBQ Festival, Sept. 10-11
40th Annual Apex PeakFest, Sept. 11
Brewgaloo, Sept. 17-18
La Fiesta del Pueblo, Sept. 19
Raleigh Balloon Glow, Sept. 24-26
Downtown Raleigh Food Truck Rodeo, Sept. 26
IBMA Bluegrass Live! powered by PNC, Oct. 1-2
Cary Diwali Celebration, Oct. 9
N.C. State Fair, Oct. 14-24
Header photo by Chris Richman
Comments