Band Together, Oct. 7: A Concert For a Good Cause Featuring Jason Isbell and More
Wednesday, September 13, 2023, 3pm by David Menconi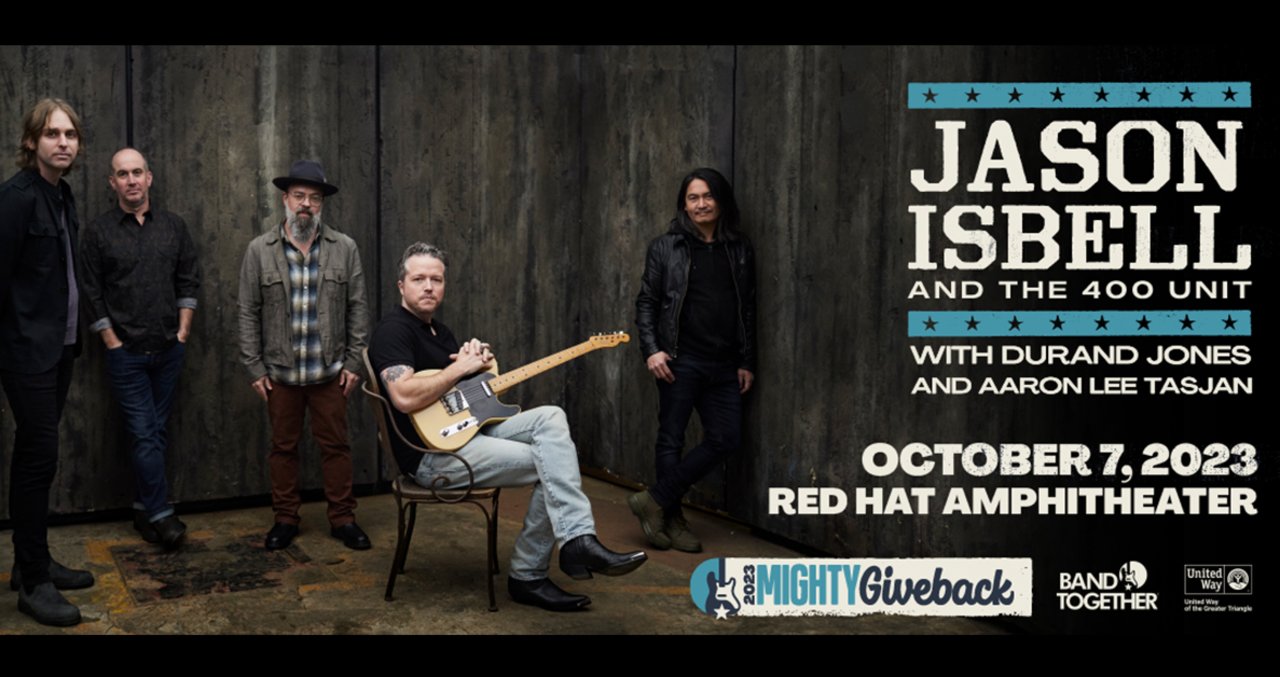 Note: Authored by David Menconi, this piece has been produced in partnership with Raleigh Arts. Menconi's next book, "Oh, Didn't They Ramble: Rounder Records and the Transformation of American Roots Music," will be published in the fall of 2023 by University of North Carolina Press. His podcast, Carolina Calling, explores the history of the Tar Heel State through music.
---

Band Together has to qualify as one of the most successful long-term charitable musical initiatives in local history. Initially formed in the aftermath of the New York City terrorist attacks of Sept. 11, 2001, Band Together started out as a one-off benefit concert to raise money and show appreciation for New York City firefighters.
It went so well that the founders kept it going as a 501(c)(3) non-profit with live music as a platform for social change. Band Together has continued to put on annual benefit concerts featuring a wide range of local and national acts—from The Connells to The B-52's, Lyle Lovett to Rissi Palmer, Hall & Oates to Raleigh's own American Aquarium. Band Together concerts have drawn more than 70,000 in total attendance, raising about $12 million for worthy causes including the Food Bank of Central and Eastern North Carolina, Tammy Lynn Center and Special Olympics.

The next Band Together show will happen Oct. 7, 2023, at Raleigh's Red Hat Amphitheater. This year's headliner is four-time Grammy winner Jason Isbell, one of the most acclaimed singer-songwriters in the Americana field, on a bill with r&b act Durand Jones and singer/guitarist Aaron Lee Tasjan. It will most likely sell out, Band Together's third straight sold-out show at Red Hat. That will make for a nice million-dollar payday to this year's beneficiaries. Funds raised by Band Together and partner United Way of the Greater Triangle will be evenly distributed among 20 of the region's most impactful nonprofits supporting housing accessibility (you can see a list of the 20 impact partners here).
"We've gotten lucky with booking some acts at the perfect time," says Thorne Daubenspeck, Band Together's executive director since 2017. "Turnpike Troubadors last year and Khruangbin in 2021, we got both those at just about the last moment we could have afforded them. We have to find acts that are rising but still kind of indie, who want to be part of something special. People want to be part of this."

This year's show finds Band Together at something of a strategic crossroads, confronting a measure of uncertainty about the future. The event has steadily grown over the years, from clubs and theaters up to the point where its concerts regularly sell out 6,000-capacity Red Hat Amphitheater. But there will come a day in the not-too-distant future when Red Hat won't be available for some indeterminate amount of time.
As part of the Raleigh Convention Center's upcoming expansion project, Red Hat will shut down and cease operations while it's relocated one block south of its current location. It should still be open for Band Together's 2024 concert, but a venue for the year after that is up in the air.
So 2025 might be the year that Band Together takes a shot at filling up a bigger venue while Red Hat is unavailable, maybe even the 20,000-seat PNC Arena. With a capacity more than triple what Red Hat holds, PNC would be a formidable upward-scale challenge for Band Together to take on.
"I'm a dreamer, and yes, that's something I'd like to put in play," Daubenspeck says of PNC as a potential Band Together venue. "We wanted to do something at PNC in 2020, but COVID shut that down. We've even looked into shows at Carter-Finley Stadium...
"So, 100,000% yes to expansion," Daubenspeck concludes. "Red Hat is our home, and we love it, but how do we fill the gap during that year or two when we won't have it? Maybe by doing a show somewhere with 20,000 people or more. Big pie-in-the-sky dreams, it would be great if someday we could have Band Together Day in multiple cities."
As mentioned, tickets for this year's Band Together are expected to sell out—grab yours as quick as you can here!
Comments