Bill Reaves' Mission to Photograph the People of the Raleigh Music Scene
Thursday, January 20, 2022, 4pm by David Menconi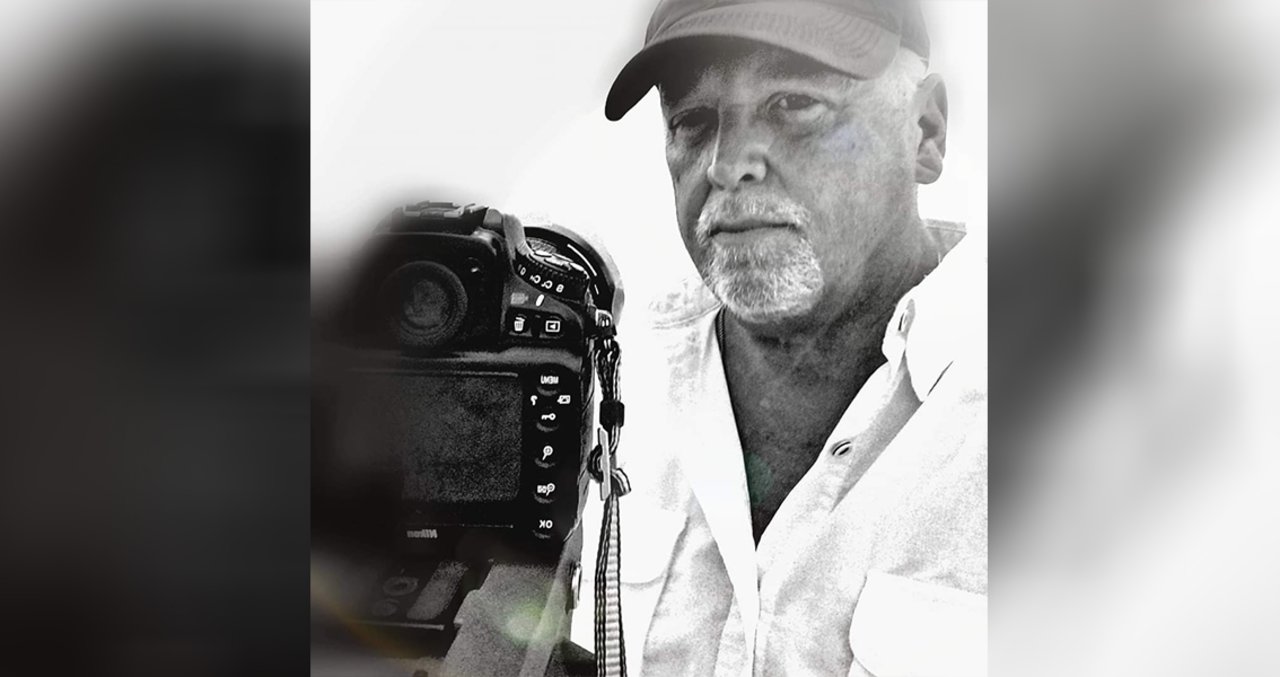 Note: Authored by David Menconi, this piece has been produced in partnership with Raleigh Arts. Menconi's latest book, "Step It Up and Go: The Story of North Carolina Popular Music, from Blind Boy Fuller and Doc Watson to Nina Simone and Superchunk," was published in Oct. 2020 by University of North Carolina Press.
---

Bill Reaves makes his living as a professional photographer, mostly shooting commercial and marketing work. But he's had an unusual side-hustle passion project in recent years: documenting the local music scene with a series of beautifully shot portraits.
So far, Reaves has photographed around 70 people, with plans to add up to double that number eventually. His subjects are primarily based in Raleigh, plus a handful from farther afield across the state.
Performers like onetime Arrogance co-leader Don Dixon, twin brothers Danny and Daniel Chavis of local shoegaze legends The Veldt and alternative-country fiddler/artist Caitlin Cary are among the local luminaries who have sat for portraits. But Reaves is also documenting faces in the crowd as well as behind the scenes, like Pour House Music Hall & Record Shop nightclub co-owner Adam Linstaedt and local superfan/photographer Emma Esser.
"I wanted to document the scene for posterity," says Reaves, a Raleigh native who turns 65 years old this month. "A lot of musicians have tough lives, as you know. I like doing portraits and wanted to capture them. A lot of people don't realize the depth of the music scene in N.C. over the years."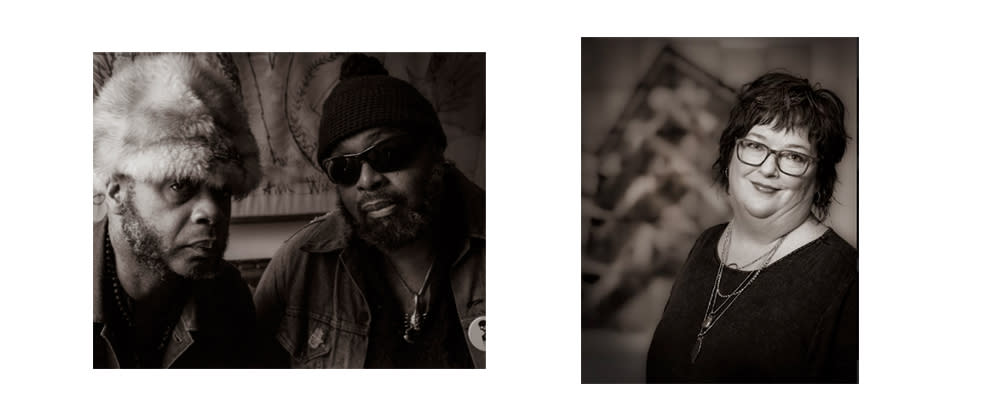 From left to right: Daniel and Danny Chavis; Caitlin Cary (photographs courtesy Bill Reaves)
Interest in music comes naturally to Reaves—his father used to run nightclubs and put on shows. When he's not shooting pictures, Reaves plays in Peace Street Band, a cover band he jokingly claims has "the highest combined age of any band in the world. We're thinking of changing our name to The Hip Replacements."
When Reaves initially began approaching local musicians about photographing them, there was actually a bit of confusion and uncertainty about it. A few told Reaves that he should just come shoot a live show instead. But he insisted on portraits. 
Once the results started going around social media, it didn't take long for word to get around that Reaves was worth cooperating with, and nobody takes any convincing. But he's still had a few missed connections. One was former PKM guitarist Michael Gardner, who passed away in Dec. following years of health problems.
"Yeah, I've had some tragedies that way, especially Mike Gardner," Reaves says. "We were talking about it right before he died and we had plans, but it didn't happen. That has haunted me."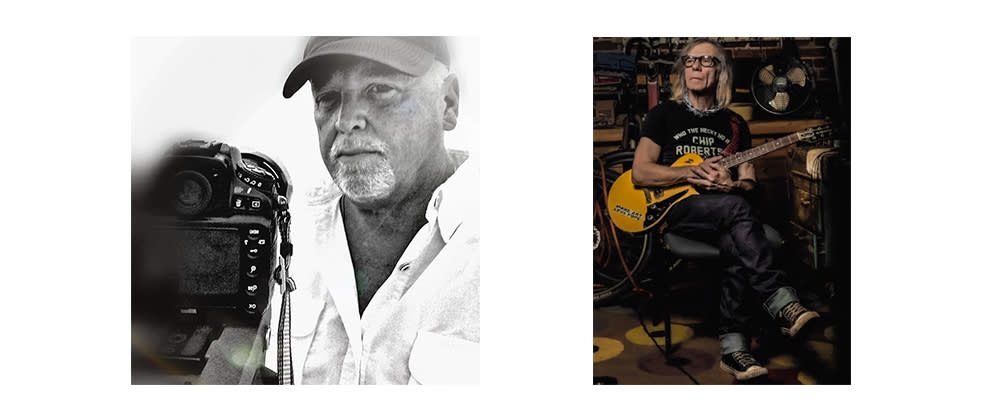 From left to right: Bill Reaves; Chip Robinson (photographs courtesy Bill Reaves)
Remarkably, almost none of these portraits have taken very long to photograph. Reaves has a way of relaxing his subjects and getting them to open up visually and emotionally for his camera.
"He was in and out, quick," says Pour House soundman Jac Cain, who Reaves photographed at the club with his bass guitar. "Once we had the pose with the bass, it was snap-snap-snap, 'I think we're done.' I like that his approach does not leave time for overthinking, which I think becomes your enemy when photographing people."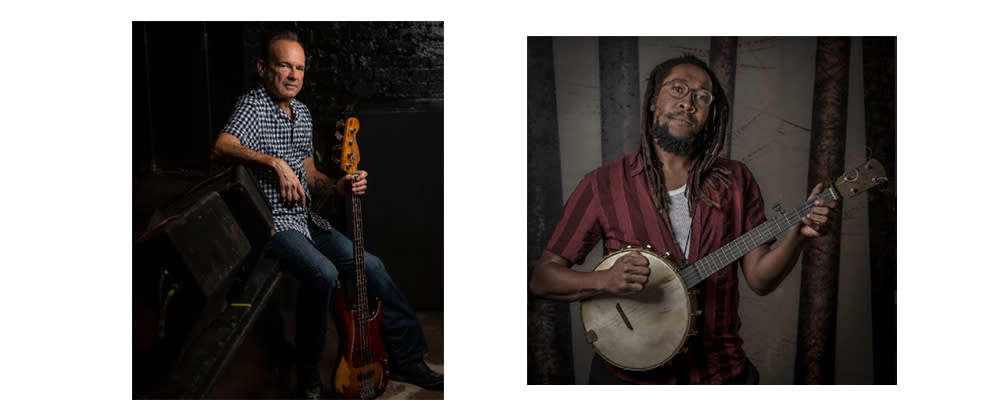 From left to right: Jac Caine; Hubby Jenkins (photographs courtesy Bill Reaves)
That method, of not giving people enough time to get self-conscious, is by design for Reaves.
"Most of them come quick," Reaves says. "I hate having my own photo taken, but I think I have a knack for making people feel comfortable when I'm shooting them. (Asheville musician) Anya Hinkle called me crying, saying I had captured her soul. I don't want to sound arrogant about it, but I do feel like I put my own soul into every photo I do. That helps capture a little bit that someone else might not."
Reeves originally planned to show these portraits at a show in New York City, but the ongoing COVID-19 pandemic put two different galleries he was working with out of business. So the plan now is to publish the pictures in a book.
"I've thought of this as a book since the beginning, so that's what I'm focused on now," he says. "I took a break over the holidays and want to get back into it, finish the shooting and design work by October."
Stay tuned.
Comments