The Sound of Music at the 'Loudest House in the NHL'
Friday, October 07, 2022, 9am by David Menconi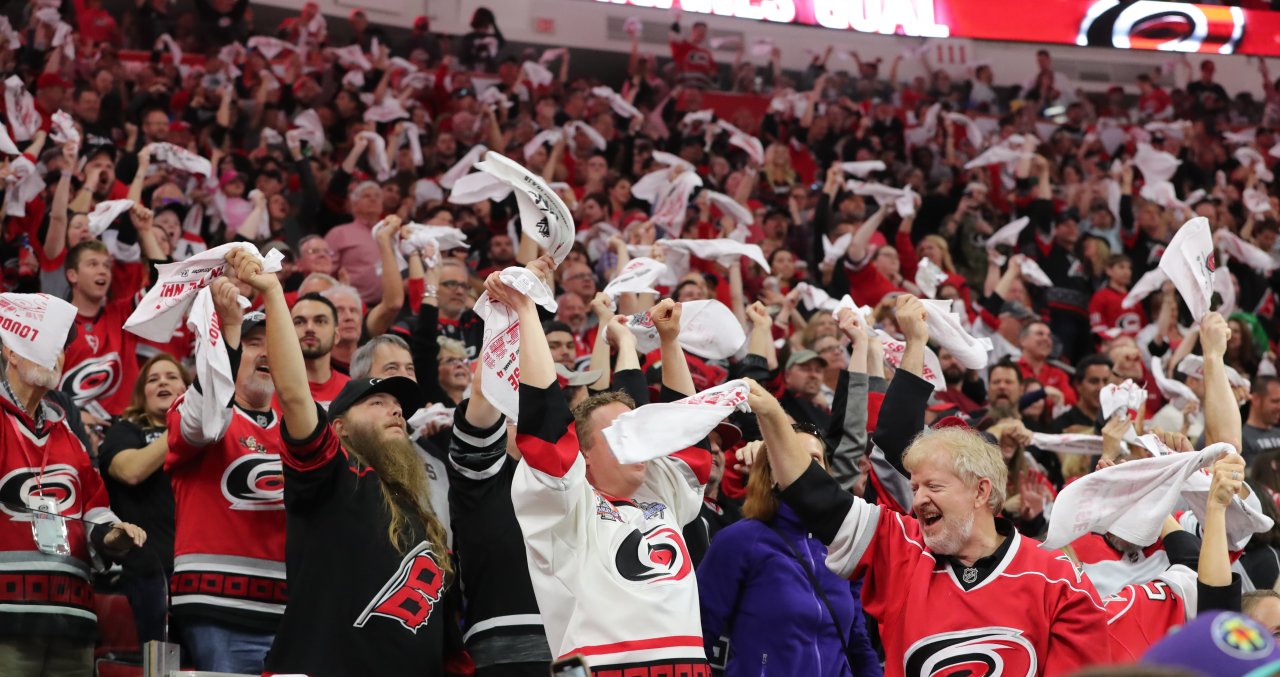 Note: Authored by David Menconi, this piece has been produced in partnership with Raleigh Arts. Menconi's latest book, "Step It Up and Go: The Story of North Carolina Popular Music, from Blind Boy Fuller and Doc Watson to Nina Simone and Superchunk," was published in Oct. 2020 by University of North Carolina Press, and his new podcast, Carolina Calling, explores the history of the Tar Heel State through music.
---

When you go to a Carolina Hurricanes hockey game, you'll hear a lot of organ music—even though PNC Arena has not had a live organist at games since 2018. But you do still hear the work of longtime Hurricanes organist Larry Olsen, who retired that year, in pre-recorded form.
"We had Larry record the flourishes we use the most as a way to keep it going," says Chris Greenley, the Hurricanes' vice president of entertainment and production. "Organ-playing is definitely a traditional hockey thing and a number of teams still have live organ, with a nice beautiful organ built into the arena. It's increasingly going away, but we still have a form of it."
Controlling everything is DJ Mistta Illz (Marcus Ward) from Morse Entertainment, overseeing the musical presentation from organ riffs to songs and sound effects. When the Hurricanes kick off their 2022 season on Oct. 12, you'll find Ward manning two turntables and a laptop in the Buffalo Brothers Zone at the top of Section 113
"The DJ is part of the show," says Greenley. "He'll work the turntables, sometimes mixing live. Then when there's a whistle, he has a support laptop where he can quickly click on something situational. I think that setup is pretty standard around sports. When you hit the right song at the right time, it feels so good when the crowd reacts the right way."
For a typical home game, Greenley is in charge of a team of about 50 workers running cameras, videos, lights, replay control room and even the entertainment team throwing T-shirts into the crowd. Sometimes the musical selections are selected to tie into various theme-night games like Hockey Fights Cancer (Nov. 17 vs. defending Stanley Cup champion Colorado), Star Wars (Dec. 15 vs. the Seattle Kraken), NASCAR Day (Jan. 15 vs. Vancouver), Canes Pride (Jan. 27 vs. San Jose), Kids Day" (March 5 vs. Tampa Bay), Whalers Throwback (March 26 vs. Boston) and Military Appreciation Night (April 2 vs. New York Islanders).
---
Carolina Hurricanes fast facts
The Canes are coming off of four consecutive Stanley Cup Playoff appearances, including two straight seasons winning their division.
The 2022-2023 season is the Canes' 25th anniversary season in the Tar Heel State; they moved from Hartford, Conn., in 1997 and played in Greensboro while PNC Arena was being built for the start of the 1999-2000 season.
PNC Arena is known as "the loudest house in the NHL" thanks to 19,000 very vocal fans.
Fan-favorite forward Sebastian Aho is entering his seventh season with the Canes; he made the All-Star team in 2019 and 2022.
The Canes will play an outdoor game at Carter-Finley Stadium—versus the Washington Capitals on Feb. 18—as part of the NHL's Stadium Series™ this season (tickets on sale soon).
---
As to the songs and sound effects you hear, sometimes that depends on the day of the week and the opponent.
"Saturday night against a huge rival versus Tuesday night against a random opponent is a different vibe," says Greenley. "If we're playing the Washington Capitals on a Saturday night, a big rivalry game, you'll hear Elton John's 'Saturday Night's Alright for Fighting.' The music will be more upbeat, intense, heavier on the hard rock to keep the crowd amped up – as opposed to something like '80s new wave. On Kids Day, we might sprinkle in something from 'Encanto.' But not right before a big faceoff late in a one-goal game. That's not the time to drop 'Let It Go,' but it might make sense during a scheduled TV timeout."
There are time-honored situational standards, like a bit of the hook to rapper Vanilla Ice's "Ice Ice Baby" when there's an icing call during the game. But mostly, the playlist is long on familiar vintage classics.
"Go to any game, not just ours, and you do hear the same songs a lot," says Greenley. "They're popular and they work, but it's also from the comfort level of the person pushing the button. You don't want to screw up by playing something that doesn't work. It's actually easier when the game is bad. You have more flexibility and it's not as big a deal if you play something that might mess with the mojo. Then there are the bad games where everyone's thinking, 'This game's no fun, let's go have a beer.' That might be when you hear (Garth Brooks') 'Friends in Low Places.'"
Back in place again this year will be the Canes' theme song since moving to the state in 1997, The Scorpions' 1984 heavy-metal anthem "Rock You Like a Hurricane", heard when the team takes to the ice at the start of each period. And N.C. rapper Petey Pablo's 2001 hit "Raise Up" is back for another year as the Hurricanes' goal-scoring song, as it has been since the 2018-19 season.
"Fans love that, it really fits the celebratory vibe perfectly," says Greenley. "Using an old hip-hop song in a hockey game is unorthodox, but it fits great. Sporting events are multi-dimensional. There's the sport that goes on, and also the party around it. We try to create a good time with the music. The hockey might not be the best that night, but we hope you'll still have a good time."
Header photo by Jaylynn Nash, courtesy of the Carolina Hurricanes
Comments