Favorite Fall Hikes in Raleigh, N.C.
Friday, October 21, 2022, 9am by visitRaleigh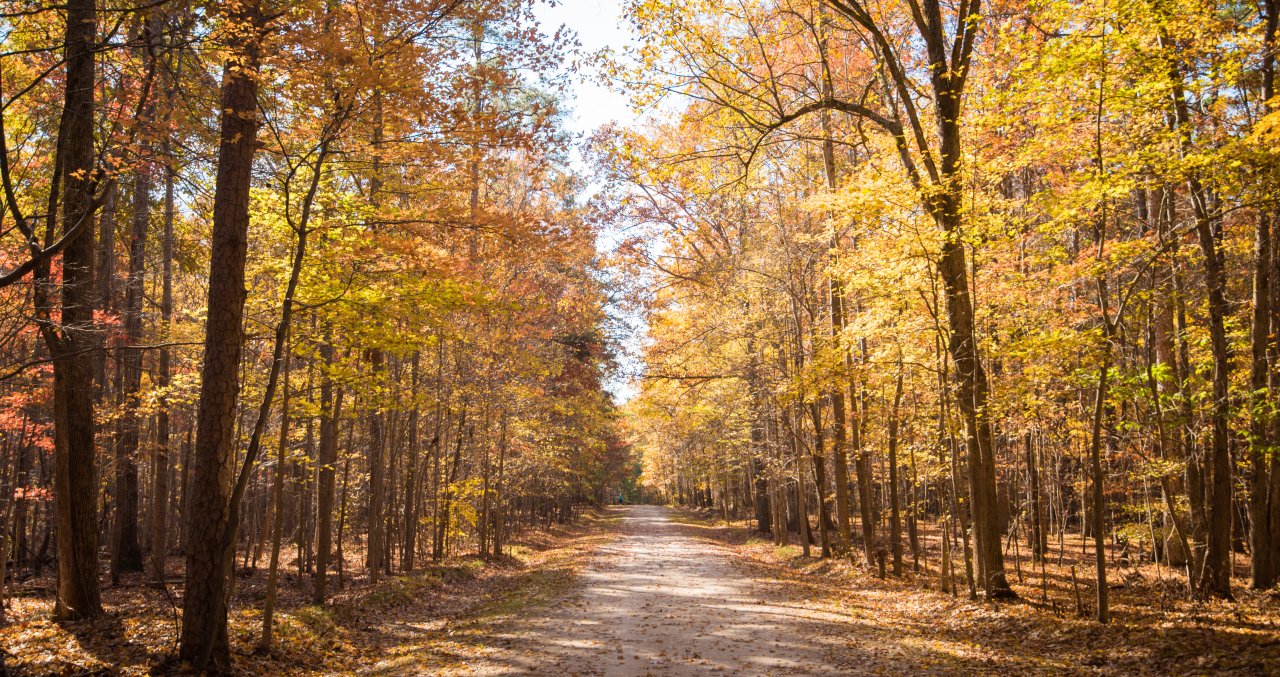 It's the most wonderful time of the year to explore the outdoors! Peak fall colors in the Raleigh area—lighting up greenways, parks and nature preserves—are beginning to set in (generally expected from late October through mid- to late November). And while there are many places to see fall foliage in the City of Oaks, these are five of our fall-favorite hikes to take full advantage. 
Why we love it: Varied terrain; no crowds; lots of miles
Perched along the southern shores of Falls Lake State Recreation Area, this 157-acre outdoor retreat opened in 2006 as the City of Raleigh's first designated nature preserve. Dr. Annie Louise Wilkerson, a renowned Raleigh doctor with many pioneering achievements in her 53-year career in medicine, donated the property for the purpose of promoting nature and wildlife education. Today, the park office and AWL Education Center offer hands-on displays and craft areas for children, and programs—including bird watching, astronomy nights and art classes—are offered to the public.
The preserve's open fields and two miles of hiking trails meander between meadows, through an oak-hickory forest, around a one-acre farm pond and past hidden rock crops, making for easy exploring for the entire family.
Those looking for a bit more adventure will be happy to know that Wilkerson Nature Preserve is a perfect starting spot for a jaunt along the Mountains-to-Sea Trail (MST, known as "N.C.'s hiking trail," stretches more than 1,000 miles from the Great Smoky Mountains to the Outer Banks). Connecting on the north end of the nature preserve, hikers can follow the white dot markers on trees to take the MST approximately three miles to the Visitor Center near Falls Lake Dam, trekking through a super-varied array of landscapes, plant life and wildlife along the way. The round-trip hike from Wilkerson to Falls Lake Dam and back is among our picks for best six-mile hikes in the Raleigh area.
Why we love it: Lake views; great for a quick workout
Located near North Carolina State University, Lake Johnson Park is a popular spot for students and professionals to get some exercise—a paved, three-mile greenway loop, plus two miles of unpaved trails, draws lots of joggers and walkers (and dogs, too!). The paved section, east of the boathouse, packs some punchy hills and tends to draw a bigger crowd. The unpaved section, west of the boathouse, is flatter but great for hikers looking for a quieter adventure. 
The most recognizable feature of the park is the 700-foot-long boardwalk that cuts directly across the center of the lake, often busy with people dangling fishing poles over the side or watching kayakers and pedal boats circle the 150-acre body of water.
On the northern end of the lake, the east loop of the trail can connect with the Walnut Creek Greenway which gives you access to North Carolina State University's Centennial Campus (two miles away), Dorothea Dix Park (3.5 miles), downtown Raleigh (five miles) and the Neuse River Greenway Trail (13 miles)—lots of great options for more exploring!
Why we love it: Dog- and kid-friendly; natural beauty
This 237-acre nature preserve in North Raleigh offers five miles of lesser-trafficked, mostly unpaved hiking trails that loop through heavily wooded areas around two lakes in the center of the park (not challenging terrain, but one of our top choices for peaceful outdoor exploring). Dog- and kid-friendly, portions of the trails are also open to mountain bikes. The park also offers amenities including a fishing pier, playground, sand volleyball court, bird and butterfly gardens, picnic areas and more. 
Why we love it: So much to explore
One of N.C.'s most-visited state parks, William B. Umstead State Park remains a peaceful getaway thanks to its sheer size—more than 5,000 acres of forest, trails and lakes sit on the edge of Raleigh, Cary and Morrisville. With 13 miles of multi-use trails that follow a series of rolling hills (perfect for horseback riding, jogging and cycling) and 22 miles of dedicated hiking trails, this is a must-hit destination for outdoor enthusiasts.
One favorite way to take advantage of the multi-use trails for both cyclists and runners is to park your vehicle at the Old Reedy Creek Rd. trailhead (plenty of parking spots, bathrooms, water fountains and bike repair tools are on hand here), head just a couple hundred yards up the short hill to the park entrance and follow the Reedy Creek Trail on a straight shot until you hit the far end of the park—that's a total of five miles one way. From there, either head back the way you came or turn left to tackle the South and North Turkey Creek Trails (warning: brutally steep in a couple sections!) which will add an additional six miles or so to your route before heading back to your starting point (take a look at the full map here. PDF File).
Hikers and singletrack runners have plenty of options, too, starting with Sycamore Trail, a moderately easy loop trail with plenty of elevation changes and lots of shade that runs beside Sycamore Creek for a total of 7.2 miles and has the option to connect to many other trails along the way (hop onto the Graylyn multi-use trail to find the incredible piece of chainsaw art pictured in the header of this article!).
Why we love it: Fall colors; kid-friendly; interesting boardwalks and lookouts
Filled with shade during the summer months and rich with color in the fall, Hemlock Bluffs Nature Preserve provides an easy, family-friendly way to escape to the outdoors in Cary. The 140-acre park—established 40 years ago and named for the atypical group of nearly 200 Eastern Hemlock trees that can be found here—is highlighted by approximately three miles of mulch-covered walking and hiking trails that lead to a series of small overlooks.
The Chestnut Oak Loop trail—traversing 1.2 miles of the hilly (but not difficult) side of the park—winds through the upland forest with ridges, ravines and creeks, passing by three overlook areas that provide views over the bluffs and bench seating for moments of solitude. The Swift Creek Loop Trail is a short, 0.8-mile section of mulched paths and wooden boardwalks that is mostly flat with a set of 100 stairs that have to be taken down and then up on your return. Visitors with limited mobility can reach an overlook on the Swift Creek Loop Trail before reaching the stairs.
The 3,700-square-foot Stevens Nature Center provides interactive, educational nature exhibits and historical exhibits from the Piedmont of N.C., plus provides nature interpretation and environmental education programs for all ages throughout the year.
Comments