Artists, Retails and Restaurants Shine on First Fridays in Raleigh, N.C.
Wednesday, September 01, 2021, 9am by David Menconi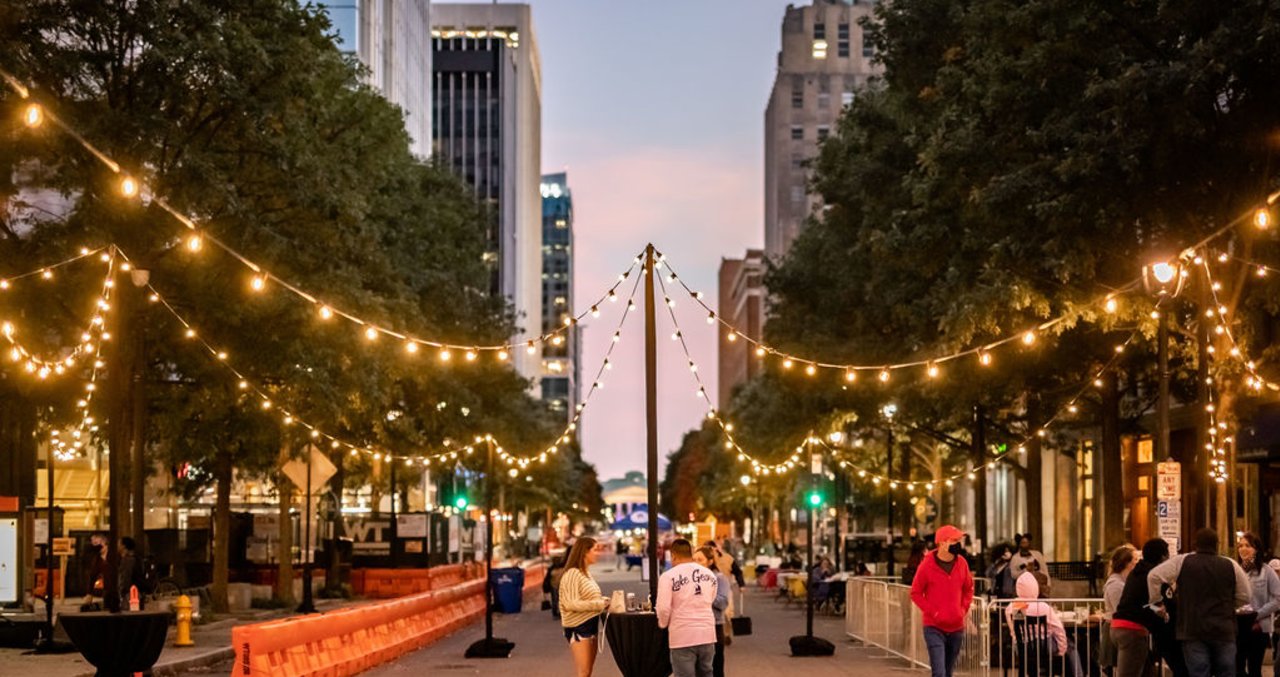 Note: Authored by David Menconi, this piece has been produced in partnership with Raleigh Arts. Menconi's latest book, "Step It Up and Go: The Story of North Carolina Popular Music, from Blind Boy Fuller and Doc Watson to Nina Simone and Superchunk," was published in Oct. by University of North Carolina Press.
---

You could say that First Friday is back in downtown Raleigh—except that it never completely went away, not even during the worst depths of the 2020-21 COVID-19 pandemic shutdowns.
"We keep hearing about 'the return of First Friday,' but we've been holding in-person events since the spring," says Taylor Rankin, senior marketing and communications manager for the Downtown Raleigh Alliance. "Before that, we kept it going virtually with videos, interviews with artists, public-art maps for self-guided tours through downtown. Just trying to keep it alive through the pandemic."
With arts venues and events tentatively stirring back to life, First Friday is gearing up for a busy fall as part of downtown's festival season. The Aug. edition on Aug. 6 featured a "Dine Out at First Friday" restaurant component as well as live painting, chalk drawing, a breakdance group and art-focused outdoor market. The Sept. 3 First Friday events will be focused on the City Market area, followed by the Glenwood South District on Oct. 1 and Warehouse District on Nov. 5.
First Friday has been a popular downtown monthly happening since the first one way back in Sept. of 1990. The art-walk concept was borrowed from a similar series in Baltimore, and there were a half-dozen downtown art galleries participating in the early incarnation.
As more restaurants, nightclubs and attractions like Marbles Kids Museum and CAM Raleigh turned downtown into more of a destination, increased residential construction followed. Reopening Fayetteville St. to traffic in 2006 (plus the opening of the Raleigh Convention Center in 2008) heralded the beginnings of fall festival season. Thanks to Hopscotch Music Festival (Sept. 9-11 this year), World of Bluegrass (Sept. 28-Oct. 2) and other events, downtown has come to life in a big way over the past decade.
First Friday has grown as part of that expansion, with upwards of 100 participating galleries, restaurants, bars and other downtown businesses. Whereas it started out as an unofficial grassroots event, the Downtown Raleigh Alliance took over organizing First Friday in 2007—the organization also serves as overseer regarding health issues for public gatherings, an important detail right now.
"As it relates to activation, we host and pay attention to everything going on," says Rankin. "We have the benefit of our part of it being outdoors. In general, folks do seem more comfortable with outdoor events. We'll continue to monitor the situation and make decisions based on the information we have. Our plan is to continue with outdoor events unless circumstances cause us to adjust. As for the galleries, they set their own COVID polices whether with masks, limited capacity or something else."
One of the key First Friday venues is Artspace on Davie St. at the southern end of downtown, with around three dozen artist studios and three exhibition spaces. Artspace has a busy fall planned around First Fridays, with exhibitions including artist Michelle Angela Ortiz's "Familias Separadas" and "The Remix Exhibition," featuring Artspace artists reimagining each other's work.
But this is all, of course, subject to whatever precautions are appropriate. It's a moving target situation that's can change quickly.
"Artspace has had a mask policy throughout the entire pandemic, which has not changed," says Artspace CEO Carly Jones. "We thought we might be at the tail end of it, but here we are again. We will continue to follow mandates and stay as safe as we can. We're watching closely but also going forward, trying to invite people back and give folks a way to support the arts."
A free event open to all, First Friday is celebrated on the first Fri. of each month in downtown Raleigh. See all the details for the Sept. 3 event here. 
Header photo by Richard Barlow
Comments