Holiday Favorites: Light Displays and Christmas Tree Lightings in Raleigh, N.C.
Tuesday, November 12, 2019, 1pm by visitRaleigh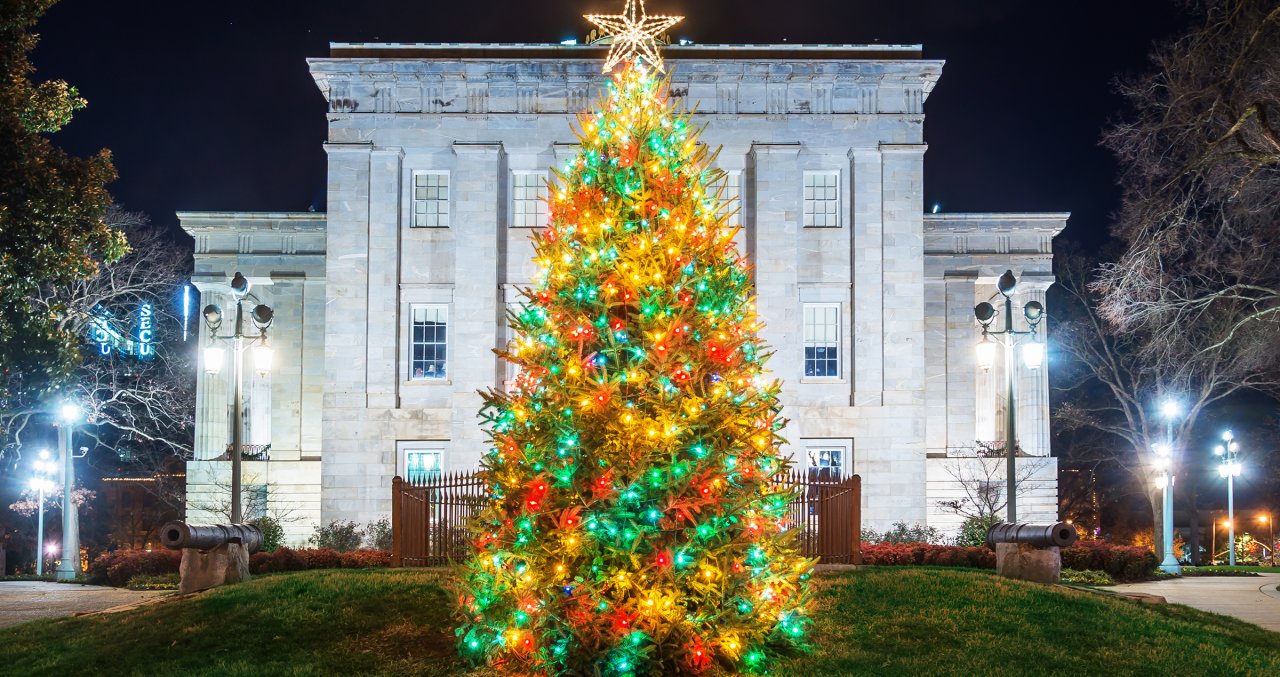 Note: The below events and activities are from a previous year. For safe, distance-friendly ideas in 2020—light displays, drive-in movies and more—please see this updated page. Thanks and happy holidays!
During the holiday season, the Raleigh area is aglow with light displays, tree lightings and other seasonal presentations. These are some of the best happenings and places for Christmas and other holiday pageantry!
 
Waverly Place Tree Lighting & Holiday Concert
Nov. 22
Join Cary's Waverly Place for dinner and socializing, plus get into the spirit of the holiday season as DJ Gary Gibson spins holiday tunes at the Waverly Place Tree Lighting on Fri., Nov. 22. Mingle with strolling holiday characters (including Santa's elves!) as they hand out candy and stickers for kids.
 
Park West Village's Winter Wonderland
Nov. 22-24
Share the excitement of the fast-approaching holiday season in Morrisville with Park West Village's Winter Wonderland during the weekend of Nov. 22. Bring the family for storytime with Santa, fun train rides, dance performances, sledding slopes and live music. The Magical Winter Lights show is back this year featuring a colorful holiday light display all weekend long at Park West 14 Cinemas, where a 3D projection and mapping system will bring the walls of the theater to life with animation set to holiday music.
 
North Carolina Chinese Lantern Festival-Cary
Nov. 22, 2019-Jan. 12, 2020
A super trip-worthy event for the whole family returns for a fifth straight year! The North Carolina Chinese Lantern Festival brings more than 20 larger-than-life lanterns to Koka Booth Amphitheatre in Cary. Made up of thousands of LED lights, displays light up the skies and mesmerize visitors on this one-hour walking tour (have your cameras ready for the spectacular phoenix that sits on Symphony Lake!). Beyond beautiful lanterns, the ticketed festival also welcomes a showcase of Chinese culture—nightly performances featuring martial arts, traditional dance, acrobatics, drum performances and more.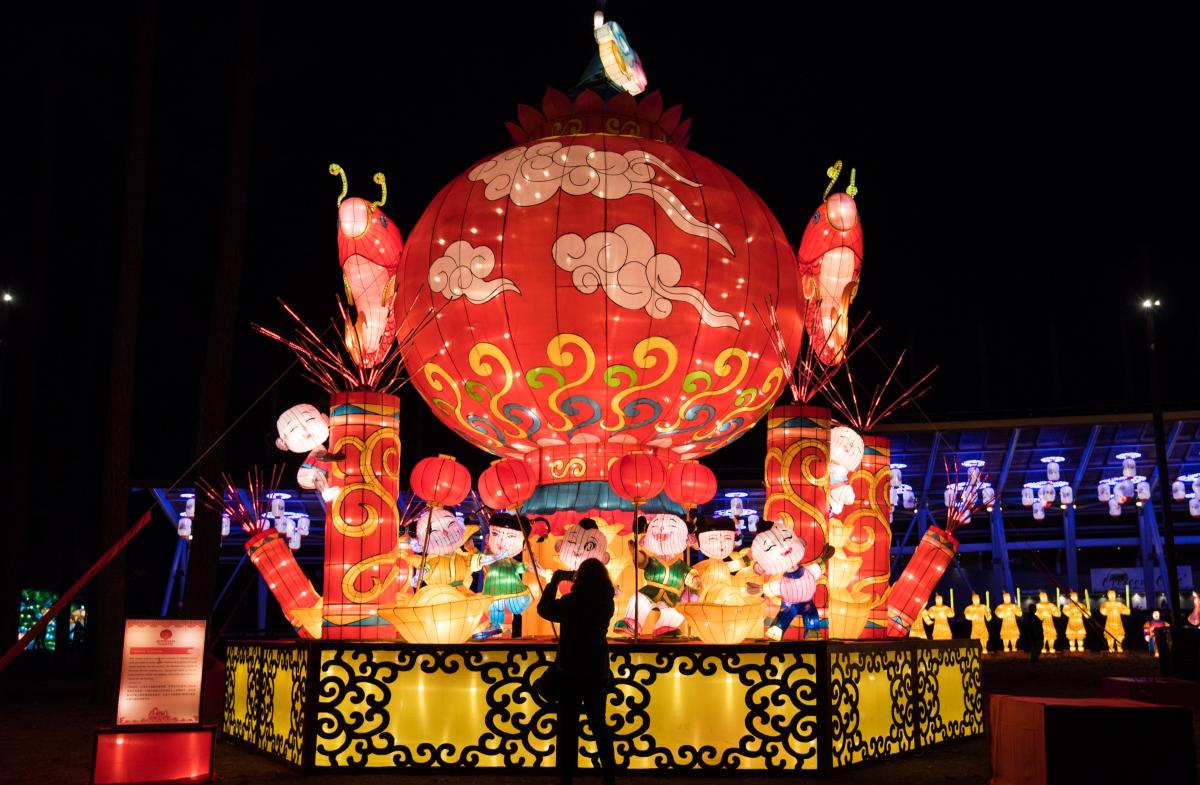 Downtown Raleigh Tree Lighting Celebration
Nov. 23
Save the date for the Downtown Raleigh Tree Lighting Celebration! Arrive early for dinner and socializing in downtown with family and friends, then make your way to Lichtin Plaza at the Duke Energy Center for the Performing Arts at 6pm to enjoy some tasty snacks and beverages from local vendors (Videri Chocolate Factory, lucettegrace, Che Empanadas and more), live performances, a Marbles Kids Museum booth, local retails shops and free activities for every age. Mayor Nancy McFarlane will light the holiday tree, and a variety of performers will fill the stage for the duration of the event.
 
Annual North Hills Tree Lighting
Nov. 23
The annual lighting of a 41-foot-tall Christmas tree, a visit from Santa Claus, trackless train rides for kids, live music and plenty of vendors on hand make this celebration an equally great event for families and a fun date idea in North Hills. Arrive a tad early to join in on the Holiday Sip & Shop to knock out some shopping at local retailers like Peter Millar, Quail Ridge Books, Scout & Molly's plus more while enjoying complimentary hot chocolate and cider.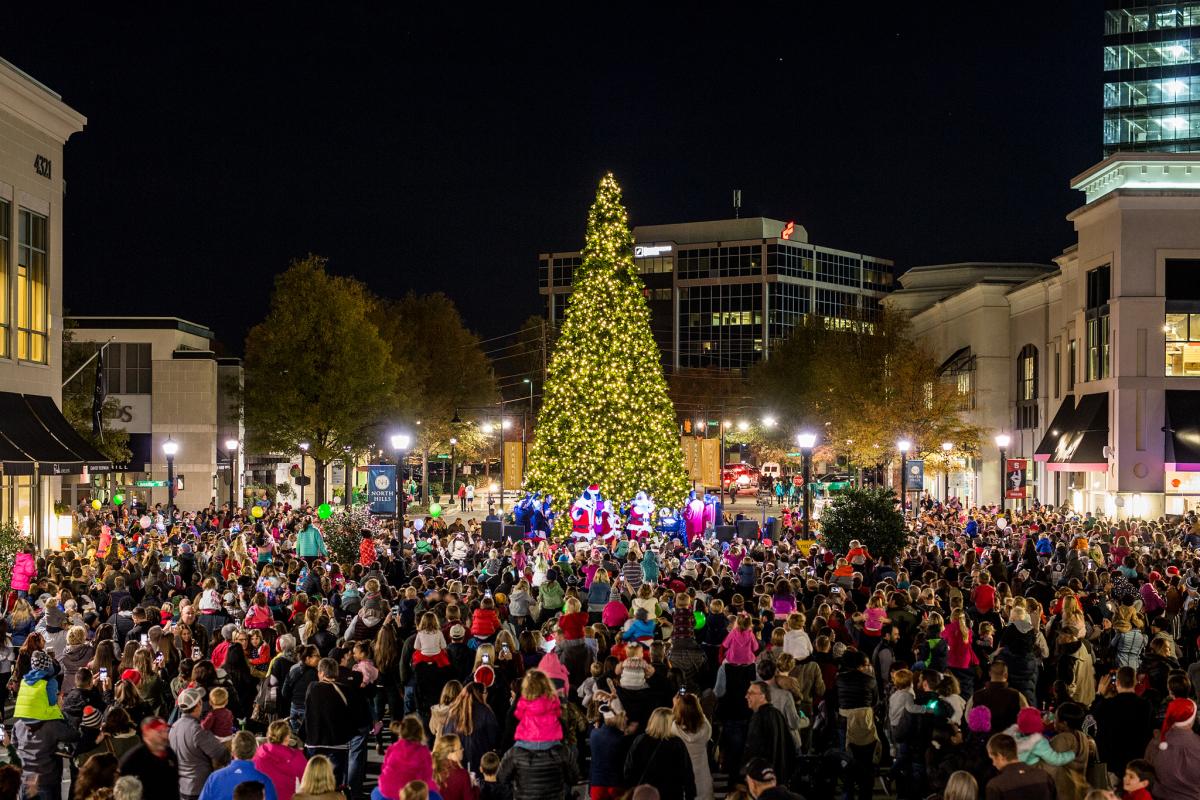 Wendell Wonderland/Lake Myra Christmas Lights
Light show runs Nov. 27-Dec. 31; Wendell Wonderland festival is Dec. 6
A perfect chance to experience historic downtown Wendell, with a visit from Santa Claus, trolley rides through town, live music local vendors and more. One of the area's most popular light shows, the Lake Myra Christmas light display will also be in full swing, featuring more than 400,000 lights—and it's all free! Wendell Wonderland is a one-night event, but the light show runs daily through the end of the year.
 
Piper Lights
Nov. 29, 2019-Jan. 3, 2020
In Wake Forest, Piper Lights—a family-run light display that's been in action for 30 years now—is set for another big holiday season. The seven-acre light display that connects yards and jumps across a pond received national recognition in 2016 when they were named winners on ABC television network's Great Christmas Light Fight. Enjoy this year's light display at 5725 Fixit Shop Rd.
 
State Capitol Tree Lighting Ceremony
Dec. 12
With luminaries lighting the Capitol grounds and local choral groups filling the air with seasonal songs, the lighting of the tree at the North Carolina State Capitol building is a sign for many that the holiday season is officially here. After the lighting of the tree, stick around to tour the inside of the Capitol, covered in wreaths and draped in garland.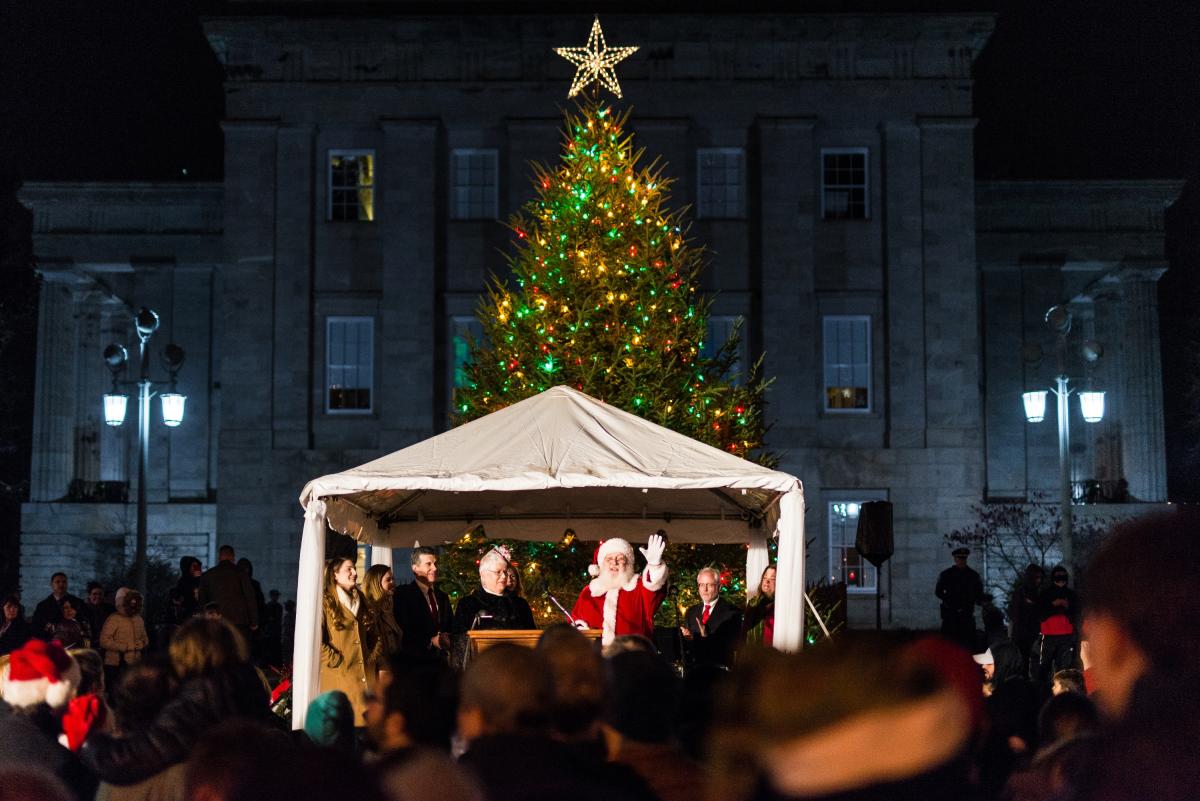 48th Annual Historic Oakwood Candlelight Tour
Dec. 14-15
Historic Oakwood, a community of homes, many of which are dated to the mid-1800s to early 1900s, has its own small town feel. Elegantly decorated for the holidays, you can step inside about a dozen private homes, staffed with docents who tell the rich history of this Century Victorian neighborhood.
 
Town tree lightings
For that small town, holiday feel, join one of the following towns for a local tree lighting ceremony:
Zebulon: Downtown Tree Lighting Festival (Nov. 22)
Rolesville: Holiday Tree Lighting (Dec. 3)
Fuquay-Varina: Town Tree Lighting (Dec. 5)
Apex: Christmas on Salem Street (Dec. 6-8)
Morrisville: Tree Lighting (Dec. 6)
Garner: Light Up Main (Dec. 6)
Wake Forest: Lighting of Wake Forest (Dec. 6)
Knightdale: Christmas on First Avenue (Dec. 7)
Cary: Christmas Tree Lighting (Dec. 7)
Holly Springs: Main Street Christmas (Dec. 13)

Header photo: Bill Dickinson
Comments