Hopscotch Music Festival Returns to Raleigh, Sept. 8-10
Thursday, August 11, 2022, 9am by David Menconi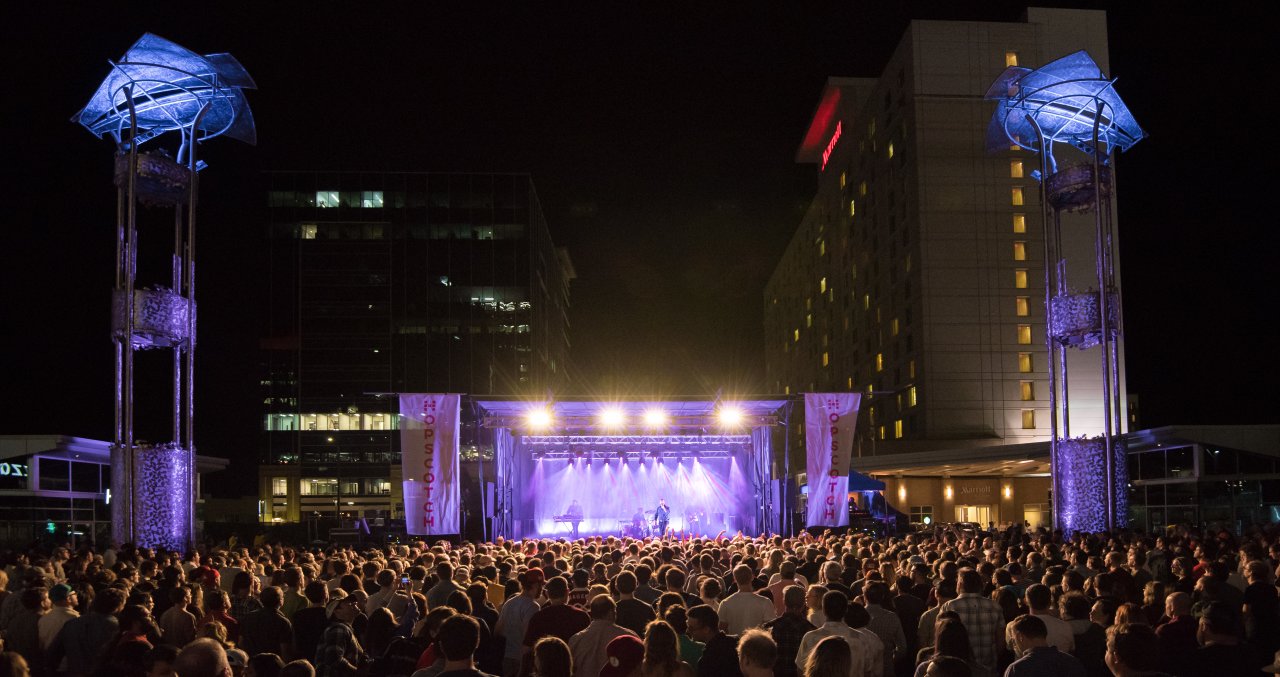 A truly homegrown event, Hopscotch Music Festival—previously touted as America's "(secretly) best music festival" and "premiere experimental and underground festival"—has been a September staple in the City of Oaks since its inception in 2010. The 2022 dates have been set, lineup released and tickets have gone on sale—don't miss out!
---

Hopscotch Music Festival, the 13th edition of which will return to downtown Raleigh the weekend of Sept. 8-10, is still not 100% back to normal. But it's getting closer with the 2022 model, based on one key indicator--following last year's all-outdoor version, Hopscotch 2022 will feature at least two indoor clubs returning to the venue rotation.
"We are gonna do some club stuff, although it won't be the same as it used to be for a couple of reasons," says director Nathan Price. "First, there aren't as many spaces now. And also, we don't want anybody to feel like they have to be inside. A lot of people are still uncomfortable with club-type situations. We used to have an indoor capacity of thousands at night, but now just a fraction of that is available. Getting back to that level would involve putting production into empty spaces and the costs of that would be astronomical."
Current plans call for night-time Hopscotch shows at The Pour House Music Hall and Slim's Downtown. These nightclub shows will be free, along with the usual array of day parties at different spots around town.
The main stage action will be outdoors on stages at City Plaza and Moore Square with Australian singer/songwriter Courtney Barnett, Sonic Youth's Kim Gordon and indie pop star Perfume Genius among this year's main headliners. Moore Square will also be the site of a vendors market being put on in collaboration with Pop-Up Raleigh.
Both general-admission and VIP tickets are on sale now, starting at $175 for the three-day event (single-day tickets, and even single-show tickets are also available). 
Hopscotch also has much lineup goodness further down the bill, with locals Al Riggs, Truth Club and Reese McHenry in the mix. There were 29 acts on the Hopscotch poster released in late July, and the newly-released schedule shows 45 total acts taking to the stage across the three days.
"I think we'll have a good year," says Price. "Some of the bands coming in will play two sets—one on a main stage and one in a club—and the bands playing are a little bigger overall than last year."
Hopscotch has had a trying couple of years following 2019, the last year before the coronavirus pandemic. More than 120 acts played 11 venues across downtown Raleigh, with 40-plus free day parties. An estimated 25,000 people attended.
Then came the pandemic shutdown, which caused 2020's Hopscotch to move to an online-only virtual format. Last year featured a return to in-person, with a smaller lineup performing outdoors at Moore Square and City Plaza, topped by Animal Collective and Flying Lotus. 
Getting back to the 2019 level and beyond remains an aspirational goal. But virus protocols have been a moving target.
"It's not impossible to imagine getting back to that size, but it's hard to plan for," says Price. "When we started planning last year, it looked like everything would open back up as soon as possible. Then we started seeing reports about the Delta variant of the virus, and it was obvious that would be a real problem. I hope it won't be like that again, but it's hard to know."
Visit hopscotchmusicfest.com for full lineup, schedule and ticket details, plus host hotel information for your stay in Raleigh, N.C.
More upcoming festivals and events in Raleigh, N.C.
9th Annual CaribMask Carnival, Aug. 20
Kevin Hart at PNC Arena, Aug. 20
Packapalooza (feat. American Aquarium), Aug. 27
2022 Toyota Minor League Cricket Championship, Aug. 27-28
46th Annual Arts and Crafts Festival, Aug. 27-28
Raleigh Little Theatre presents Pride and Prejudice, Sept. 16-Oct. 2
BugFest, Sept. 17
Asia Fest and Dragon Boat Festival, Sept. 17
La Fiesta del Pueblo, Sept. 18
Farm Aid 2022, Sept. 24
Farmers Fall Festival in downtown Cary, Sept. 24
IBMA Bluegrass Live! powered by PNC, Sept. 30-Oct. 1
Hum Sub Diwali Festival, Oct. 8
N.C. State Fair, Oct. 13-23, 2022
Comments