Artist Kiara Sanders Features Tar Heel Music Legends in "Together Raleigh" Bus Shelter Project
Monday, January 11, 2021, 5pm by David Menconi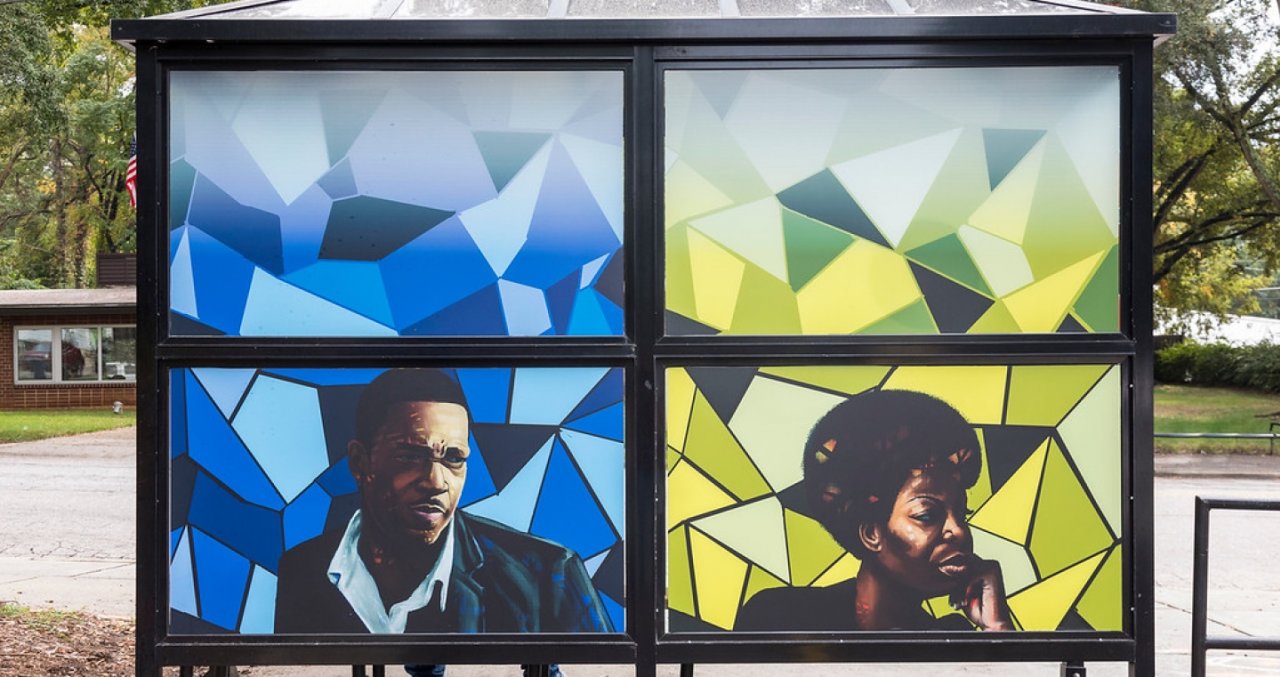 Note: Authored by David Menconi, this piece has been produced in partnership with Raleigh Arts. Menconi's latest book, "Step It Up and Go: The Story of North Carolina Popular Music, from Blind Boy Fuller and Doc Watson to Nina Simone and Superchunk," was published in Oct. by University of North Carolina Press.
---

The Together Raleigh project transformed 10 bus-stop shelters across the City of Oaks into intriguing and beautiful works of art in 2020—worth seeking out to view even if you're not catching a bus. One of the project's most striking works is "Nina, a Monk, and a Trane"—the work of artist Kiara Sanders—at the bus shelter located on the north side of Pecan Rd. just east of South Saunders St. (on the 7 and 7L bus lines). 
"Nina, a Monk, and a Trane" is a rendering of three of the most iconic North Carolina-born musicians in the state's history: Rocky Mount native Thelonious Monk, an all-time great jazz pianist and composer; saxophonist John Coltrane of "Giant Steps" fame, a native of Hamlet; and Tryon-born singer Nina Simone, voice of the Civil Rights Movement.
Sanders, a 28-year-old Raleigh native, used a digital sketchpad to draw portraits of all three musicians based on reference photos, each of which were transposed from black-and-white to color. For backdrops, she added brightly shaded geometric shapes that look like stained-glass windows from a church. The images were printed out as a vinyl print and affixed to the bus-shelter walls.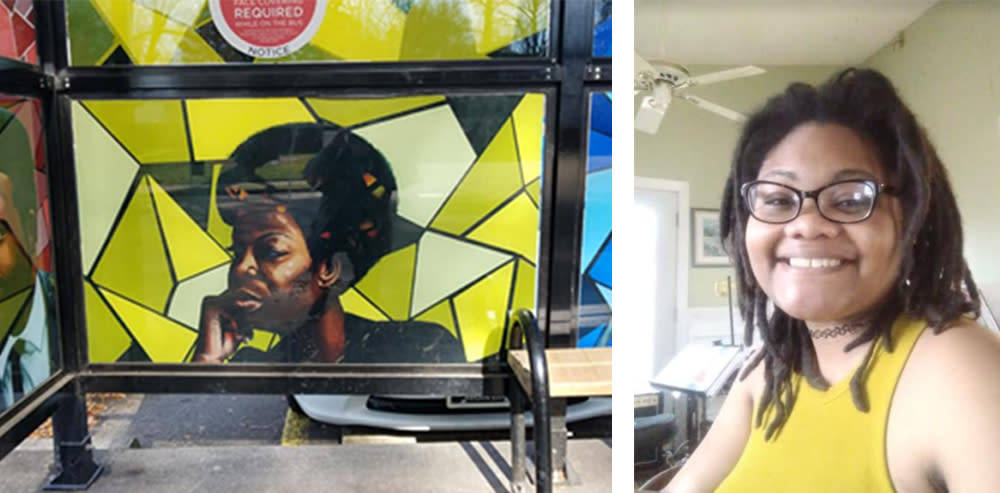 This particular technique was something of a departure for Sanders, whose usual medium is acrylic or oil paint on canvas. Public murals are also relatively new for her; she just started doing them last summer, including a hand-painted portrait of the legendary Piedmont blueswoman Elizabeth "Libba" Cotten on a bus shelter in Chapel Hill. But she's rarely depicting celebrities in her work.
"My main focus is portraits of people, mostly people I know who are not famous," she says. "But I also love learning about human history and psychology. It's a curiosity thing, discovering people who may have been forgotten about. Like Elizabeth Cotten, who I did not know about until recently seeing signs about her around the city. I just hope my artwork is educational to people in that way."
Sanders has similar educational hopes for "Nina, a Monk, and a Trane." Even though they're all figures of towering importance in musical history, their connection to North Carolina is not widely known.
"Prior to going to school at North Carolina Central, I knew very little about them," she says. "A little about Coltrane and Nina, but nothing at all about Monk. Then I went to a few programs in the jazz department and learned more about their music. I had not known they were all three from North Carolina before that. The Together Raleigh project focuses more on Raleigh subjects, but I wanted to make it more statewide. Share the knowledge that North Carolina is not some boring old country state. There's a lot of art and creativity here."
Read more about Together Raleigh, find other bus shelter locations and see more of the art here. You can find more of Kiara Sanders' work on her website or on Instagram. 
Header photo courtesy of Raleigh Arts is by Teresa Moore
Comments