The Longleaf Film Festival Returns to the North Carolina Museum of History, May 12-13
Thursday, April 27, 2023, 9am by David Menconi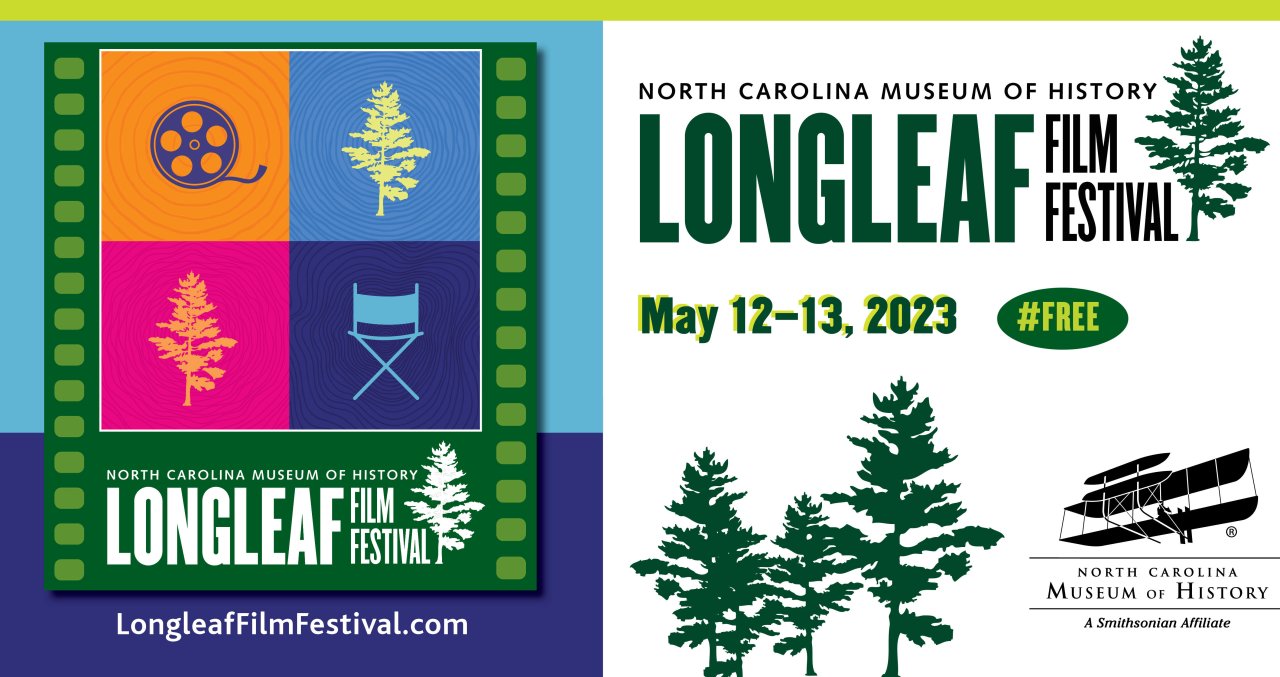 Note: Authored by David Menconi, this piece has been produced in partnership with Raleigh Arts. Menconi's latest book, "Step It Up and Go: The Story of North Carolina Popular Music, from Blind Boy Fuller and Doc Watson to Nina Simone and Superchunk," was published in 2020 by University of North Carolina Press, and his podcast, Carolina Calling, explores the history of the Tar Heel State through music.
---

The North Carolina Museum of History's annual Longleaf Film Festival was not initially intended to be a recurrent event. The first one happened in 2015 in conjunction with an exhibit about the state's filmmaking history, Starring North Carolina.
But like a successful Hollywood film franchise, it went so well that sequels were inevitable, and Longleaf became a signpost yearly event. After going virtual in 2020 and 2021 because of the pandemic, the festival returned as an in-person event in 2022. And the 2023 model will be the ninth annual festival, back as another free program at the museum the weekend of May 12-13.
"We thought it would be a one-and-done event, but here we are at year nine," says festival director Sally Bloom. "There's a long history of filmmaking in North Carolina, and this works because of our long connection to films in this state."
Indeed, numerous high-profile films and television series have been made in the Tar Heel State over the years: "The Last of the Mohicans," "Blue Velvet," "Dawson's Creek" and "Three Billboards Outside Ebbing, Missouri" among them. That's the backdrop to the festival's mission of spotlighting the best of N.C.-connected independent filmmaking, "with a continued commitment to sharing impactful stories, including those about race and community."
This year's festival schedule features 69 films showing in and around the museum—including a Friday night "Movies-N-Moonlight" event—along with a program of workshops and receptions. Film categories include short films as well as feature-length works, narrative films, documentaries, films made by high school and middle-school students, and "History Plus" films directly related to the state's history.
Typically, the festival draws between 150 and 250 entries per year. Bloom watches all of them before passing entries along to a panel of judges, who narrow the selections down to the final lineup.
"Two things make us unique," says Bloom. "First, we're free to attend. That's part of the museum's public-service component in trying to bring in people who might never go to a film festival otherwise. The other thing is that all the films are required to have a North Carolina connection, either for the people who make them, location or subject matter."
Notable films this year include "Tableau," a no-budget movie made in Chapel Hill with some hit-and-run techniques by necessity. One scene in a crosswalk by the Carolina Inn was made one 20-second traffic-light interval at a time, because the filmmakers were not able to close the road for filming.
There's also "How To Survive Your First Date," a parody of old black-and-white instructional films; "Palm Sunday," which was inspired by a young Black man's real-life efforts at integrating an all-white church in Raleigh in the 1970s; "My Name Is Merle," about the annual folk festival MerleFest; and "Sammy, Without Strings," a surreal work in which an animated puppet flees the stage after falling in love with an audience member.
Workshops include "Directing for the Actor/Acting for the Director," "Introduction to Virtual Prodution" and "Our Strange New Land: Narrative Movie Sets in the American South." All the festival's events are free, but some do require advance registration due to space limitations.
"We have a lot of fun things to do," says Bloom. "Screenings both indoors and out, receptions, workshops. We really believe in these filmmakers and what they're doing, and also in the fans. If you're a longtime film festival-goer, great, there's a lot for you here. And if you're new to this, we welcome you and make it easy. Also, there's free popcorn. That's hard to beat."
For lineup, schedule and registration information, see longleaffilmfestival.com.
Longleaf Film Festival schedule
Fri., May 12
5-7pm, Daniels Auditorium
Amelia Cameron, "Homer: Great Teller of Tales" (12 minutes)
Hart Ginsburg, "Tsuki-kage" (4 minutes)
Robert Kinlaw, "My Name Is Merle" (50 minutes)
Rob Underhill and Evelyn Putnam, "I'm A Ukranian, 'Bordertown'" (6 minutes)
Rebecca Branson Jones, "Linda & Henry" (28 minutes)
Angie Sue Staheli, "Ain't Nobody Seems Them" from "Finding Patience, the Musical" (5 minutes)
6:15-8:15pm, Demonstration Gallery and Atrium, Lobby Level
Reception for Filmmakers and Friends
8:30-10pm, Bicentennial Plaza outside front entrance
Chip Hackler, "1st Memory" (1 minute)
Hart Ginsburg, "Moon Shadows" (3 minutes)
Brandon Talton, "Welcome to Sockville" (12 minutes)
Madison Crisp, Abby Davenport, Fern Singleton and Vic Sosa, "Sonata" (4 minutes)
Emory Rice, "Fortune" (4 minutes)
Grace Battle Thompson, "Down the Line" (6 minutes)
Anil Dhokai, "Grandma's Hats" (15 minutes)
Anita Clark-Anderson, "ARE YOU _____?" (5 minutes)
Rob Underhill and Hugh Oyake Murchison, "The Line Jumper" (6 minutes)
Kevin Murray, "A Twistful of Dollars" (18 minutes)
Sat., May 13
9-10:30am, 5311 Old Poole Rd., Ste. 100
"Introduction to Virtual Production" workshop for filmmakers
11am-noon, Demonstration Gallery, Lobby Level
"Directing for the Actor/Acting for the Director" workshop
11am-1pm., Daniels Auditorium
Jason Stokes, "You First" (8 minutes)
Peter McDowell, "Jimmy in Saigon" (89 minutes)
Katie Damien, "Hope Rising" (6 minutes)
11am-1pm, Longleaf Classroom, SECU Education Center Level R
Raymond Wallace, "The Battle of Roanoke Island: Story of an Eye Witness, Musically Portrayed by Charles Grobe (8 minutes)
JC Summerford, "Rockie Lynne: Where I Belong" (85 minutes)
Dip Mazumder, "Here and Now," 14 minutes)
11am-1pm, Dogwood Classroom, SECU Education Center Level R
Michael Moore Pearce, "RHD: Hidden Diagnosis" (29 minutes)
Warren Gentry, "For the Common Good: In Uncommon Times" (57 minutes)
Dylan Crumpler, "Petals of a Rose" (15 minutes)
1-3pm, Daniels Auditorium
Michael Delano, "Dear Mom" (3 minutes)
Stuart Howes, "Tablueau" (72 minutes)
Clarke Phillips, "Suga Brown" (18 minutes)
Debbie Vu, "Ma's Kitchen" (12 minutes)
1-3pm, Longleaf Classroom, SECU Education Center Level R
Meagan Massa, "In the Rearview" (6 minutes)
Addie Navarro, "Down River Jordan" (60 minutes)
Mike O'Connell, "George H. White: Searching for Freedom" (26 minutes)
Bob Celli, "My Over There" (13 minutes)
1-3pm, Dogwood Classroom, SECU Education Center Level R
Patricia Allison Bradley, "Meet Mr. Teeny of Hooper's Creek" (2 minutes)
Garrett Martin, "The River Runs On" (56 minutes)
Marisa Cohen and Peter Isaac Alexander, "The Cloaked Realm, 'Tunnel 23'" (23 minutes)
Patricia Allison Bradley, "Sallie Blink" (2 minutes)
Elijah Yetter-Bowman, "Angel of Alabama" (25 minutes)
2-3pm, Demonstration Gallery, Lobby Level
"Our Strange New Land: Narrative Movie Sets in the American South" discussion
3-5pm, Daniels Auditorium
Megan McDeavitt, "Dead Fair" (3 minutes)
Christine Delp, "Pickup" (13 minutes)
Linda Veneris, "Road Rage" (8 minutes)
Ilia Silverstein, "Ryde" (22 minutes)
Dan Sellers, "Brother's Keeper" (6 minutes)
Alvin Sloan, "Joyriders" (20 minutes)
Cameron Parker, "Sunset" (11 minutes)
Jim Boemio, "Masterpiece, Episode 1: 'Overture'" (6 minutes)
Graham High, "The Housesitters" (16 minutes)
3-5pm, Longleaf Classroom, SECU Education Center Level R
Michael Joseph Murray, "Marcel, the Muscle Man" (14 minutes)
Natalie Burchert, "Sell the Girl" (11 minutes)
Isabella Haddon and Jordan Zamojcin, "Sundown" (13 minutes)
Evan Kidd, "First Final Ride" (11 minutes)
Jim McQuaid, "Last Words: Mary" (15 minutes)
Brian J. Hutchins, "Anniversary" (12 minutes)
LaLa Halsema, "Potluck" (15 minutes)
Estes Tarver, "Fall Dance" (13 minutes)
3-5pm, Dogwood Classroom, SECU Education Center Level R
John Reardon, "Escape! From Long Island" (80 minutes)
Walter Ernest Haussner, "Xpendable" (30 minutes)
5-7:30pm, Daniels Auditorium
Justin Meckes, "The Anxieties of a Reluctant Japanophile" (10 minutes)
Hart Ginsburg, "Moon Shadows, Part 2" (3 minutes)
Kieran Moreira, "Lungs" (11 minutes)
Justin Meckes, "Escape Artist" (3 minutes)
Reese Robers, "How to Survive Your First Date" (9 minutes)
Griffin Hart Davis and Wes Salisbury, "0530: Riding in the Dark" (28 minutes)
David Baeumler, "60 Second thoughts: Volume Two" (4 minutes)
Noah Campagna, "And Away" (16 minutes)
Jim Haverkamp, "The Voice in Isabel Fleiss's Office" (6 minutes)
Wes Andre Goodrich, "Palm Sunday" (15 minutes)
Andre Silva, "Revelation to the Disembodied" (9 minutes)
Ralph Parker III, "Sammy, Without Strings" (16 minutes)
7:30-11pm, Daniels Auditorium
Awards ceremony and wrap party
Comments