How Three of Raleigh's Arts Organizations Are Preparing for an Uncertain Year
Friday, February 12, 2021, 2pm by David Menconi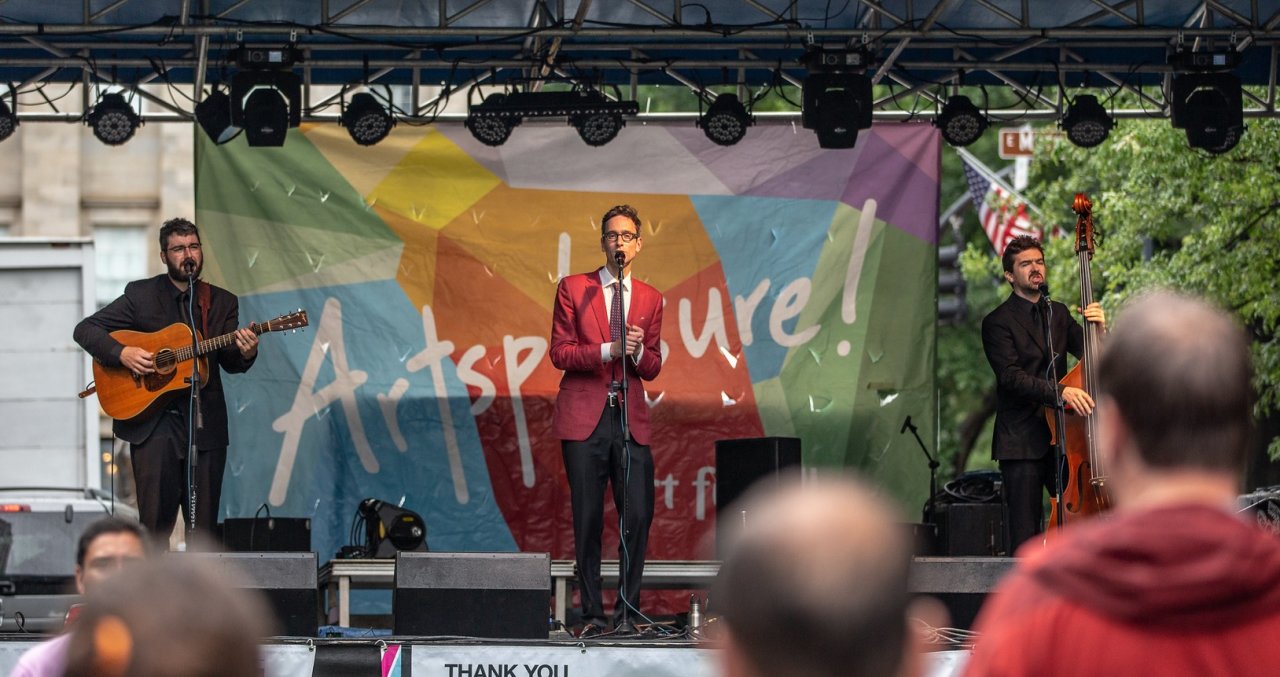 Note: Authored by David Menconi, this piece has been produced in partnership with Raleigh Arts. Menconi's latest book, "Step It Up and Go: The Story of North Carolina Popular Music, from Blind Boy Fuller and Doc Watson to Nina Simone and Superchunk," was published in Oct. by University of North Carolina Press.
---

With coronavirus vaccines gradually becoming more widely available, the nation and world might finally be getting a handle on the pandemic. There's not yet a light at the end of the tunnel, but arts presenters in Raleigh, N.C., are already working on an array of scenarios about what might be possible for the rest of 2021.
It is, of course, all speculative at this point.
"Right now I feel about as optimistic about this summer and fall as I did a year ago, when we were all thinking we'd just shut down a little while and be right back," says David Brower, executive director of the Piedmont Council of Traditional Music (Pinecone). "You see how that went. But I'm hoping that, by fall, the folks getting vaccinated now will have lived with it long enough to have changed their comfort levels."
Pinecone is "working on Plans A through F" on starting to do live shows again this summer, Brower says, including reserving multiple venues for events to see which one will be safest and most appropriate. Perhaps the biggest Pinecone question is the fate of International Bluegrass Music Association's World of Bluegrass, downtown Raleigh's biggest annual live music festival. Last year's event was an all-virtual online affair. As for what happens Sept. 28 through Oct. 2 this year?
"We're exploring options about spreading the footprint out further or limiting crowds," says Browner. "But that's always been the beauty of the thing, the massive sea of humanity up and down Fayetteville St. The city loves that and so do the sponsors, and all the crowds that come to drink beer, eat food. We'll see."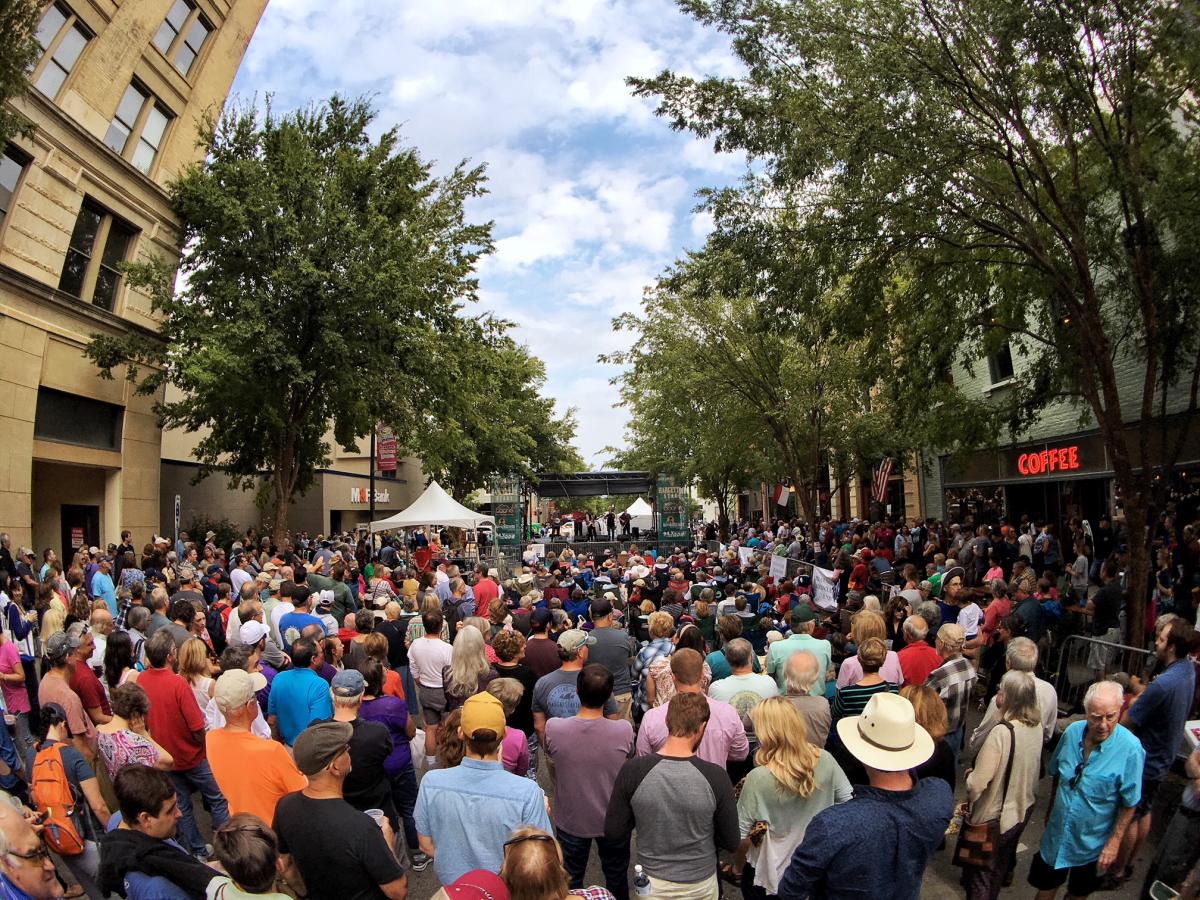 Another signature downtown event is Artsplosure, which customarily draws 80,000 people to downtown Raleigh during the third weekend of May. But that will not be the case this year.
"Based on the way things look with the pandemic and protocols from the state and city, we're not gonna be able to do an event on May 15-16 that will make the audience, vendors or juried artists happy," says Michael Lowder, Artsplosure's executive director. "So we're postponing until Oct. and hoping things are better then."
If Artsplosure happens then, it will make an already-crowded fall festival season that much busier. But organizers felt they had no choice.
"As much as we want to get back to doing events, the first priority is what's responsible and safe," says Artsplosure program director Cameron Laws. "People are so motivated to have experiences right now, even altered. So what can we do safely, in good conscience? It's a hard question. The entire event-production industry has been trying to keep pace with this moving target."
After Artsplosure canceled last year, festival management did produce some pandemic-friendly events like the Night of Lights drive-through holiday light display at Dorothea Dix Park in Dec. Assuming Artsplosure can happen this fall, the next question will be about First Night Raleigh, the New Year's Eve celebration that's been an annual tradition for more than 25 years in downtown Raleigh. Lowder and Laws both have their fingers crossed that the show will go on.
"The staff and board of Artsplosure have done a good job of preserving assets," says Lowder. "It's a stable organization, and we're not going anywhere. When the time comes to relaunch, we'll have the resources to do that quickly."
Also rolling with the changes is Raleigh Little Theatre, which postponed its entire 2020 season last year in the face of the pandemic. Management has been trying to figure out what this year's programming might look like—a mix of virtual and in-person events, the latter with limited audiences.
"We're pretty fortunate to also have an outdoor amphitheater," says Raleigh Little Theatre executive director Heather J. Strickland. "We're looking at programing outside in the warmer months as much as we can, and also doing shows with one, two, maybe three people—smaller casts and production requirements."
One such example will be Snow White. Scheduled for March 13-21 at Raleigh Little Theatre's outdoor Louise Stephenson Amphitheatre, it's a quirky version in which all parts are played by just two actors.
Beyond that, it's still not clear how many large-scale, conventional indoor productions will be possible as 2021 progresses. What might be safe and responsible for staff and audiences will largely depend on what happens with the pandemic, nationally as well as locally.
"As hard as the past year has been, I am proud of how scrappy we've been through all this and what we've been able to accomplish," says Strickland. "It hasn't looked normal and we're not making money because no one is right now. But we've kept connected to the community, and that's very important. It's been a huge financial hit. Even when we get to where people can be together in rooms again, nothing will just pop back to where it was before. Rebuilding will take years. Still, Raleigh Little Theatre is not going anywhere."
Header photo by Brian Magee
Comments