Recipe: Chef Ashley Christensen's Pimento Cheese
Thursday, May 09, 2019, 12pm by Tabletop Media Group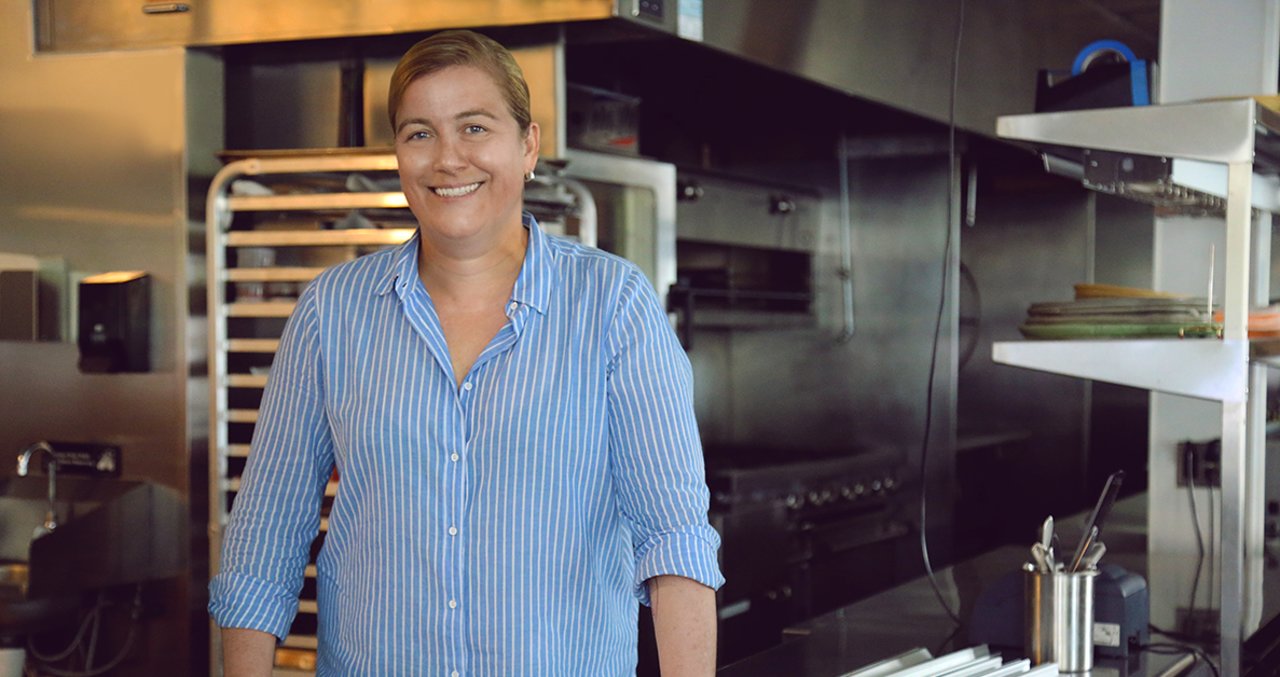 Since the opening of Poole's Diner in 2007, Raleigh, N.C., passionate mind and James Beard Award-winning chef Ashley Christensen has transformed the restaurant scene in the City of Oaks. Christensen released her first cookbook in Sept. 2016, Poole's: Recipes and Stories from a Modern Diner. Full of beautiful photography, inspiring messages and secrets to delicious meals, Christensen's cookbook tells the story of the downtown diner that tugs on the heartstrings of many folks in the capital city.
We've published a quintessential Southern recipe and its story from the book below: Ashley's pimento cheese!
You can purchase a signed copy of the book here, or at Raleigh's Quail Ridge Books (both in-store and online) or retailers like Amazon, Barnes & Noble and more.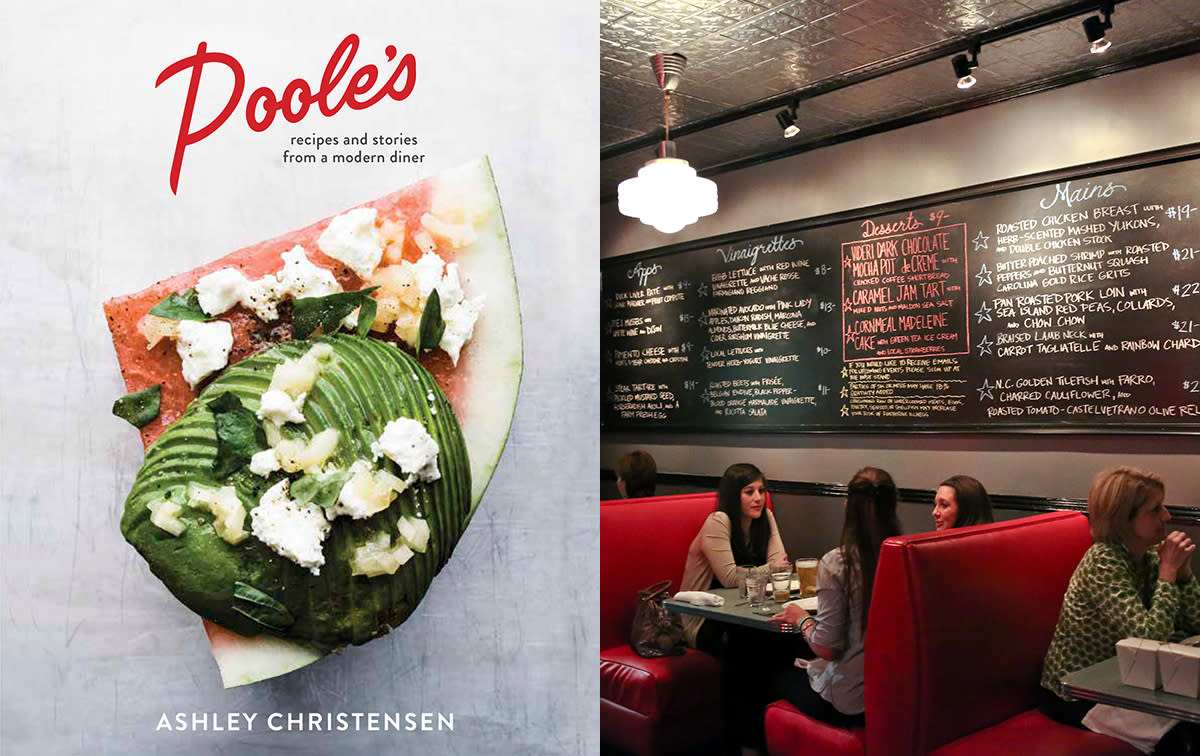 Story Behind the Recipe
"In the South, pimento cheese is a little bit like barbecue: everyone swears theirs is the best. But pimento cheese didn't originate in the South; it has roots in the industrial food revolution in New York. Sometime around the 1950s, Southerners claimed it, giving pimento cheese its now-permanent residence below the Mason-Dixon Line.
The Poole's version of pimento cheese is based on the recipe of my "grand-godmother"—my godmother's mother, Marge France. Marge was the wife of Forest "Bud" France, a decorated army lieutenant colonel and a train master for the B&O Railroad (he was the one who kept the trains running on time). Their only child, my godmother, Suzette, had no children, and Bud and Marge took on the role of grandparents to me and my brother, Zak. We called them Uncle Bud and Aunt Marge, and in many ways I felt closer to them than to my biological grandparents.
Uncle Bud was an avid golfer and often took me out with him, armed with two sets of clubs and a tiny cooler of homemade pimento cheese sandwiches packed by Aunt Marge. Halfway through a day on the links, Uncle Bud would pull the golf cart under a shade tree where we'd eat the sandwiches. For me, pimento cheese is inextricably linked with the memory of the salty South Carolina summer heat, the smell of the freshly cut grass and the outlines of my small fingers impressed in the cool white bread.
Marge's pimento cheese was so different from the soft, subtly sweet version I ate at home in N.C. (bought from our local grocer, Musten & Crutchfield). The ingredients were definitive, yet harmonious: finely grated sharp cheddar that held its form, a healthy spike of vinegar and mayonnaise in a perfect supporting role. The pimento peppers in Marge's pimento cheese even seemed to sing a little more.
Bud and Marge came to S.C. from Chillicothe, Ohio. I was mesmerized by their accents—especially how Marge pronounced the word ornery (which I occasionally was). Bud and Marge always treated me like an adult, and I loved that. I loved even more that they always treated me like I belonged to them, no matter how ornery I was. Only now, as I write this, do I realize that my pimento cheese is more connected to the North than the South, by way of Chillicothe, Aunt Marge and Uncle Bud.
Pimento cheese is a constant on the Poole's menu. We use three-year-aged cheddar, punchy cider vinegar, lots of toasted Tellicherry pepper and red peppers that we roast ourselves, in order to get the texture just right. 
We often welcome friends and first-timers to the restaurant with our pimento cheese. We jar it up and send it in the mail as a thank-you to folks who have hosted us in their kitchens, or to folks who have just been nice to us in general. We've even used it to solidify an apology or two. It tells a story, without interrupting anyone's conversation. It belongs to us, and to everyone. Every time I make it, I am reminded of those sandwiches under the shade tree, and of the importance of chosen family." -Ashley Christensen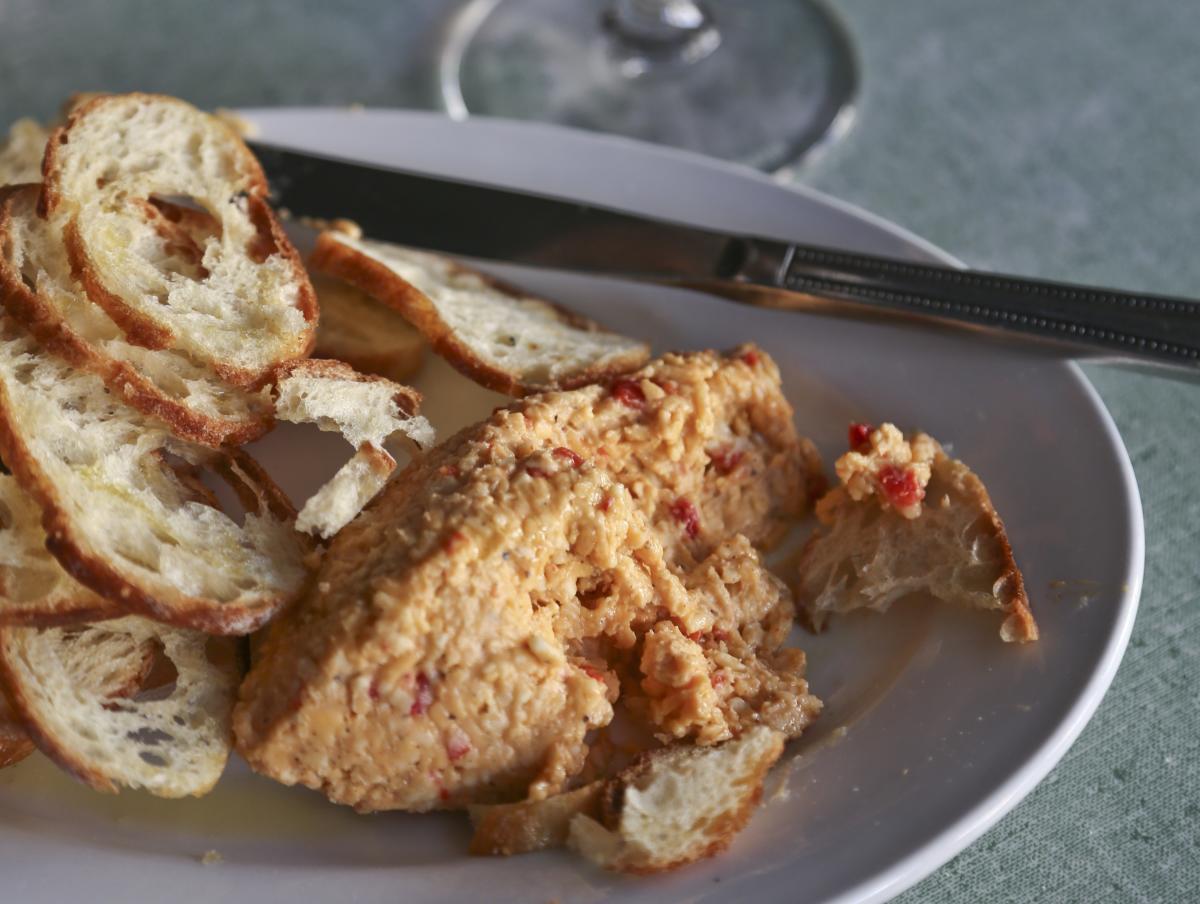 Ashley Christensen's Pimento Cheese
MAKES 6 1/2 cups; enough for 18 sandwiches
Ingredients
2 small to medium red bell peppers (14 ounces)
1/4 cup cider vinegar
1 cup Basic Cider Mayo (see recipe below)
2 tablespoons finely grated red onion
1 tablespoon finely ground toasted black pepper
1/2 teaspoon sea salt
2 tablespoons hot sauce (Ashley uses a combination of Tabasco and Texas Pete)
1 1/4 pounds three-year-aged cheddar, finely grated (Ashley uses Hook's, from Wisconsin)
15 ounces sharp white cheddar, finely grated
Crostini, for serving
Directions
To roast the peppers, place them directly over a high gas flame. Using metal tongs to safely rotate the peppers, char the entire surface of each pepper. The final step in this process is to balance the pepper on its curvy stem end on the grate of the burner to char that part. This ensures the best yield. (If you don't have a gas range, roast the peppers under an oven broiler set on high; rotate them with metal tongs so they char evenly.) 
Transfer the peppers to a metal bowl and cover with plastic wrap. Let sit for 15 minutes. Use a dish towel to gently rub off the skins of the peppers; don't run them under water, as this will wash away some of the flavor. Remove the stems and seeds, and finely dice the peppers. You should have about 3/4 cup.
To pickle the peppers, in a small bowl, combine the diced peppers and cider vinegar; refrigerate overnight. (Or, if you can't wait, let sit at room temperature at least 3 hours.)
The next day, combine the peppers and their vinegar with the mayo, onion, pepper, salt and hot sauce in a large bowl; mix well. Combine the cheeses in a separate bowl and mix well. Add the pepper mixture to the cheese and mix to combine. Let the mixture chill in the refrigerator for 1 hour before serving; it should be thick but still spreadable.
Serve with crostini or jar it up and refrigerate it for up to 7 days.
 
Basic Cider Mayo
MAKES about 1 1/2 cups
Ingredients
1 large egg yolk
1/2 teaspoon sea salt
1 teaspoon Dijon mustard
1/4 cup cider vinegar
1 1/2 cups neutral vegetable oil
Directions
In a food processor, puree the egg yolk, salt, mustard and vinegar. With the motor running, slowly drizzle in the oil until thick and emulsified. Store in a lidded container in the refrigerator for up to 7 days.
 
Reprinted with permission from Poole's: Recipes and Stories from a Modern Diner by Ashley Christensen, copyright © 2016. Book photography by Johnny Autry. Published by Ten Speed Press, an imprint of Random House LLC.
Poole's and pimento cheese photos: Angie Mosier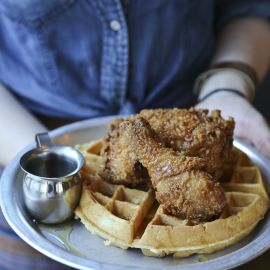 Rockstar Chef. James Beard Award-winner. Empire Builder. Chef of the Year. Chef and proprietor of AC Restaurants, Ashley Christensen is leading a culinary movement in Raleigh, N.C., with a host of dining, drinking and event spaces.
"I find a great deal of joy and inspiration working right here in Raleigh, N.C. There is something about being in a certain place at a certain time."
Comments