The Most-Anticipated Restaurant Openings of 2023 in Raleigh, N.C.
Thursday, January 26, 2023, 2pm by visitRaleigh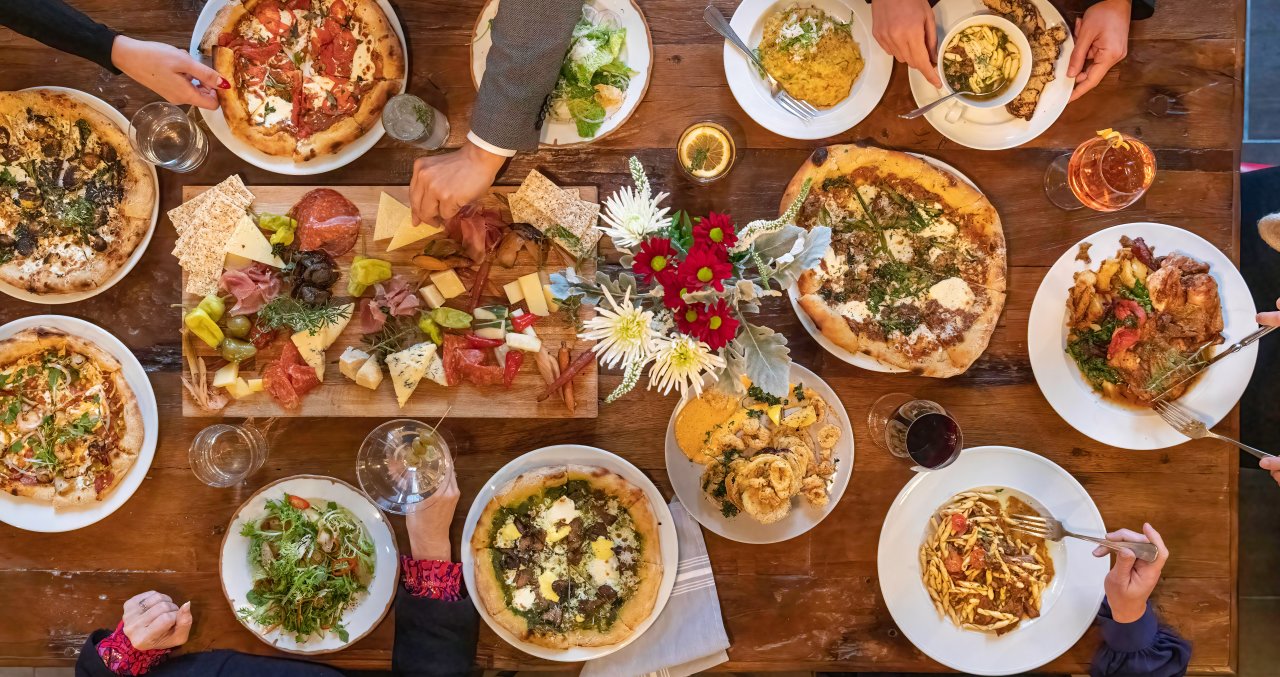 It looks like 2023 is going to be a big year for food in Raleigh, N.C. These highly anticipated restaurants have their eyes set on bringing new flavors to the City of Oaks in the coming months, a good sign for the hospitality community in Raleigh (and a great reason to plan a future visit).
This may be one of the strongest collections of coming-soon restaurants the Raleigh area has seen in many years—read below about the barbecue, pizza, taco shops and cocktail spots headed this way!
One of the Tar Heel State's most prolific restaurateurs, Giorgios Bakastias has focused on building his eatery empire within the City of Oaks in recent years. 
He opened the critically acclaimed Rosewater Kitchen & Bar in Raleigh's North Hills in 2019, and on the very same block opened restaurants number 13 and 14 for Giorgios Hospitality Group just this month. 
Las Ramblas, a Spanish tapas bar named for the famed Las Ramblas boulevard in Barcelona, features a bustling bar and open kitchen, with a menu highlighted by modern updates to traditional tapas dishes—Spanish octopus, patatas bravas, suckling pig, fried calamari, beef carpaccio and a dozen other shareable favorites (plus desserts, too).
Led by chef Brian Jenzer—whose background includes work at Momofuku Noodle Bar in New York City and the Michelin-starred restaurant Iggy's in Singapore—Las Rambles opened on Jan. 17. 
And at Giorgio Pizza Bar, thin-crust sourdough pizza from chef Jefe Lubiano—paired with Italian wine and cocktails—can be enjoyed as a meal or shared as an appetizer before tackling larger pasta, meat and fish dishes (starting with a few plates of arancini, burrata, meatballs and olives doesn't sound like a bad idea, either). 
Giorgio Pizza Bar opened on Jan. 10. 
Both restaurants feature Bakastias' typical design details—chic decor with both modern and vintage touches, large windows, views of the kitchen and ample seating options both inside and out.
Another coming-soon Bakastias project, East End Bistrot, is expected to open this year as a high-end French market and butcher shop in the Midtown Raleigh area (near East Bower Cider Company).
Address: Las Ramblas, 141 Park at North Hills St., Ste. 100, Raleigh, NC 27609; Giorgio Pizza Bar, 141 Park at North Hills St., Ste. 112, Raleigh, NC 27609; East End Bistrot, 2020 Progress Ct., Ste. 100, Raleigh, NC 27608
You probably already know Raleigh restaurateur Samad Hachby for his flagship Italian dining concept Mulino, an incredibly gorgeous space fit for date nights and special occasions that allows diners to sit poolside in a secluded courtyard with plenty of mood lighting. 
Hachby's next project, the coming-soon La Terrazza, may be the only dining space in the City of Oaks that can match (or top) Mulino's vibe. The ninth-floor location at The Dillon—a mixed-used building opened in Raleigh's Warehouse District in 2018—features floor-to-ceiling windows with a picture-perfect view of the city skyline that can't be found in any other public space in Raleigh, plus an expansive terrace (hence the name).  
The menu is expected to focus on Mediterranean and southern Italian offerings—a heavy selection of fresh seafood and artisanal pizzas—alongside a bar with an emphasis on champagne and craft cocktails.
Address: 401 W. Hargett St., Raleigh, NC 27603
First opened down the road in Chapel Hill in 2008, this iconic cocktail bar likely needs no introduction. But just in case: Gary Crunkleton's no-nonsense drinking establishment has racked up a bevy of accolades over the years, with traditional cocktails made from the hundreds of bottles of spirits on display earning titles like "one of America's best bourbon bars." 
You can't go wrong asking your bowtie-wearing bartender for a classic—an Old Fashioned, a Manhattan or a French 75—but if you want to drink a Miller High Life (one of Crunkleton's personal favorites), that's cool too. 
Opening in Raleigh's Smoky Hollow district, the Raleigh location of The Crunkleton will add food to the mix—steaks and burgers and oysters and such—cooked using an open fire. Count us in!
Address: 312 W. Johnson St., Raleigh, NC 27603
This wildly popular barbecue joint, known for its all-hickory-smoked 'cue that draws influence from Texas, the Carolinas and beyond, is set to open in Raleigh's Smoky Hollow district in the coming weeks. 
First opened just over a decade ago and thriving with four locations in Charlotte now (plus one in Columbia, S.C.), the Raleigh menu will bring the same raved-about smoked meats to the City of Oaks that Lexington-native pitmaster Matthew Barry has had so much success with elsewhere (sign us up for Carolina pork, burnt ends and beef brisket!). 
Address: 524 N. West St., Raleigh, NC, 27603
Chef Victor Albisu, a James Beard-nominated chef based in the Washington, D.C., area, brings his fast casual taqueria concept to Raleigh's Ridgewood Shopping Center this year, a decade since first opening in Northern Virginia.
At Taco Bamba, Albisu's fine-dining background is used to bring tasty, non-traditional taco concepts—ramen noodles, dressed poutine, crispy Korean-fried chicken bites and more are stuffed inside tortillas—to a wider audience at affordable prices. Tortas, empanadas and a lineup of agave-centric cocktails will be available, too.
The counter-service restaurant plans to open in the spring, with 28 seats inside and a large patio with 50 additional seats outside.
Address: 3540 Wade Ave., Raleigh, NC 27607
Speaking of tacos, the announcement of a new Chido Taco location coming to downtown Raleigh this spring was a welcome surprise, to say the least. Salvador Alvarez and Joel Ibarra—longtime veterans of the restaurant scene in the Raleigh area—opened the first Chido Taco in 2019 in the Midtown Raleigh area (and it quickly became a favorite for slow-cooked al pastor tacos, tortas, micheladas and more). 
The new location, a 3,000-square-foot space just steps from the Raleigh Convention Center and Martin Marietta Center for the Performing Arts, is sure to grow the Chido Taco fanbase. 
Address: 555 Fayetteville St., Raleigh, NC 27601
When chef Scott Crawford opens a new restaurant, it's a big deal. A five-time James Beard nominee for Best Chef: Southeast, Crawford's two restaurants—Crawford & Son and Jolie, located on the same block in downtown Raleigh—are widely known as two of the most coveted reservations a diner can score in the Raleigh area. 
A third concept, Brodeto, is expected to open late this year at Raleigh Iron Works, a mixed-use development that's combining new construction with the adaptive reuse of two impressive historic structures. 
Named for the centuries-old dish of the same name that is traditionally a simple tomato-based fish stew, Brodeto will feature a menu highlighted by said dish, along with specialty plates from both Italy and Croatia (where Crawford's travels along the Adriatic coast sparked the idea for the new restaurant).
The 4,800-square-foot space is expected to feature a large bar and outdoor patio, an open kitchen that includes a live-fire hearth and, of course, an expansive beverage program. 
Crawford has another project in the works—Crawford Brothers Steakhouse—that's slated to open in 2024 at Fenton in Cary.
Address: 2200 Atlantic Ave., Raleigh, NC 27604
The farm-to-table restaurant—paying homage to Knightdale's railroad roots—has been in the works since 2021, when Christopher Critzer and Emerald Mikeal purchased a 90-year-old home near the center of town with plans for a big renovation (an estimated $2.5 million was budgeted to turn the two-story, 4,000-square-foot home into an upscale eatery). 
In the meantime, the team has provided a sneak peak of the forthcoming menu via food truck, offering a menu featuring fresh local ingredients, often highlighted by seafood—crab croquettes, seared swordfish, fried oysters and more. 
With an expected spring opening, the team is now putting the finishing touches on outdoor spaces, including a large back patio and deck. 
Address: 608 N. First Ave., Knightdale, NC 27545
Inspired by the comforting and unconditional hospitality of our mothers (who else!), Madre is an energetic, full-service restaurant concept featuring Spanish and Mediterranean small plates, wine, cocktails and weekend brunch.
This newest concept from beloved local Happy + Hale (three locations in Raleigh) creator Tyler Helikson and Brad Shoff will be located within the previously mentioned Smoky Hollow district in downtown Raleigh (where Midwood Smokehouse and The Crunkleton will be, and where J. Lights Market & Cafe and DOSE Yoga + Smoothie Bar opened in 2022).
Address: 516 N. West St., Raleigh, NC 27603
Upcoming food and beer events in Raleigh, N.C.
Header photo of Giorgio Pizza Bar by Forrest Mason
Comments