'The Power of Women in Country Music' at the North Carolina Museum of History
Thursday, February 09, 2023, 3pm by David Menconi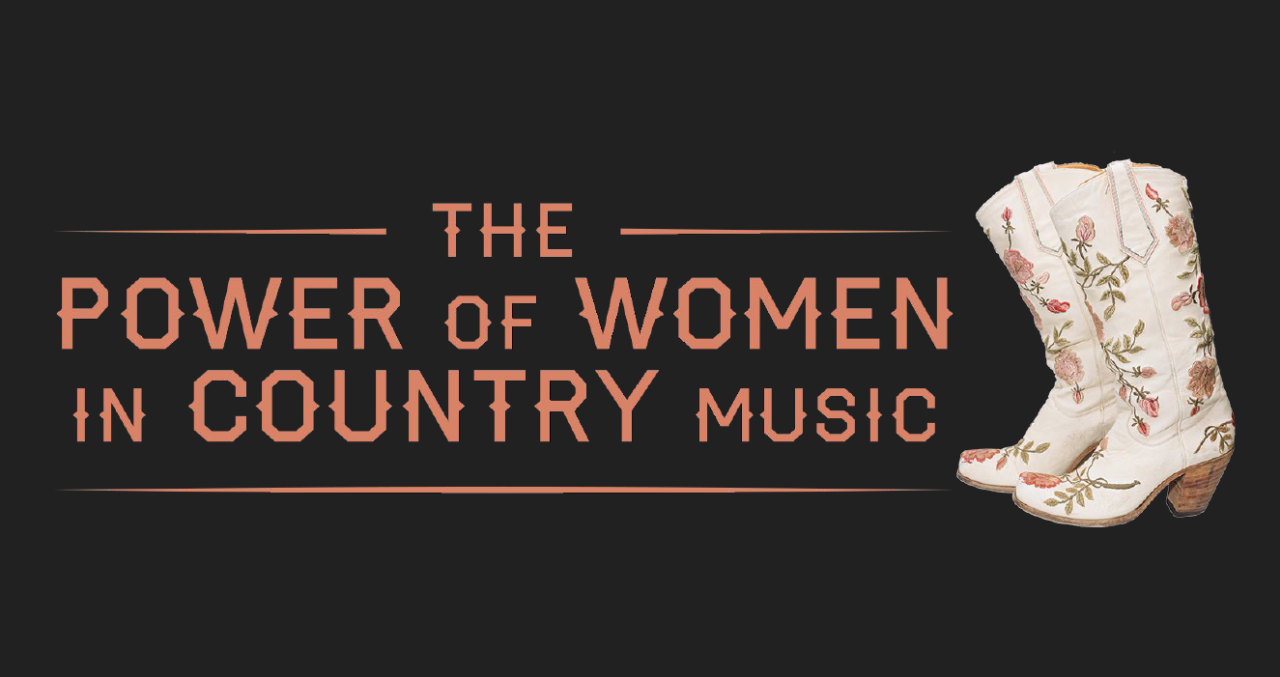 Note: Authored by David Menconi, this piece has been produced in partnership with Raleigh Arts. Menconi's latest book, "Step It Up and Go: The Story of North Carolina Popular Music, from Blind Boy Fuller and Doc Watson to Nina Simone and Superchunk," was published in Oct. 2020 by University of North Carolina Press, and his new podcast, Carolina Calling, explores the history of the Tar Heel State through music.
---

The stereotypical image of a country music performer is a man in a cowboy hat, strumming an acoustic guitar as he sings into a microphone. And sure, a lot of the music is just that. But women have always played, sung and written country music, too—and the truth is that they've actually been doing it a whole lot better than the guys for years.
That's part of the impetus behind The Power of Women in Country Music, a traveling exhibition curated by the GRAMMY Museum® in Los Angeles. It's on display at Raleigh's North Carolina Museum of History through April 2, 2023, the exhibition's fourth stop following showings in Mississippi, Oklahoma and Los Angeles. And you can trace the show's origins to a university study some years back about gender disparities in airplay on country radio stations.
"According to this study, country radio was playing one female for every 10 men," says Kelsey Goelz, associate curator at the museum in Los Angeles and the exhibit curator. "Compare that to the Grammys and Spotify streaming numbers, with Kasey Musgraves winning album of the year, Miranda Lambert and Taylor Swift selling out tours—these things just don't line up. So this exhibit is intended to shed light on women in country music, which has a 100-year history of women breaking the rules and helping each other out."
Chronologically arranged, The Power of Women in Country Music has displays of 70 artists arranged into five different periods over nearly a century. In a nod to our location, you'll find Tar Heel State artists throughout, including Donna Fargo, Rhiannon Giddens, Emmylou Harris, "Aunt" Samantha Bumgarner and even Myrtle Cooper Wiseman, a by-now obscure legend who was an enormous star on the National Barn Dance radio program during the 1930s.
"Myrtle Cooper was radio queen of 1936, right behind Jack Benny and ahead of Bing Crosby," says Katie Edwards, curator of popular culture at the North Carolina Museum of History. "She did not have the strongest voice, but she was always witty with a great personality for radio. She was the cut-up, man-crazy and chewing gum. Scott Wiseman became her on-air beau, and they married in real life, became Lulu Belle and Scotty. Their biggest hit was 'Have I Told You Lately That I Love You?'"
Artifacts of note include stage costumes, instruments, songwriting notes and more. Shania Twain's coat and hat from her 1999 "Man! I Feel Like a Woman!" video and Dolly Parton's yellow dress from a 1971 Grand Ole Opry performance are there, as well as a replica of the cabin that Taylor Swift used as a performance set during the 2021 Grammy Awards.

"Some people don't like country music," says Goelz. "But if they come see this exhibit, they will find a reason to love it. You'll gain a whole new appreciation for artists you love. It's a long tradition, a story of resiliency and innovation and fearlessness. It's exciting and inspiring to see, even if you don't like the sound of a banjo."
Standard ticket prices to see the exhibit are $10 for general public, $5 for students with ID and childreen are free.
Admission to the North Carolina Museum of History is free. Admission to The Power of Women in Country Music exhibit is ticketed, except for North Carolina Museum of History Associate Members. Exhibit tickets can be purchased online here or on-site in the Museum Shop. 
The Power of Women in Country Music shows through April 2, 2023, at the North Carolina Museum of History, 5 E. Edenton St. in downtown Raleigh.
The Power of Women in Country Music boots photo: Courtesy of the GRAMMY Museum®/Rebecca Sapp
Comments