Things to Do in Downtown Apex, N.C.
Friday, June 28, 2019, 3pm by visitRaleigh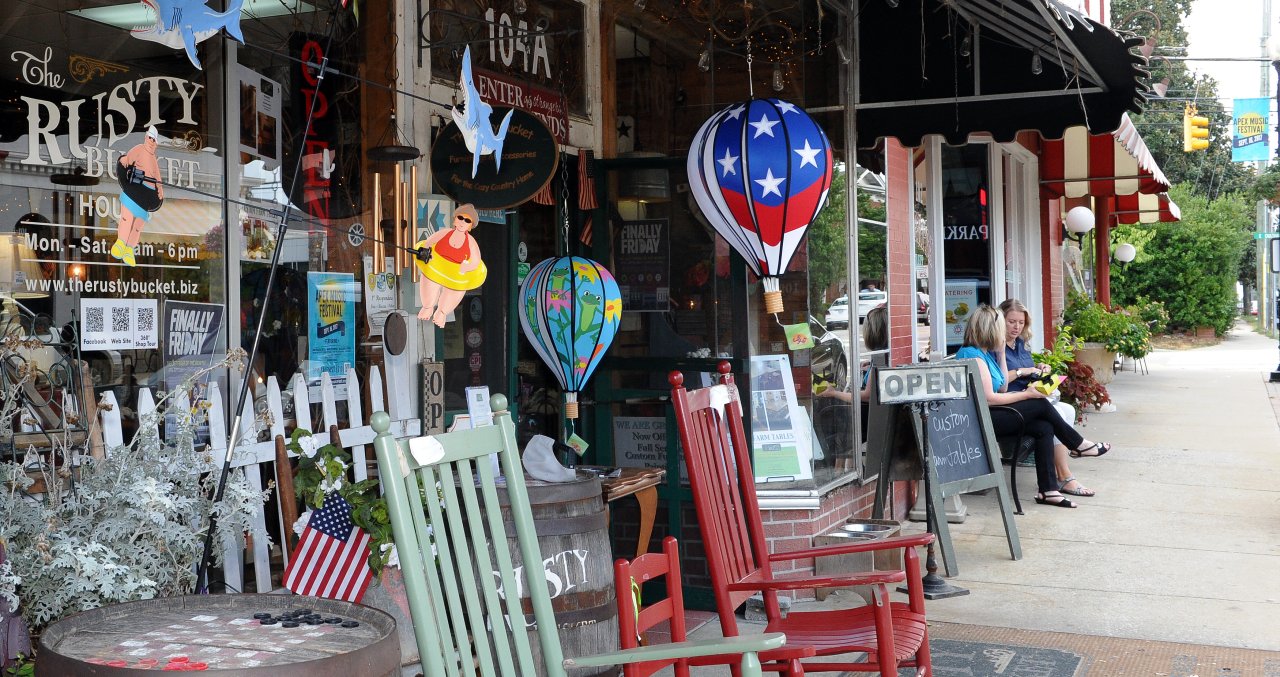 A mere 20 minutes outside of downtown Raleigh, N.C., you'll find a bustling, small-town escape in downtown Apex. Spend just a few moments there, and you'll understand why it's known as the "peak of good living." From the charming buildings of the downtown historic district dating back to the 1800s to the lively restaurants that just recently opened, strolling through the downtown streets of Apex is truly a timeless experience. Here are a handful of ideas to help as you start exploring! 
 
Soak in the history of Salem St.
Meander down Apex's version of small-town Main Street and find restaurants, shops and experiences galore. Don't miss the Apex Union Depot, the historic railroad station located on Salem St. that was built in 1915 and today serves as a meeting space, plus as a place for concerts, festivals and other events (on Sat. mornings from April through Nov., stop by the local farmers market to pick up ripe fruits and veggies, homemade baked goods, fresh seafood, wellness teas—even dog treats and toffee).
Get to sipping and socializing
 
The Beer Dispensary of Apex
This craft beer store's unique take on a tavern atmosphere leaves its customers satisfied with great beer and a community-oriented vibe. With a new selection of beer arriving weekly, there's no reason you shouldn't become a regular here!
A neighborhood favorite, this bar and grill serves up burgers, apple fritters and moonshine like nobody else can. With a delightfully energetic atmosphere, Salem Street Pub (or SSP as the locals call it) is a great hangout any night of the week! 
 
For people who prefer grapes to hops, wander into Peak of the Vine, a wine lounge and boutique. Have a glass or two in the lounge's cozy atmosphere, take a bottle home to enjoy or partake in the plethora of offerings, including live music, open mic, tastings, trivia and other fun theme nights! 
Local tip: Located close to Salem St., you'll also discover Southern Peak Brewery, known for its kombucha, daily food trucks and dog-friendly patio, as well as Brüeprint Brewing Company, famous for its seasonal rotating brews and lively taproom. 
Satisfy your sweet tooth  
 
On the corner of Salem St., recognized by its yellow and white pinstripe awning, Buttercream's Bakeshop tempts passersby with cupcakes, cakes and pastries in the windows that are as delicious as they look.
 
With more than 30 years in the ice cream business, you could say FRESH. owners Brett and Ellen Hillman know a thing or two about sweet treats. Sourcing their ingredients from nearby farms, the ice cream is made fresh daily (hence the name). The downtown Apex shop, opened in spring 2019, is the third location for the Hillmans in an attempt to keep up with demand as lines are already out the door at Raleigh and Cary locations.
Right across from the Fire Station, you'll find a cozy nook to enjoy delicious coffee, tea or a tasty pastry at Common Grounds Coffee House. Read a book, chat with friends and admire (or purchase!) some adorable décor. 
Dig up some treasures
 
The perfect place to treasure hunt, it's hard to not find your next keepsake at Antiques on Salem. For more than 20 years now, this shop has helped Apex maintain its roots and celebrate its wonderful past.
 
Loved by visitors and locals alike, the Rusty Bucket sells furnishings and décor, including gorgeous, custom-made farmhouse tables that can spice up any kitchen or dining room. With a front door sign that reads, "enter as strangers, leave as friends," this rustic shop makes you feel like family from the moment you arrive.       
Darling trinkets and stylish jewelry abound at the Moon and Lola headquarters, founded by passionate mind Kelly Shatat, whose ultimate goal in jewelry-making is making people happy through bright and colorful designs. 
 
This fun shop is a wanderer's paradise. Whether it's the mountains, the sea or somewhere in between, find any and all equipment you could possibly need for your next adventure!
Sophie & Mollies Boutique
What makes this boutique unique is that the owners hand-pick each item sold in the store! Peruse their selections of women's clothing, knowing you'll be in touch with the latest trends and styles.
Spend a night on the town 
 
An offshoot of The Mason Jar Tavern, the recently-opened Scratch Kitchen features a menu of Asian food with a Southern twist—think rolls with a fried green tomato and barbecue egg rolls! Not to mention their cocktails, wine selection and craft brews are superb. Local tip: If there's a long wait, head to the bar, which offers full-service drinks and dining.  
Upscale and up the street, The Provincial welcomes guests with delectable plates and fine wine. Their specialties certainly appeal to the carnivores of Apex with steak, lamb, pork and chicken all in abundance throughout the menu. Local tip: Glasses of wine are $5 on Tuesdays and Thursdays, and draft beer is $5 on Wednesdays. 
 
For a more casual evening out, head to the corner of Salem St. to find this Italian haven that's been serving flavorful pastas, cheesy calzones and brick oven pizzas made from the freshest ingredients since 1986.
Local Tip: For entertainment year-round, spend an evening at Halle Cultural Arts Center enjoying a live performance or film or admiring the art in one of their three galleries. 
Attend an authentic Apex event
 
Each year on the first Sat. of May, Salem St. turns into a spectacular street fair, complete with street performers, festival food and over 200 arts and crafts vendors. The best part is it's free and open to the public! 
Olde Fashioned Fourth of July
On Independence Day, the community gets together to celebrate America's birthday via parades, food, karaoke and a Fire Department splash-down to cool things off after the festivities. 
 
For eight years running (typically scheduled for mid-Sept.), this affair features a variety of musicians performing at various indoor and outdoor locations up and down Salem St. 
Christmas on Salem Street
During the most magical time of the year, Salem St. turns into a winter wonderland. With carriage rides, tree lightings and a visit from Santa himself, this family-friendly event gets the community into the holiday spirit.
 
Header photo of The Rusty Bucket by Chris Richman
Comments