Things to Do in Raleigh, N.C.: February 2023
Wednesday, February 01, 2023, 11am by visitRaleigh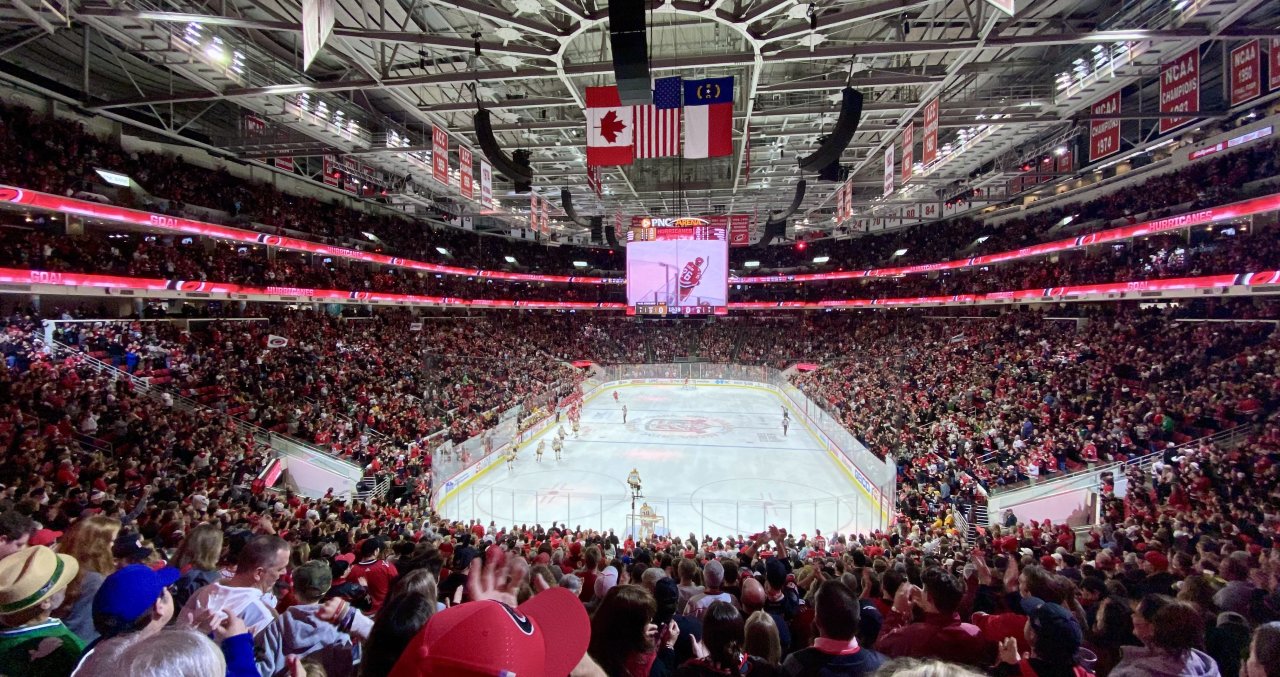 Every two weeks, we send out a newsletter that includes the best of the best upcoming events. If you sign up for our E-magazine, you'll get those, plus all the best new content (the scoop on the best upcoming restaurants in Raleigh, for example, or a list of some of the area's best hidden gems).
---
Hello, February! The shortest month of the year means there's no time to waste—we've got hockey games, ballet dates and must-see concerts that can no longer wait. Here's what we're doing this month!
Burning Coal Theatre presents Mlima's Tale
Through Feb. 12
An elephant's ghost stalks the world in this thought-provoking drama that explores the underground international ivory market.
Raleigh Little Theatre presents Blood Wedding
Through Feb. 12
In this gripping Spanish tragedy—inspired by a true story and first performed in 1933—two families in rural Spain are bound by an unbreakable cycle of murder and revenge. 
Through March 27
At Historic Oak View County Park, this multi-faceted educational exhibit showcases the history and legacy of Black builders and craftspeople in the Tar Heel State, highlighting more than two dozen African Americans who designed and/or constructed many of the state's most treasured historic sites. This is a free exhibit.
Carolina Ballet presents Grieg: Piano Concerto
Feb. 2-19
Kicking off the second half of Carolina Ballet's 25th anniversary season, this four-ballet program will feature works to the music of Edvard Grieg, Agnes Obel, Roger Eno and Wolfgang Amadeus Mozart. 
Feb. 2, 5, 9, 12, 16, 19, 23 and 26
In honor of Black History Month at The Cary Theater, four African American performing artists will be highlighted for their contributions to Hollywood with special showings of the movies they were featured in: Tamara Dobson ("Cleopatra Jones"), Nichelle Nichols ("Star Trek II: The Wrath of Khan"), Gregory Hines ("White Nights") and Robert Townsend ("Hollywood Shuffle").
One of the can't-miss concerts of the year, Darius Rucker brings his Grammy Award-winning band Hootie & the Blowfish to Raleigh's PNC Arena for a special, one-night-only headlining show on Fri., Feb. 17, as part of a special weekend that is capped with a much-awaited Carolina Hurricanes outdoor hockey game at the neighboring Carter-Finely Stadium the following day (more on that below). 
On the very same night at downtown Raleigh's Duke Energy Center for the Performing Arts, Christian Faith Assembly Community Church will present The History of Gospel Music, a family-friendly, musical journey through time featuring singers from churches across the Raleigh area. 
More live music not to miss this month:
Opening reception Feb. 4, then weekly on Sat. and Sun. through Feb. 26
In partnership with the Raleigh Film and Art Festival, Dorothea Dix Park presents a Black History Month arts exhibit showcasing talent from across the state and representing the experience of people of color living in the South. An opening reception—with drinks and light hors d'oeuvres, spoken word performance, a powerful 15-minute live stage play scene and music—will take place on Feb. 4. This free exhibition is located at Greg Poole Jr. All Faiths Chapel at Dix Park.
Update: The opening reception on Feb. 4 is now sold out.
Feb. 4
Local, regional and national breweries will gather at Raleigh Beer Garden for an afternoon of tasty samples of 75-plus beer and cider options, live music and food (complimentary sampling mug included with ticket!). 
Krispy Kreme Challenge
Feb. 4
One of America's most unique running events (and toughest eating events!), the Krispy Kreme Challenge requires competitors to run five miles, eat a dozen doughnuts at the halfway point and hit the finish line in under one hour. Started in 2004 with just a handful of North Carolina State University students, the annual event now draws nearly 8,000 runners decked out in costumes along with plenty of media attention. For the curious, those doughnuts total 2,400 calories and 144 grams of fat—but who's counting!
A new way to travel—discover a curated collection of tours, hands-on workshops and experiences led by local experts in the Raleigh area (the February calendar is filled with new events!).
Through July 23
Coming to the always-free admission Gregg Museum from Davidson College, True Likeness presents an exhibition of contemporary portraits from diverse makers—from across the U.S.—in a variety of media including video, photography, painting, collage, installation, sculpture, printmaking and drawing. 
The North Carolina State University Wolfpack are set to face off against five Atlantic Coast Conference foes this month in a series of crucial matchups before March Madness kicks off.
North Carolina Theatre presents Dreamgirls
Feb. 7-12
Winner of six Tony Awards in 1982, Dreamgirls is about a time in American musical history when rhythm and blues blended with other styles of popular music to create a new American sound (and led to the electrifying rise of groups like The Supremes, The Marvelettes, The Temptations and The Shirelles).
Founded in 1932, the North Carolina Symphony puts on an incredible 175 concerts and events per year across the state. In February they'll take center stage at the Duke Energy Center for the Performing Arts in downtown Raleigh four times.
Feb. 10-26
The true story of the unlikely relationship (and ultimately, friendship) between two low-income community activists, Ann Atwater, an outspoken civil rights activist, and C.P. Ellis, a local Ku Klux Klan leader. The story takes place in Durham, during the turbulent 1960s and '70s when the civil rights movement was at its peak.
Weekly, Sat. and Sun.; ongoing
As the only African American house museum in the state, the Pope House offers a look into the life of one of Raleigh's prominent African American citizens, Dr. Manassa Thomas Pope. Dr. Pope was a graduate of the Leonard School of Medicine, an officer during the Spanish-American War and the only African American man to run for mayor of a Southern capital in the Jim Crow Era.
Built in 1901, the Pope House was built in the once-thriving African American enclave known as the Third Ward, which included the 500 block of S. Wilmington St. Today, visitors can tour the home complete with original furnishings, artifacts and documents dating back to 1851. Admission is free. The house is open to the public on weekends.
Rouge: A Cirque & Dance Cabaret
Feb. 10
Expect the unexpected at Rogue, a breakdancing-aerial skills-contemporary dance act created by Charlotte choreographer Caroline Calouche that would make for a perfect Valentine's date with your main squeeze or a group of friends at the Duke Energy Center for the Performing Arts.
Feb. 11
At the North Carolina Museum of Art, you're invited to blend your voice with a gathering of choirs, ensembles and community participants from across the state at this community-wide sing-along with music that includes spirituals, ring shouts and music reflective of the civil rights movement of the '50s and '60s. This is a free event.
Clyde Cooper's BBQ Celebrates 85 Years
Feb. 11
If barbecue is a tradition in our state (it is), then Clyde Cooper's is a tradition. Cooper's turned 85 years old early this year, and they'll celebrate the occasion on Feb. 11 from noon-4pm with music, food and family fun.
Carolina Hurricanes Fan Fest
Feb. 17
Kicking off a spectacular hockey weekend in the City of Oaks, the Carolina Hurricanes Fan Fest will take place on Fayetteville St. in downtown Raleigh on Fri., Feb. 17, from 11am-9pm. This free event will include a full day of live music, food trucks, street hockey, Ferris wheel rides, inflatables, fireworks, photo opportunities with Canes alumni and the Stanley Cup and more!
Navy Federal Credit Union NHL Stadium Series™: Hurricanes vs. Capitals
Feb. 18
Hockey. At night. Outdoors. In Raleigh!
The Carolina Hurricanes—celebrating their 25th anniversary season in the Tar Heel State this season and one of the NHL's top contenders for the Stanley Cup—are set to host the Washington Capitals in the Navy Federal Credit Union NHL Stadium Series™ game under the lights at Carter-Finley Stadium (where the North Carolina State University football team typically battles on the gridiron in front of 60,000 fans).
Tickets were essentially sold out months ago, but are still available through Ticketmaster's "verified resale" program.
This event caps off a weekend that includes the previously mentioned Carolina Hurricanes Fan Fest in downtown Raleigh and a Hootie & the Blowfish concert at PNC Arena. 
The 'Canes will also battle it out in these other important games this month on the ice at PNC Arena:
Feb. 18
GAG! returns to Junction West for a post-Valentine's "Self Love Soiree"! With tunes provided by DJ Luxe Posh and DJ Danielingus, join the party for special performances from Miss Gay North Carolina, Kiara Mel and Miami sensation Fantasia Royale Gaga (season one winner of OUTtv's Hot Haus). This event is for ages 21 and up.
Feb. 25
One of the Tar Heel State's biggest vintage clothing market and thrift convention events, the Vintage Bazaar brings together sellers of all genres, eras and styles of clothing at the Raleigh Convention Center.
Feb. 26
This All-European car show returns to the North Carolina State Fairgrounds again this month, showcasing some of the area's coolest rides and featuring vendors with specialty car products for sale. 
Through April 2, 2023
Final chances to see the women take center stage! This major exhibit at the North Carolina Museum of History, curated by the GRAMMY Museum® in Los Angeles, highlights the past, present and future of country music's greatest female trailblazers—from Dolly Parton, Rosanne Cash, Shania Twain and Taylor Swift, to contemporary Tar Heel State artists that include Rhiannon Giddens, Kasey Tyndall and Rissi Palmer. The exhibit will close at the end of this month, ending a very successful four-month run. 
Through May 7, 2023
Explore the deepest oceans and discover shipwrecks at this blockbuster exhibition at the North Carolina Museum of Natural Sciences. Challenging the Deep traces explorer and filmmaker James Cameron's passion for deep-ocean science, technology and exploration—including his record-breaking dive to the bottom of the ocean—using cinema-scale projections, personal artifacts and specimens from his expeditions.
Comments