Where to Find the Best Fried Chicken in Raleigh, N.C.
Friday, August 12, 2022, 10am by Tabletop Media Group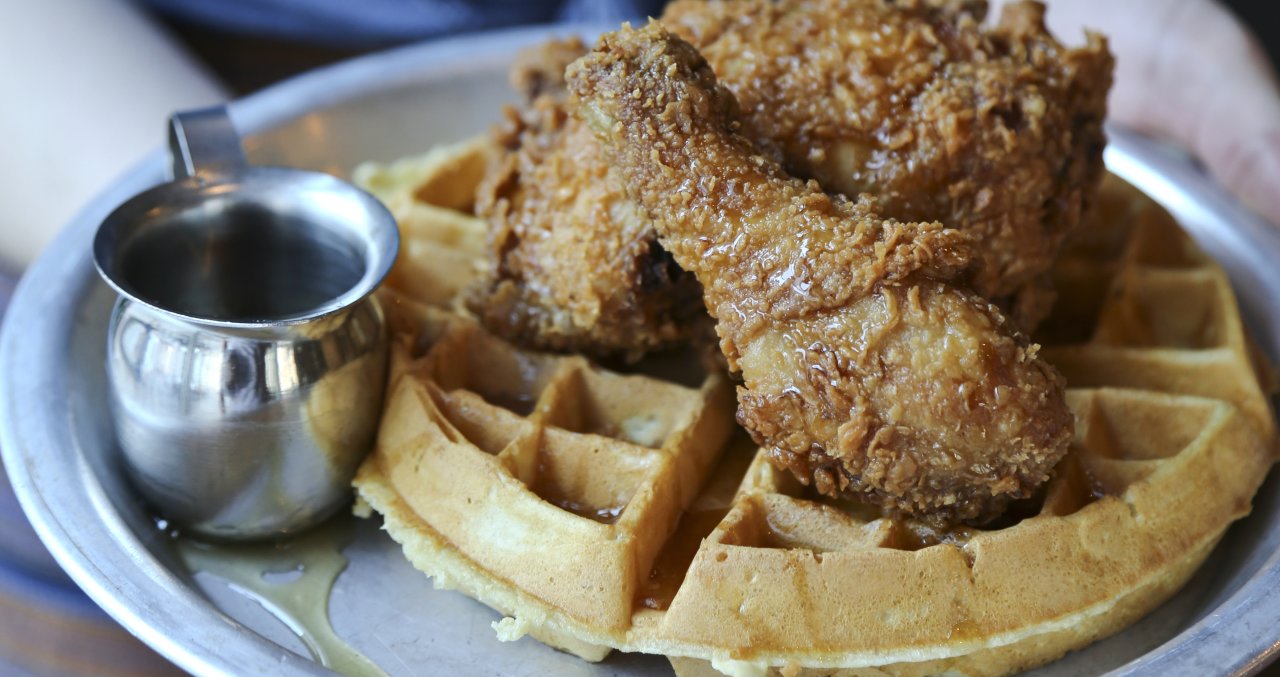 It's no surprise that the origins of fried chicken can be traced to the South. In the Raleigh area you'll find some version of it on seemingly every street corner—usually paired with biscuits, barbecue, beer and more. Here's a roundup of some of our go-to spots for a crispy, tender fix.
 
A hot-spot in Cary for locals and visitors, Dame's "almost world famous" chicken and waffles pair world-class, comfort food combinations meant to fulfill your appetite's and heart's desire. Here's how it works: choose your waffle type (classic, sweet potato, vegan and more), a cut of chicken, a shmear (flavored butter that you will make you forget syrup) and final toppings (nuts, sauces and other goodies) to create the ultimate chicken and waffle dish that's screaming your name.
Opened in 2011 by Raleigh native Sean Fowler, Mandolin takes classic Southern options up a notch (or two)—the restaurant has been crowned with numerous accolades over the years, including being named one of the best 50 Southern restaurants in America by OpenTable. Our favorite go-to dinner menu item, the chicken and waffles, uses a buckwheat waffle and is served with braised greens, topped with a bacon and mushroom emulsion and truffle honey. The chicken and biscuits at brunch (Sun., 10:30am-2:30pm) are equally impressive.
A fried chicken-focused restaurant from James Beard Award-winning chef Ashley Christensen? Count us in! Beasley's Chicken + Honey has racked up numerous accolades since opening in 2011 in downtown Raleigh—Food & Wine named the chicken and waffles among the best in the U.S., and Garden & Gun placed the restaurant on their fried chicken bucket list. With a variety of different chicken dishes and delicious Southern sides, there's something for the whole family. From the chicken and waffles to the hot chicken sandwich (made with the infamous Carolina Reaper pepper), you can get your fried chicken fix anyway you like!
Located in the heart of downtown Raleigh in the Raleigh Marriott City Center, Rye Bar & Southern Kitchen takes a refined and modern approach to Southern cuisine, using fresh ingredients from nearby farms. To get your fried chicken fixin', we suggest dining at lunchtime when you'll find a tasty fried chicken sandwich with a honey mustard aioli highlighting the menu, or at breakfast for the drool-worthy chicken/egg/pimento biscuit seen below (Mon.-Fri.). Craft beers, uncommon cocktails and premium wines head the liquid refreshment line-up.
Soo Cafe is a wildly-popular Korean restaurant thanks to their deliciously-crispy, sticky Korean fried chicken wings. Tailor the sauce to your level of heat tolerance. For a more mild wing, try the SOGA (soy-garlic) sauce, or if you're looking for some spice, try the H&S (hot and spicy) for a melt-your-face-off level of heat! You've been warned.
Opened on New Year's Day of 1938, Clyde Cooper's is one of the oldest barbecue restaurants in the state and a local treasure in downtown Raleigh. Not only do they have some of the best Carolina-style 'cue, but they also serve up delicious fried chicken with your choice of dark or white meat—pair it with some hushpuppies and collard greens for the ultimate Southern meal. Come hungry, but make sure you bring cash because Clyde Cooper's sticks to their cash only tradition. 
The longest standing restaurant in Apex, N.C., the name says it all for Dallas Famous Chicken. Country Southern cooking at its finest, the menu is filled with all the breakfast and Southern side staples you'd expect—streak biscuits, home fries, grits, green beans, okra and more—but the fried chicken (and biscuits they're paired with in a variety of ways) is the reason some customers have been coming here nearly every day for decades now. Take your pick of white or dark meat, don't shy away from the hot sauce and be sure to grab some napkins!
Since 1997, Joyce & Family Restaurant (headed up by Joyce Statton—or "Miss Joyce" as locals call her—who's known to many as one of the friendliest faces in Fuquay-Varina) has offered up some of the best home-style country cooking and soul food around. Everything is made fresh in their kitchen with hard work and passion—from their fried chicken to their buttered baby lima beans, you'll feel right at home. Need some crispy fried chicken for a future event? They also have a catering service that will deliver their delicious food!
One of Raleigh's oldest restaurants, the State Farmers Market Restaurant has a history that dates back to 1955. Known as one of the city's most comforting breakfast and lunch spots—checkered vinyl table cloths, covered by plates piled high with hushpuppies and buttermilk biscuits, is the typical scene—this popular restaurant dishes out all kinds of farm-fresh Southern staples. The chicken and waffles are a crowd favorite, along with the biscuits, omelettes and much more! Check the daily specials for the fried chicken plate, which comes with two veggies and a complimentary dessert.
Started with the dream of a place where people could sit and talk all day, Angie Mikus opened that very spot in 2011 in Garner. Go for lunch on Thursdays for the fried chicken special, which is served with your choice of two sides and includes tea or coffee and dessert. Not only do they have amazing fried chicken, but there are also all sorts of Southern comfort food options like fried steak and country ham. As an added bonus, breakfast is served all day long.
Located in Raleigh's Midtown district, BB's Crispy Chicken bolsters the humble chicken sandwich with a fried chicken recipe perfected by renowned chef and restauranteur Ashley Christensen. Order one of the signature sandwiches (including BB's pick, The Classic, Deluxe, Pimento Cheese and BBQ Cheddar) or try one of the spicy-fried chicken sandwiches from The Hot List, all topped with Tabasco sauce and pickles to help cut through the heat. You'll also want to try the crunchy cheese curds—a BB's Crispy Chicken fan favorite!
With fun and tasty spins on Southern food, Iyla's Southern Kitchen at Morgan Street Food Hall elevates regional dishes with fresh, local ingredients. One of the brightest stars on the menu is, of course, the juicy fried chicken. For those who like it hot, chef/owner Greg Nelson's Nashville hot chicken sandwich with homemade ranch and house pickles is right up your alley. In a brunch frame of mind? Dig into the chicken and waffle sandwich—a generous piece of chicken topped with aioli, house-made pimento cheese and a heap of coleslaw laid purposely between two golden waffles.
Wilson's Eatery knows how to do Southern food, and their fried chicken sandwich is no exception. The Southern Fried is stacked high with crispy chicken, house-made pimento cheese (made with fire-roasted poblano peppers) and other fixings, served on a delicious brioche bun. Be sure to wash the flawless flavors down with one of Lynnwood Brewing Concern's tasty craft beers (the taproom sits right next door; pup-friendly with plenty of outdoor space!).
Another unique take on Nashville Hot Chicken comes your way via a bar and bottle shop on the edge of downtown Cary. BottleDog not only boasts a wide selection of craft brews (12 on tap and 200-plus bottles), but also a dog-friendly patio and a diverse menu of bar bites. Add this place to your dining list to savor fried chicken liberally sauced to meet your spicy needs. We also recommend the Poulet Chaud—a traditional poutine with spicy chicken tenders, fries, cheese curds and savory gravy. 
The Fiction Kitchen delivers a crave-worthy experience with one key twist—all of their thoughtfully prepared dishes are 100% vegan and vegetarian (yes, including their delicious interpretation of fried chicken.) Grab a table at this brightly-colored eatery and chow down on the Nashville Hot Chxn—a marinated, herb-seasoned, fried and smothered in spicy sauce delight—or go with the classic Southern combo of "chicken" and waffles served with arugula, maple syrup and seasonal fruit. This local eatery is well-loved by omnivorous and vegans alike!
The plant-based revolution continues over at Element Gastropub—a downtown Raleigh restaurant specializing in high-quality comfort food and drinks. Element is out to prove that plant-based meals can be delicious for everyone, and they are converting folks left and right with their incredible fried "chik'n" sandwiches. Whether it's the buffalo-style sandwich with house-made ranch or blue cheese, the Nashville hot number with lettuce, pickles and mayo or the traditional setup with honey mustard, your taste buds are in for a real treat. Stop by at brunch (Sun., 11am-3pm) to pair a sandwich or plate of chicken and waffles with a bloody Mary.
Header photo by Angie Mosier
Comments