City of Raleigh Issues RFI for 500+ Room Convention Hotel
Tuesday, January 28, 2020, 8am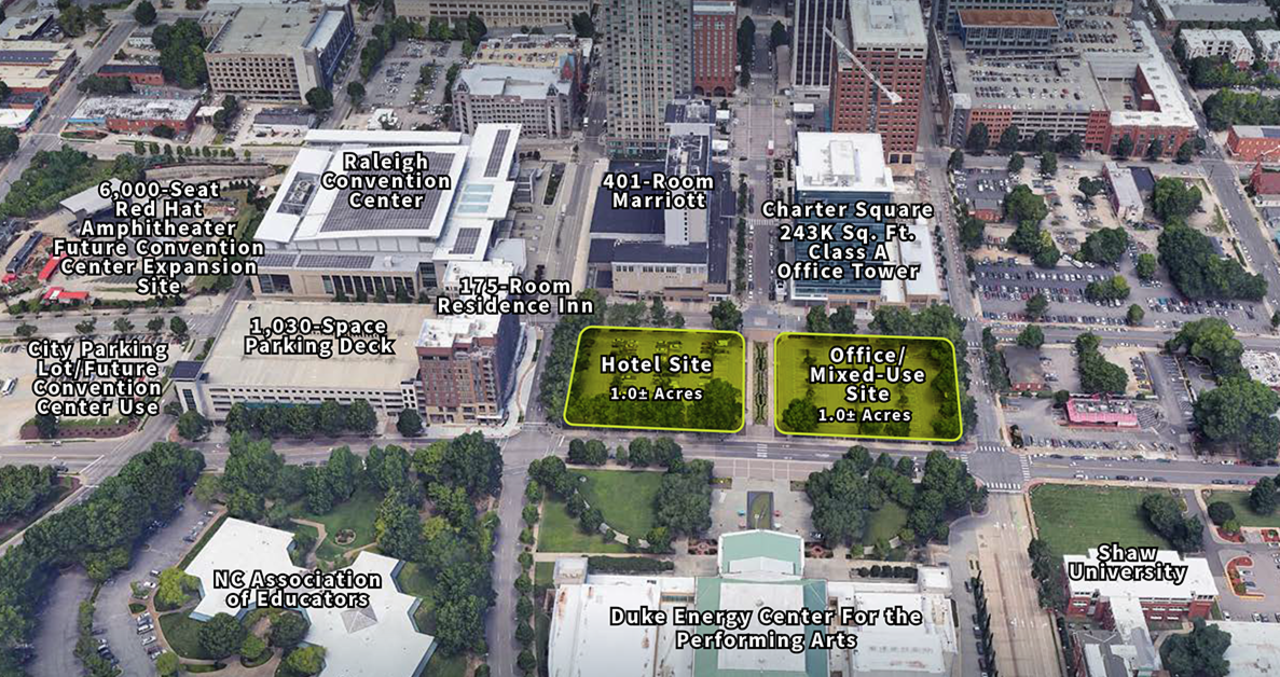 Located adjacent to the Raleigh Convention Center, RFI also seeks office/mixed-use tower
Raleigh, N.C. (Jan. 28, 2020) – The City of Raleigh has released a Request for Information (RFI) for an upper upscale, full-service convention hotel and a separate office/mixed-use building on two city-owned, prime vacant lots in the heart of downtown Raleigh, N.C. The goal of the RFI is to seek interested developers for the hotel and office/mixed-use sites. The City of Raleigh contracted with Jones Lang LaSalle IP, Inc. (JLL) to complete the RFI as the first step in the process to ultimately seek a partner to develop the Fayetteville Street sites.
Located at the end of Fayetteville Street in the heart of downtown Raleigh, the sites are located across from the Raleigh Convention Center and Duke Energy Center for the Performing Arts. Each site is just over one acre when taking into account the mapped right-of-way.
"This is a unique and once-in-a-lifetime opportunity to develop a convention hotel and separate office/mixed-use tower on two prime vacant lots in downtown Raleigh," said Raleigh City Manager Jim Greene. "Innovation, quality design and construction, and sustainability are important values to the City for this transformational project."
Raleigh Mayor Mary-Anne Baldwin added: "I want to emphasize we're looking for great design. People are coming from all over the world, so let's make it all it can be."
The Raleigh Convention Center houses a 150,000 sq. ft. exhibit hall, 32,600 sq. ft. ballroom and 20 meeting rooms. The timing of the RFI also coincides nicely with the major interior updates planned for the center in 2020-2021.
"We are delighted to soon be able to offer an additional 500+rooms to Raleigh's hotel package," said Kerry Painter, CFE/CEM/CMP, Director/General Manager of the Raleigh Convention Center. "Located within two blocks of the 500,000 square foot Raleigh Convention Center –– these rooms will change the face of Raleigh's convention possibilities and bring a new look to our city and an engaging, vibrant experience for our clients and their attendees."
The need for a 400+ room, full-service convention hotel was validated by two recent studies completed. The first was done by HVS Convention Sports and Entertainment Consulting in 2015 and the most recent by JLL in 2018. JLL's recommendation, a 500+ room hotel property, was part of the comprehensive, strategic tourism master plan developed for all of Wake County referred to as the Destination 2028 Plan.
"The Destination 2028 Plan validated the need for this project and our research shows 80% of planners prefer upscale or upper midscale full-service hotels adjacent to or within walking distance of a convention center," said Dennis Edwards, President and CEO of the Greater Raleigh Convention and Visitors Bureau (Visit Raleigh). "We applaud the foresight and vision shown by the City of Raleigh in issuing this RFI and are fully supportive of the efforts to secure this much-needed demand driver for our meeting and convention market as well as transform the visitor experience in downtown Raleigh."
Following submission of proposals from development teams, JLL and staff will review the proposals and recommend to Raleigh City Council the next steps which are expected to include a more specific Request for Proposals (RFP) process from the selected developer finalist. The submission and review process is expected to take until late Spring/early Summer 2020 to complete.
The RFI, as well as more information on the two sites including aerial video, is available at www.raleighnc.gov/hotelcc.
Responses are due by 5pm EST on March 27, 2020, and are to be submitted to Tony Peterman, Executive Vice President, JLL electronically at tony.peterman@am.jll.com.
Any questions from potential respondents should also be directed to Peterman and respondents are encouraged not to communicate directly or indirectly with City of Raleigh Council Members or other City employees regarding the RFI or submittals from the time the RFI is released until the Raleigh City Council approves next steps in the process. Violation of this provision by the respondent or respondent's agent may lead to disqualification from consideration.
 
About Jones Lang LaSalle IP, Inc., (JLL):
JLL (NYSE: JLL) is a leading professional services firm that specializes in real estate and investment management. A Fortune 500 company, JLL helps real estate owners, occupiers and investors achieve their business ambitions. In 2016, JLL had revenue of $6.8 billion and fee revenue of $5.8 billion and, on behalf of clients, managed 4.4 billion square feet, or 409 million square meters, and completed sales acquisitions and finance transactions of approximately $145 billion. At the end of the second quarter of 2017, JLL had nearly 300 corporate offices, operations in over 80 countries and a global workforce of nearly 80,000. As of June 30, 2017, LaSalle Investment Management has $57.6 billion of real estate under asset management. JLL is the brand name, and a registered trademark, of Jones Lang LaSalle Incorporated. For further information, visit JLL.com.
About the Raleigh Convention Center:
The LEED Silver-certified Raleigh Convention Center is a bustling hub for the culture, commerce, and technologies that make the Triangle one of the most admired and sought-after regions in the United States. Our modern 500,000 square-foot facility includes a stunning granite lobby with dramatic windows and downtown views, an elegant 32,000-square-foot ballroom, and a massive 150,000-square-foot exhibit hall, all with outstanding tech amenities and award-winning culinary delights. The center has welcomed over 4.5 million visitors since its opening in September 2008. RaleighConvention.com
About the Greater Raleigh Convention and Visitors Bureau (Visit Raleigh):
As the official destination marketing organization for Wake County, the Greater Raleigh Convention and Visitors Bureau (Visit Raleigh), is responsible for promoting Wake County as an attractive travel destination and enhancing its public image as a dynamic place to live and work. Through the impact of travel, the organization strengthens the economic position of and provide opportunity for people throughout Wake County. Raleigh, N.C./Wake County welcomes nearly 17 million visitors annually whose spending tops $2.7 billion. The visitor economy supports more than 27,000 local jobs in Wake County and generates $268 million in state and local tax revenues, saving each Wake County household $700 in taxes annually. VisitRaleigh.com
Media Contacts:
City of Raleigh
Julia Milstead, Public Information Officer
919-996-3029
Julia.Milstead@raleighnc.gov
Jones Lang LaSalle IP, Inc., (JLL)
Tony Peterman, Executive Vice President
404-307-9279
tony.peterman@am.jll.com
Greater Raleigh Convention and Visitors Bureau (Visit Raleigh)
Scott Peacock, Director of PR and International Tourism
919-645-2676
speacock@visitraleigh.com
# # #
Header photo source: JLL, CoStar, Google Maps